The Hawaiian Islands are brimming with family friendly and adventurous activities. Are you looking to save a buck and find some unique, fun things to do in Oahu for free? Look no further!
It's no secret that many Oahu attractions are extremely expensive. Simply flying to the island can swallow a good chunk of anyone's vacation budget. However, there are countless must-do activities in Oahu that are free or less than $15 per person!
You don't have to book a pricey catamaran cruise, exclusive tour, or luau to experience the natural beauty and culture of the Hawaiian islands.
NOTE: As of January 5, 2022- Stay up to date on Oahu's travel guidelines. Furthermore, consult the Hawaii Travel Requirements website before you plan your trip to any Hawaiian island.
Disclaimer: This post is in no way sponsored. We paid for all the activities mentioned and all opinions are our own. This page may contain affiliate links, which means I may earn a commission (at no extra charge to you) if you make a purchase after clicking my link. Thank you for being a loyal reader!
Free Must-Do Activities in Oahu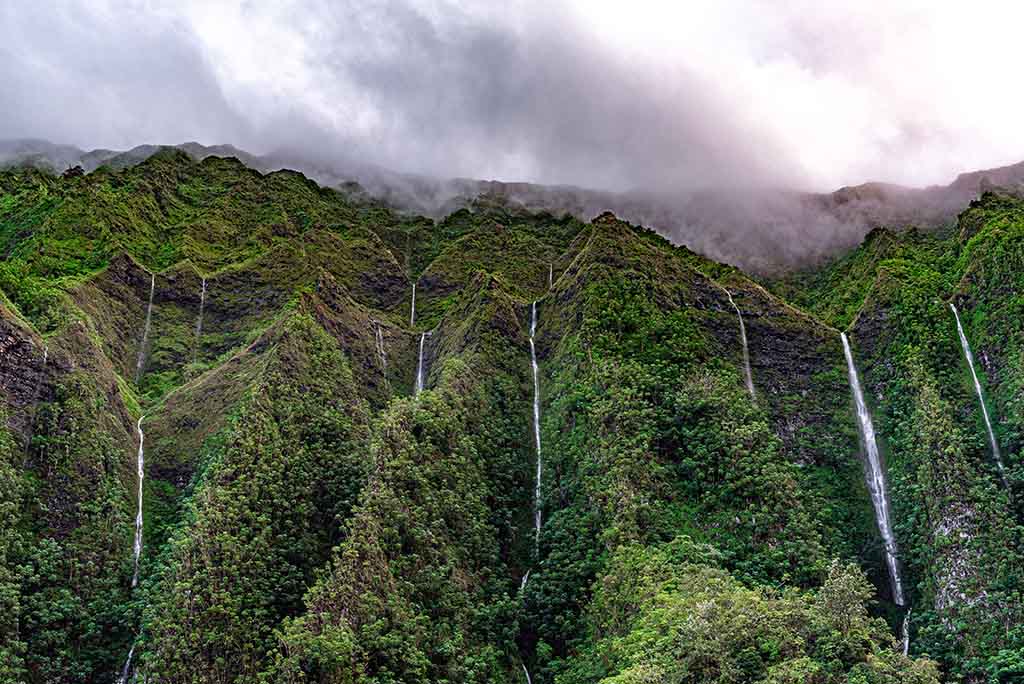 Although the free activities I suggest are perfect for adventurers, they're also some of the best things to do in Oahu with family and kids!
However, some of these Oahu attractions are best enjoyed during certain seasons. When planning your vacation to Hawaii, it's not a bad idea to research which adventures you are most interested in to know which time of year is ideal for you!
Nov-March is considered winter or the wet season. This is a great time for witnessing world class surfing, spotting humpback whales, and visiting waterfalls in all their glory!
April-Oct is considered summer or the dry season. Don't miss out on perfect snorkeling weather and dryer hiking trails. In addition, this season is when most foliage is blooming, such as the Plumeria.
What can you do for free in Honolulu?
SO MANY THINGS. I'll cover most of these activities below. But, just to sum it up- you can hike, snorkel, bike, explore a botanical garden, visit Pearl Harbor, stroll through a farmers' market, watch surfers, window shop, go mural hunting, and the list goes on and on!
What is there to do in Oahu without a reservation?
Pretty much everything! There's only a handful of activities that require a reservation on Oahu. Those include but are not limited to any tours at Kualoa Ranch, a Luau, snorkel tours or cruises, Hanauma Bay (still accepts a limited number of walk-ins), the Lyon Arboretum, and the ferry to the Arizona Memorial (still accepts walk-ins depending on peak seasons).
In addition, a reservation is required to hike Diamond Head as of April 2022. To make a reservation up to 30 days in advance, visit the gostateparks.hawaii.gov website.
What is there to do in Oahu not beach?
If you're not a beach person, I would recommend checking out the hiking trails, a scenic drive, Ala Moana (the world's largest outdoor mall!), a botanical garden, Pearl Harbor, the Manoa Chocolate Factory, a farmers' market, the Swap Meet, Polynesian Cultural Center, Byodo-In Temple, and stunning overlooks.
For more adventurous travelers, there are also helicopter tours and sky diving. (Obviously, not free! haha)
Is Pearl Harbor free?
Yes! However, there is a $1 total reservation fee if you choose to schedule your ferry ride to the U.S.S. Arizona Memorial online. Also, there are additional fees for visiting the U.S.S. Missouri and U.S.S. Bowfin submarine.
Are the beaches in Oahu free?
They are free! With the exception of Hanauma Bay, which requires a fee because it is a natural preserve. All beaches in Oahu are open to the public, except for federal government areas.
1. Get Lost in a Tropical Paradise at a Botanical Garden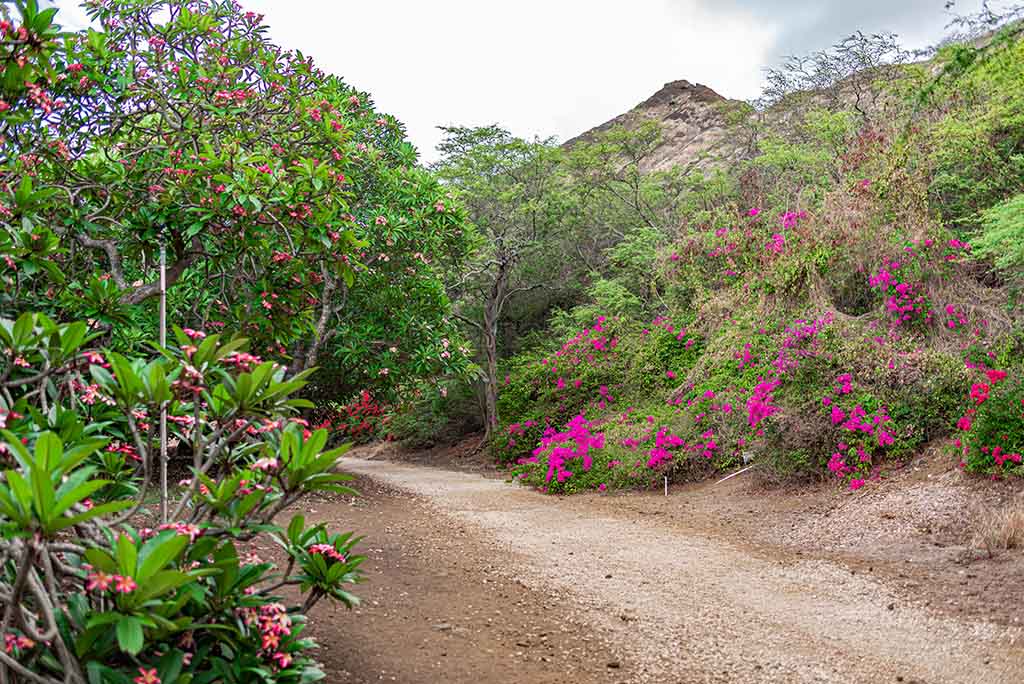 A handful of the botanical gardens on the island such as Koko Crater Botanical Garden, Wahiawa Botanical Garden, and Ho'omaluhia Botanical Garden does not require a fee to enjoy the grounds!
These places are rich with island history and foliage that cannot be found anywhere else in the world.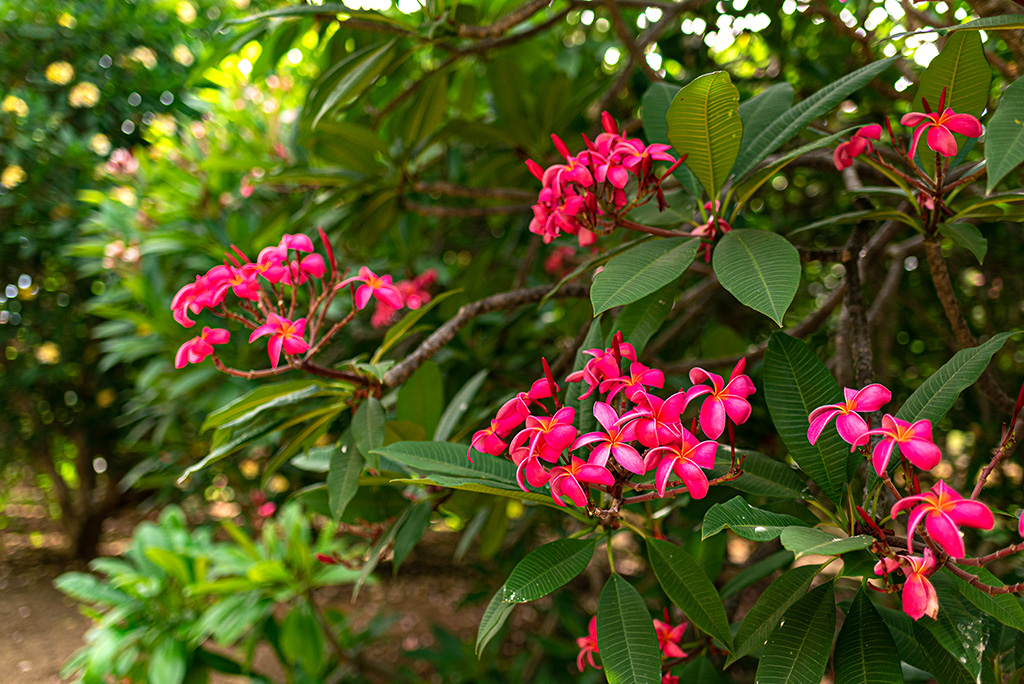 2. Snorkel in Crystal Clear Blue Waters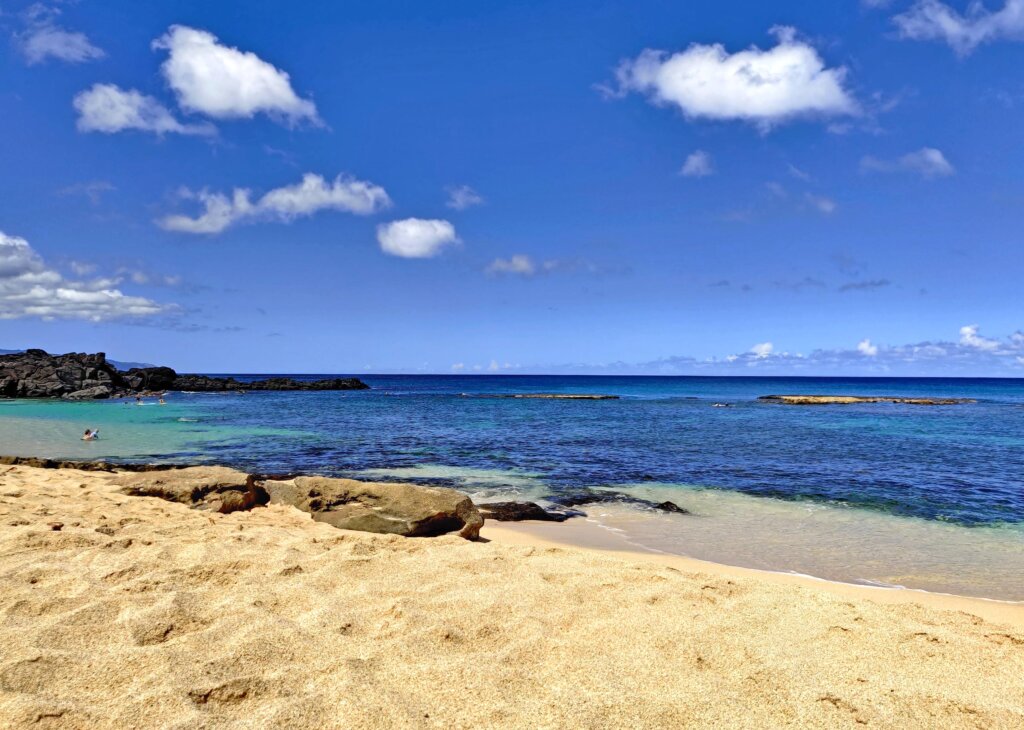 One of the most fun and FREE things to do in Oahu is to snorkel. You don't have to pay to visit Hanauma Bay to enjoy incredible snorkeling in Oahu!
Three Tables, Shark's Cove, and Electric Beach are just a handful of some of the best snorkeling on the island that doesn't require a fee. It is important to know that Electric Beach and Three Tables are open ocean snorkeling and do not have lifeguards present. However, lifeguards do occasionally patrol the waters by jet ski.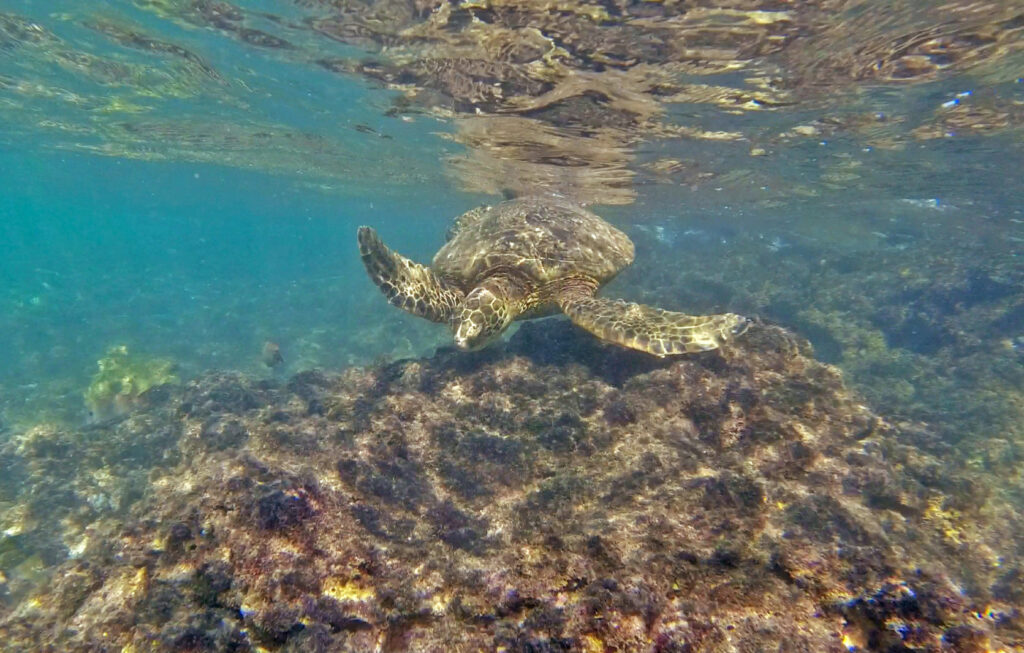 3. Hike to a Lighthouse, an Overlook, or to a Waterfall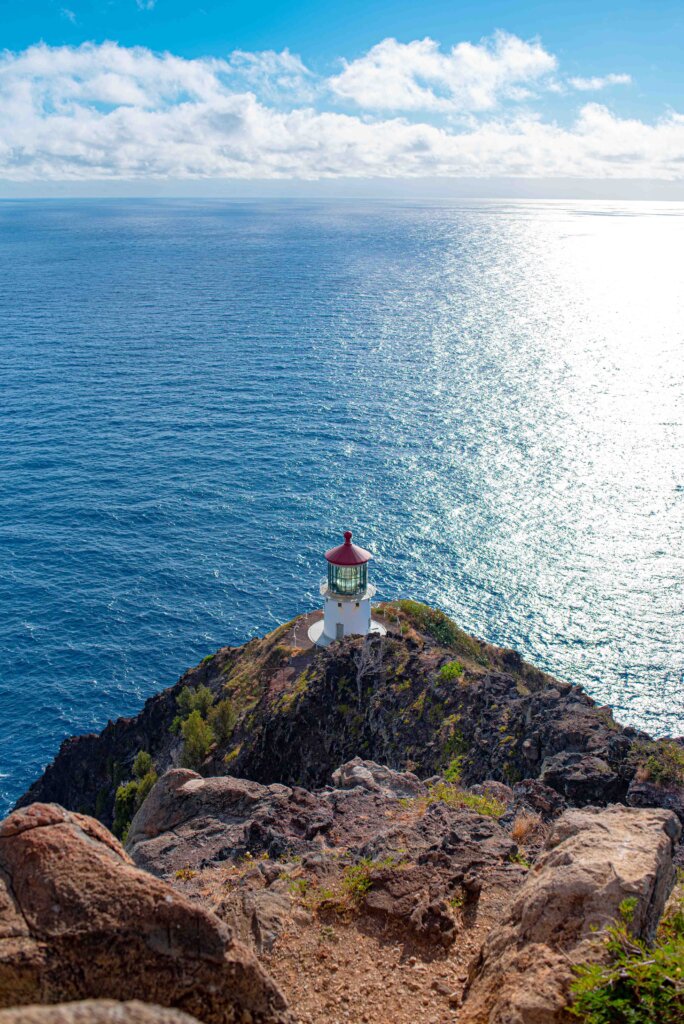 See more of Oahu by going on a hike! Escape the city of Honolulu (and tourists!) and immerse yourself in the tropical jungle and mountain ridges.
The island's most popular hikes such as Diamond Head and Manoa Falls require a fee. However, there are countless other hikes that do not cost a cent and have way less crowds!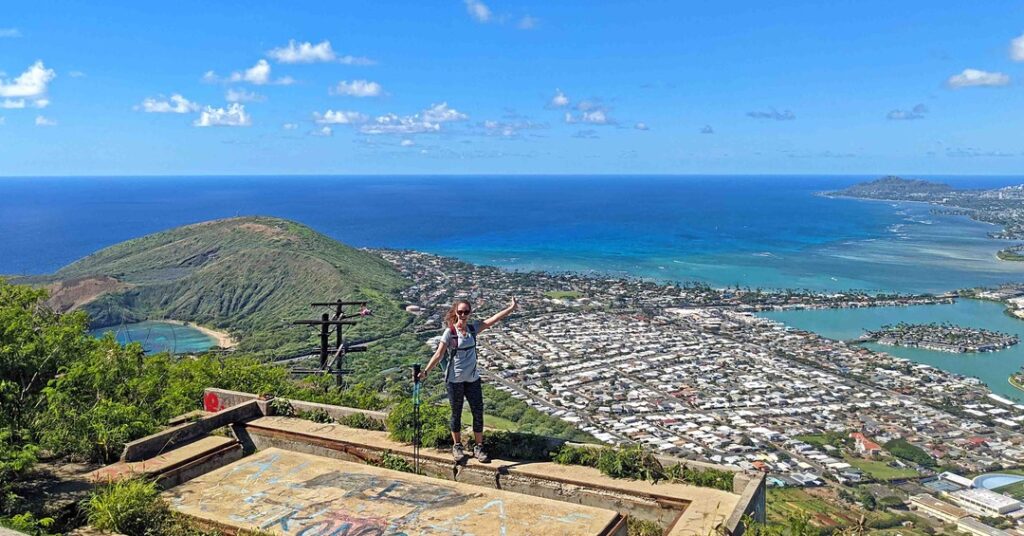 Want to know which amazing hike to choose for your skill level while vacationing in Oahu? Check out my complete guide here!
4. Watch the Surfers on the North Shore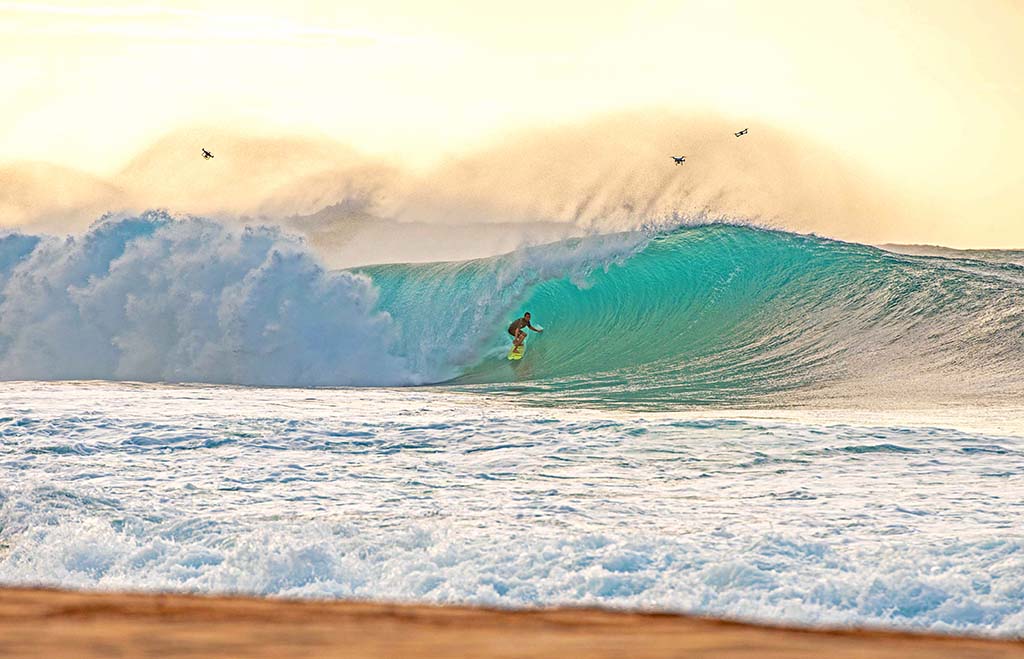 During the winter months, typically between November through March, there are HUGE swells on the North Shore. It is a surfer's paradise!
Spend sunrise or sunset in a cozy blanket or a beach chair watching these incredible athletes tackle the ocean waves. Sunset Beach Park and 'Ehukai Beach Park are great places to watch from shore.
5. Window shop in Old Hale'iwa Town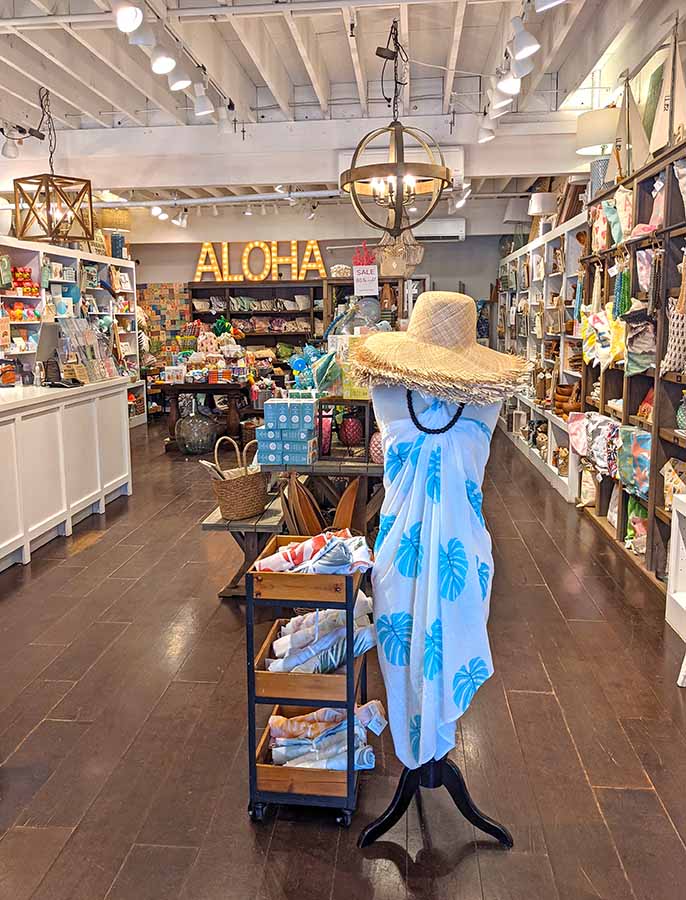 Speaking of the North Shore…Hale'iwa is a colorful little town to eat, shop, and relax. Of course, you don't have to spend a dime in Hale'iwa to enjoy this surfer town.
In addition to window shopping, try to spot peacocks wandering between the shops, watch kids jump from the Kamehameha Highway bridge into the Anahulu Stream below, or watch paddle boarders and the occasional sea turtle at Hale'iwa Beach Park.
Also, there are really cool murals to take pictures of outside the shops. Spend the day walking around the town and enjoy the laid back atmosphere.
6. Enjoy Chocolate Samples at Manoa Chocolate Factory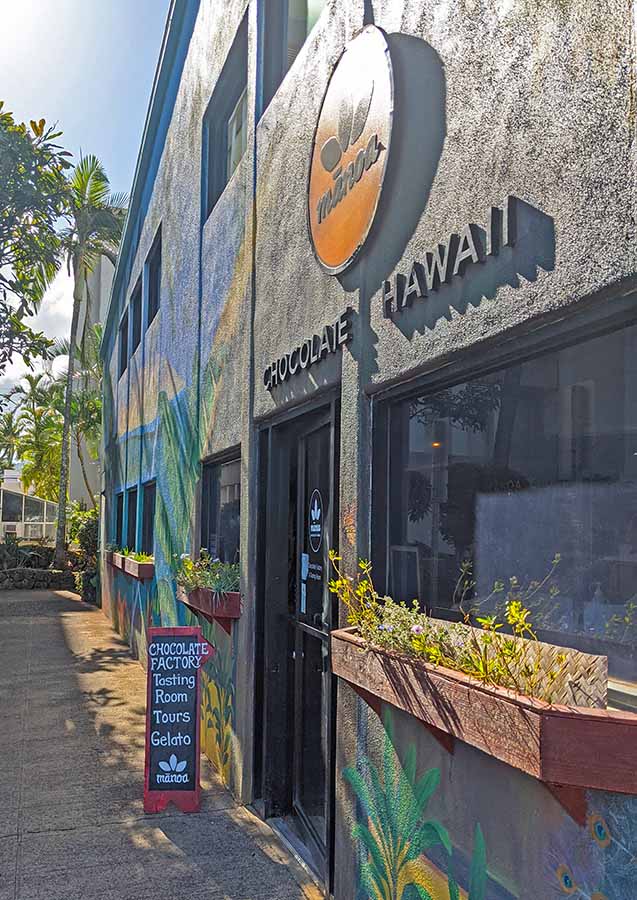 Why not enjoy cacao and rum together? Even better…they're both grown and produced on island! Walk-in tastings are complimentary and free! But, if you want to learn about how chocolate is grown and made, the official tour is $25 per person for 60-90 minutes.
We love everything about Manoa Chocolate. The chocolate is rich, creamy, and has distinct flavor profiles. My favorite are the rum infused chocolate and the breakfast bar!
Do yourself a favor and buy the brewing chocolate while you're there. Put a scoop in with your coffee grounds for your morning cup and prepare to be wowed!
TIP: The parking lot for the shopping strip where Manoa Chocolate is located requires coins for parking meters. It's a good idea to have a few quarters on hand!
7. Visit Pearl Harbor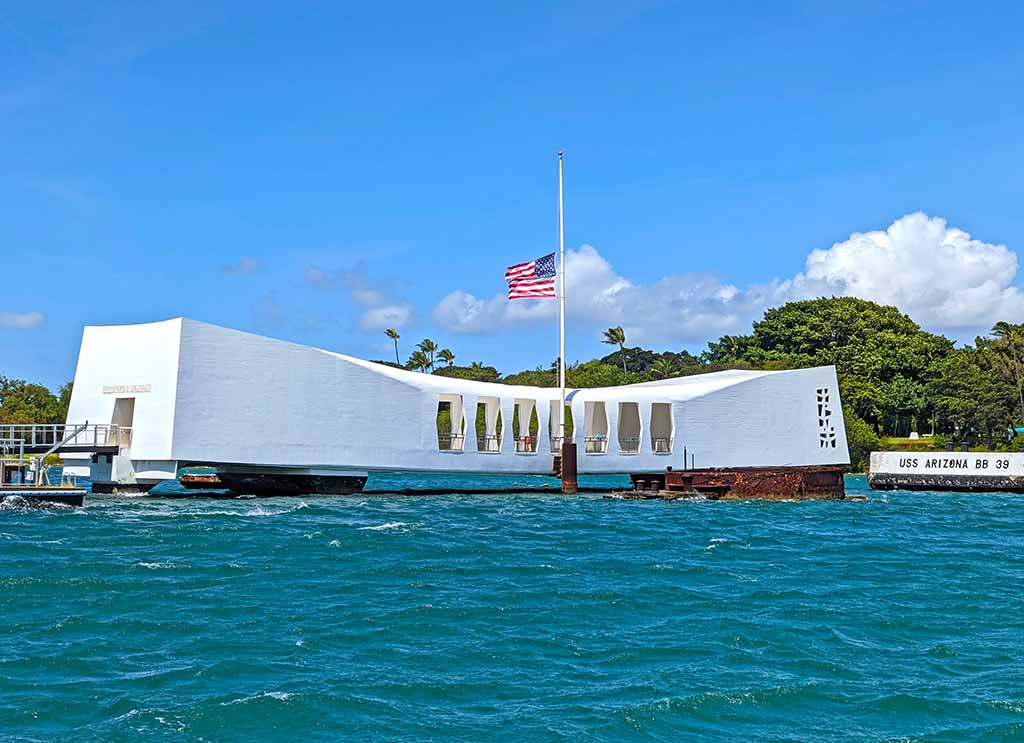 One of the best free things to do in Oahu with families is to visit Pearl Harbor and the Arizona Memorial. Entrance to the grounds is free. There is a small museum, memorial sites for the submarines and watercrafts in WWII, and a short film that plays every 15 minutes to view at your leisure.
In order to board the ferry to visit the Arizona Memorial, you can book tickets online ($1 per person) at recreation.gov to reserve your seat. The tickets are released after 3pm for 24 hours and 8 weeks in advance. There is a standby program. However, according to the website, during peak season it can be discontinued.
8. Peruse a Farmers' Market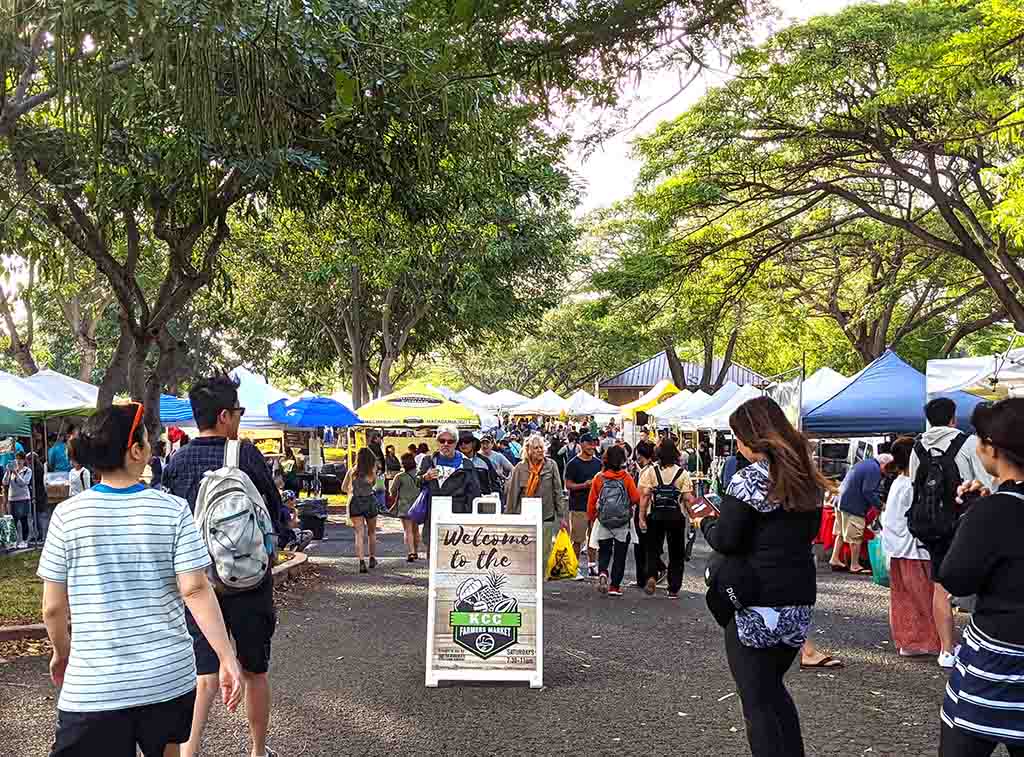 A great way to experience Oahu's local culture and food is to check out a farmers' market! Sample breakfast or lunch from food trucks or tents. Support local businesses by purchasing fresh fruit, veggies, butter, honey, chocolate, etc.
Our favorite Farmers' Markets:
9. Take a Scenic Drive around the Island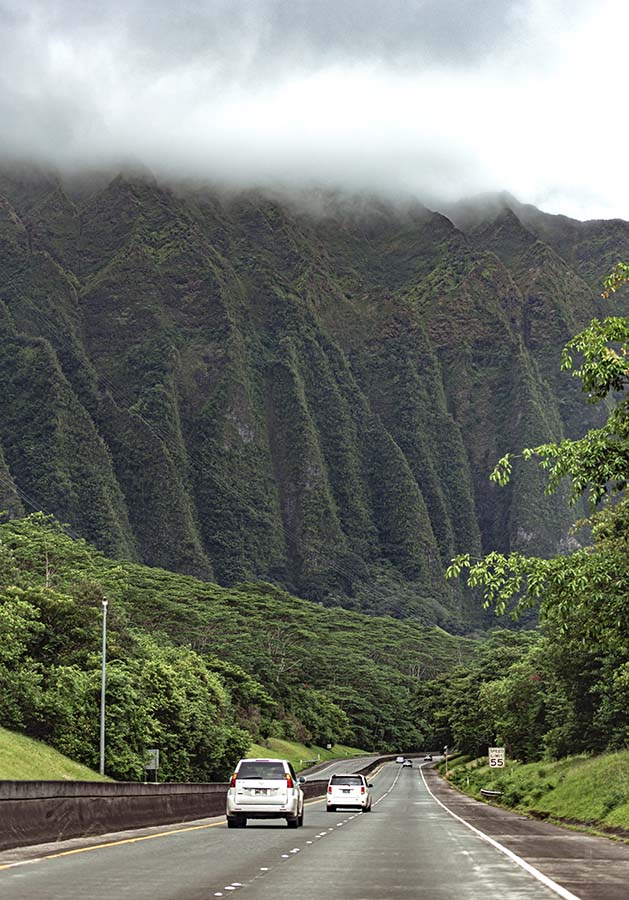 There are countless routes to explore on the island of Oahu. A scenic drive is a fantastic free thing to do to see the diversity of each section of the island. From the lush, tropical foliage of east Oahu (windward) to the red cliffs and cacti of west Oahu (leeward)- there is something different to see, even on an island!
Our favorite drives:
The H3 and Pali Highway (especially after a good, hard rain- waterfalls everywhere!)
Highway 99/ Kamehameha Highway from Wahiawa to Haleiwa
Highway 72/ Kalaniana'ole Highway from Hawaii Kai to Waimanola Beach Park
Highway 83/ Kamehameha Highway from Kahaluu to Haleiwa
Highway 92/ Farrington Highway from Ko'Olina to Keawaula Beach Park
10. Look for Sea Turtles at Laniakea Beach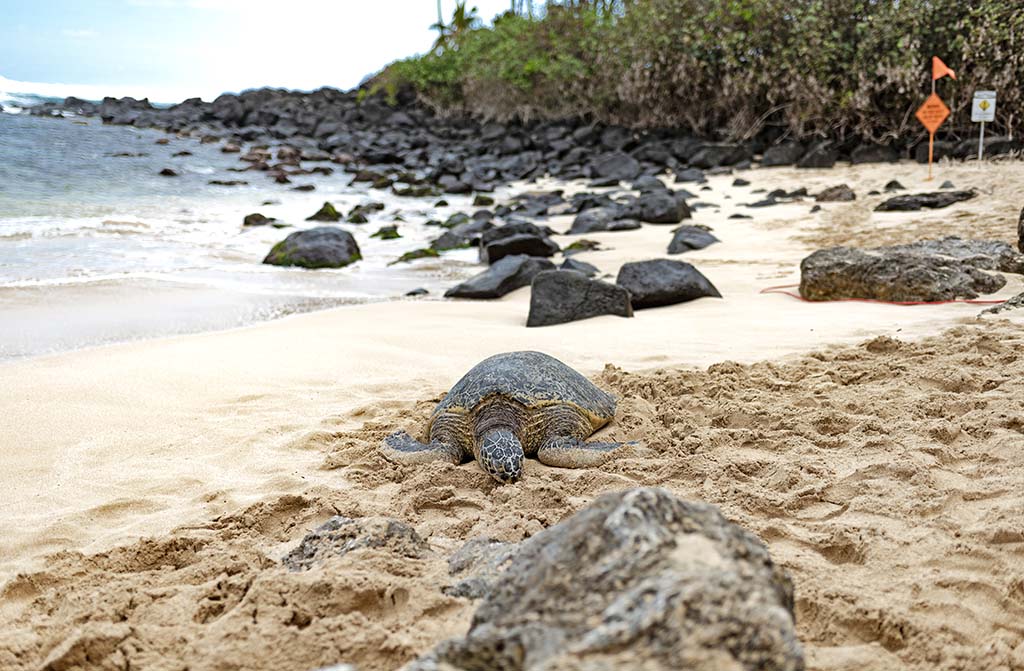 Every visitor wants a glimpse of the majestic sea turtles when visiting the Hawaiian islands. When snorkeling on Oahu, you have an excellent chance of seeing Honu (Hawaiian Green Sea Turtle). However, for those who don't enjoy getting in the ocean, the best place to see them is at Laniakea Beach (also known as turtle beach). They love to munch on the algae growing along the rocks and coral close to the shore.
Here are some tips to make your visit a safe and productive one:
Try to visit early in the morning or around 11AM. We've always seen the most Honu at this time.
If you're visiting during the wet season (Nov-March), the waves may be so rough that you won't spot any.
Parking can be a potentially dangerous situation. You'll have to park on the side of the road across from the beach. Recently the roadside has been re-paved and coned to help pedestrians walk/park safely.
Don't block the roadway looking for a spot and don't block in any of the other vehicles.
Be very careful when crossing the road. Traffic has the right of my way!
If you see a turtle on the beach, do not approach it or touch it. Enjoy the Honu from 6 feet or more away.
Respect the orange cones or tape you may see around the animals. Don't try to go past them.
11. Check out filming locations for Lost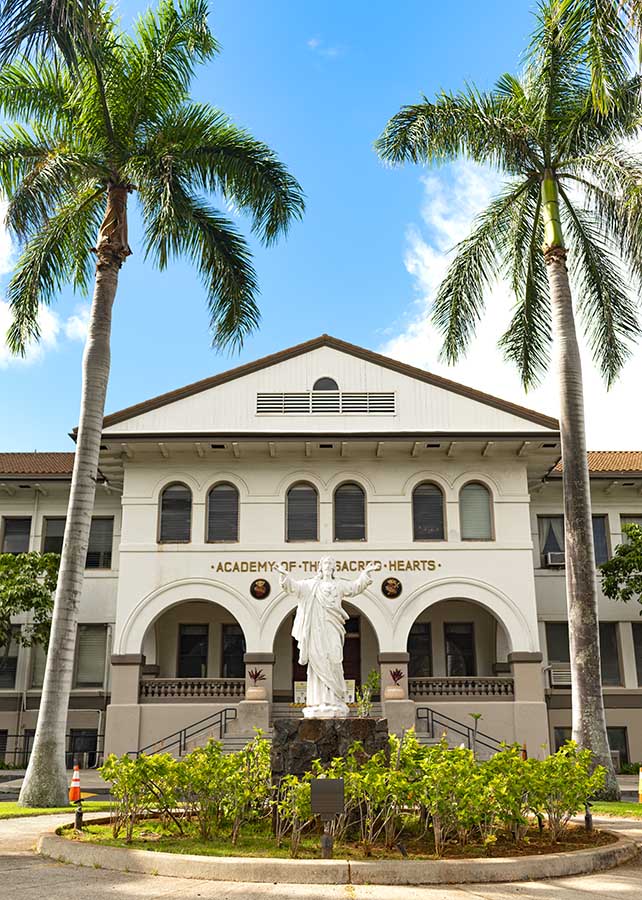 One of the most unique things to do in Oahu is to visit tv and movie sites! Of course, Kualoa Ranch hosts fabulous film tours (for a price!). However, for my fellow Lost fans out there, you can take a self guided tour around the island for free!
I hope to do a more thorough blog post of the film locations and route in the future, but in the meantime here are a few great stops to make:
Academy of the Sacred Hearts (pictured above)– the final gathering place in the last episode
Hawaii Convention Center- Sydney Airport
St. Andrew's Cathedral- Oxford University
Waialua Sugar Mill- Mr. Eko's village
Camp Erdman- Dharma Initiative Camp/Housing
TIP: Some of these locations are not open to the public, so a drive by is your best bet.
12. Walk Around the Largest Outdoor Mall in the World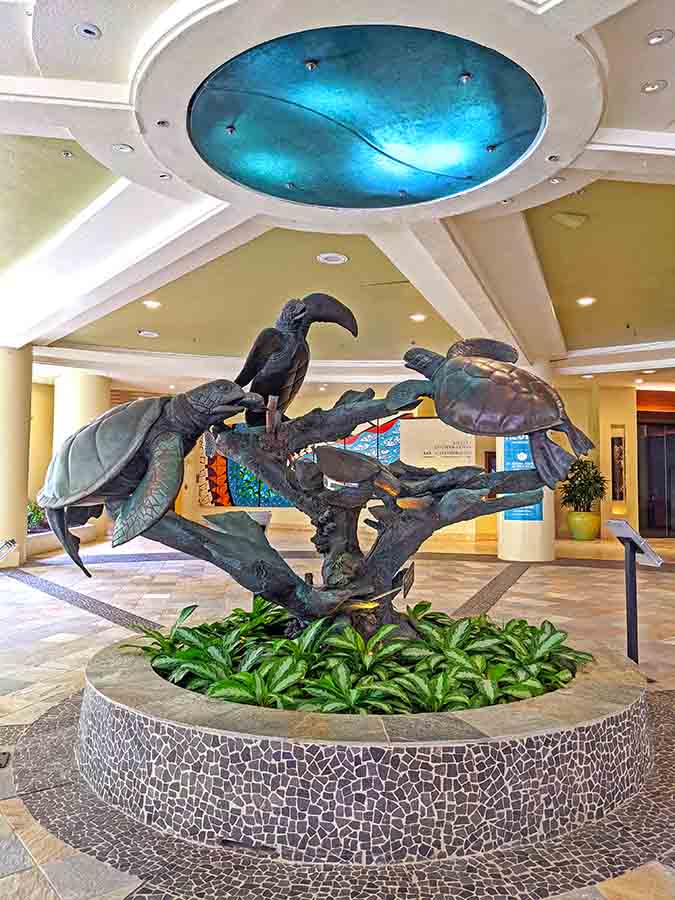 Although shopping can quickly become an expensive activity, there's always window shopping! A unique thing to do in Oahu is to explore the world's largest open-air shopping center, Ala Moana. People watch, check out the two-story Target, or ogle the boutiques. In addition, there are occasional music or dance performances too!
13. Watch the Sunrise at Makapu'u Tidepools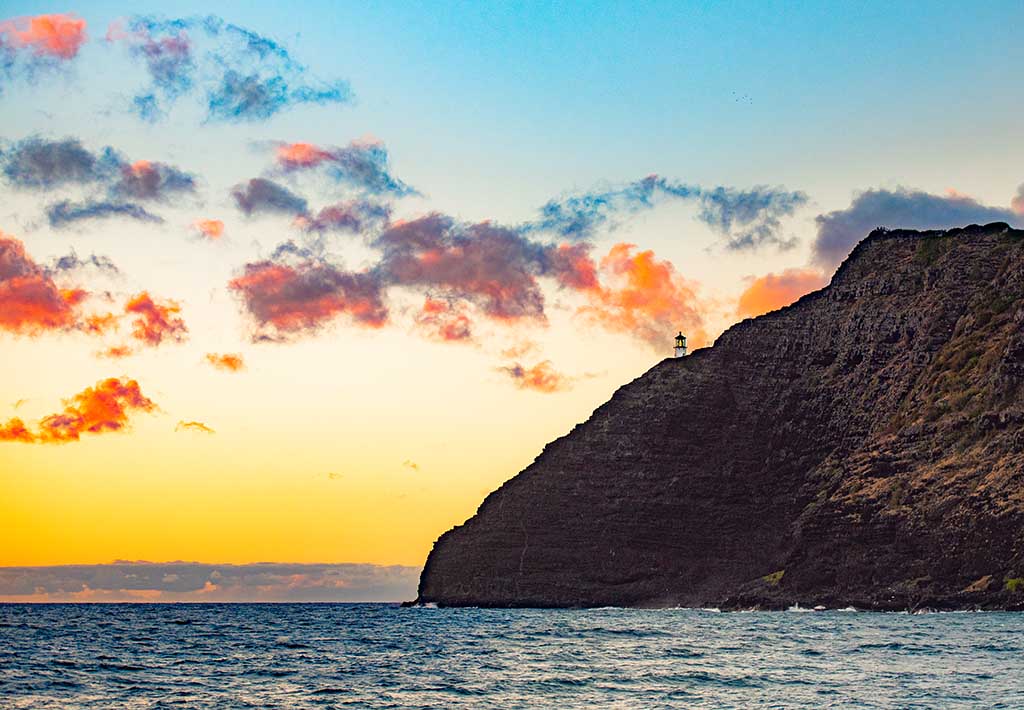 Catching a sunrise is one of the best free things to do in Oahu! You can witness one of the most stunning sunrises in your life pretty much anywhere on the east coast (windward side) of the island.
We loved waking up early and driving to the Makapu'u Tidepools to watch the sunrise peak over the the water and illuminate the Makapu'u Lighthouse on the edge of the cliff. We would also watch the surfers, the waves crash against the rocks, and occasionally glimpse a spout from a humpback whale. It's nothing short of magical!
14. Watch the Sunset at Kahe Point Beach Park (Electric Beach)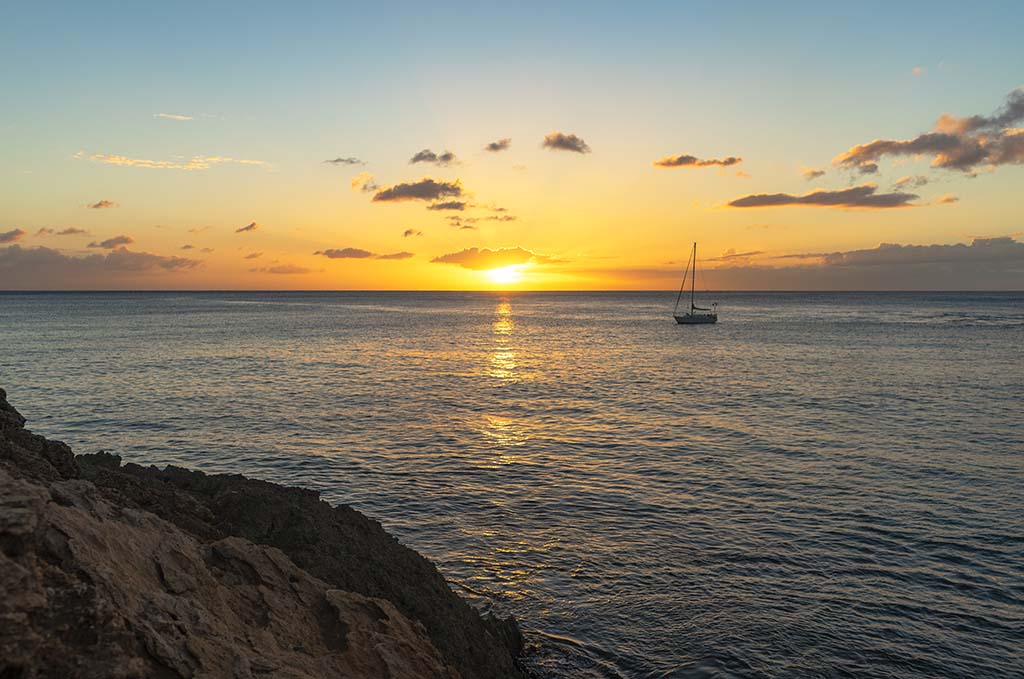 In addition, we spent many evenings lounging in our folding chairs along the water's edge at Electric Beach. We watched the little black crabs crawl in and out of the coral along the cliff, the boogie-boarder's enjoying the waves, and the sailboats passing by. You might get lucky and spot a pod of Hawaiian Spinner Dolphins!
15. See Coffee Bean Trees at the Green World Coffee Farm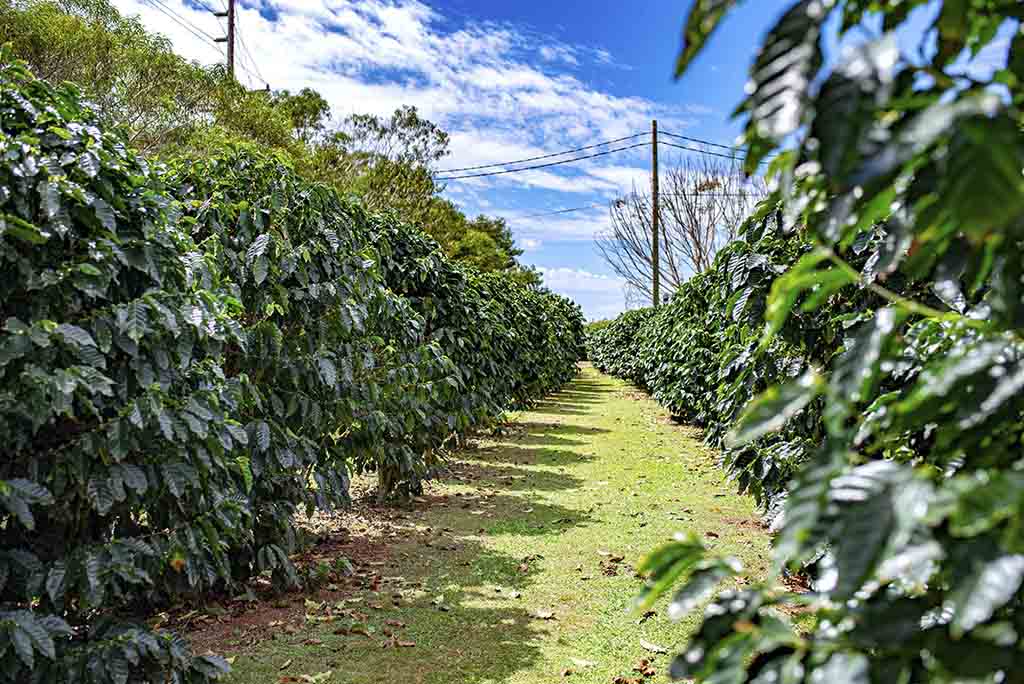 Have you ever seen a coffee tree or toured a coffee farm? Time to cross it off your bucket list with a visit to Green World! Visiting a coffee farm is one of the best free things to do in Oahu. It's a perfect stop along any scenic drive to the North Shore or around the island.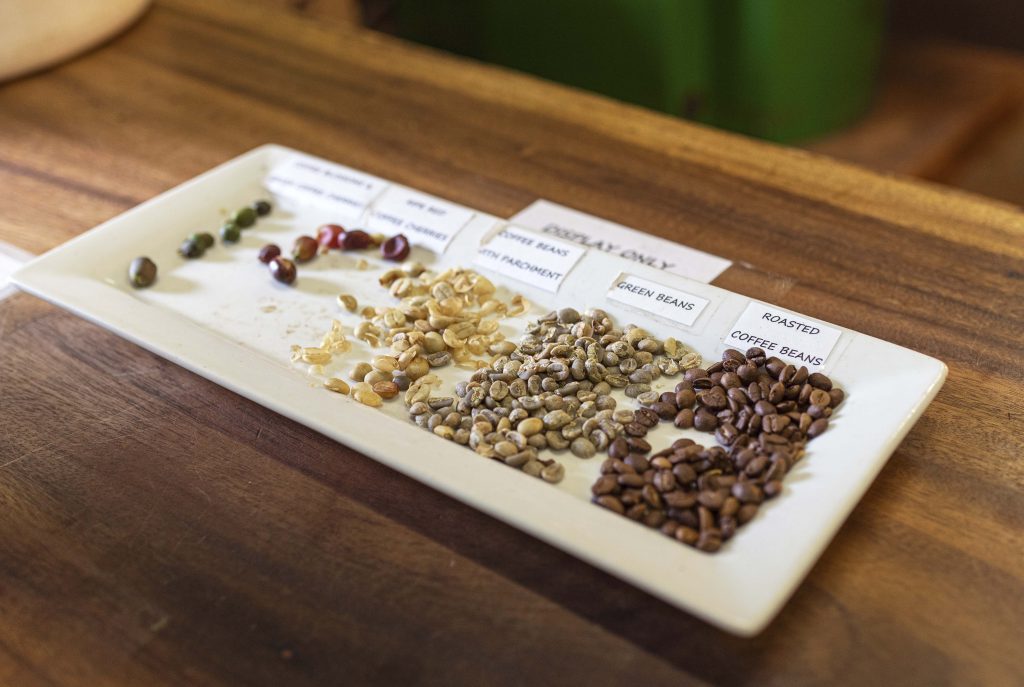 To learn more about visiting Green World Coffee Farm, check it out here!
16. People Watch at Magic Island Lagoon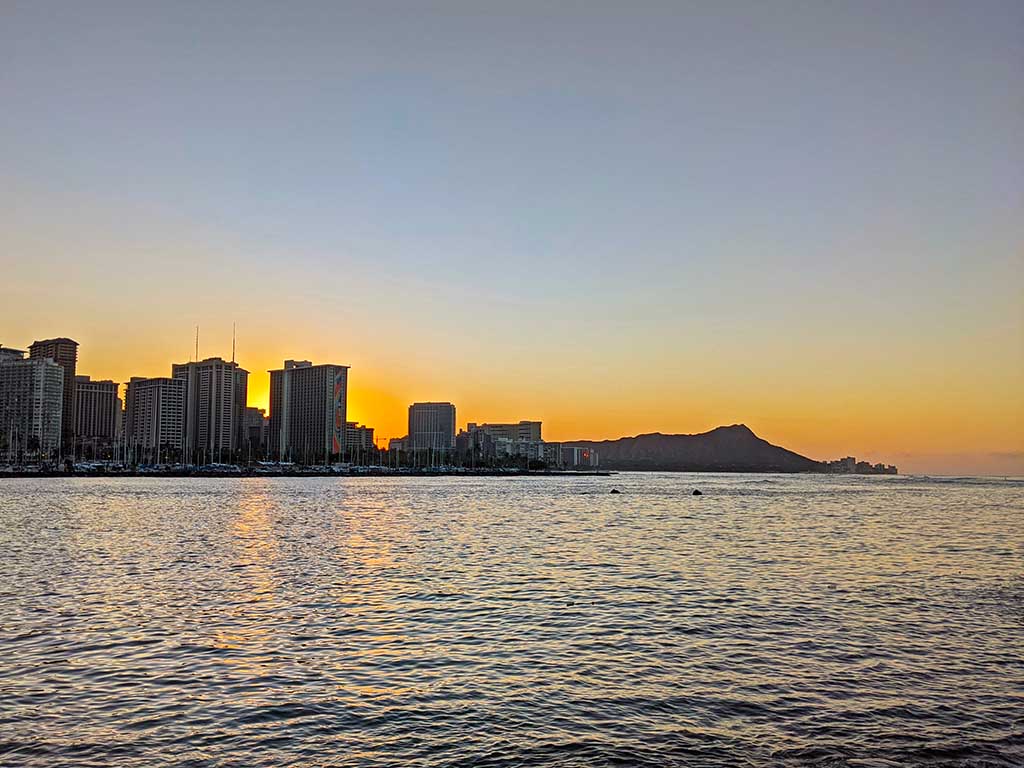 Joggers can be found in the morning taking laps around the park. In addition, the water is buzzing early with surfers, paddleboarders, and fisherman. There is also a stunning view of Diamond Head and Waikiki. We would soak in the views on the benches or lay out a beach mat on the lagoon sand.
17. Check out the Views at Tantalus Lookout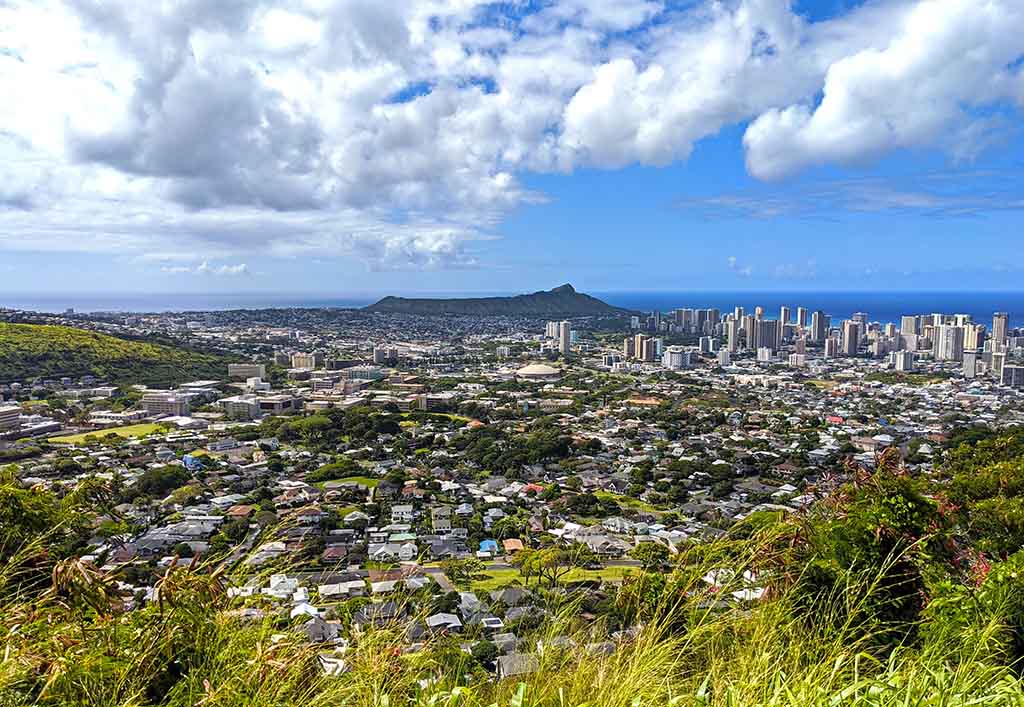 One of my favorite free things to do in Oahu is to visit lookouts and overlooks. A lesser known spot that delivers breathtaking views of Diamond Head, Pearl Harbor, and Honolulu is the Tantalus Lookout.
Located in Puʻu ʻUalakaʻa State Wayside, it's free to enter and it's a short walk from the parking lot. The park is open 7AM – 6/7:45PM. In addition, the drive up to the lookout has trails you can explore.
18. Visit the National Memorial Cemetery of the Pacific
For those of you who are history buffs or want to simply pay your respects, make a stop at the National Memorial Cemetery of the Pacific. This makes for an excellent addition to visiting Pearl Harbor.
Located in the Punchbowl Crater, the cemetery is open daily 8AM-6PM. The memorial encompasses those who lost their lives or went missing in WWII, Korean War, and Vietnam War.
19. Ride a bike along the Ala Wai Canal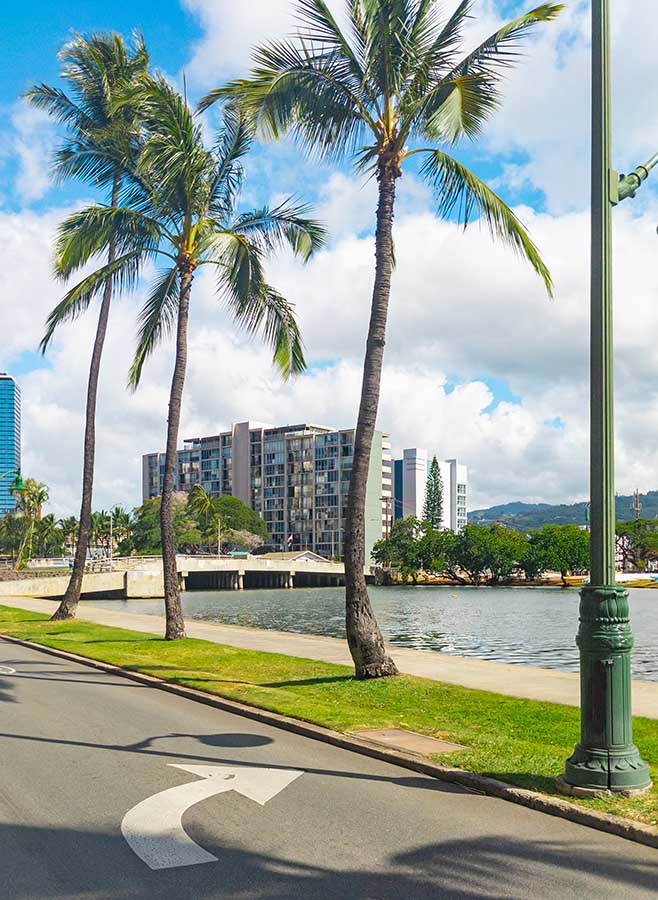 Although not a free activity- renting a bike is still a fantastic, cheap thing to do in Oahu!
TIP: Be sure to check with your hotel or Airbnb if they offer complimentary bikes or rentals at a discount.
You have your choice between a regular bicycle, an electric bike, or even a scooter. Enjoy cruising along the Ala Wai Canal, Ala Moana, Magic Island, and other parts of Waikiki. A 4 hour rental starts at $15.
Check out these rental companies:
20. Kayak to Chinaman's Hat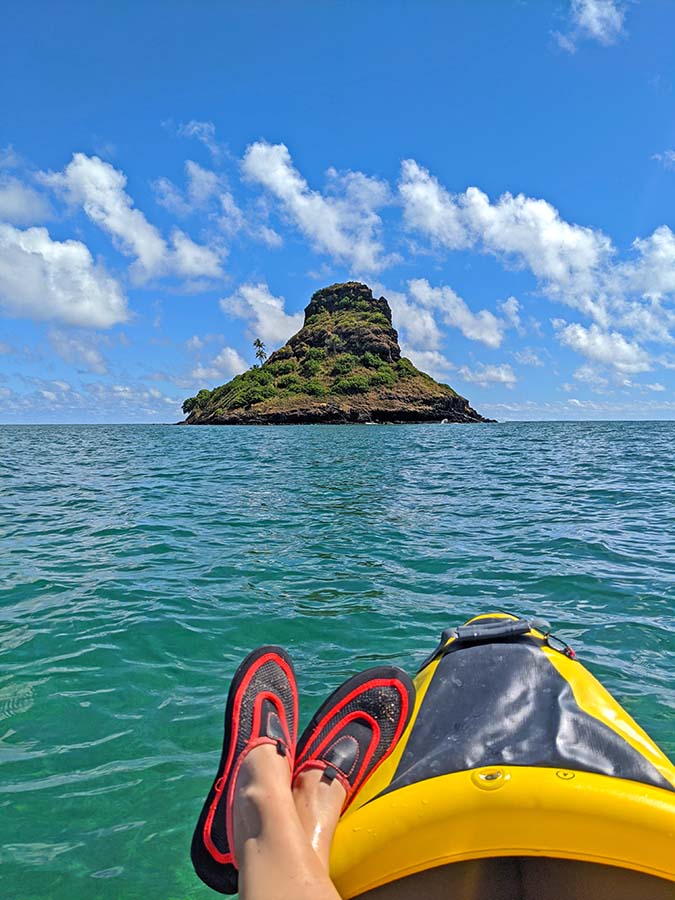 Kayaking to Chinaman's Hat (Mokoli'i, which means "little lizzard") is another activity that probably won't be free; not unless your hotel or Airbnb supplies a complimentary kayak or you know a friend on the island who has one.
However, it's still a worthy mention because it's a short, beautiful paddle. During low tide, it's even possible to walk to the island! But, be sure to keep the tide timetables handy.
If you don't want to kayak, or can't afford to, just a stroll along the beach at Kualoa Regional Park with views of Chinaman's Hat. It's a fantastic addition to any itinerary!
TIP: Check the surf forecast before any kayaking trip. You don't want to paddle in high waves or strong winds.
21. Beach swing at Kahana Bay
There are quite a few beach swings scattered along the windward side. One of the most popular one is at Kahana Bay. The swing is on the left edge of the bay when facing the ocean.
Take some fun photos swinging with the beach in the background! Keep your eyes peeled for more beach swings as you make your way north from Kahana Bay towards the North Shore.
22. Go Mural Hunting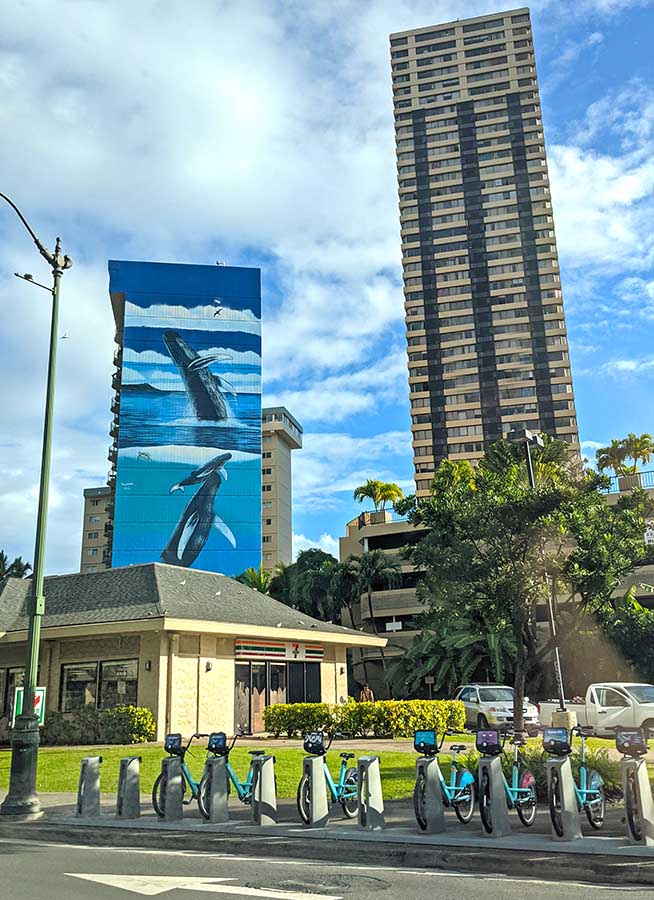 One of the things I love most about Oahu are the countless STUNNING murals. From large skyscrapers in downtown Honolulu to small shops on the North Shore, there are lots of fun, FREE places to take photos. While road tripping around the island or exploring shops, keep your eye out for murals!
Some of my favorites are found here:
Hawaii Wings (pictured) – side of Acai Brazil in Wahiawa
Wings and Bob Marley – side of Rainbow Bridge Gift Shop and Surf N Sea in Haleiwa
Seagull w/sunset – side of the road on Farrington Hwy near Mokulē'ia Army Beach
"Moon Hina" – side of Halawa View Apartments near Pearl Harbor
Humpback Whales (pictured) – side of Royal Aloha in Honolulu
Aloha Greetings from Waikiki – side of Honolulu Coffee Experience facing Kalakaua Avenue in Honolulu
23. Soak in the Views at La'ie Point State Wayside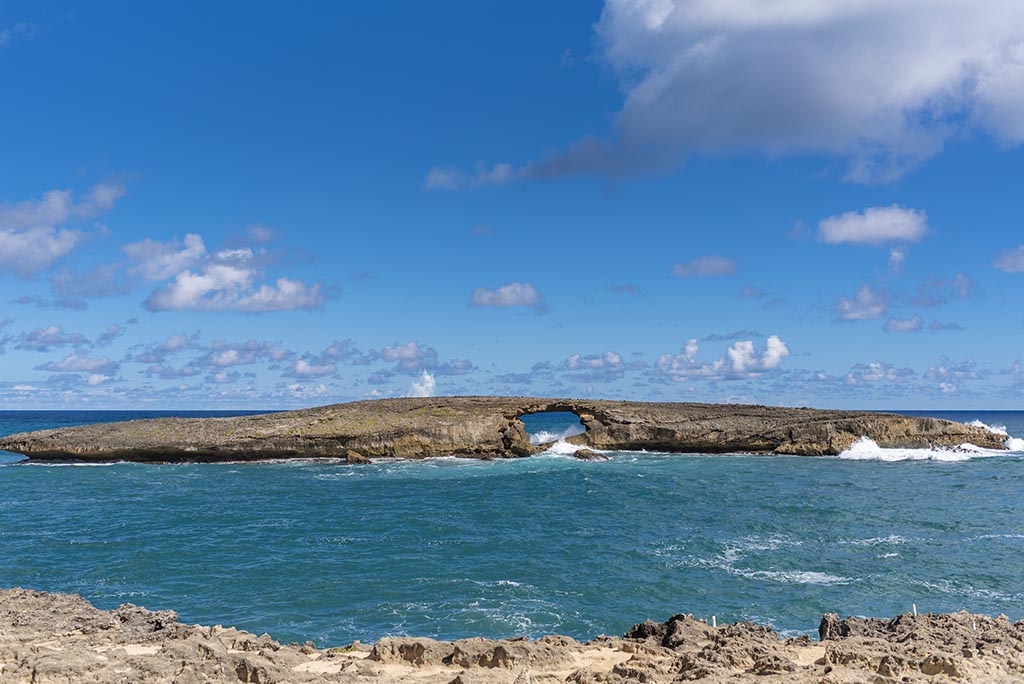 Located in La'ie, La'ie Point State Wayside is hidden in a neighborhood. The jaw dropping scenery is one of the best free things to see in Oahu.
Venture out on the point with caution. To the left of the peninsula is jagged and rocky with crevices, so watch your step. You'll be rewarded with waves crashing in the hole of Kukuihoolua Island (pictured).
Then, to your right of the peninsula, you'll be greeted with Ko'olau mountain and Laniloa Beach views. If you have extra time, wander to the tip of the point. Once again, venture with caution!
TIP: Be courteous of others- don't block in other vehicles or driveways.
24. Look for Humpback Whales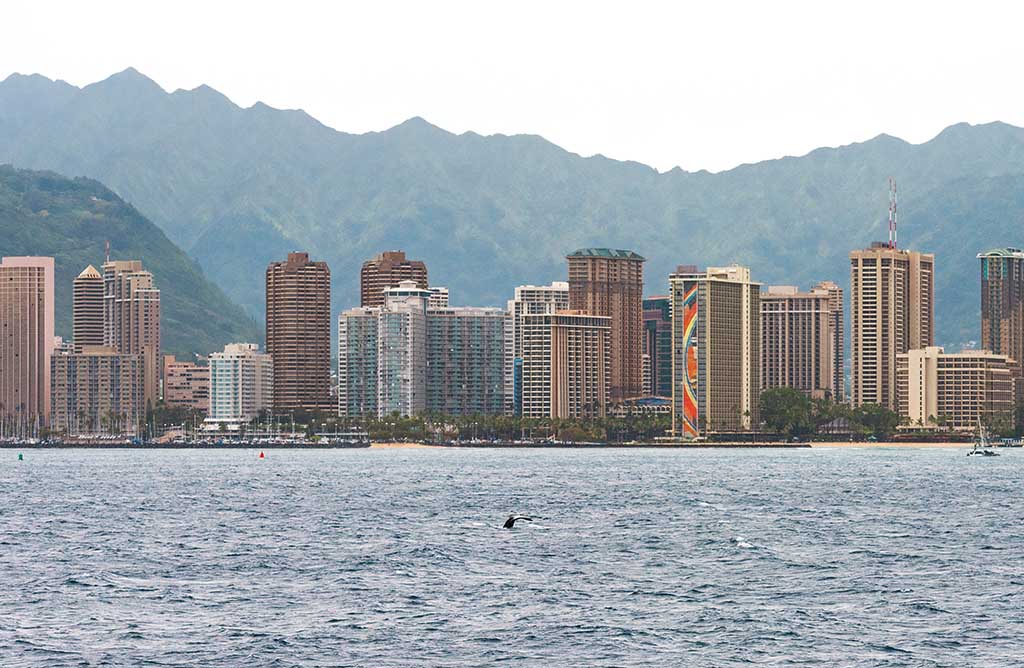 The best free and unique thing to do in Oahu during the winter months are to watch for Humpback whales. Typically from November through March, these majestic creatures (and their calves!) can be easily seen from shore.
Don't blink or you might miss a breach! Usually, you can spot them from the "spouts" in the air from their blowhole or their fluke as they dive.
Our favorite places to see the whales from shore:
Makapu'u Lookout
Mokulēʻia Rock Beach
Kahe Point Beach Park (Electric Beach)
25. Shop like a local at the Swap Meet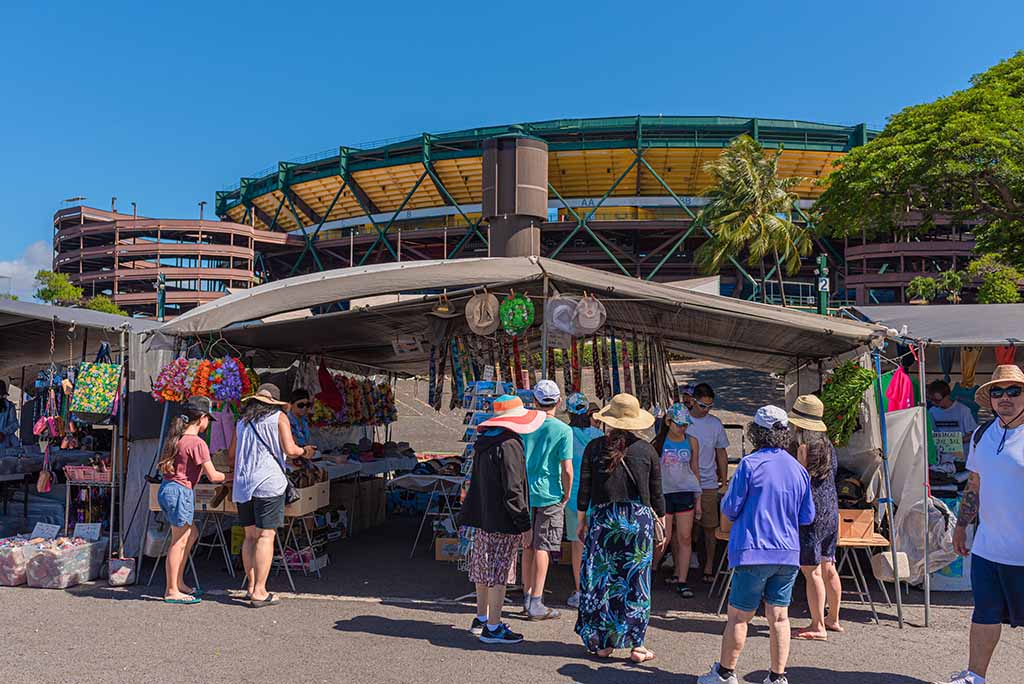 One of the best, cheap things to do in Oahu is to wander around the Aloha Stadium Swap Meet. Shop where the locals are and find classic souvenirs at reasonable prices! Although not free, it's only $2 per adult for admission and free for children 11 years or younger.
The swap meet is open Wednesdays and Saturdays from 8AM-3PM, as well as Sundays 6:30AM-3PM. Also, at parking lot section 8, there is a new dine & shop pop-up featuring local ono grinds.
TIP: Admission fees to be paid at the parking gate are cash only.
26. Get a sun tan at a Ko'Olina Lagoon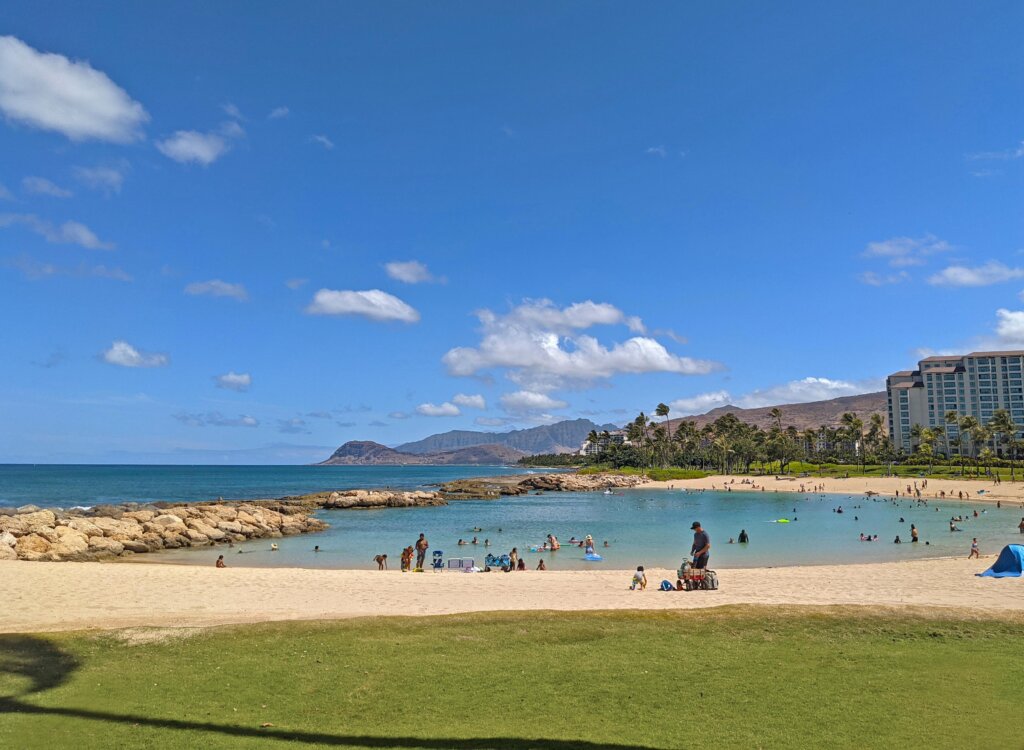 Any of the four man-made lagoons at the Ko'Olina resort is a picture perfect spot for lounging at the beach. During most of the year, these lagoons have gentle waves and crystal clear pools making it the best place to bring children. It's also an ideal spot for beginner snorkelers to test the waters.
TIP: Keep in mind that the lounge chairs/bungalows are for resort guests only and they do not allow you to set up your own umbrella or tent at the lagoons.
27. Try not to get blown away at the Pali Lookout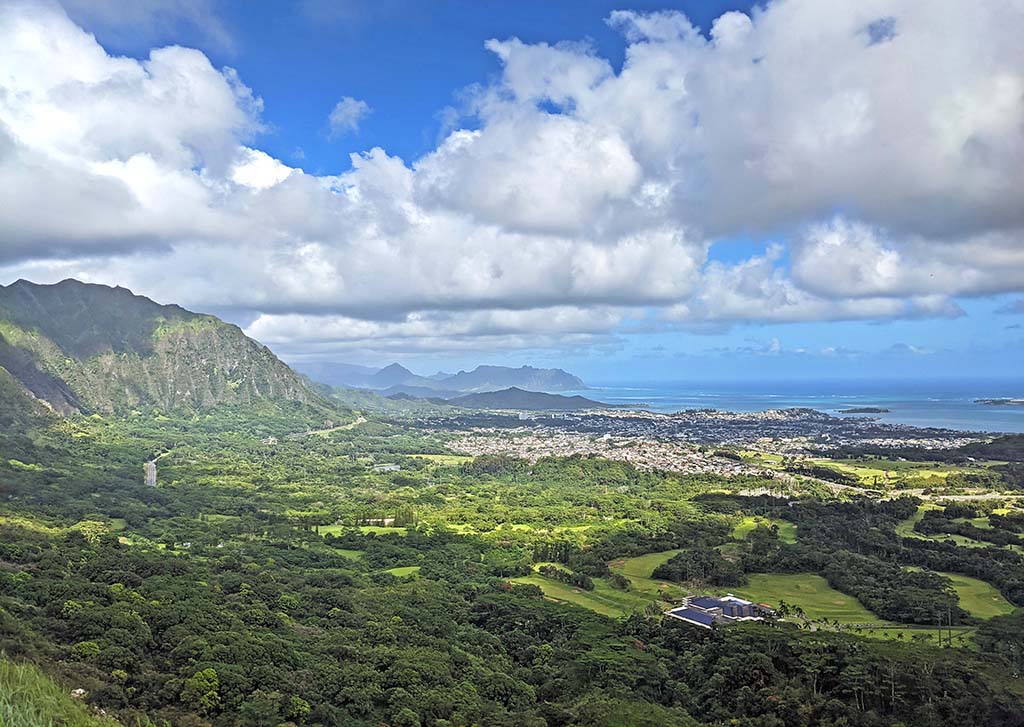 While enjoying a scenic drive along the Pali Highway, make a pit stop at the Nuʻuanu Pali State Wayside! Although parking is free for military and Hawaii residents, tourists are required to pay a parking fee of $7.
The lookout is open from 6AM-6PM daily, however they will close the gate to the lookout if the weather is poor. Enjoy stunning views of Ko'olau range, Kaneohe, and even Chinaman's Hat on a clear day.
TIP: Leave your sunglasses and hats in the car- yes, the wind can be that strong!
28. Walk around the Marketplace at the Polynesian Cultural Center
Although, there is an admission fee required to enter the Polynesian Cultural Center, the Hukilau Marketplace located outside the center is free! You can wander amongst the booths and shops at your leisure. Also, if you get hungry for lunch or a snack, there are tasty options to choose from.
29. See the Rainbow Eucalyptus at the Dole Plantation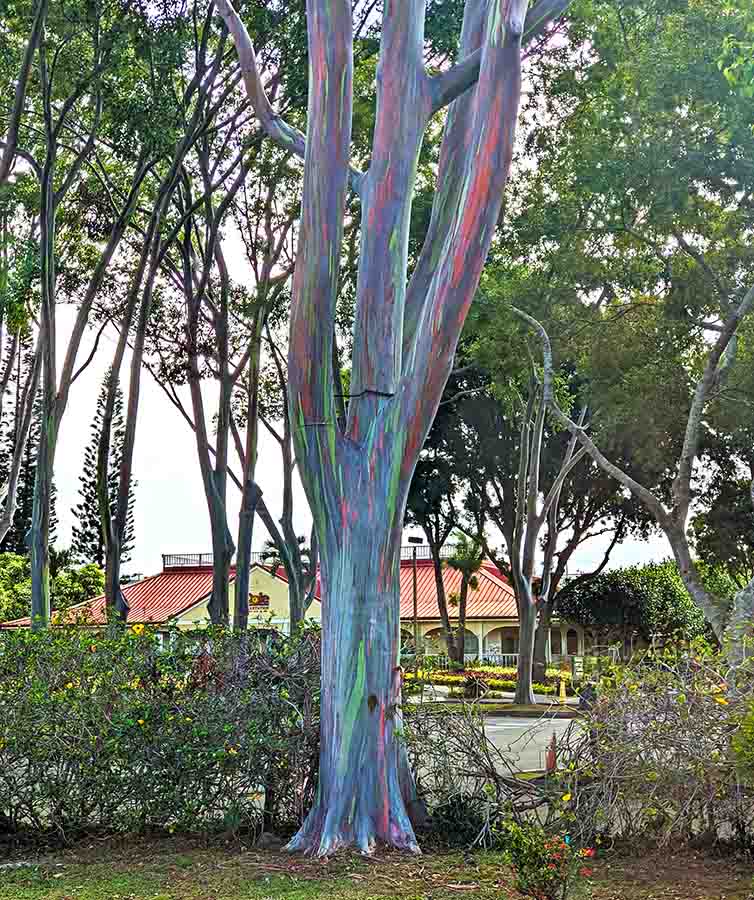 In the parking area at the entrance to the Dole plantation are a few rainbow eucalyptus trees. They are huge and colorful! Although you can spot eucalyptus trees in other areas of Oahu, after seeing these you can wander around the grounds of the Dole Plantation for free!
Check out the different pineapple plants, peruse the gift shop, and take photos in the cutouts around the grounds. And…if you feel like splurging, get a dole whip to enjoy as you walk around!
30. Crack some nuts at a Macadamia Nut Farm
Where else can you crack your own macadamia nuts? One of the best free things to do in Oahu is to visit a local Macadamia Nut farm! After enjoying samples and exploring the shop, head outside to the "nut cracking" area (teehee).
You'll also have an audience- the chickens will hang around waiting for nut scraps. Use the old tree stumps and large rocks to try to find yourself a fresh, whole macadamia nut!
31. Jump off the big rock at Waimea Bay
If seeking a thrill is on your Oahu agenda, try this free activity! Jumping from the big rock at Waimea Bay is extremely popular in the summer. You can jump from either side of the rock. However, the side facing the bay tends to have a more sandy bottom while the side facing the edge of the bay is a bit rockier.
TIP: Only attempt this when the surf forecast calls for calm waves and tide. Jumping is generally best in the summer months, April- October.
32. Check out the Duke Paoa Kahanamoku Statue in Waikiki
Duke is known as the "father of surfing". He was born and raised in Waikiki and embodies Hawaiian athleticism. You can spot the 9ft bronze statue from your car if you're driving by Waikiki Beach.
While walking around Waikiki, why not pay him a visit? The photo op is free!
33. Enjoy the serenity at the Byodo-In Temple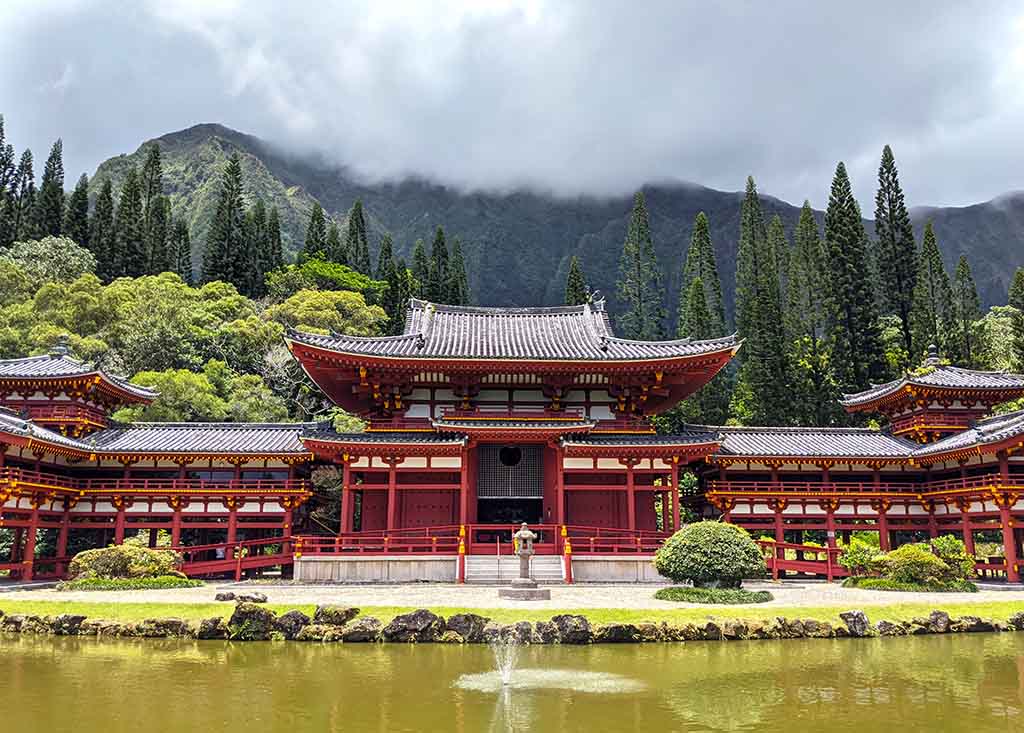 Visit a little piece of Japan in the heart of the Ko'olau mountain range in Kaneohe. Although the Byodo-In Temple is technically not free, it's worth being added to this list with the small price tag. For $5 per adult and $2 per child, you can explore this miniature replica of the 950-year-old Byodo-in Temple in Uji, Japan.
Stroll over the bridge, ring the gong, enter the temple, visit the koi pond, and keep an eye out for the black swans. It is a beautiful place to find solitude, peace, and immerse yourself in a taste of Asian culture.
34. Visit Makua Cave
When driving along the Leeward side (west coast) of Oahu, you'll come across a cave on the side of the road. There will be a gravel parking area to your left and a sign that says "Ka'ena Point State Park Makua Section". Across the road is the cave.
Makua Cave (also known as Kaneana Cave) is sacred. Be respectful of the area and do not litter. Do not venture too deep as the narrow sections are unstable.
There is a hike to Upper Makua that is popular for sunrise or sunset. However, if you're just looking for a quick stop to see the cave, there's no need to hunt down the hiking trail.
TIP: Be extremely cautious when crossing the road; there is no cross walk. Also, it's a good idea to bring your valuables with you and/or lock your car doors.
35. Explore a WWII Pillbox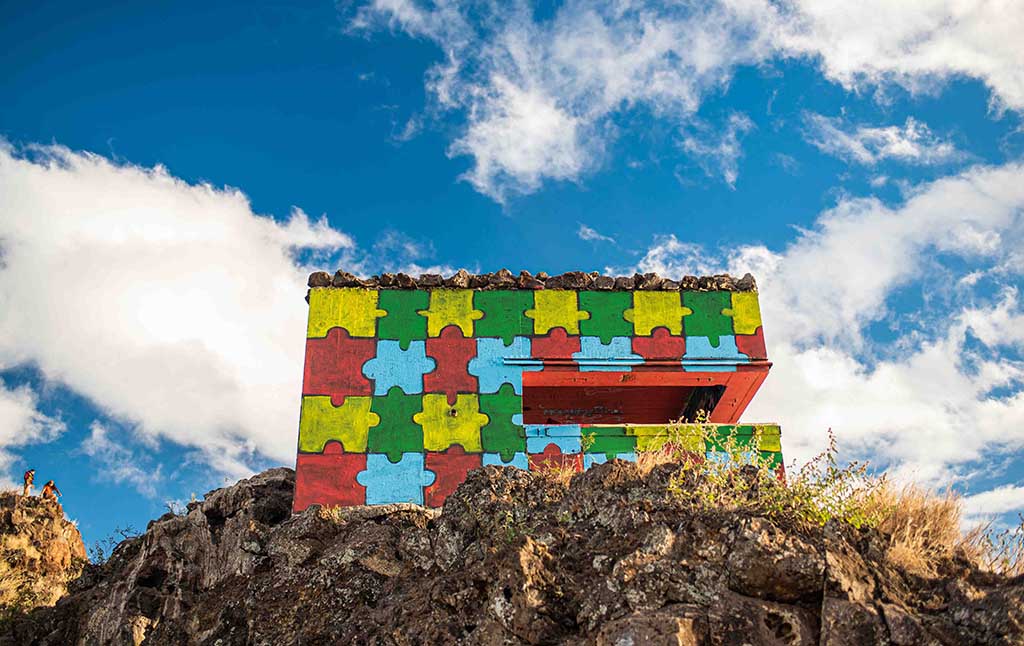 There are numerous pillboxes on Oahu which offer sweeping views of the island and the occasional mural. Most take a little bit of a hike to reach, but they are worth it! Pillboxes were used in WWII as lookout posts and defensive sites.
Some great ones to check out are:
36. Visit Horses at Kawailoa Ranch or Kualoa Ranch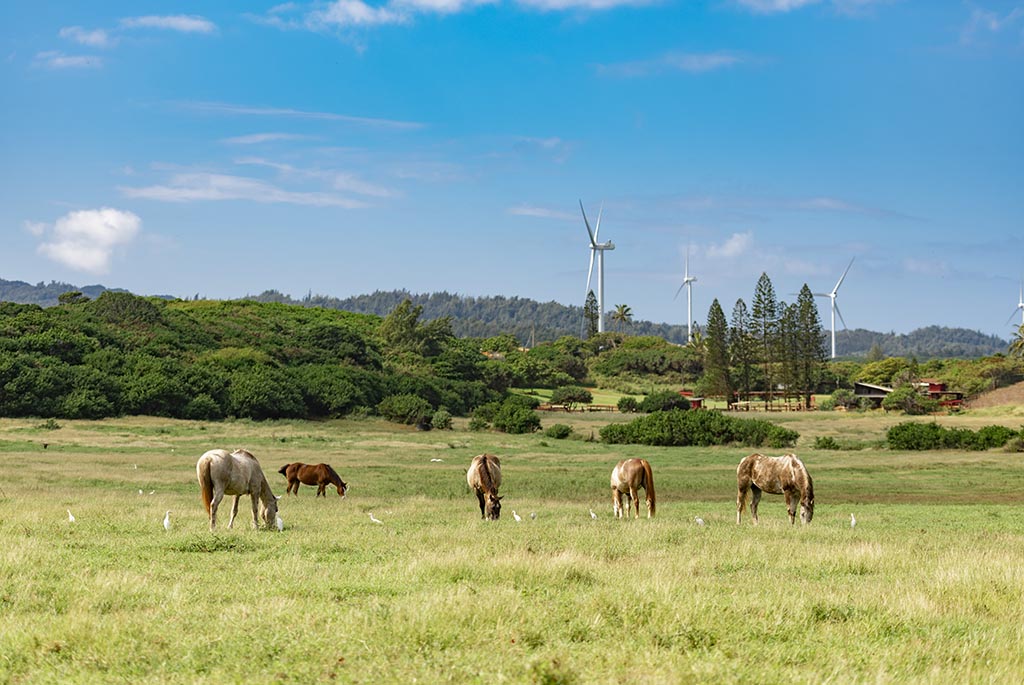 While visiting the North Shore, beach hopping or just taking a scenic drive, it's always fun to stop along the white fence line of Kawailoa Ranch! You'll find the pasture just before Laniakea Beach when traveling east.
They typically hang out at the fence and enjoy a scratch between the ears. Of course, be cautious because the horses could bite.
Also, after 5PM every day at Kualoa Ranch, the trail horses are let out to pasture facing the road. These guys probably won't come to the fence, but admire them from afar!
TIP: Don't feed the horses. Remember not to leave trash in their pasture and don't stand/lean on the fencing!
37. Walk around outside the 'Iolani Palace and Aliʻiolani Hale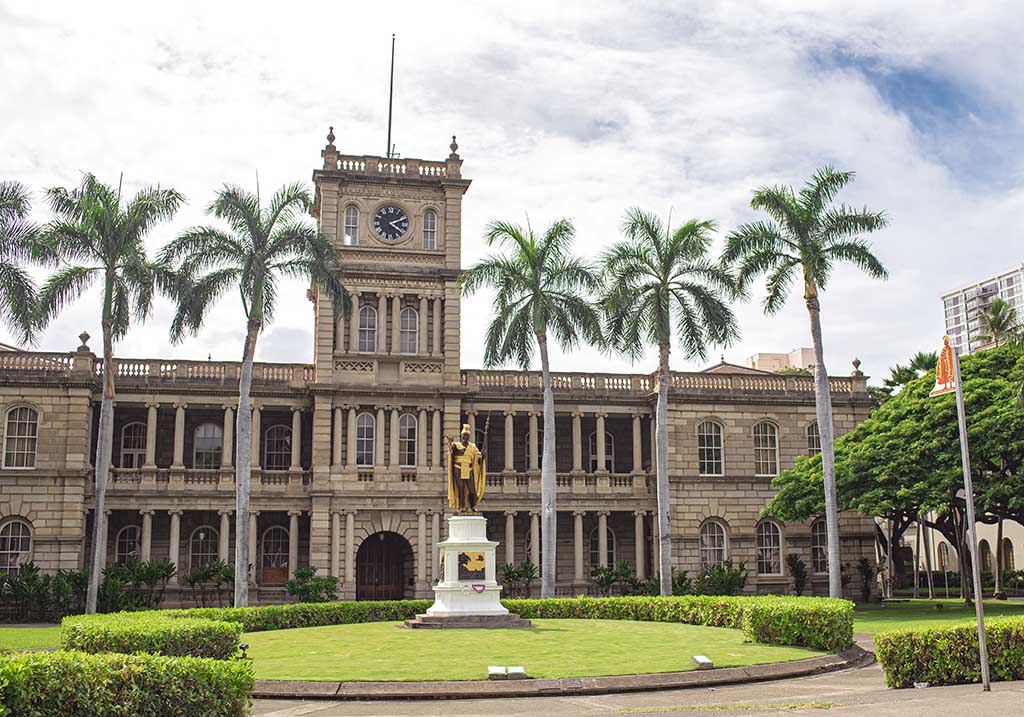 The 'Iolani Palace was the home of the last reigning Hawaiian monarchs. It is considered the only royal residence in the United States. The interior of the palace is available for tours beginning at $25 dollars per adult, although there are discounts for Hawaiian residents and military members.
Located directly across the street is the King Kamehameha Statue. He stands proudly outside of the Ali'iolani Hale which is currently the home to the Hawaii State Supreme Court. You can walk around outside or drive by to see this historical location.
Free Things to do in Oahu Conclusion
There are so many things to do in Oahu for free. This includes family friendly and adventurous activities that don't necessarily include the beach. There are opportunities to visit sacred ground to Hawaiian culture and American history. Also, there are endless ways to explore outdoors and see the local wildlife. Don't let money keep you from enjoying the beauty and adventure that Oahu has to offer!
More Hawaii Blog Posts:
Did you enjoy this read? Please share and pin for later!