Hiking in Hawaii is a dream come true for most outdoor enthusiasts. Hawaii is incredibly rewarding with its stunning mountain ranges, ocean views, and lush rainforests.
Brian and I were super pumped about hiking when moving to Oahu. We were so excited to learn about all the trails the island had to offer. However, we discovered very quickly that hiking in Hawaii is much different than hiking on the mainland.
Hawaii hikes present challenges that are not found only on the trail. Below we share with you the things we wish we had known about hiking in Hawaii!
NOTE: As of January 5, 2022- Stay up to date on Oahu's travel guidelines here. Furthermore, consult the Hawaii Travel Requirements website before you plan your trip to any Hawaiian island.
Disclaimer: This post is in no way sponsored. We paid for all the activities mentioned and all opinions are our own. This page may contain affiliate links, which means I may earn a commission (at no extra charge to you) if you make a purchase after clicking my link. Thank you for being a loyal reader!
---
Many Well-Known Hikes are Illegal
Almost anyone who wants to hike in Oahu, Hawaii has heard of the Stairway to Heaven (the Haiku Stairs). The trail is iconic for the incredible views from the backbone of the Ko'olau mountain range.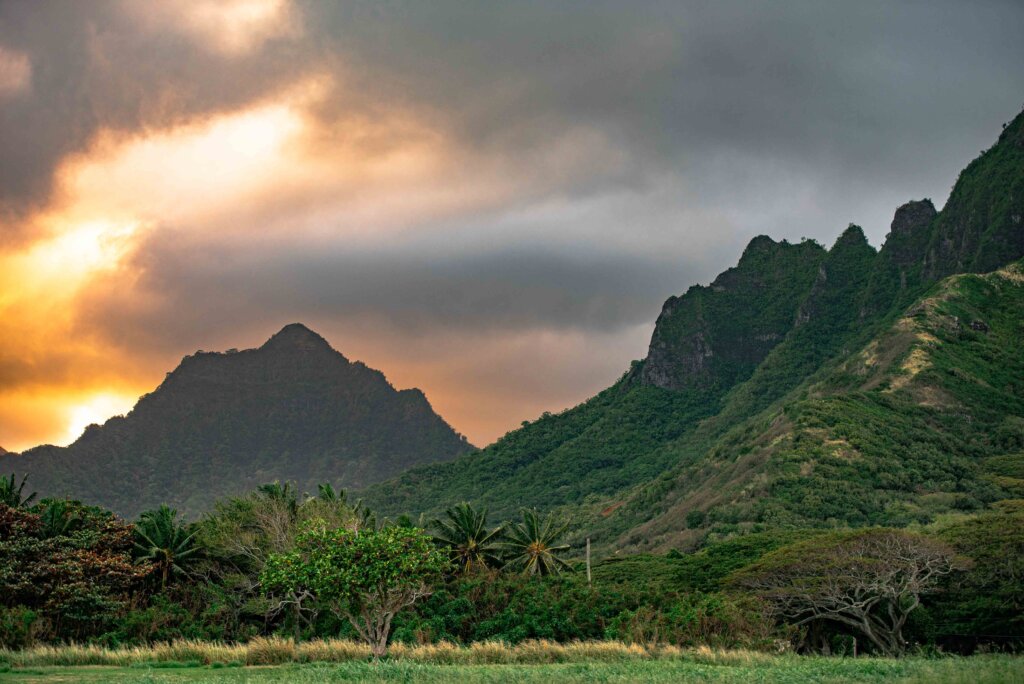 Unfortunately, the trail is illegal when beginning from the bottom of the stairs. The trailhead is located in a neighborhood and street parking is the only option. The locals dislike the hikers because they cross their property, block driveways, or generally disturb the neighborhood in an effort to reach the trail. Police presence is common at the entrance and they do not hesitate to fine trespassers (some up to $1000!).
However, there is a legal trail coming from the opposite direction called Moanalua Trail. This trail leads to the top of the stairs and is much longer and challenging.
Other popular hikes on Oahu such as Crouching Lion, Lulumahu Falls, and Manoa Falls are labeled as "illegal", "closed", or on "private property". Hike at your own risk.
Limited Parking at Trailheads
I was startled to discover that the most difficult part of hiking in Hawaii is not the actual trail. The most difficult part is the accessibility to the trails. Most trailheads on Oahu do not have designated parking areas. This means that if you don't show up early in the morning or late in the afternoon, you're pretty much out of luck.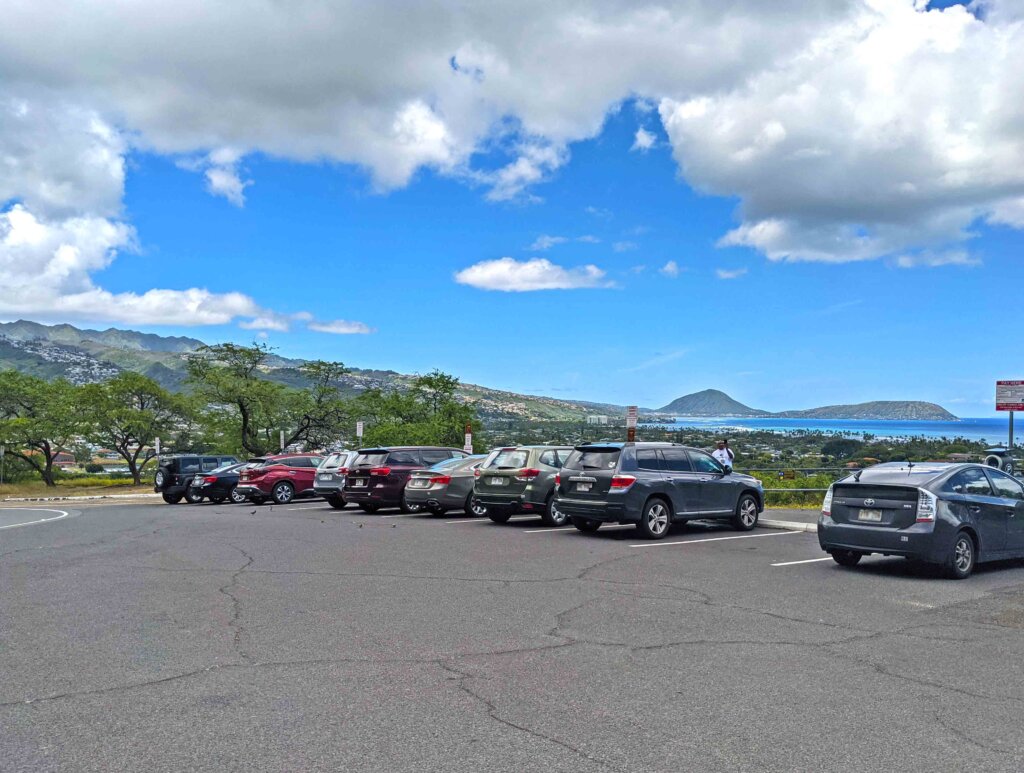 Only a handful of trails in the state park system of Oahu, such as Diamond Head State Monument, Kaiwi State Scenic Shoreline, and Keaiwa Heiau State Recreation Area have parking lots. In addition, those that have parking lots usually only have spaces for a handful of cars.
Many hikes in Hawaii require parking along the street or in a neighborhood. Be sure to respect the residents and be courteous about where you are parking.
Keep Your Valuables Out of Sight
This tip may seem obvious, but I couldn't tell you how many busted windows we've seen. Although Hawaii is generally a very safe state, there is quite a bit of petty theft.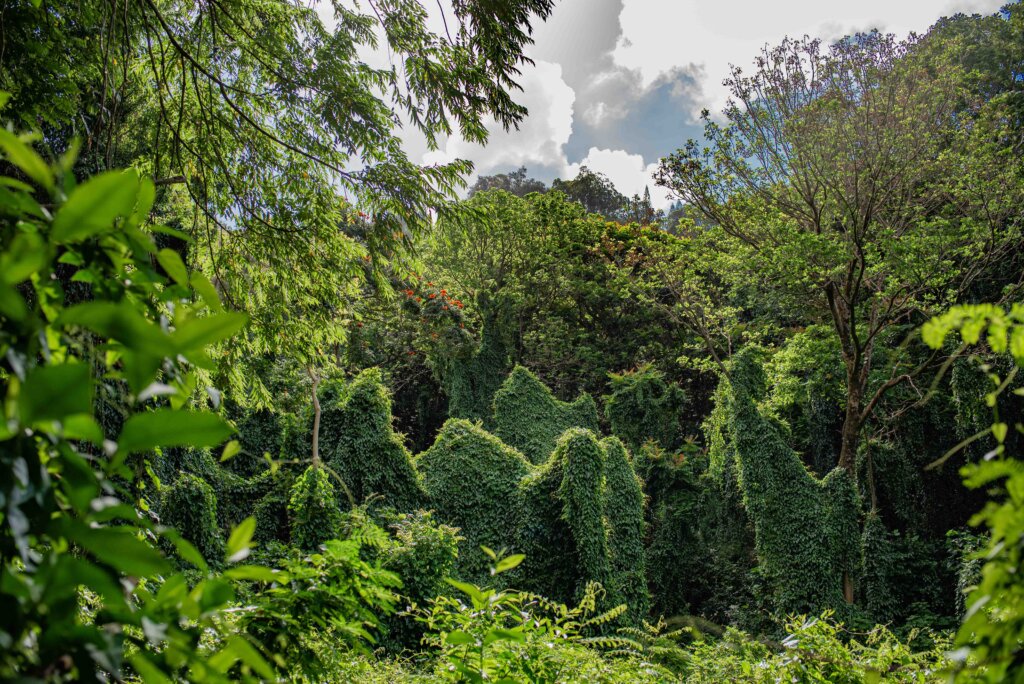 When parking anywhere in Hawaii, I'd highly encourage you to NOT leave your valuables in the car. I've even been advised to leave my doors unlocked so a thief can peruse my car without shattering the windows.
I definitely do not leave my car unlocked. However, I don't make it obvious that I'm trying to hide something in the vehicle. When hiking in Hawaii, bring everything with you in your backpack. Take all of your cash, ID's, credit cards, cameras, (even garage door openers for you residents) etc.
Hiking in Hawaii = Muddy Trails
Flash floods are a real thing. So, be sure to check the weather each morning before starting a hike. This is especially imperative during the rainy season or winter months (November through April). Trails with creeks or waterfalls can be dangerous when the island is experiencing heavy rainfall.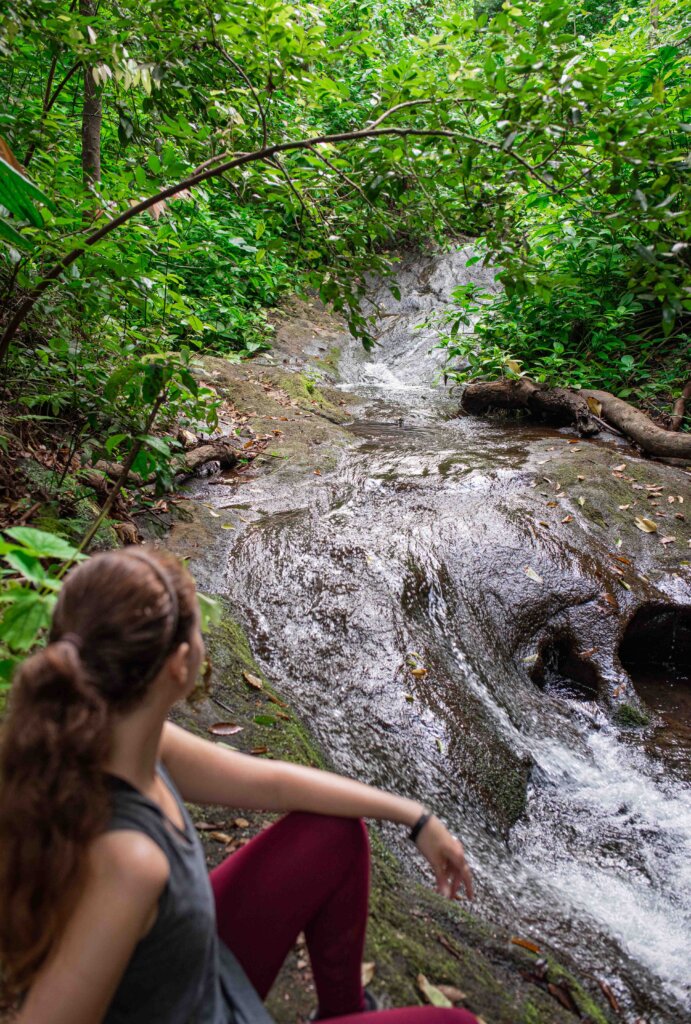 Ridge trails and interior trails, in particular, are prone to being muddy. This is true even if it hasn't rained in days. Although it is best to view waterfalls at their grandest during the rainy season, take extra precautions. Consider rescheduling if you choose to hike while it's raining in Hawaii.
Overall, be aware of your limits. If crawling up narrow cliffs while slipping in the mud with gusty trade winds doesn't sound like a fun hiking day to you, then don't do it.
Some Hikes in Hawaii Need Permits
Some of our favorite trails are on military installations, forest reserves, or private property. Thankfully, these trails are accessible to the public! The only requirement is to reserve a permit online and potentially pay a small fee (about $2.50).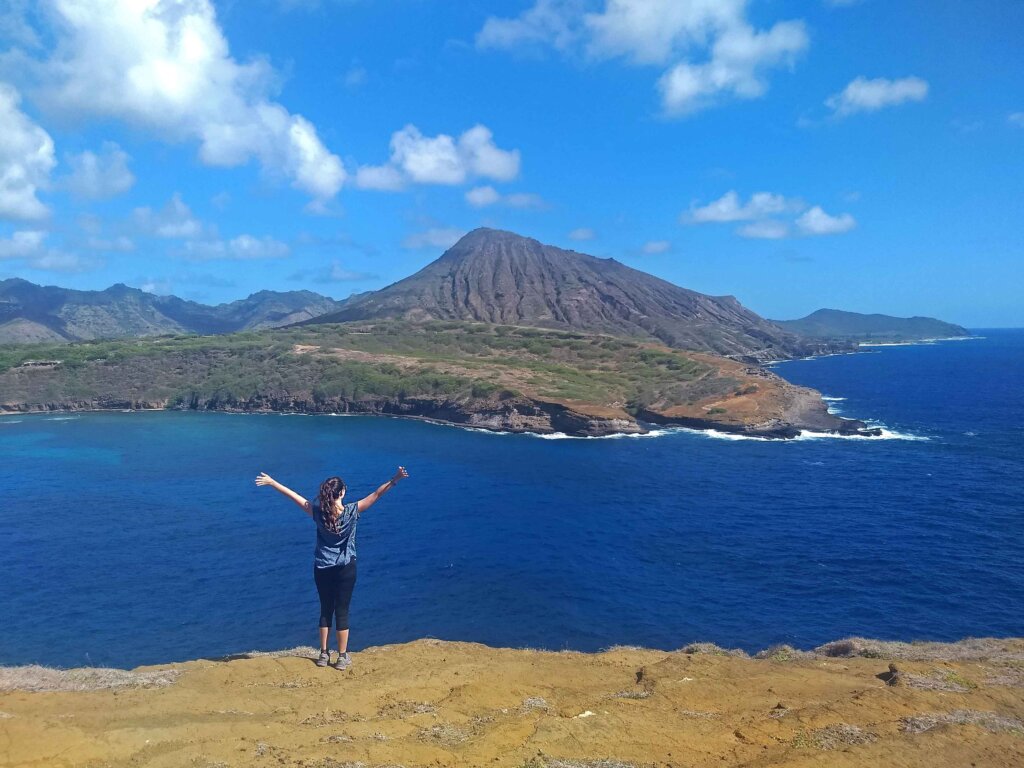 For example, we secured a day pass for Kuaokala and Mokuleia Forest Reserve online. This was a quick and easy way to have access to trails that most other visitors never see. For permit information with Hawaii Division of Forestry & Wildlife Trails Day Use click here.
Pay Attention to Warning Signs
If you see a warning sign about falling rocks, hazardous cliffsides, or flash floods you should probably take them seriously. Many people fall from Hawaii trails and require medical assistance. Many people fall to their death, hence why a number of trails have become illegal.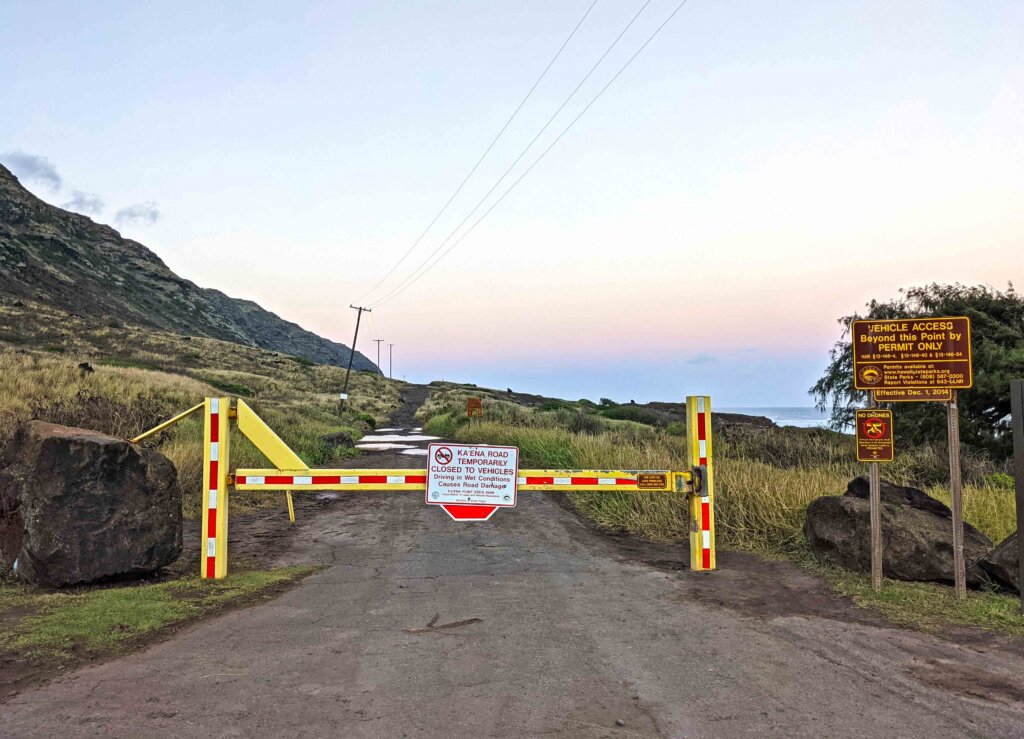 Do not go past signs that mark the end of the trail. Many of the exposed ridges and cliffs are dangerous to walk on. Don't wander off of the trail for your own safety and for the continued integrity of the path.
Usually the Earlier, the Better
Some hikes in Hawaii don't offer much shade. Therefore, it's nice to get started on your adventure early in the day to prevent heat exhaustion or severe sunburn. Also, starting your hike at sunrise or earlier guarantees a parking spot.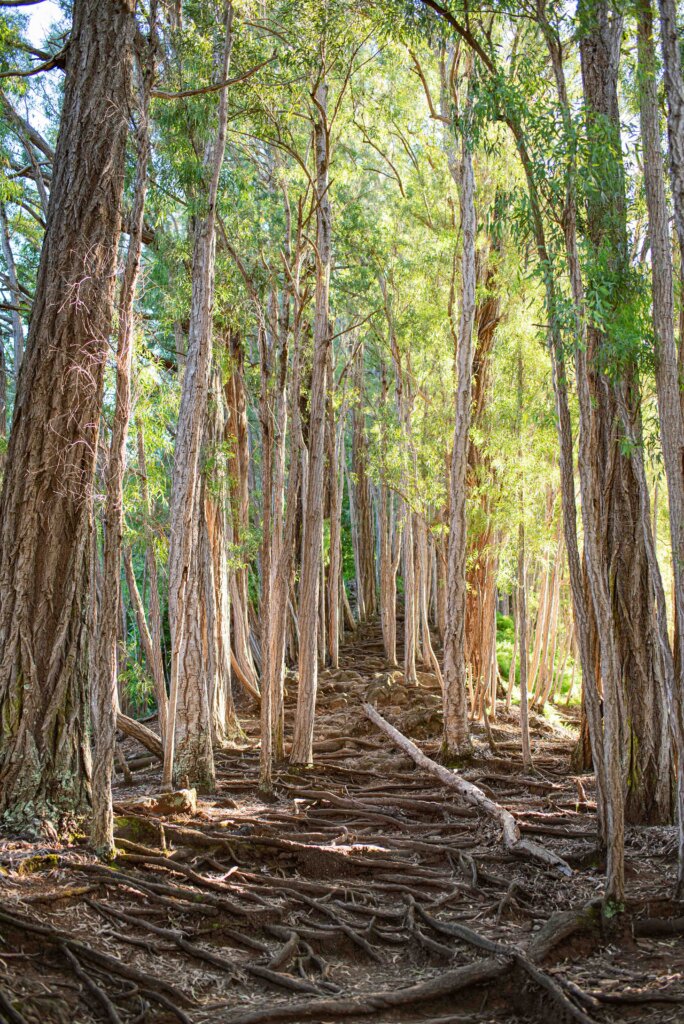 There are other popular sunrise hikes such as Makapu'u Lighthouse and Lanikai Pillbox that are usually less crowded in the late morning or late afternoon.
In addition, always choose the option to hike on a weekday! This will ensure a less crowded hiking experience.
Some Trails Are Poorly Marked
Occasionally, when hiking in Hawaii, the trails can become confusing. You may find yourself lost on the less popular hikes.
We've discovered that interior hiking trails through the rainforest or to a waterfall tend to be the more confusing. The paths become overgrown and mud from landslides can destroy markers. In addition, some hiking paths can cross or merge with local hunting trails.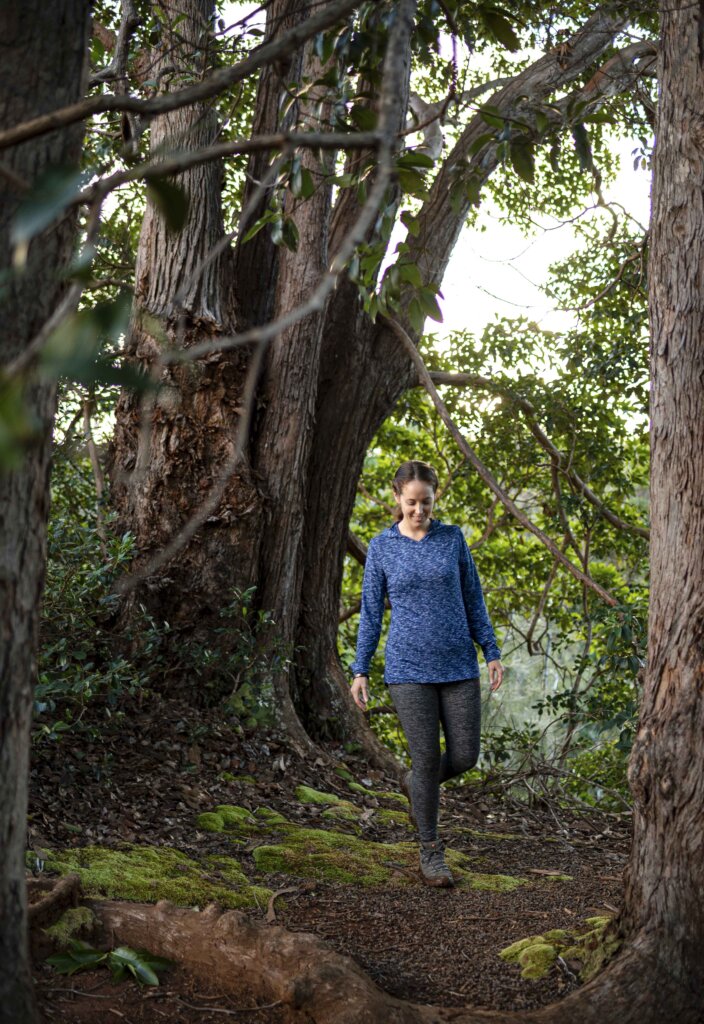 Usually, most trails will have a flag marker system. You'll spot pink, yellow, or blue flags along the route to help guide your way. Do keep in mind that sometimes, these flags indicate the difference between a hiking trail and hunting trail.
We highly suggest you download the free app maps.me to download the trail before you begin your hike. Then, you can use the compass (even if you don't have a cell signal) to navigate the correct path.
Be Cautious When Swimming in Waterfalls
What's better than getting hot and sweaty on a hike, then rewarding yourself with a dip in a beautiful waterfall at the end? This is a dreamy idea, but you might want to think twice before you jump in.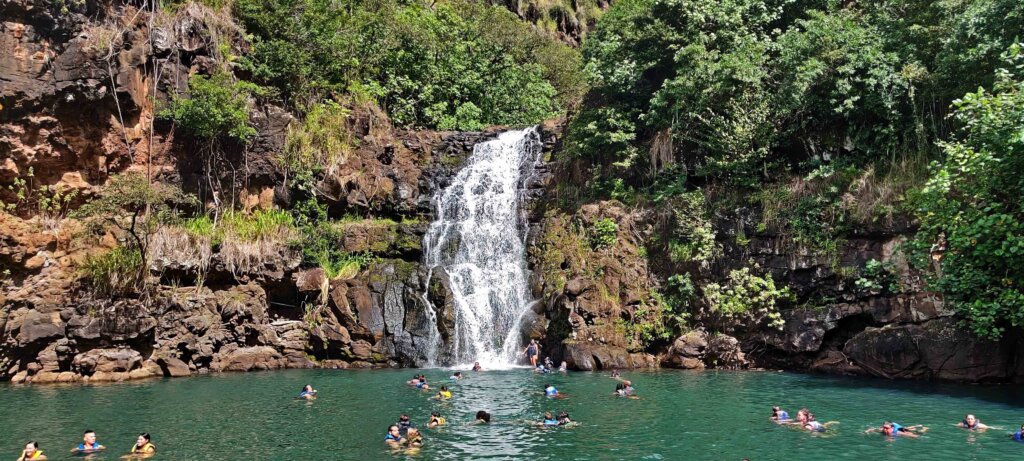 One amazing benefit of hiking in Hawaii is witnessing incredibly gorgeous waterfalls! One of the most popular waterfalls on Oahu, Waimea Falls, has a lifeguard station. After your walk through the valley, you can hop right in and enjoy the water!
However, for other waterfall hikes such as Manoa Falls, it is highly discouraged to swim in the pools. This is due to the high levels of bacteria in the water. You can get leptospirosis by swimming or wading in freshwater. DO NOT drink pond or stream water in Hawaii.
Hiking in Hawaii Wildlife
When we hiked in Colorado and Montana, we carried bear spray. Thankfully, you don't have to worry about bears when hiking in Hawaii!
Shockingly, there isn't much wildlife to contend with on the trails in Hawaii. You may encounter a few mosquitos, musical birds, a mongoose or two, or (if you're lucky) a chameleon! Plus, if you choose to hike along the coast you'll probably see Laysan Albatross, Hawaiian Monk Seal, Hawaiian Green Sea Turtle, or Humpback Whales!
To our hiking delight, there are no snakes on the island. It's relaxing to not have to worry about something lurching from the ferns!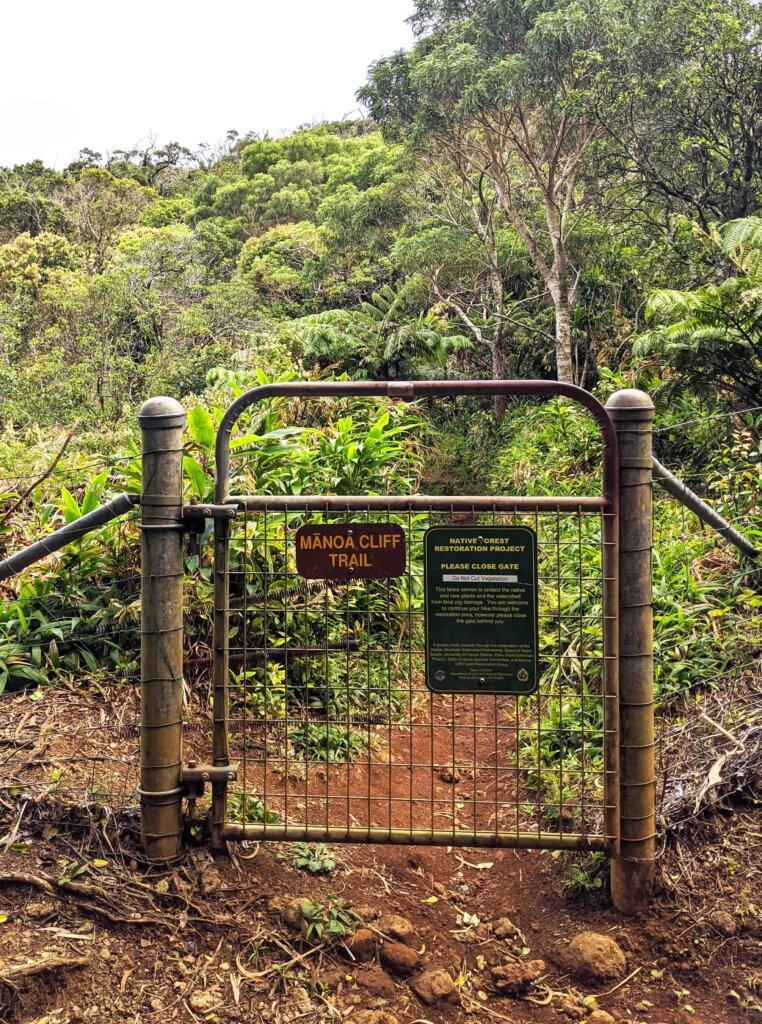 However, do keep in mind that there are wild hogs and wild goats on the island. We haven't ever encountered one, but we have heard them in the distance. Some trails have gates to keep the goats or hogs from entering certain zones . Hunting season is year round on Oahu, so be aware of public hunting areas.
When Hiking in Hawaii, Leave No Trace
The 7 Principles of Leave No Trace applies anywhere you choose to camp or hike. Nevertheless, it's a good reminder about how to enjoy the outdoors responsibly!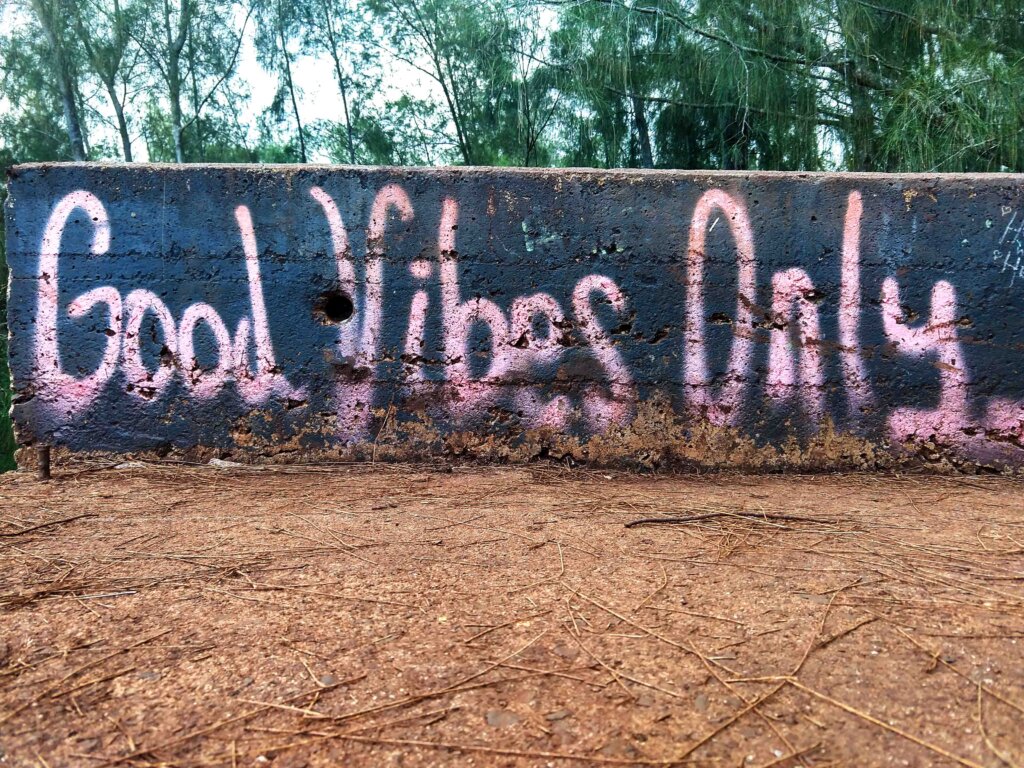 Be a trustworthy and caring tourist/hiker when visiting Hawaii. Spread the Aloha!
Plan Ahead & Prepare.
Travel & Camp on Durable Surfaces.
Dispose of Waste Properly.
Leave What You Find.
Minimize Campfire Impacts.
Respect Wildlife.
Be Considerate of Other Visitors.
What to Pack for Hiking in Hawaii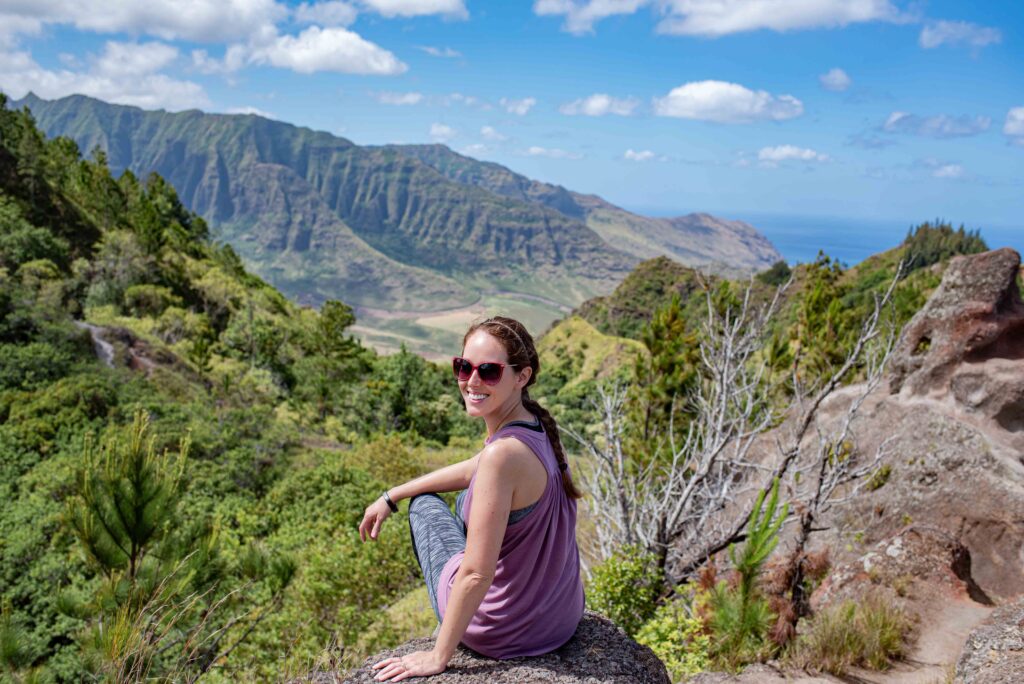 Backpack
Trekking Poles
Downloaded Map/GPS/Compass
Reusable Water Bottle or Water Pack
Snacks
Bug Spray/Lotion
Sunscreen
Portable Battery Pack
Moisture-wicking shirt
Long Pants/Leggings
Waterproof Jacket
Sun Hoodie
Hiking Boots/Trail Runners
Plastic bag to put your muddy shoes in afterward
Consider microspikes for traction in mud
Hat
Sunglasses
Flashlight/Headlamp
Towel
Small Fist Aid Kit
More Hawaii Blog Posts:
Did you enjoy this read? Please share and pin for later!