Visiting Hawaii and want to try all the foods you must eat in Oahu? Below are our suggestions for any palate and where to find the best of the best of the island's must-eat ono grinds. (That means delicious food!)
Of course, Hawaii is really just a melting pot of culture and it reflects in the food. Japanese, Chinese, Filipino, Korean, and Portuguese flavors influence a good chunk of the dishes served in Hawaii. Many of the Hawaiian style restaurants will offer traditional and authentic Hawaiian meals with a "twist" that dabbles in other international cuisines.
We gotta be honest…it took us a while to warm up to Oahu's food scene. Coming from Texas, we were used to generous portions, tons of beef, spicy food, and country style cookin'. Most of the island style foods are saucy, sweet, and starchy. However, Oahu is overflowing with other non-Hawaiian style restaurants and you're guaranteed to find something that you like. In addition, you'll discover juicy produce, fresh fish, and local farm-to-table style eateries.
Eating cheap in Hawaii can be quite a challenge. Average food costs a lot. Really good food costs even more. You can expect to spend about $14 – $22 per person on any given meal. On top of that, appetizers, desserts, drinks, and snacks can be just as expensive, if not more, than your meal. You can find some budget friendly eats at local farmer's markets, food trucks, and daily specials at restaurants.
---
NOTE: As of January 5, 2022- Stay up to date on Oahu's travel guidelines here. Furthermore, consult the Hawaii Travel Requirements website before you plan your trip to any Hawaiian island.
Disclaimer: This post is in no way sponsored, we paid for all the activities mentioned and all opinions are our own. This page may contain affiliate links, which means I may earn a commission (at no extra charge to you) if you make a purchase after clicking my link. Thank you for being a loyal reader!
Hawaii Must-Eat Terminology
Many of the below food items are not mentioned in our list however, they are still important to the food culture of Hawaii. And as we all know, knowledge is power! So, brush up on some terminology before you visit Oahu!
Pupus: appetizers (yes, we joke about this constantly)
Pau Hana: time after work or happy hour
Ono: delicious
Grinds: food
Broke da mout: local slang for exceptionally delicious
Imu: traditional large underground steam cooker
Liliko'i: passion fruit
Haupia: coconut milk based dessert- usually paired with chocolate
POG: passion-orange-guava juice
Tako: octopus
SPAM: the canned meat, popular in Hawaii since World War II. It's literally served everywhere- even at fast food restaurants!
Hawaiian Plate Lunch: consists of two scoops of white rice, macaroni salad, and an entree (we will discuss more aspects of the iconic plate lunch later!)
Azuki: a Japanese sweet red bean that is usually made into a shave ice topping (I still gag every time I convince myself to give it another chance!)
Cream (Coco) Puff: chocolate filled puff pastry (try one from Liliha Bakery!)
Chantilly: whipped cream- usually flavored such as vanilla or coconut
Li Hing Mui: dried plum powder. It has a strong, distinctive combination of sweet, sour, and salty taste
Taro: a starchy plant similar to a sweet potato or yam with bright purple flesh (we talk about this more below!)
Ube: very similar to taro. A Filipino purple yam used in breads and desserts
Lomi-Lomi: a chopped salad made from raw salmon, fresh tomatoes, and onion
Malasada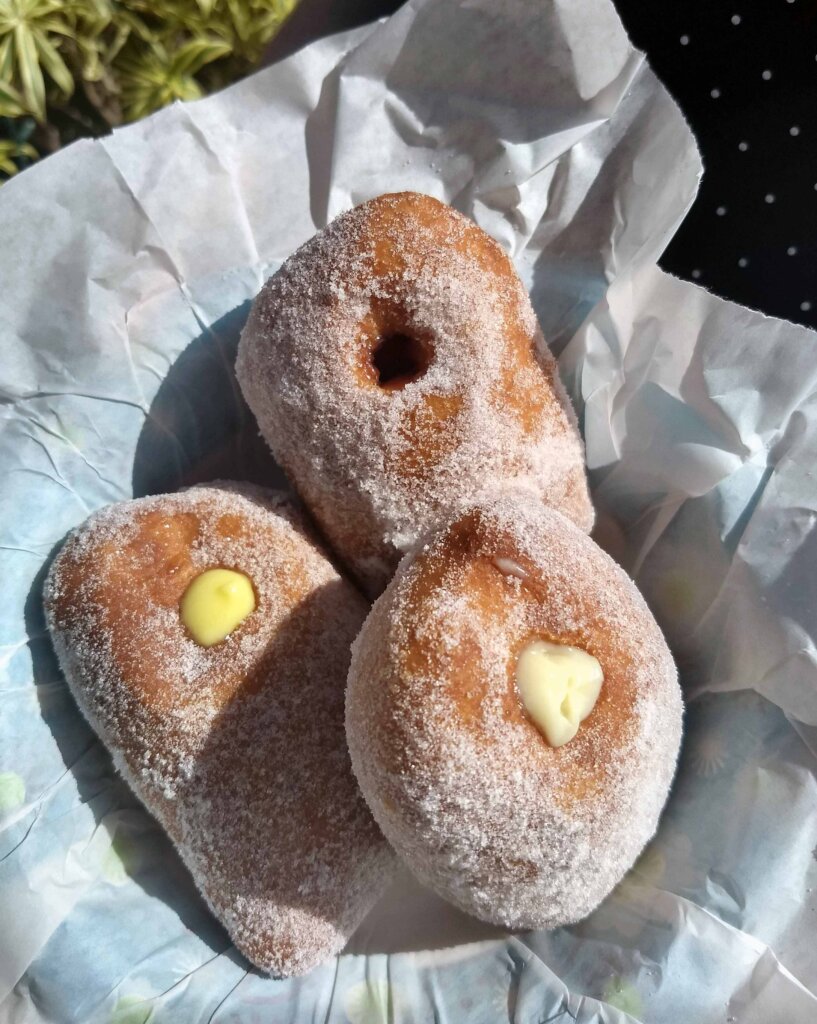 A malasada is a Portuguese version of a donut without a hole. The best (in my opinion) are filled with creams, custards, and other flavors. Traditionally, malasadas are not filled. Be sure to ask for one with a filling of your choice to amp up your donut game! A malasada is a must eat in Oahu!
Best places to find a malasada in Oahu
Açaí Bowl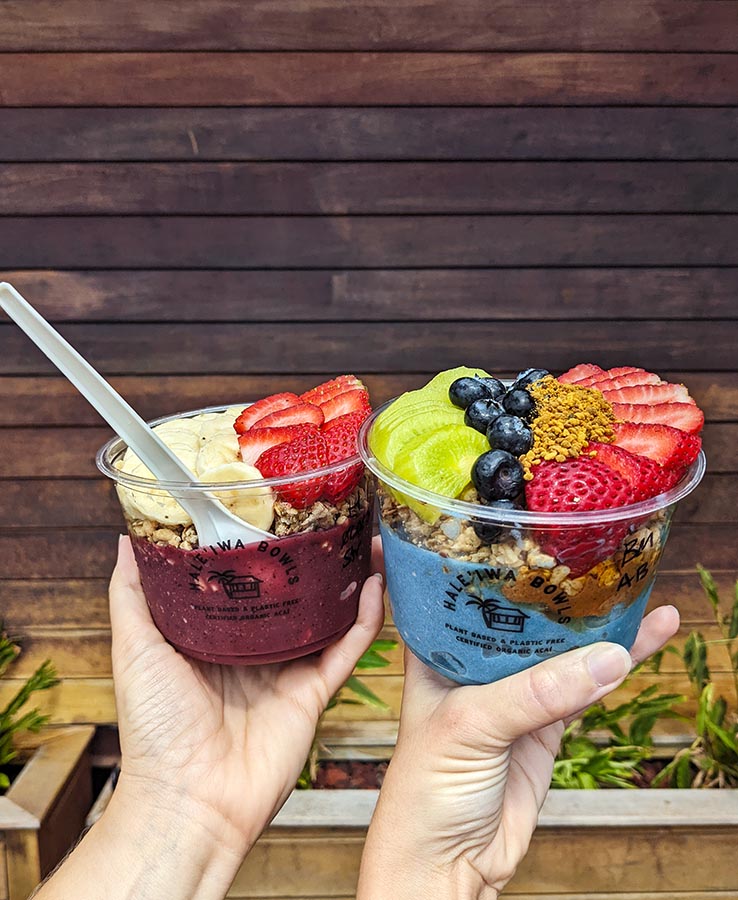 I never had an açaí (pronounced ah-sigh-ee) bowl until we moved to Hawaii and I know without a doubt that I'll miss it the most when we leave some day! (and it just won't be the same anywhere else!) Açaí is a Brazillian specialty that consists of mashed up, frozen fruit from the açaí palm berries. I love an açaí base that's thick, doesn't melt too quickly, and packs a good sweet and tart flavor profile. A fresh açaí bowl is a must eat in Oahu! I almost don't miss ice cream when I eat açaí bowls- shhhh don't tell!
Best places to find an açaí bowl in Oahu
808 Urban Bowls– Y'ALL. Cookie butter. Cookie dough. It's sooooo good! Not only do they offer exciting toppings, but the fruits, açaí blend, and granola is fresh & flavorful.
Crispy Grindz– smooth, creamy açaí with crispy granola! NOTE: don't forget to order a coxhina from them too! It's a Brazillian style snack similar to a chicken croquette.
HI Cravings Mobile– they include less typical fruits such as grapes and melon. Very refreshing! Probably one of the best granolas I've tried, however the açaí sorbet blend wasn't a strong enough flavor to me.
Hale'iwa Bowls– probably the most popular and iconic spot for an açaí bowl on Oahu. The ingredients and fruits are fresh and the granola stays crunchy (very important!). They also have quite a selection of healthy additives such as collagen peptides and blue spirulina.
Poke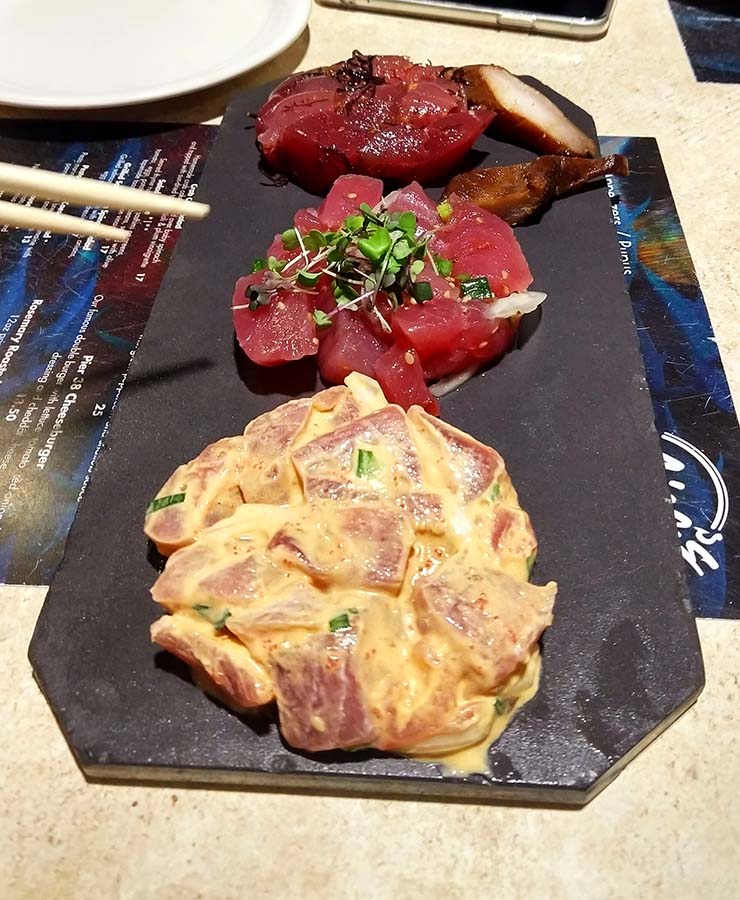 Poke (pronounced POH-KAY) means "to slice or cut" in Hawaiian. The fresh dish consists of chunks of raw, marinated fish, typically tuna, which is then tossed over rice and topped with vegetables and sauces. Usually, poke is served as a pupu (what does that mean again? Appetizer! You're so smart!). However, it's also served as a meal called a poke bowl. I am not a fan of raw fish, or much of any seafood to be honest, but my husband loves it!
Best places to find Poke in Oahu
Foodland– Stay with me here…Foodland is a local grocery store in Oahu. They offer incredible variations of specialty fish and flavors of poke. NOTE: Check out a Foodland Farms location to do your grocery shopping while you're visiting!
Taniokas– best poke bowls around!
Off the Hook Poke Market– unique flavor combinations and delectable, tender fish!
Nico's Pier 38– they offer a fresh poke pupu sampler!
Ono Seafood– hearty and succulent poke made to order- try the wasabi ahi!
Loco Moco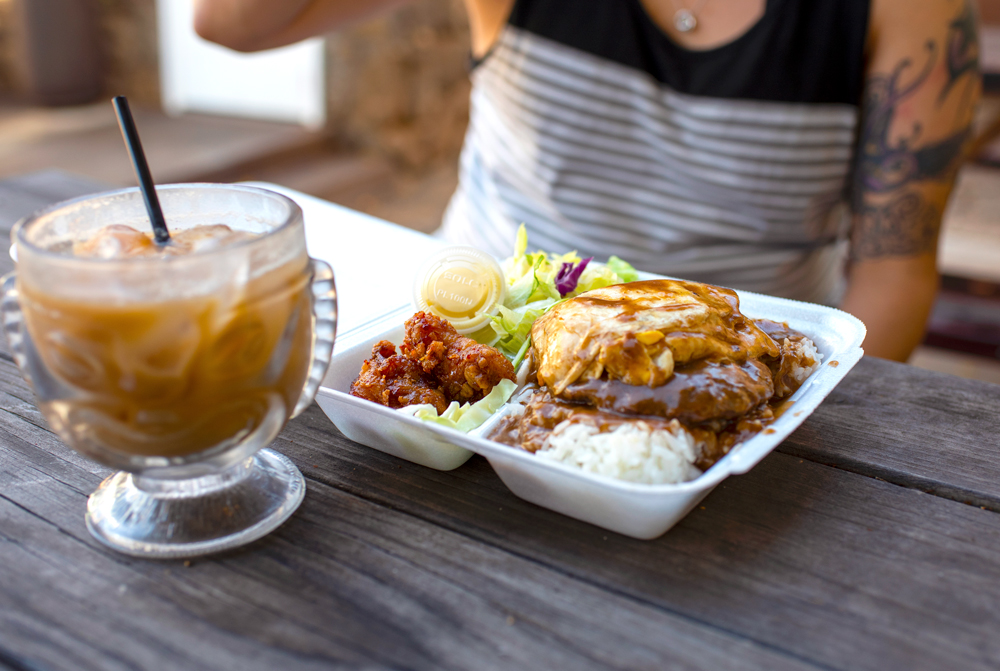 A must eat dish in Oahu is a loco moco. The loco moco is a classic Hawaiian comfort food. There are many variations, however the meal typically includes a base of white rice and a beef hamburger patty all topped with brown gravy and a fried egg. My favorite loco moco is elevated just a smidge with fried rice instead of white! YUM!
Best places to find a loco moco in Oahu
Poi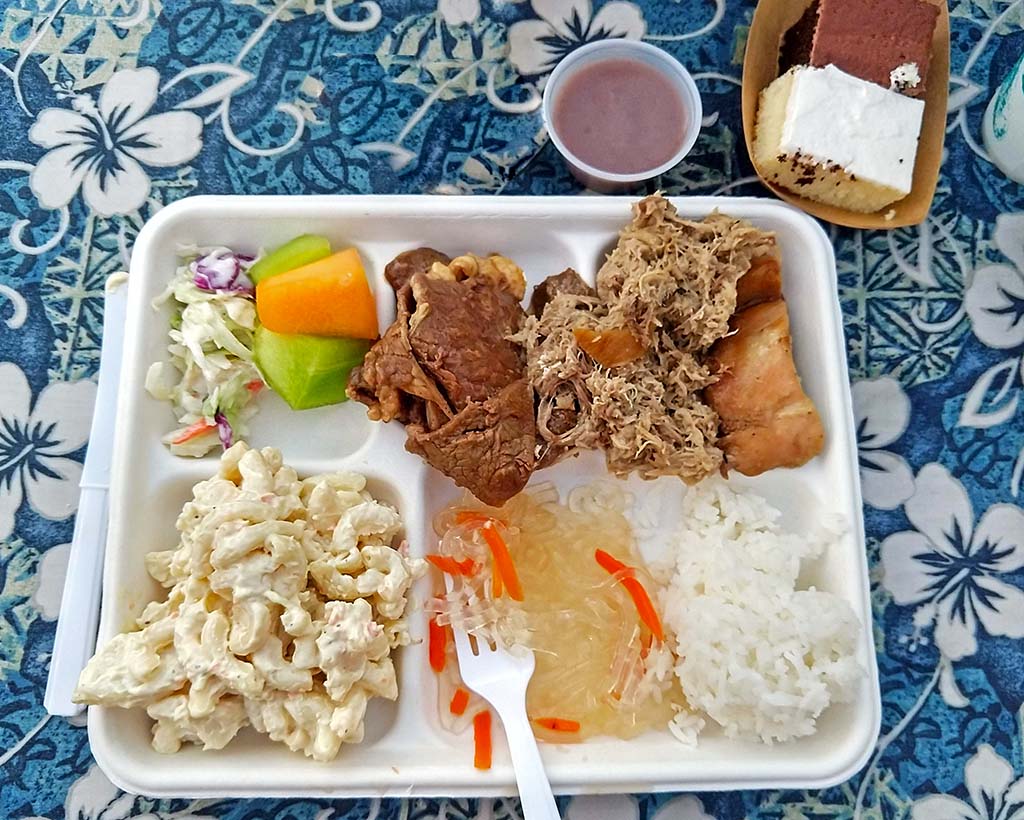 Poi is fermented taro root that has been cooked and mashed into a paste. The length of fermentation determines the flavor of poi. A short fermentation time consists of a typically sweeter poi, while a longer fermentation consists of a more sour poi. Although, poi is a starch, it actually has less calories than rice and contains several essential vitamins. We, personally, are not big fans of poi. However, we agree it is uniquely Hawaiian and is a must eat food when visiting Oahu!
Best places to find poi in Oahu
A luau- any luau you attend on the island will offer poi on their buffet. Don't be afraid to give it a try!
Waiahole Poi Factory– can't get much more authentic than hand pounded poi! They also offer other island foods such as kalua pig and lau lau.
Helena's Hawaiian Food– serving quality Hawaiian cuisine that locals love!
Kalua Pork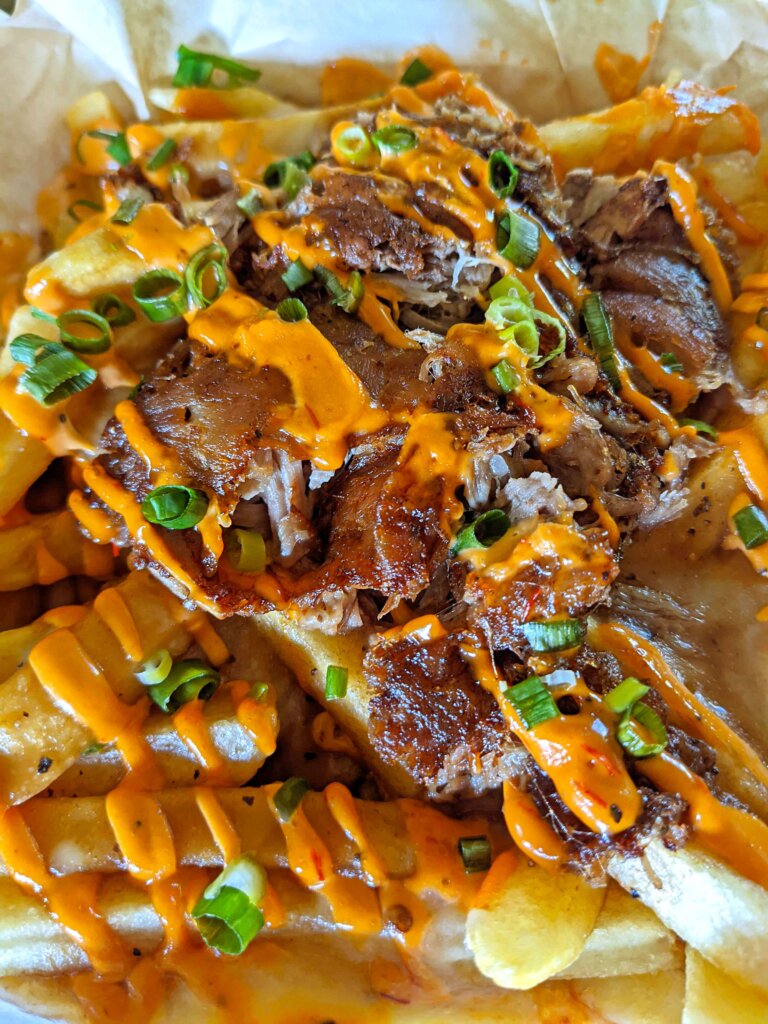 Have you ever heard of an imu? Of course you have! You read all about it in the "must-eat terminology" section above, right?! Okay, well, just in case you have forgotten… An imu is an underground oven that is constructed by digging a pit, lining it with rocks, and building a fire. Meat is cooked or smoked in the imu, after it has been wrapped in banana or ti leaves. Kalua is in reference to the method of cooking, which means "to be cooked in an imu".
Kalua Pork is juicy, smokey, and tender. I love that Hawaiians try to put it on everything! Burritos, nachos, sandwiches, pizza, eggs benedict, omelets, eggrolls, poutine fries, etc. You name it- they probably got it!
Best places to find kalua pork in Oahu
A luau- once again, any luau you attend on the island will offer kalua pork. What's really neat is you'll probably get to watch them lift the pig from the "imu" when it's time to feast!
Kalapawai Cafe & Deli– da Skinny sandwich has bbq Kalua Pork with fresh slaw and pepper jack cheese! YUM!
Kono's– a north shore icon which specializes in breakfast burritos, wraps, and sandwiches- all with kalua pork as an option!
The Surfing Pig– an extension of Kono's, but with a more sophisticated menu. Both restaurants are worth trying. I give the kalua pork flatbread pizza two thumbs up!
Button Up Cafe– has the BEST kalua pig poutine fries!
Highway Inn Kaka'ako– a great place for traditional Hawaiian fare. You could try poi or lau lau here too!
Lau Lau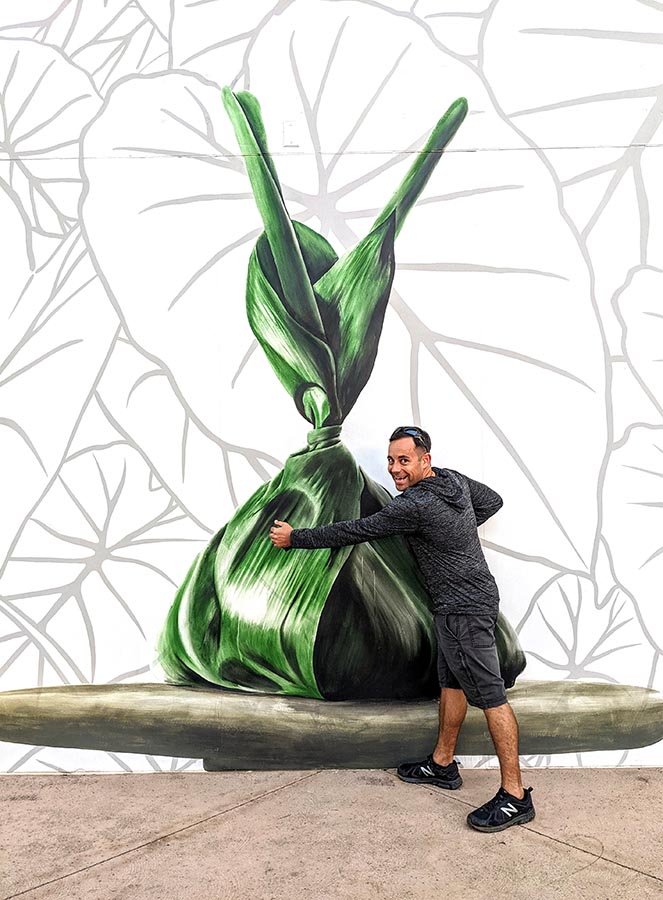 This classic Hawaiian dish is a must eat in Oahu! Traditionally, lau lau consists of pork and butterfish wrapped in taro and ti leaves. This fatty meat "package" is steamed and served alongside other island fare such as poi and lomi lomi salmon. Lau Lau is an extremely juicy and savory meal and one of my husband's favorites!
Best places to find lau lau in Oahu
Huli Huli Chicken
Huli Huli chicken is bbq'd over mesquite wood and covered in a "huli huli" sauce. The sauce usually consists of ginger, pineapple, and soy sauce making it fairly similar to teriyaki sauce. If you're exploring the island, particularly the windward coast, you'll see a few roadside set-ups grilling chicken and the smell will be hard to pass up!
Best places to find huli huli chicken in Oahu
Coffee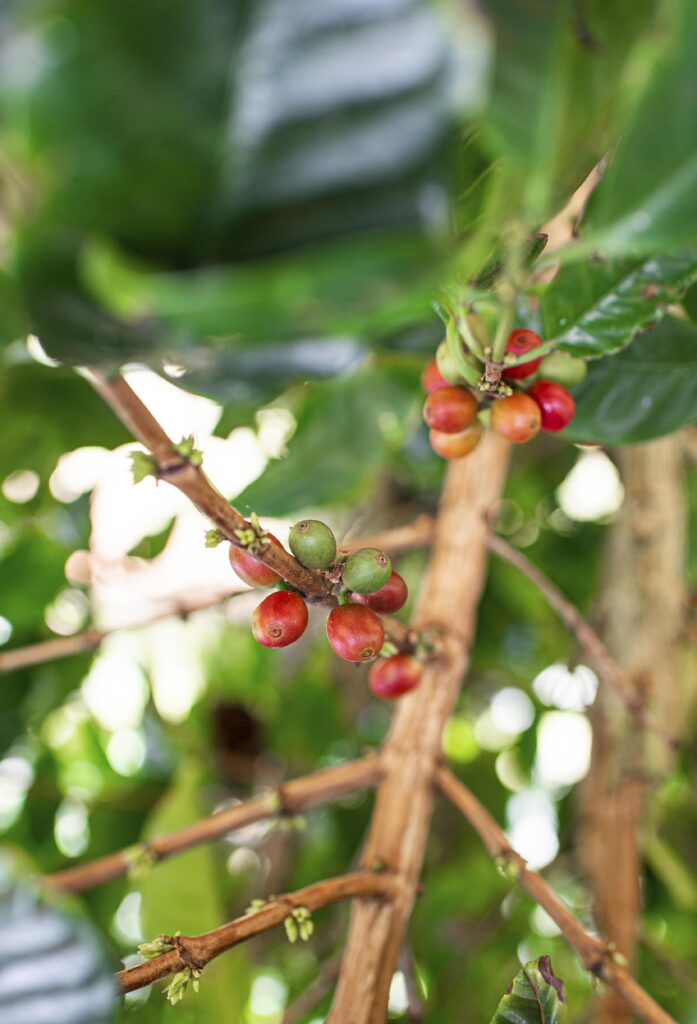 Usually when people think of coffee in Hawaii, they think of Kona coffee. However, Kona coffee is actually only grown on the Big Island of Hawaii. Oahu has multiple coffee tree farms and they grow a variety of Arabica beans and Waialua coffee.
Many of the roasters import coffee beans from the neighboring islands, such as Moloka'i and the Big Island, to create their own blends. Be sure to plan a trip to one or all of the coffee farms to learn more about their flavors and history!
Best places to try Hawaiian-grown coffee in Oahu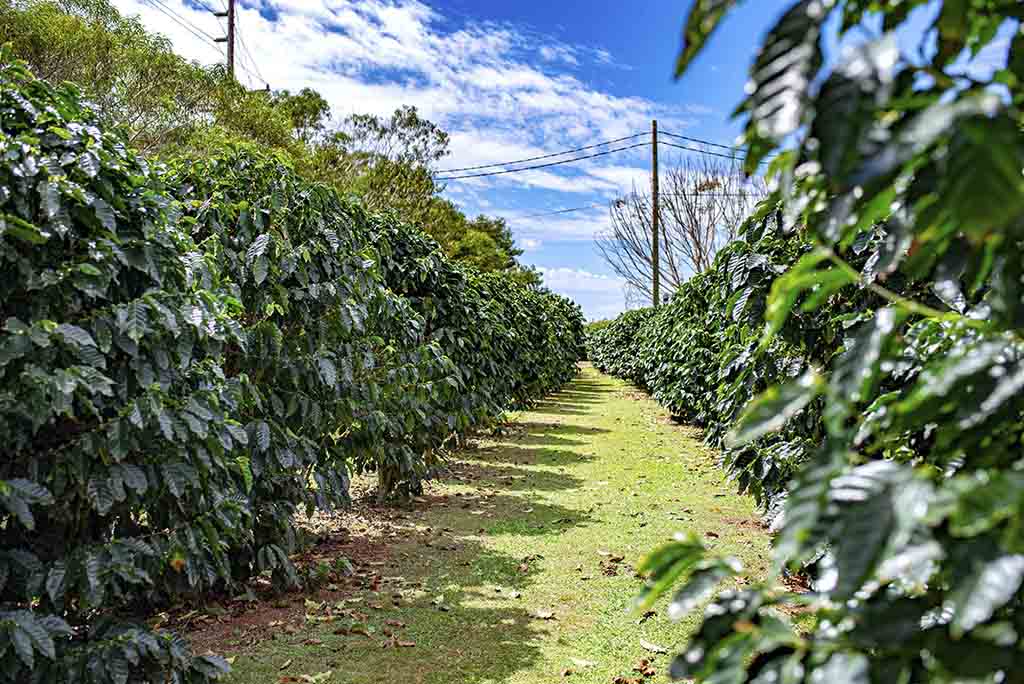 Macadamia Nuts
Macadamia nuts were introduced to the Hawaiian islands in the 1800's. While visiting, you'll probably run across various dishes and desserts that use macadamia nuts. Although I chose to focus on the farms listed below, there are other popular places in Honolulu to find mac nuts. Among those are Island Princess Factory Store and Mauna Loa Macadamia Nuts.
Best places to try Hawaiian-grown macadamia nuts in Oahu
Chocolate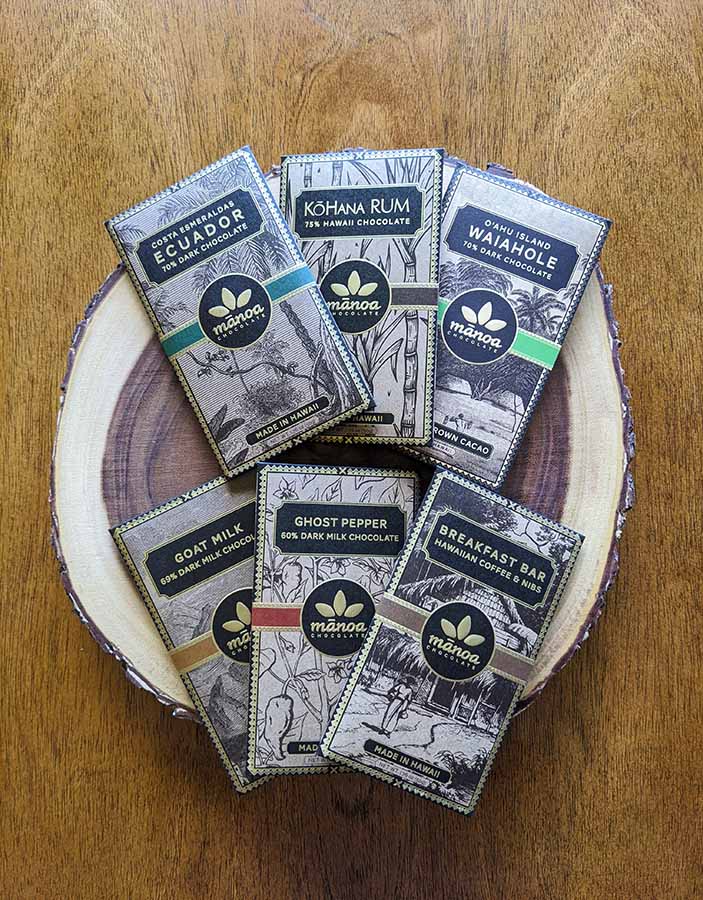 Cacao, which is the purest form of chocolate, is grown and produced in Hawaii. Have you ever visited a chocolate farm? See for yourself the cacao pods and fruit!
Best places to try Hawaiian-grown chocolate in Oahu
Manoa Chocolate Factory– enjoy a tour of their bean-to-bar manufacturing process or indulge yourself in a walk-in tasting. They also offer brewing chocolate, which is pretty incredible when paired with your favorite coffee. My favorite is the Rum Chocolate! They use rum from a local distillery to infuse in the chocolate. SO GOOD.
Waialua Estate Coffee & Chocolate– in addition to coffee, they also specialize in chocolate! Waialua Chocolate is known for its dark tones of cherries, blackberries and raisins.
21 Degrees Estate– a family owned farm that offers weekly "tree to bar" tours and tastings.
Fruit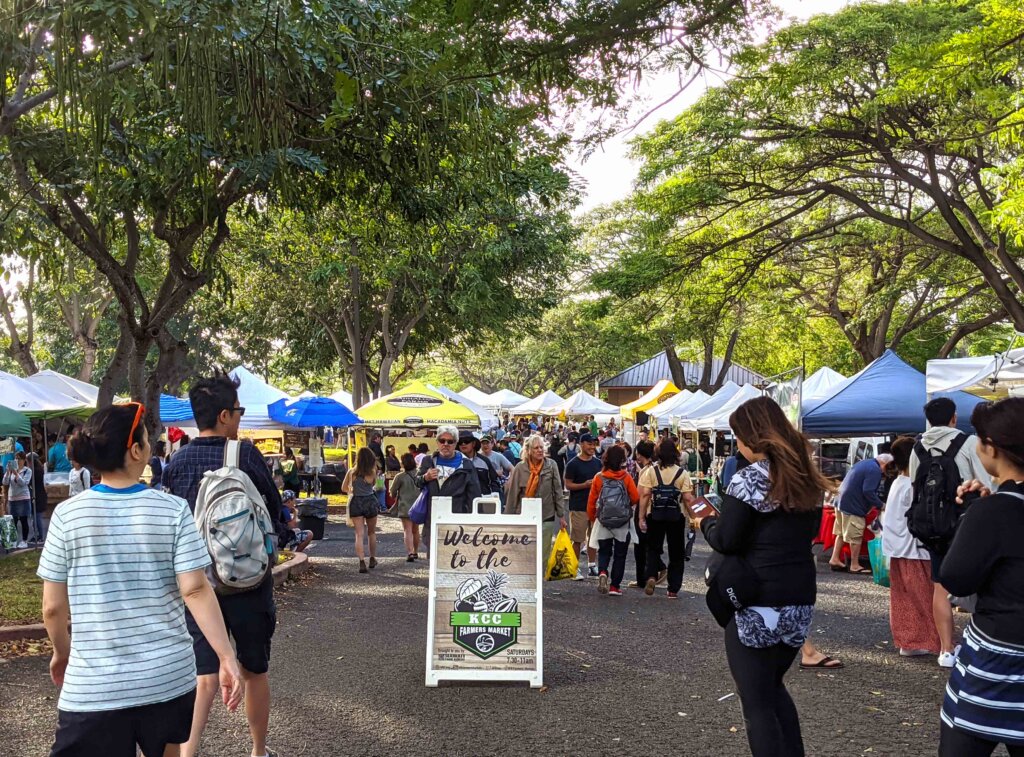 It might seem like a no-brainer, but sampling home-grown tropical fruit is a must eat in Oahu! You'll find fresh fruit all over the island. We even have a lime tree in our backyard! Many folks have mango, papaya, avocado, and coconut trees in their yards too. However, don't go picking fruit from people's trees! That's not nice, haha. Instead, head to a farmer's market (any given weekend in Oahu) or check out Foodland, which sells local fruit grown on the island.
Best fruit to try and where to find it in Oahu
Mango- Farmer's Markets, Foodland
Honey Cream Pineapple- Farmer's Markets, Foodland
Apple Banana- Farmer's Markets, Foodland
Lychee- Farmer's Markets, Foodland
Papaya- Farmer's Markets, Foodland
Other fruit to try- Breadfruit, starfruit, dragon fruit, Liliko'i (passion fruit), etc.
Musubi
A must eat lunch or snack item in Oahu! One of the most popular protein sources for musubi in Hawaii is Spam. I don't like Spam and living in Hawaii will never make me like Spam, but this canned meat is an important food group in Hawaiian cuisine. Musubi is a bundle of sticky rice and spam (or other meat) wrapped in nori (Japanese style seaweed).
Best places to try musubi in Oahu
Mana Musubi– try the samon or spicy tuna!
Musubi Cafe Iyasume– exciting flavor combinations such as avocado bacon egg & Spam musubi!
7-Eleven – unusual, yes, but they've been voted Hawaii's best spam musubi for 10 years running!
Shave Ice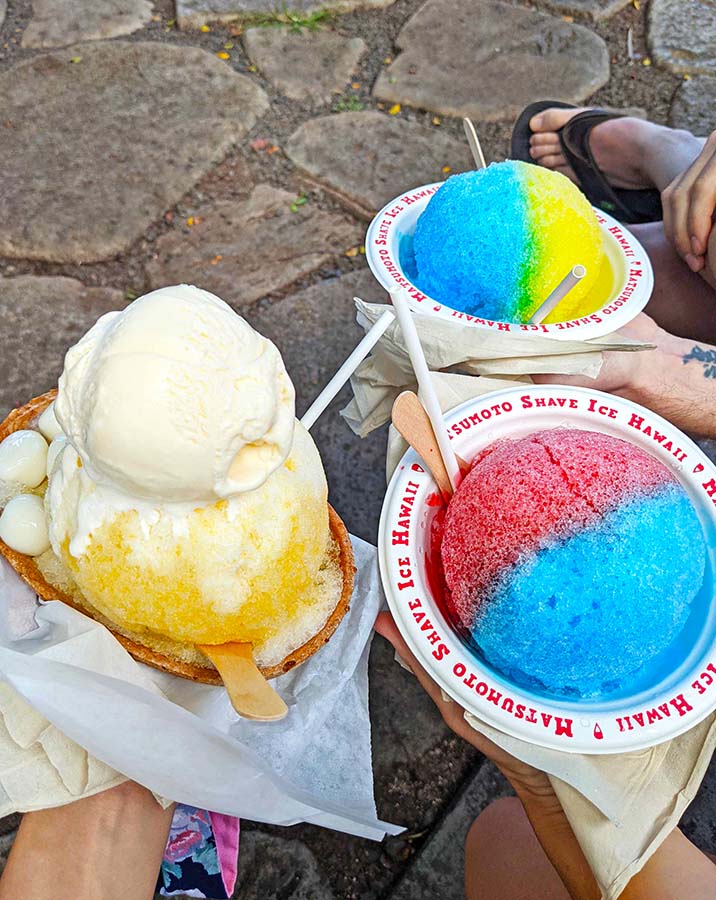 Be sure to never call it shavED ice while in Hawaii or you won't be taken seriously! What's the difference between shaved ice and shave ice? Nothing. Just the way it's pronounced in Hawaii! However, there is a difference between shave ice and a snow cone. Snow cones are made with crushed ice while shave ice is, well…made with shaved ice. This gives it a lighter, powdery texture. What makes shave ice a must eat food in Oahu is the toppings. Most shave ice is served with a scoop of ice cream, mochi, azuki beans, local fruit syrups, condensed milk, fresh fruit, and more!
Best places to try shave ice in Oahu
Garlic Shrimp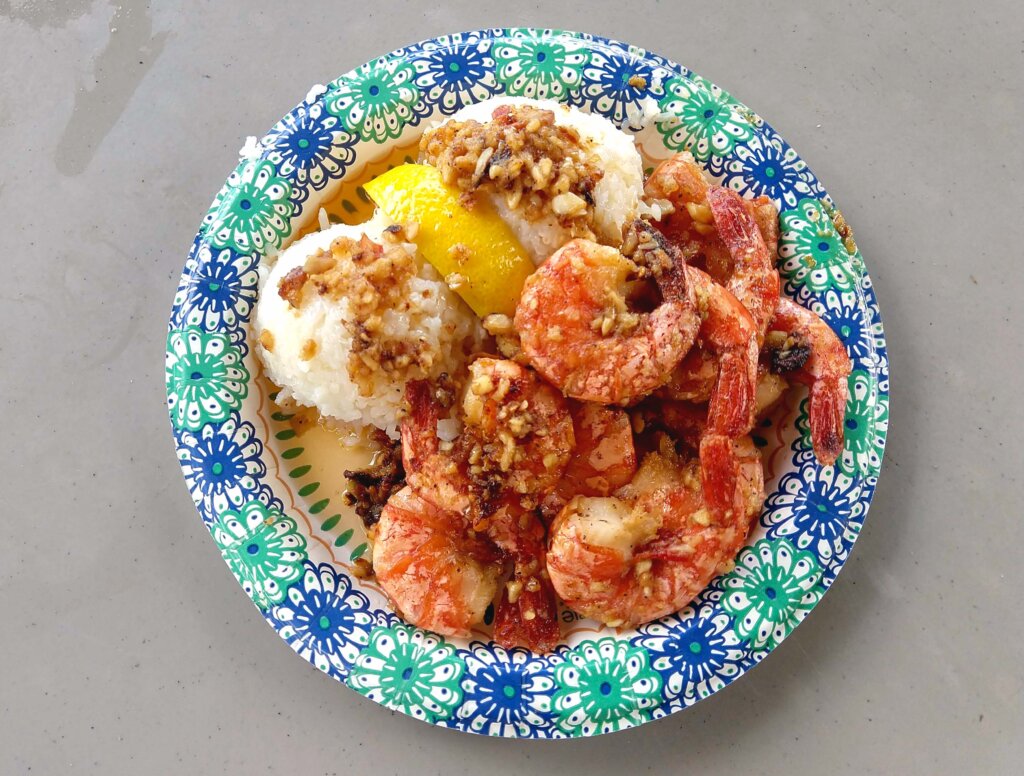 Did you know that Hawaii has a long history of shrimp farming? Yes, FARMING. Shrimp is not native to Hawaiian waters. Hawaii has thriving aquatic farms that grow various types of fish, shrimp, prawns, and oysters.
Best places to try garlic shrimp in Oahu
Giovanni's Shrimp Truck– the most well known shrimp truck on the island; does it live up to the hype? You'll have to try it to find out! NOTE: they accept cash only!
Big Wave Shrimp– try the shrimp fried rice! Oh, and they have ready-to-eat peeled shrimp if peeling isn't your thing.
Famous Kahuku Shrimp Truck– they also have other flavors such as coconut shrimp! This was a filming location in the TV series Lost!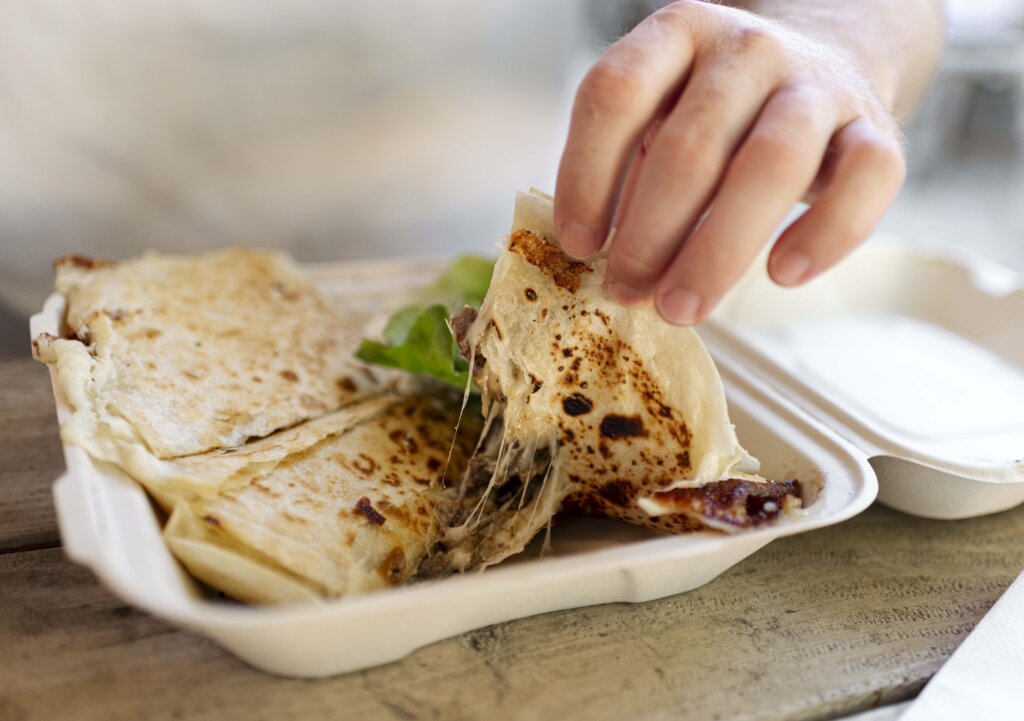 Mac Salad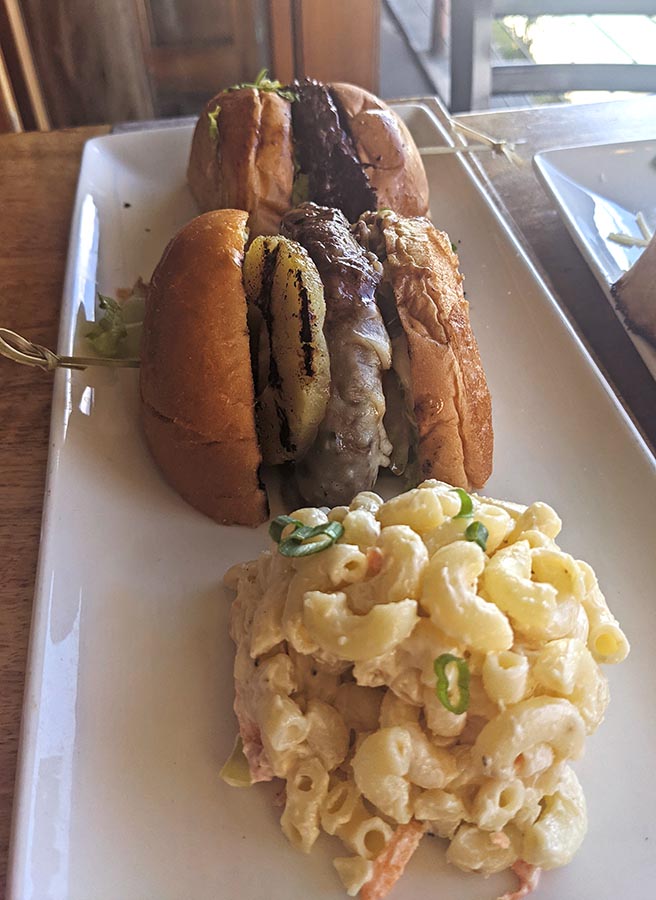 Mac salad is a key component of the Hawaiian plate lunch. As mentioned above, a plate lunch consists of an entree (usually chicken katsu, loco moco, or kalbi shortribs) with two scoops of white rice and one scoop of macaroni salad. Mac salad is usually served chilled. Although the prominent ingredient is mayonnaise and elbow pasta, there are also grated veggies such as carrots and green onions.
Best places to try mac salad in Oahu
Zippy's– the epitome of Hawaiian comfort food. Zippy's is a chain that's on every corner and you gotta try it at least once.
Pearl's Korean BBQ– the creamiest, tenderest, most flavorful mac salad (in my opinion!)
Forty Niner– they do a unique spin by using spaghetti pasta instead of elbow pasta.
Mochi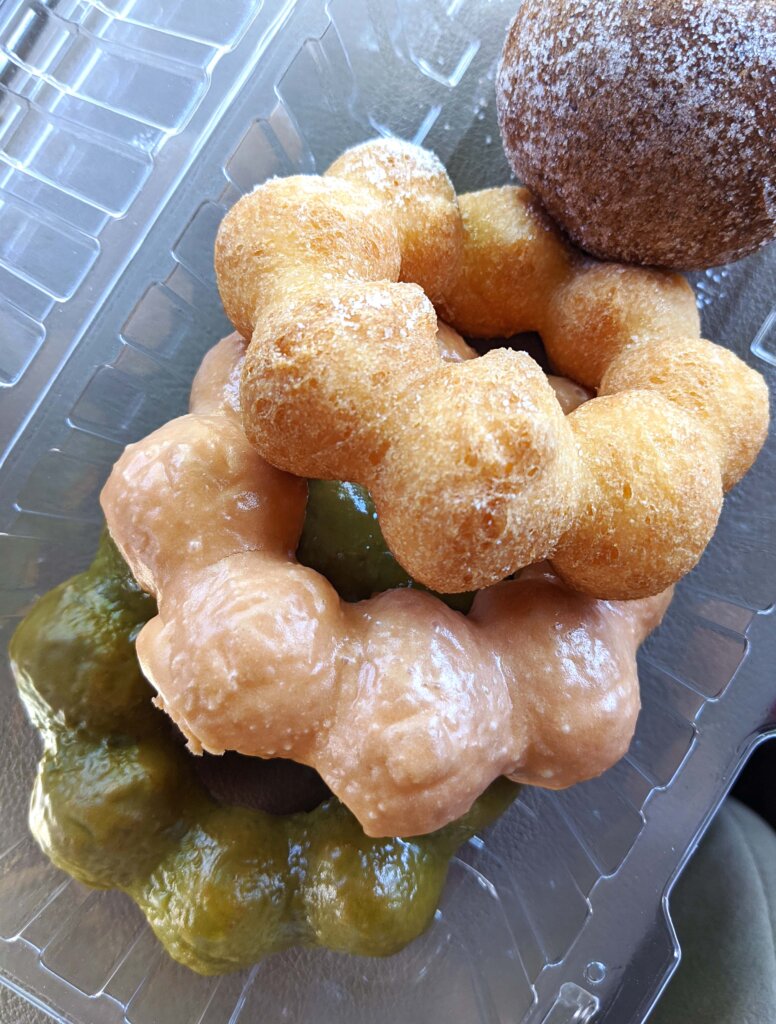 Mochi is a Japanese rice cake that's made from short-grain rice that has been pounded into a paste, combined with sugar, and molded into the desired shape (usually a ball). It has a chewy texture that goes great in desserts. Hawaiians love their mochi and it shows! You can find mochi in just about anything including donuts, waffles, truffles, and shave ice toppings!
Best places to try mochi in Oahu
Coconut Syrup
Coconut syrup is exactly what it sounds like! Sweet, delicious, coconut flavored syrup that pairs amazingly well with pancakes, waffles, or french toast. Most breakfast restaurants in Oahu have coconut syrup and they also have guava syrup or liliko'i syrup, which is worth a try!
Best places to try coconut syrup in Oahu
Eggs 'n Things– use coconut syrup with their mac nut pancakes! DIVINE.
Koa Pancake House– get wild and try the butter mochi pancakes!
Foodland– pick yourself up a bottle to use at your hotel or take it home with you!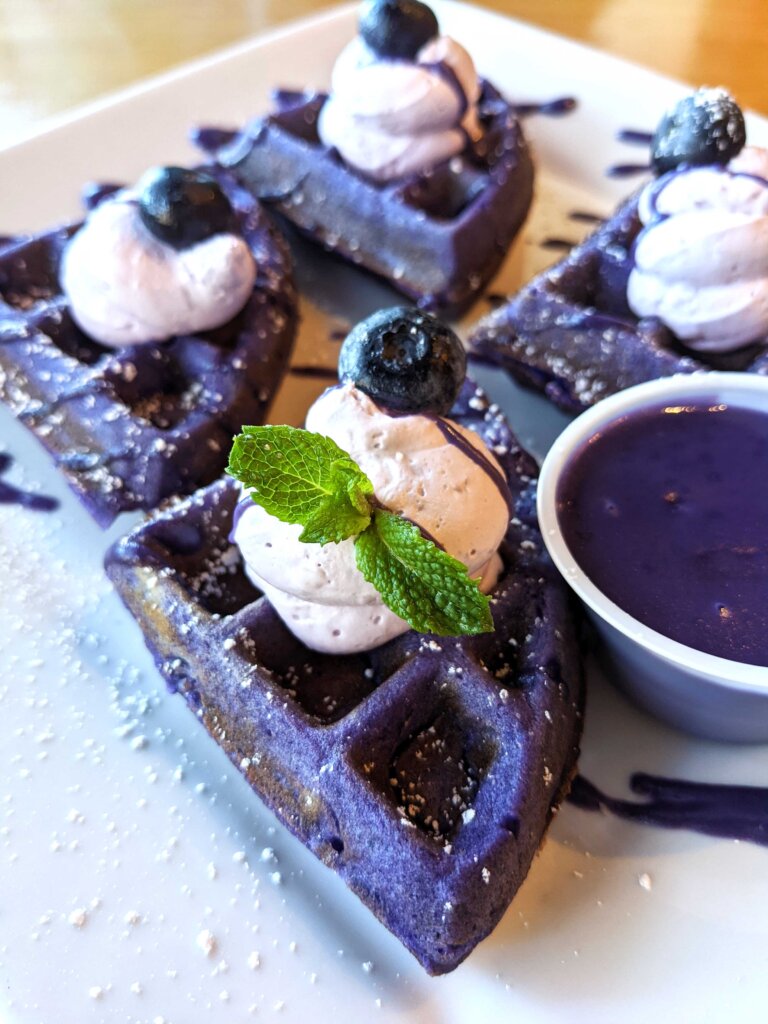 Manapua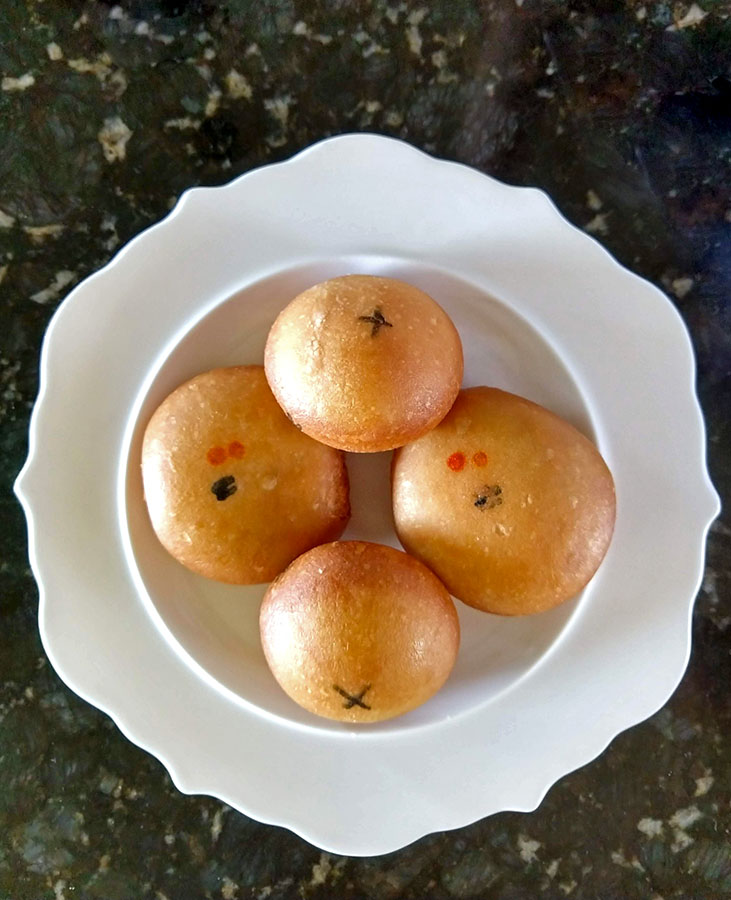 Manapua is a Hawaiian version of a bun style Chinese pork dumpling. Manapua's are typically filled with meat or other savory flavors, however, there are sweet fillings as well! They are cooked by steaming, baking, or frying.
Best places to try a manapua in Oahu
Saimin
Saimin is a Hawaiian version of the Japanese soup, ramen. No, I don't mean the brick of ramen in a bag! I mean hearty and savory noodle soup. Saimin has a bit more eggy and chewier noodle than ramen. It's definitely a must eat dish on Oahu. In addition, there are a countless number of excellent ramen restaurants to try!
Best places to try saimin in Oahu
Dole Whip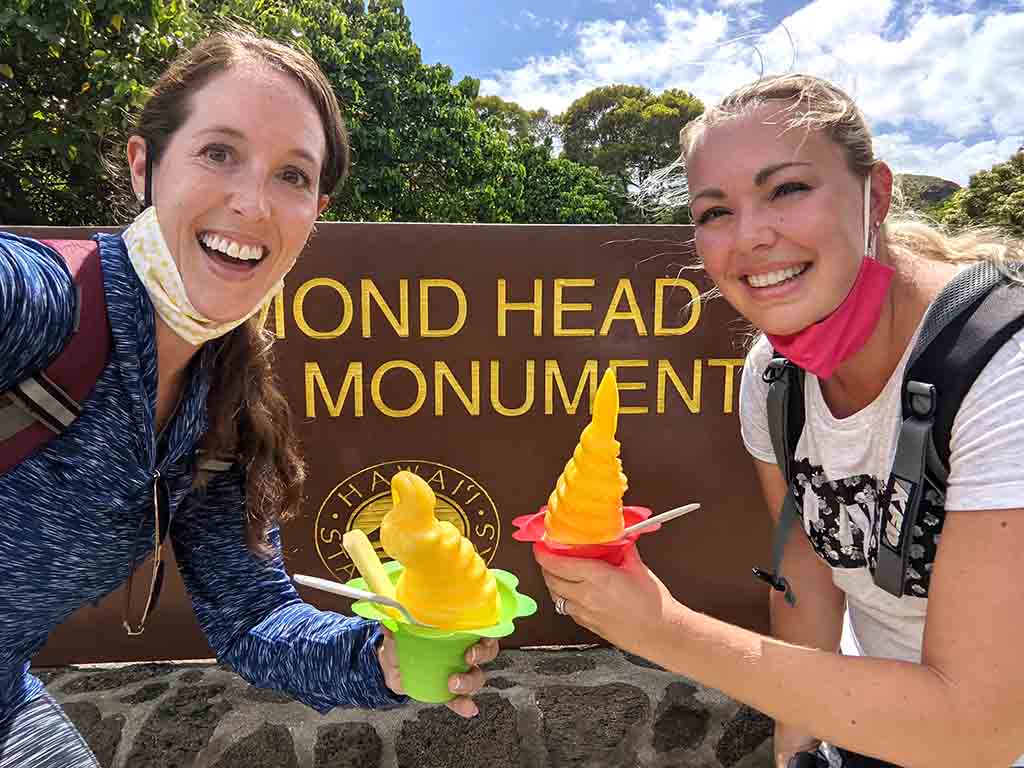 Dole whip is a soft serve dessert with a pineapple and vanilla flavor. If you've been to Disney World, then you've probably had dole whip at least once. Lucky for us on Oahu, the Dole Food Company has a plantation you can visit and enjoy dole whip anytime you like! Try other exciting flavors such as mango, strawberry, and orange!
Best places to try dole whip in Oahu
The Dole Plantation– head to the source of the iconic dessert! Check out the maze, garden, and train tour!
Tutu's Sweet Shop– conveniently located at the Polynesian Cultural Center!
Banan Waikiki Beach Shack– dairy-free soft serve with a changing menu; not exactly dole whip, but still worth mentioning! Try your soft serve in a pineapple yacht!
Beef Chips
Also known as pipikaula (pee-pee-cow-lah). It was eaten by Hawaiian cowboys (a.k.a. paniolos) while they worked the cattle ranches on the islands. Beef "chips" are paper thin beef strips, kind of like beef jerky, that melt in your mouth! They're crispy, flavorful, and addicting!
Best places to try beef chips in Oahu
Portuguese Sausage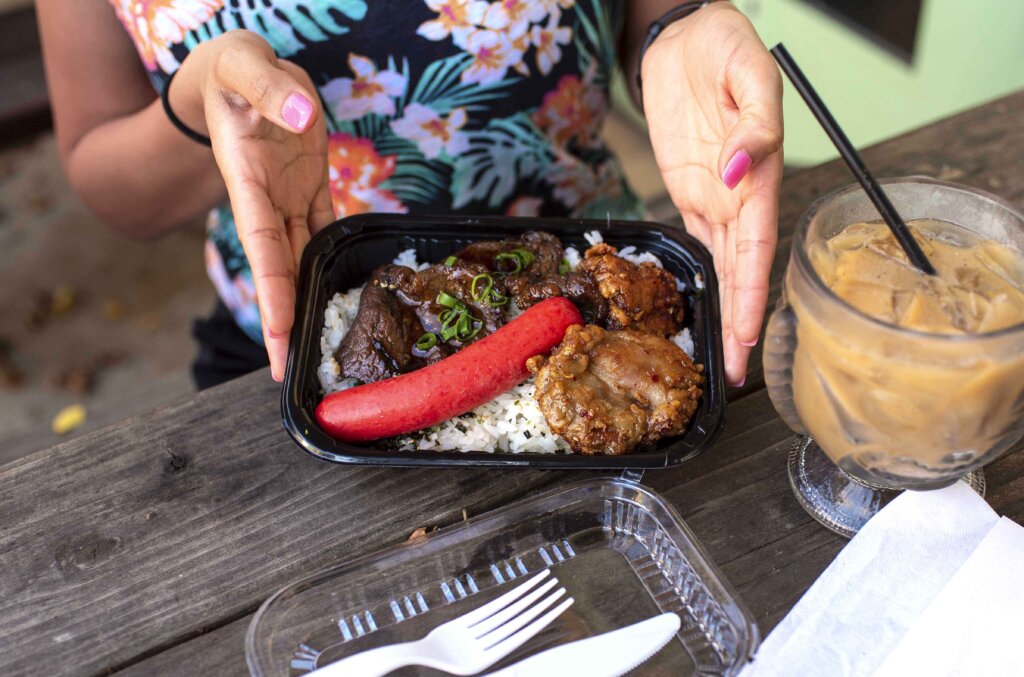 A Hawaiian version of a linguiça, a smoked pork sausage from Portugal. The sausage is typically seasoned with garlic and paprika. You can also get it in various levels of spiciness. Probably the most famous producer of Portuguese sausage in Hawaii is Redondo. You can find Portuguese sausage at any breakfast restaurant in Oahu.
Best places to try Portuguese sausage
Must Eat in Oahu Final Tips
Plastic bags and Styrofoam food containers are limited or banned on Oahu. Also, many restaurants do not offer straws. Therefore, if it's important for you to drink through a straw, we recommend packing or purchasing a reusable silicone or metal straw. Most importantly…if you enjoy a meal to-go at the beach, DON'T LITTER! Keep the ocean clean and safe for the honu (sea turtle)!
Other Oahu blog posts:
Now, get out there and get to eating! What is your favorite Hawaiian dish? What is your favorite restaurant on Oahu? Let me know in the comment section below!
Did you enjoy this read? Please share and pin for later!