There are countless bucket list experiences in Oahu! Whether you're a solo traveler, romantic honeymooner, or a large family with energetic kiddos, you'll find the perfect bucket list experience below. For a memorable vacation to Oahu, try one or all of these unforgettable adventures.
NOTE: As of January 5, 2022- Stay up to date on Oahu's travel guidelines. Furthermore, consult the Hawaii Travel Requirements website before you plan your trip to any Hawaiian island.
Disclaimer: This post is in no way sponsored. We paid for all the activities mentioned and all opinions are our own. This page may contain affiliate links, which means I may earn a commission (at no extra charge to you) if you make a purchase after clicking my link. Thank you for being a loyal reader!
---
Oahu Bucket List FAQ's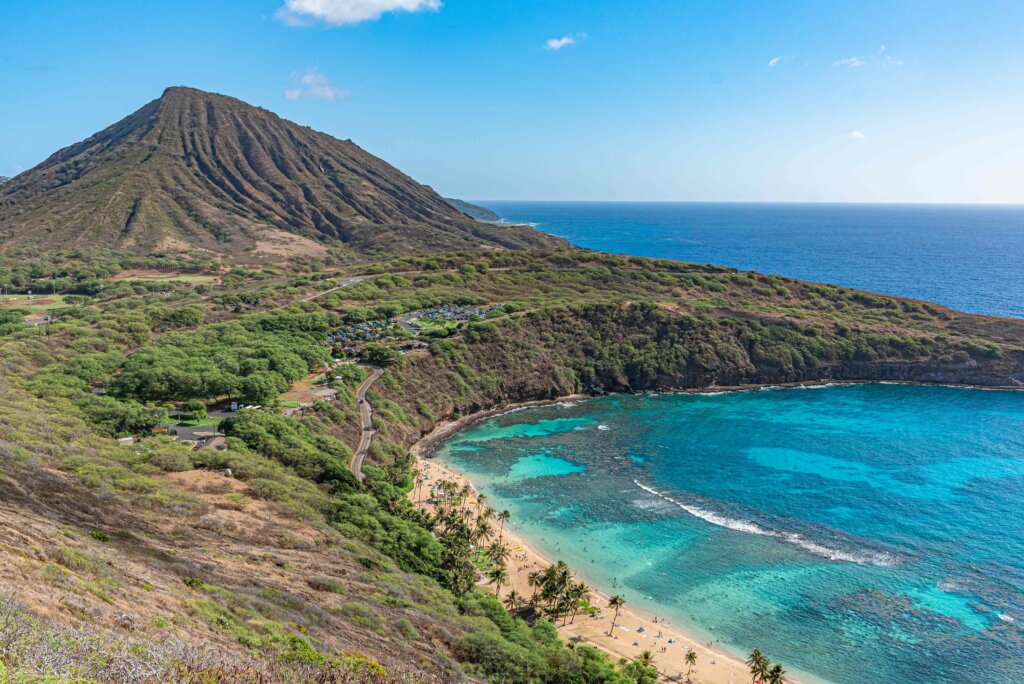 How many days in Oahu is enough?
My answer is always there is never enough days, haha! But, realistically, if you are solo or just you and your partner, I think 5-7 days is totally doable to recover from jet lag and experience a taste.
However, if you have kiddos that require more breaks, nap times, etc., I would plan for 10-12 days.
Of course, any chance you have to spend longer on the island, the better!
What is Oahu best known for?
Oahu is most recognizable for its bustling state capital, Honolulu, and infamous Waikiki Beach. Also known as "the gathering place", it has the largest population of the Hawaiian island chain.
The island's most popular spots include the North Shore (Hawaiian surf capital), Hanauma Bay, and Pearl Harbor.
What is the most beautiful part of Oahu?
There truly isn't a "more" beautiful place in Oahu. Each corner of the island is unique and special. However, you can see stunning landscapes of the island by driving the scenic lookouts along the windward side (east coast), hiking to overlooks or waterfalls, visiting botanical gardens, or learning a bit of history and culture at the 'Iolani Palace, Bishop Museum, or Pearl Harbor.
1. Kayak to an Island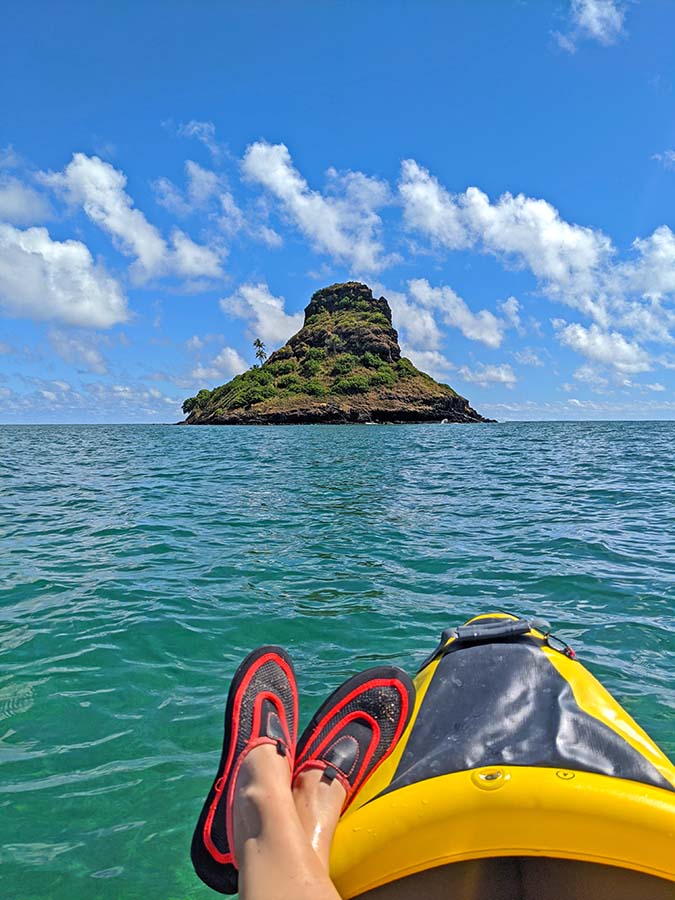 Exploring the waters of Oahu at your own pace is an epic bucket list adventure! The most popular kayak or paddleboard destinations are Chinaman's Hat, the Mokes, or to the Kaneohe Sandbar (Gilligan's Island).
Chinaman's Hat, also known as Mokoli'i, is a relatively easy and safe paddle. There is a strip of sand on the southern end of the island to land and store your kayak. The beach is small, so be courteous of other paddlers.
The Mokes and Kaneohe Sandbar are more challenging due to the distance. Choose to paddle on a calm day, so you aren't fighting the wind and waves the entire time. Be sure to check the weather before you embark on any ocean adventure.
TIP: Do not attempt to paddle to the northern end of the Mokes or Chinaman's Hat. The waves are much more dangerous. Always wear a life jacket while kayaking!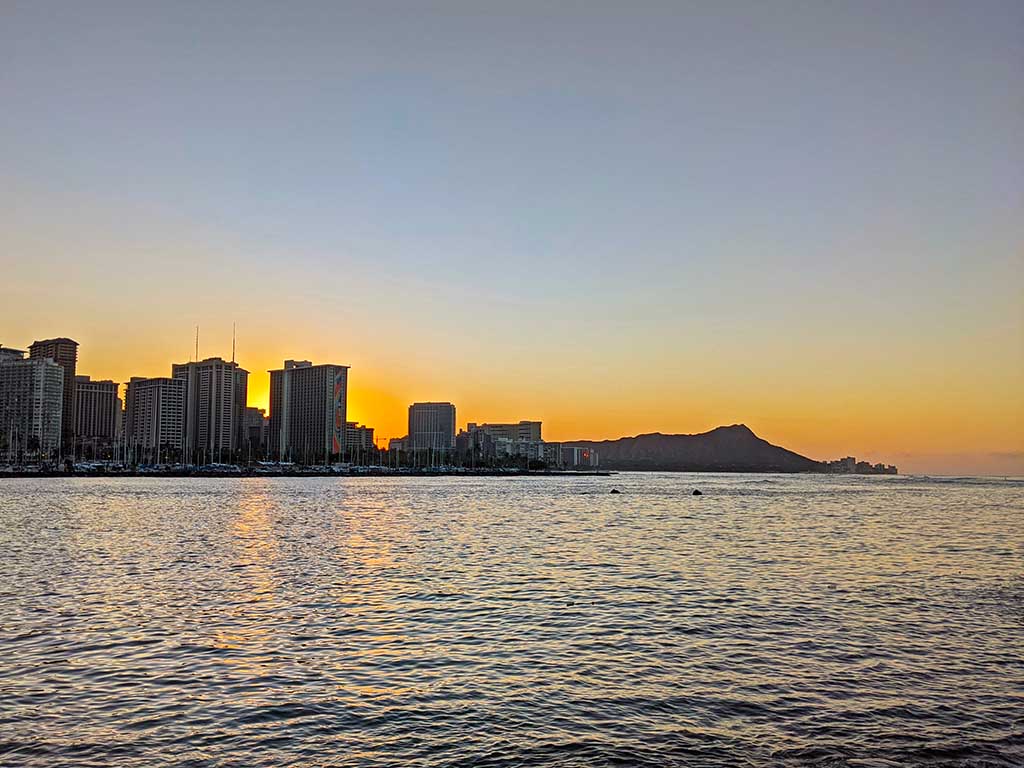 2. Swim with Dolphins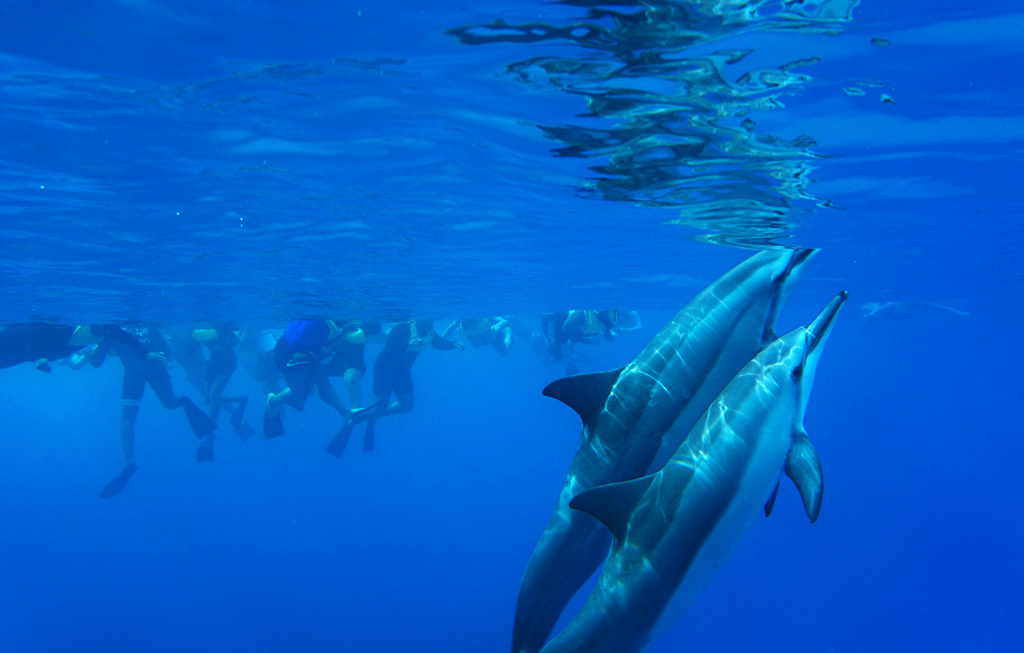 Recently a law in Oahu was implemented stating you cannot pursue the dolphins or be in the water if they are present. However, there are a couple fantastic tours that help you get up close and personal to the Hawaiian Spinner Dolphins (in a safe and legal way!).
We enjoyed our tour with Dolphin Excursions. The staff is friendly, informative, and prioritize respecting the ocean and marine life!
Nothing is more surreal than swimming in the open ocean with wild dolphins! It's definitely an unforgettable Oahu bucket list adventure.
TIP: Never pursue or try to touch wild animals! If you are lucky enough to see a Hawaiian Green Sea Turtle, Hawaiian Spinner Dolphin, or Hawaiian Monk Seal during your visit- remember to respect them by giving the animals plenty of space and never touch them.
3. Shark Cage Dive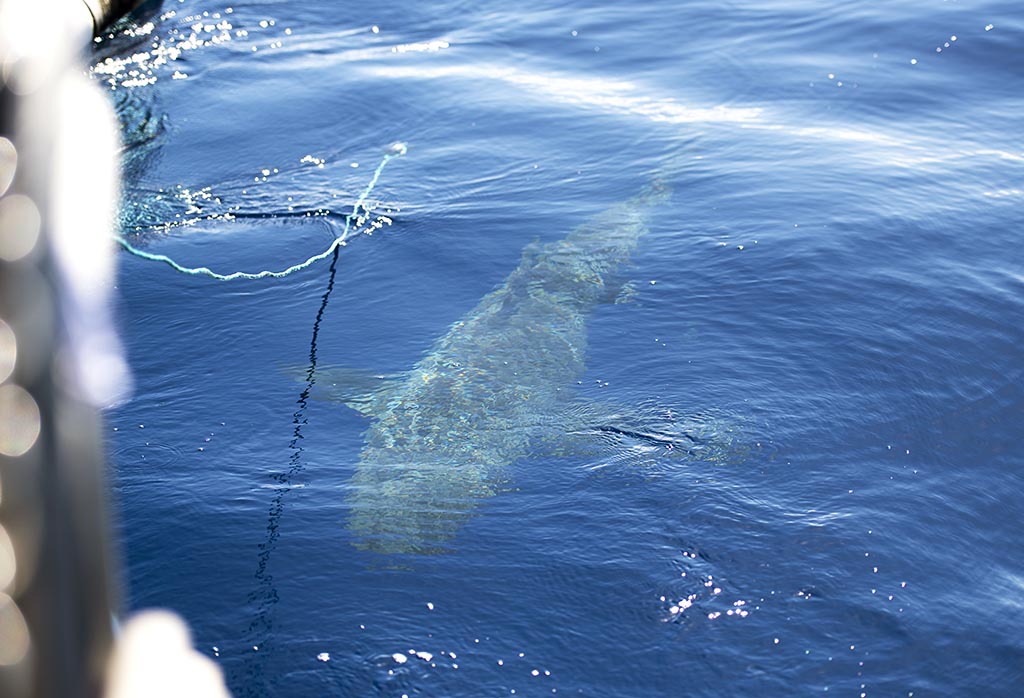 Want to swim in the open ocean with sharks?! There are options to free-dive with sharks, however, I highly recommend playing it safe and sticking with the cage dive.
The sharks you are most likely to see are called Galapagos Sharks. They feed on crustaceans and love to come investigate a boat they think might be hauling in crab traps for a snack.
We went on a tour with North Shore Shark Adventures. TONS of sharks swam around the cage and even made a splash or two at the surface. Shark cage diving should be on any adventurer's Oahu bucket list when visiting the island!
TIP: While in the cage, try to remember to secure your feet on the lower rail. This will keep your bottom from floating around and your legs getting tangled up with other people in the cage. No time for distractions while you're in the water with these big fellas!
4. Snorkel Turtle Canyon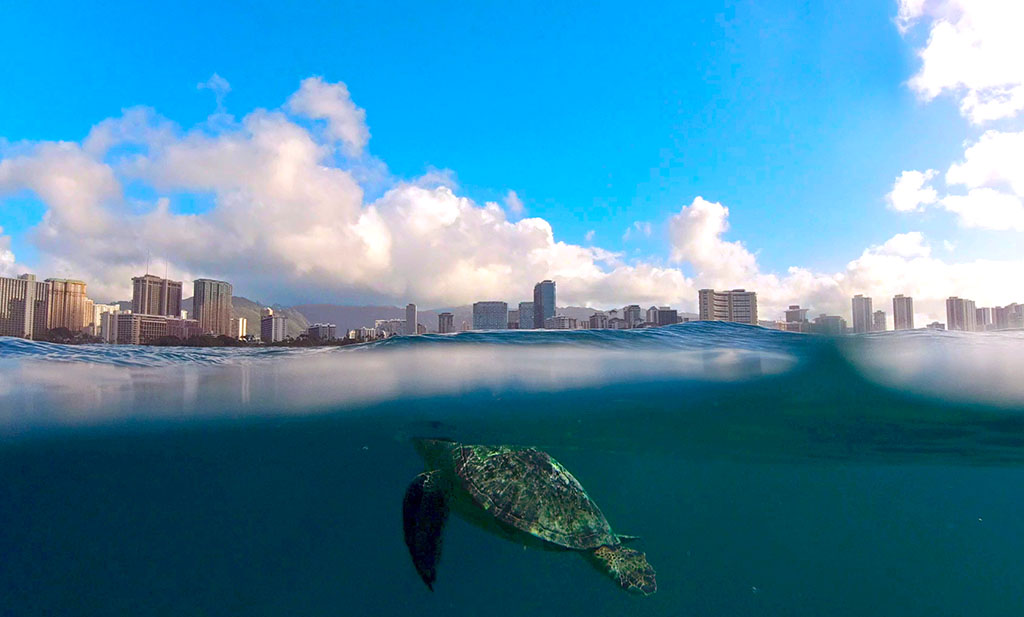 There is a special reef just offshore of Waikiki called "Turtle Canyon". Large (I mean, HUGE) Hawaiian Green Sea Turtles tend to congregate there for a rest and a shell cleaning. Take a catamaran snorkel tour out to the canyon to see these gorgeous Honu in person!
We used Living Ocean Turtle Canyon Snorkel Excursion and Snorkel Manu Kai Waikiki Snorkel for our Turtle Canyon adventures. Both were fun, relaxing, and provided snorkel gear! Swimming with beautiful sea turtles is an automatic contender on a Honolulu bucket list!
TIP: Oahu has a monthly influx of box jellyfish along the south shores. To prevent any irritating or painful stings, I'd suggest booking your snorkel tour outside of the influx window. Check out the calendar here to plan your trip!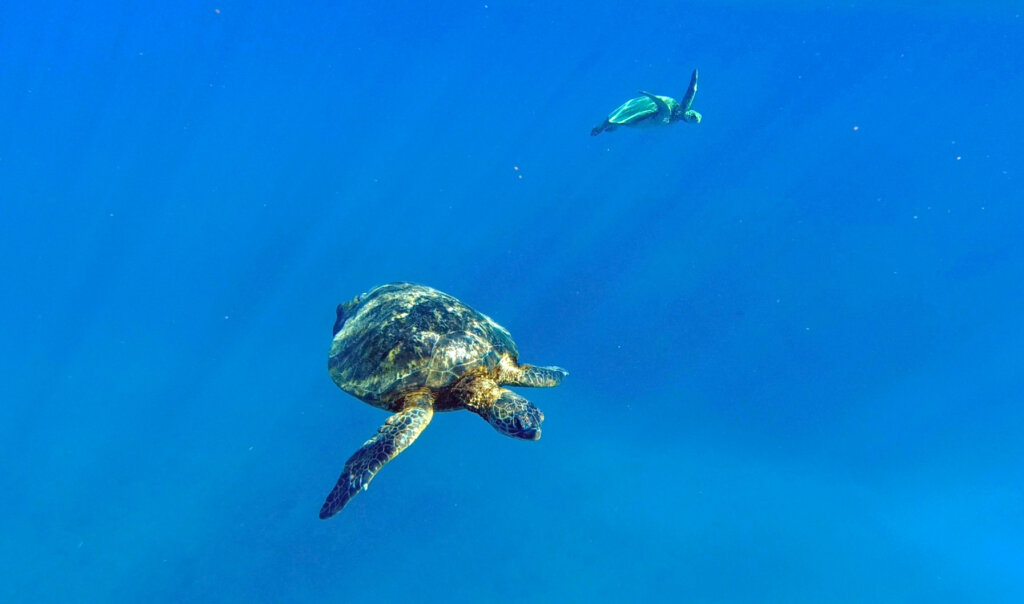 Not fan of deep water snorkeling? Check out these fantastic snorkel spots to see Hawaiian Green Sea Turtles in Oahu!
5. Parasail over Turquoise Waters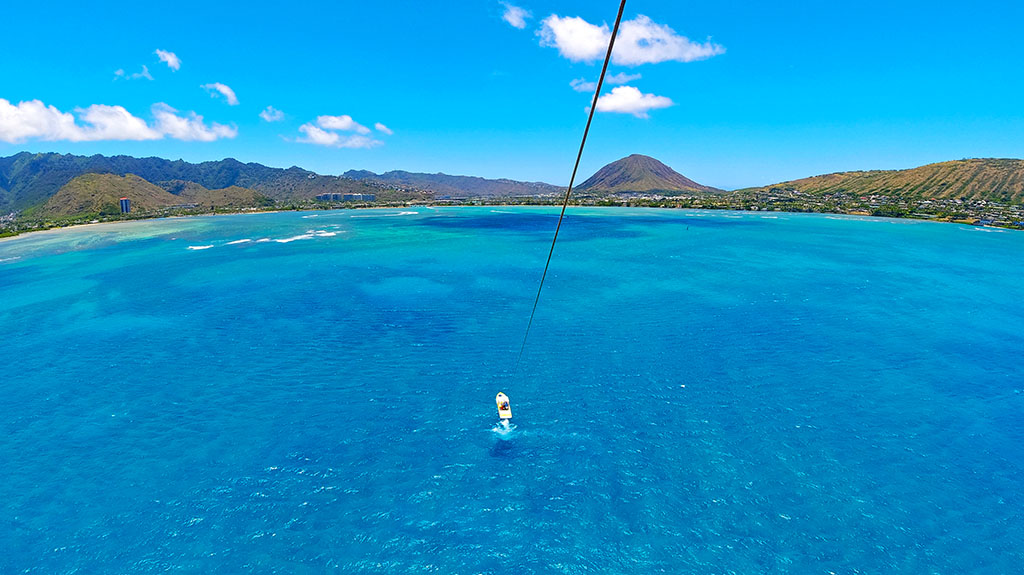 Oahu is truly the best place to parasail. Enjoy breath taking views of the mountains and the ocean- not to mention, spotting sea turtles and maybe even sharks from the air! It's tough to imagine a better place to "fly" over the water.
H2O Sports Hawaii Parasailing was a perfect option for us because of the location near Hawaii Kai. It's away from the hustle and bustle of Waikiki and you can see Koko Crater from the air! For this reason alone, it is one of the most adventurous things to do in Oahu and should be on everyone's bucket list!
6. Ride an Underwater Scooter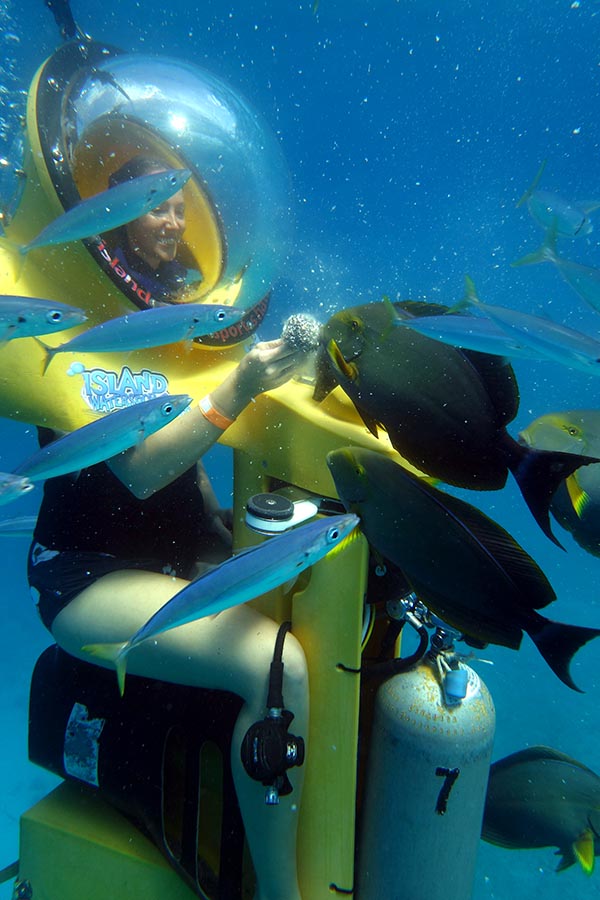 An underwater sub scooter is a very unique bucket list adventure in Oahu! It was similar to a combination of snorkeling and scuba diving. We saw plenty of fish, as well as a surprise octopus! Overall, the experience was unlike anything we've ever done on island.
The team at Island Watersports Hawaii are hands on with you the entire time! They help guide you into your sub scooter headpiece and show you how to maneuver your scooter underwater. You also get to stay close to the other people in your party.
TIP: The tour claims you don't need any swimming skills to enjoy this underwater wonderland. However, I would highly recommend those who are nervous about being underwater or truly cannot swim should not attempt this tour.
7. Hike to a Pillbox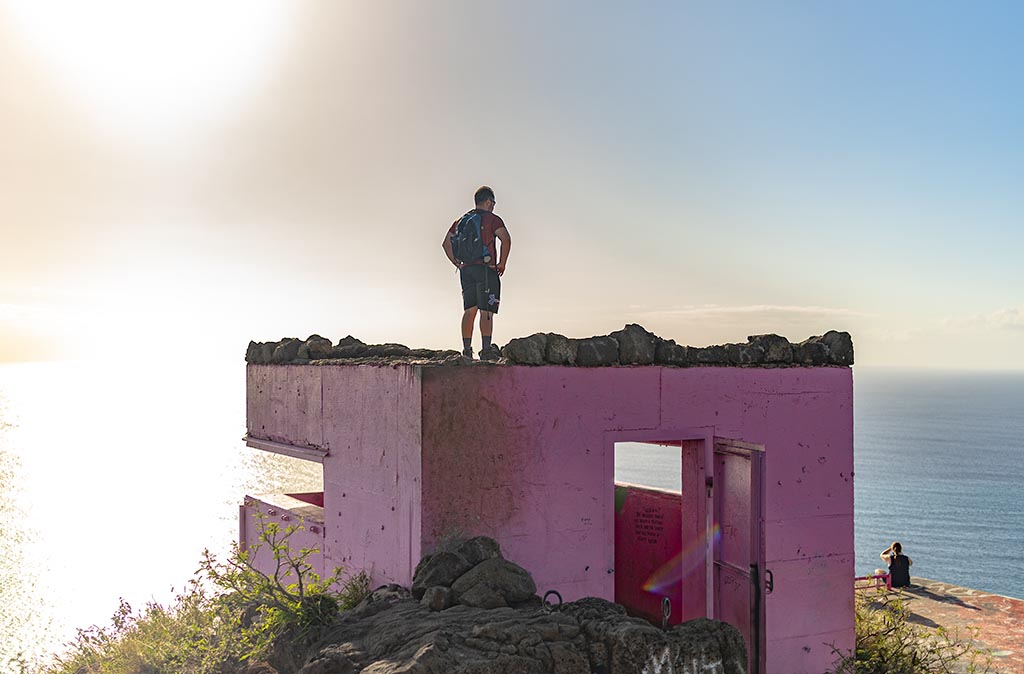 Oahu is home to numerous pillboxes all around the island. The pillboxes are large concrete structures built on edges of the mountains. They were used in WWII as lookout posts and defensive sites. Many have murals painted inside or out. Most take a little bit of a hike to reach, but they are worth it! Not to mention, you can visit any pillbox for free!
Some great ones to check out are:
Pink pillbox (also known as Pu'u O' Hulu trail, pictured above)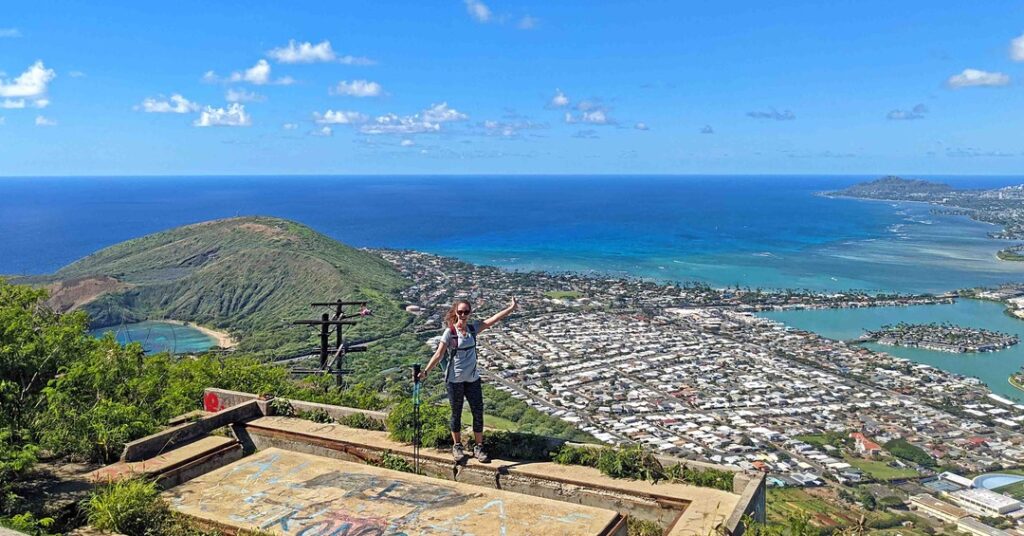 8. Ride Horses on the Beach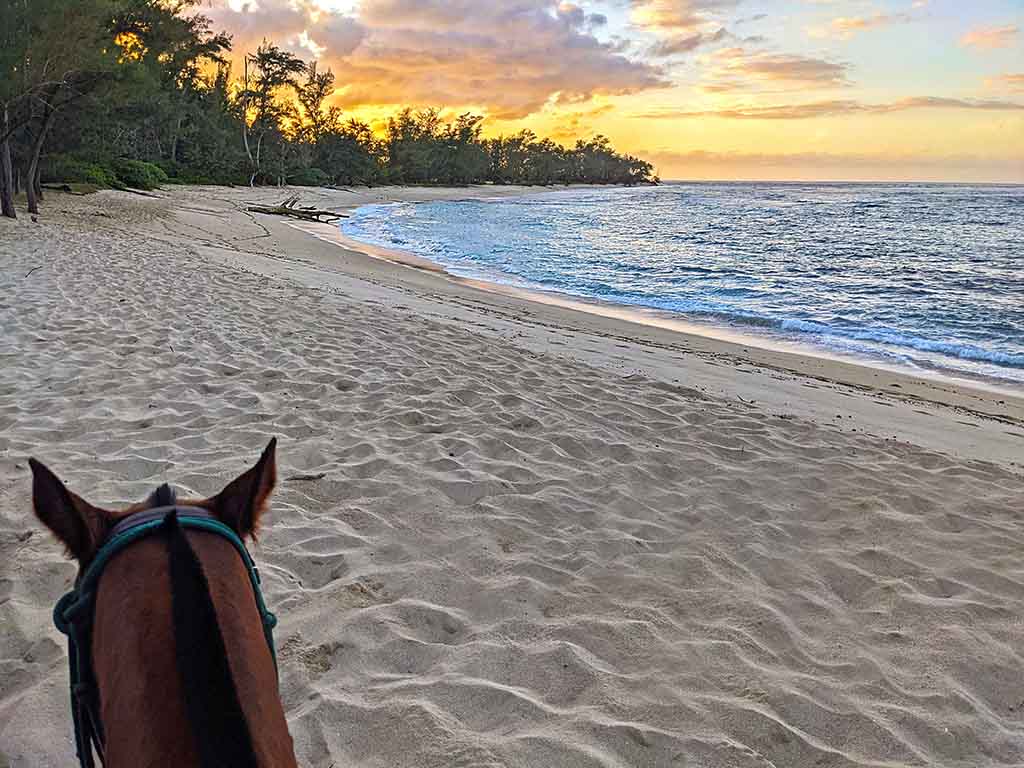 Who wouldn't want to enjoy a romantic sunset ride with your sweetie, on the beach, in Hawaii?! That's kind of a no brainer, if you ask me!
The Hawaii Polo Club offers oceanfront trail rides during the day and at sunset. You can also choose between a private or group ride. If you are a horse lover, or outdoor enthusiast, horseback riding on the beach should be on your Oahu bucket list!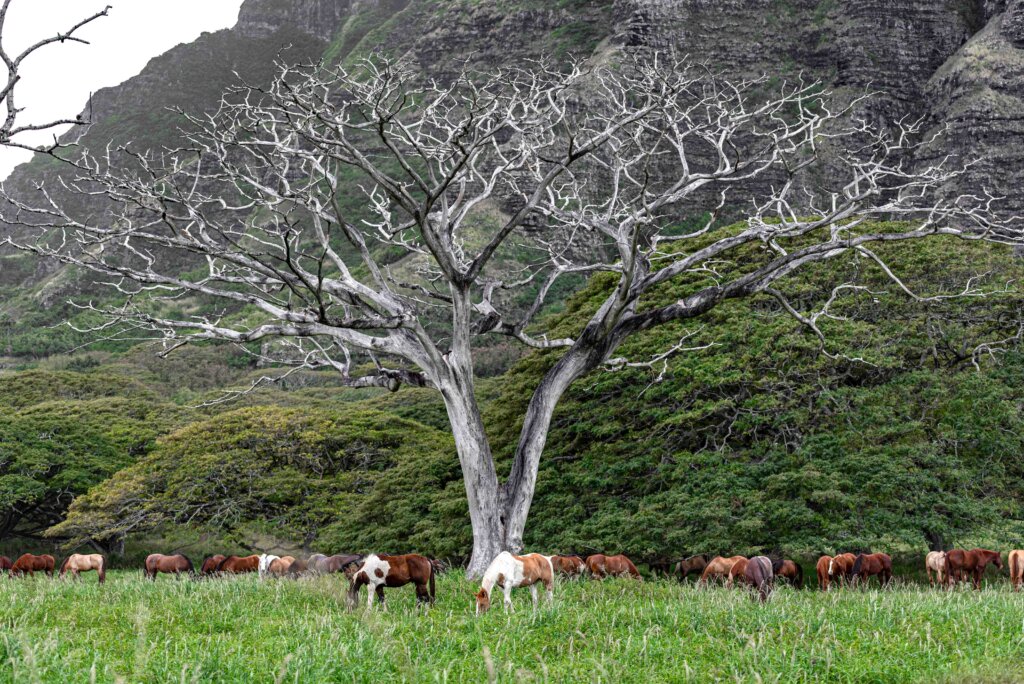 For more info about the best horseback tours on the island, click here!
9. Do Goat Yoga at a Cacao Farm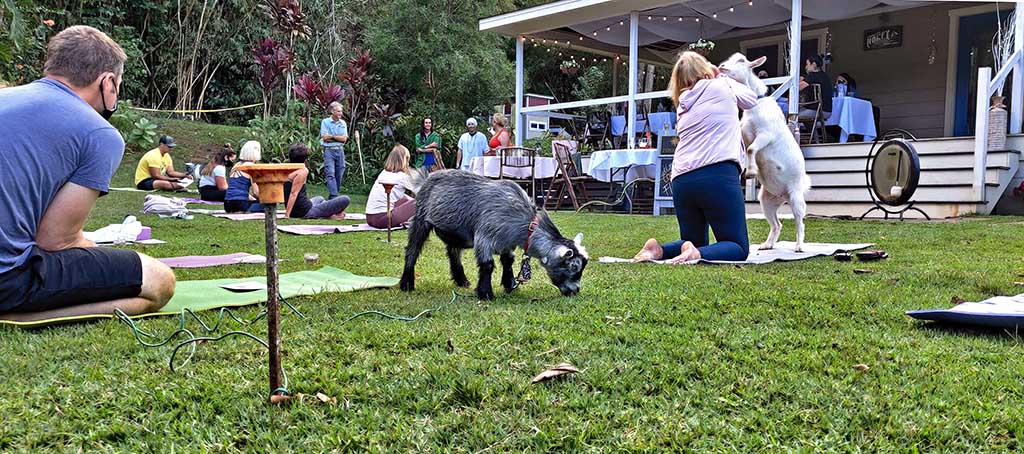 One of the most unique things to do in Oahu is goat yoga at a cacao farm! 21 Degrees Estate hosts a monthly "Cocoa & Flow" event.
You'll get to enjoy a short farm tour to learn how cacao is grown and produced into chocolate. Then, a chocolate tasting, delicious pupu's (appetizers), and yoga with adorable goats! What's not to love? Hawaii is the only state to grow cacao. So, it's definitely an Oahu bucket list item to try fresh, farm chocolate from the source!
TIP: Cocoa & Flow is only for age 13 and older. Also, you might want to bring your own towel or yoga mat in case the ground is damp.
10. Rum Distillery Tour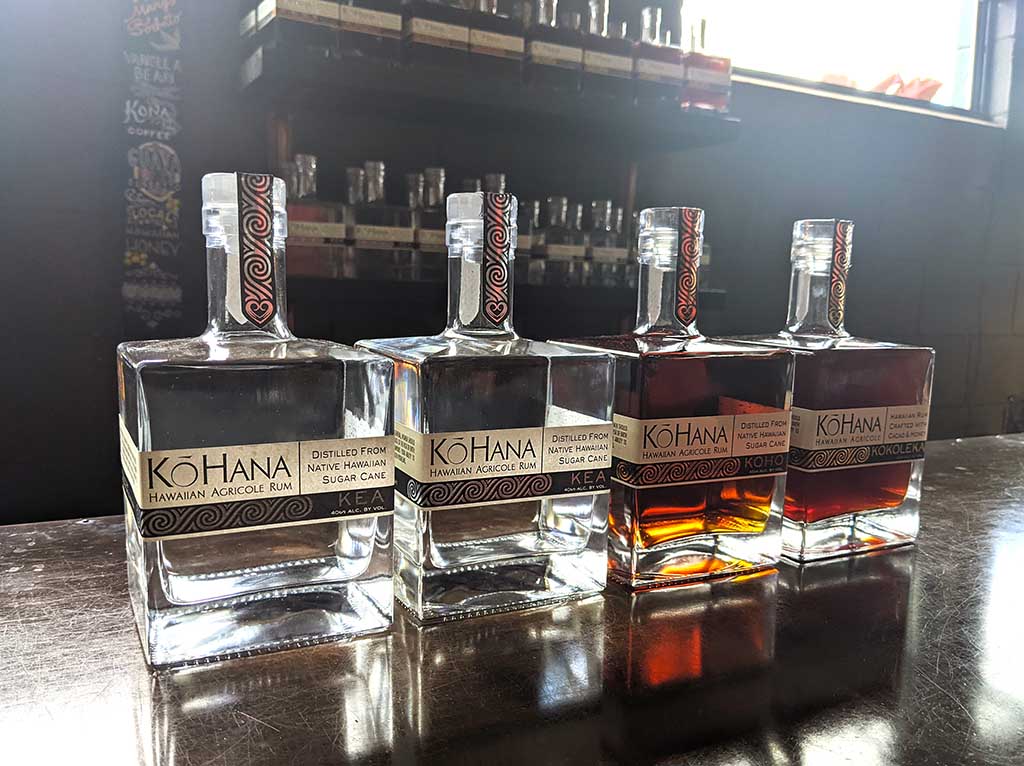 KoHana Rum Distillery is another local agricultural business on Oahu that specializes in a delicious product! The tour includes a short walk through a garden of native sugar cane and the history of each species (yes, there are different kinds of sugar cane- wild, right!?).
In addition, you'll get to see where the rum is barreled and aged, as well as a tasting! Sample the different white and aged rums and decide for yourself which is better. For an unforgettable Oahu bucket list adventure, you have to visit KoHana Rum!
11. Visit the Kaneohe Bay Sandbar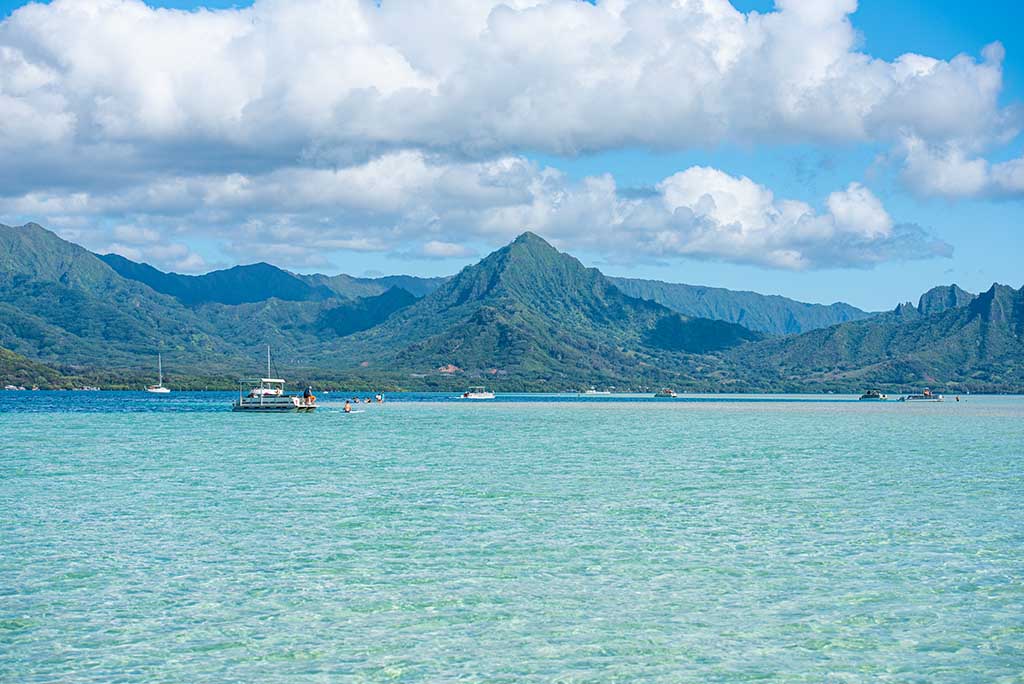 Want to spend a day on the beach out in the middle of the ocean?! Relaxing in these waters are definitely my idea of how to spend a perfect day in Oahu!
The Kaneohe sandbar is a strip of raised sand in the middle of Kaneohe Bay. At high tide the water can get up to waist deep, but at low tide the sand can be completely exposed.
The best ways to reach the sandbar are to rent a pontoon boat for half day, full day, or find a friend with a boat (a boating license is required from the Kaneohe MCB Marina). Or you could book a half day sailing or boat tour.
Another option is to kayak at your own pace. Kama'aina Kayak and Snorkel Eco-ventures have a great selection of rentals and suggest points of interest when exploring the bay.
TIP: Drones, pets, alcoholic beverages, and smoking are not allowed at the sandbar.
12. Swim in a Waterfall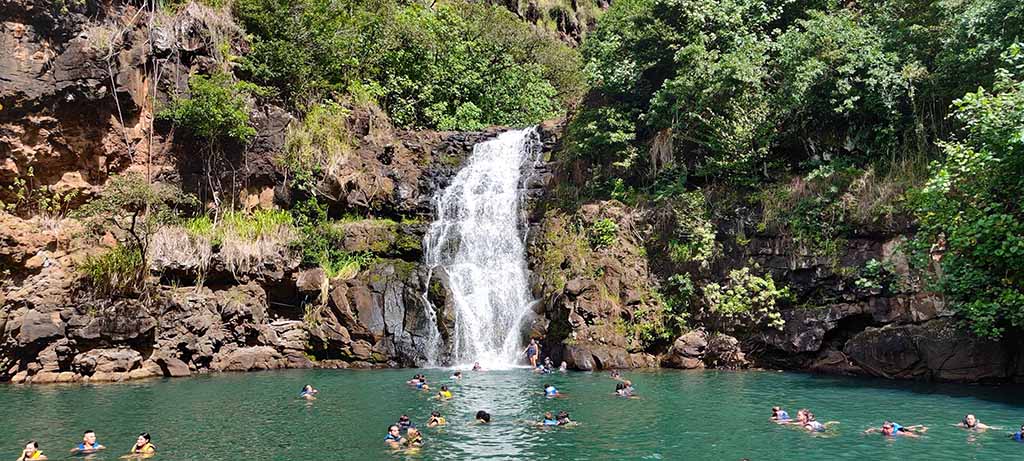 Swimming in a waterfall in Oahu is on the bucket list for most. There are many waterfalls to choose from on the island- but, to safeguard your health, I'd highly recommend Waimea Valley.
There are high levels of bacteria in some of the water sources in Oahu and you definitely don't want to swim in or ingest it! Plus, Waimea Falls has a lifeguard on duty, just in case. There are also changing rooms nearby so you don't have to walk around the botanical garden in wet clothes.
TIP: Don't forget to bring a towel, change of clothes, water shoes, bug spray, and sunscreen!
13. Whale Watch on a Catamaran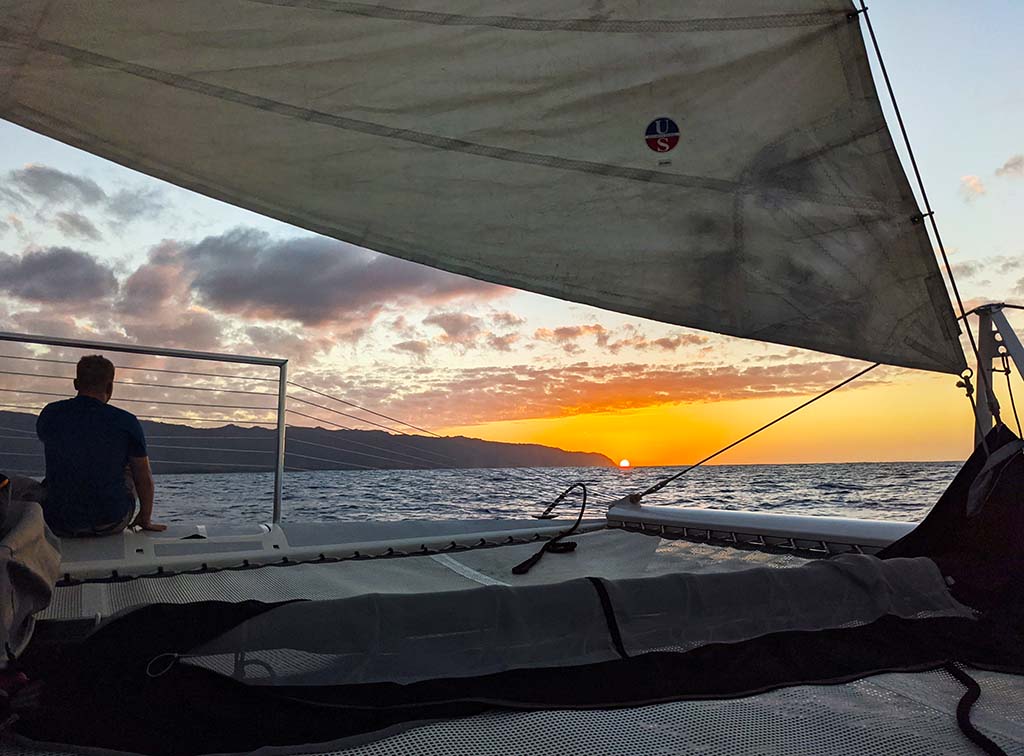 Humpback whales migrate to the Hawaiian Islands typically from November through April. Whale watching is one of our favorite winter activities on the island.
An unforgettable Oahu bucket list adventure is to whale watch from a catamaran at sunset! We chose North Shore Catamaran Charters and enjoyed lounging over the water to watch the sun setting over the Wai'anae mountain range. Also, we spotted bottlenose dolphins and humpback whales breaching!
14. Explore Jurassic Park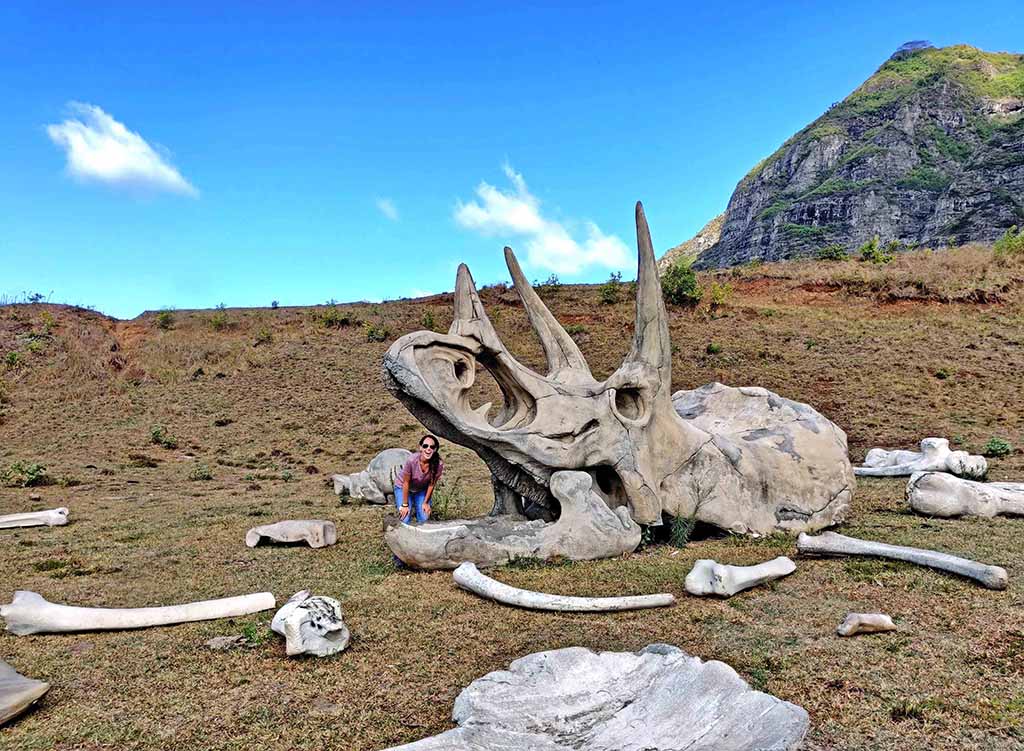 If you're a fan of the Jurassic Park movies, or if you're a general movie buff at all, a visit to Kualoa Ranch has got to be on your bucket list for Oahu!
Go horseback riding, drive an ATV, zipline, or mountain bike around these scenic and historical valleys. Many tours offer close up encounters with Jurassic World film sites, the Jurassic Park log, raptor pens, and other film sites and memorabilia.
15. Attend a Luau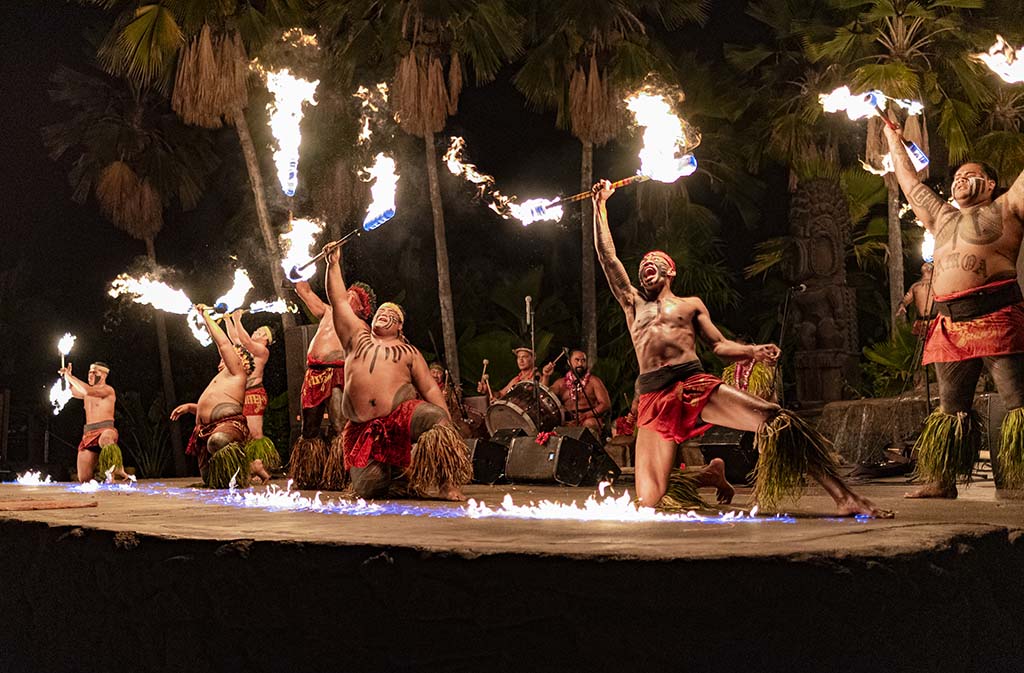 Experiencing an authentic Polynesian luau is a must on everyone's Hawaii bucket list. We've attended a few luaus and there are certain aspects we love about each.
Chief's Luau had fantastic pre-luau events such as weaving a Lei Po'o (headband) from Hala tree leaves, attempting to make fire with two pieces of wood, and getting a temporary Maori tattoo. The fire demonstration was the most exciting part of the performance!
Paradise Cove Luau is the most scenic. Situated directly on the ocean with their own private beach, they offer canoe rides in the cove. Also, in our opinion, it was the most delicious food.
Germaine's Luau is also situated in a beautiful location beside the ocean. We really enjoyed walking the grounds to the Barbers Point Lighthouse and seeing the imu where the pig is roasted underground.
Polynesian Cultural Center definitely has the most to offer. Make it an entire day trip by visiting the Island Villages and experiencing the Breath of Life Show after a Luau buffet.
16. Visit Pearl Harbor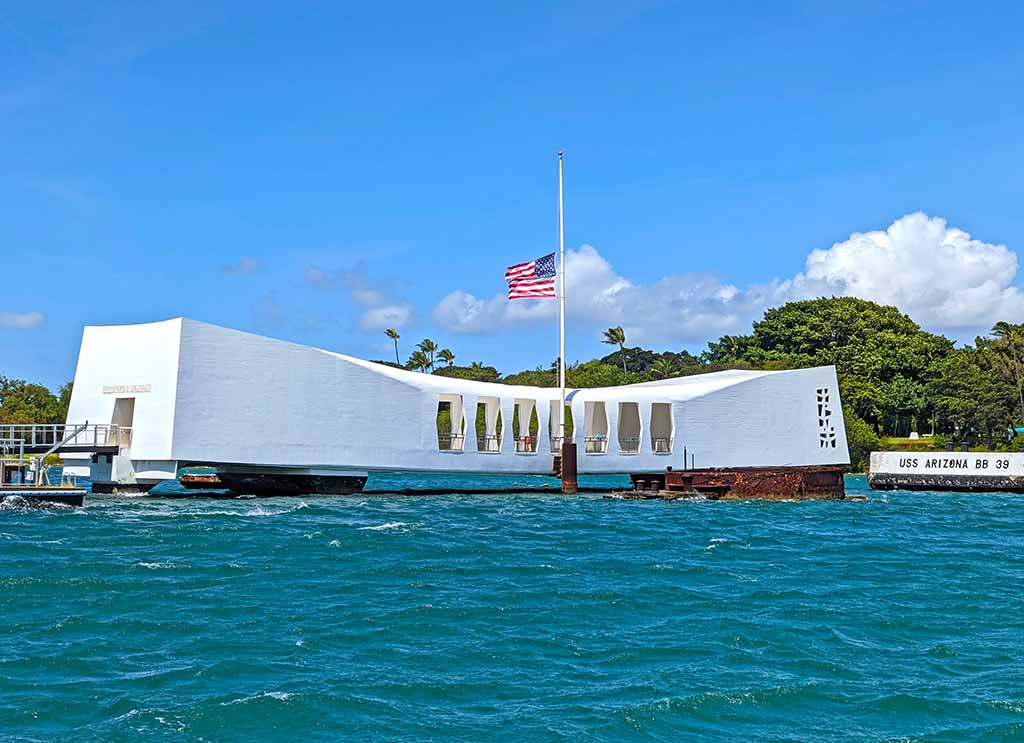 Paying your respects at Pearl Harbor is one of the best things to do during a trip to Oahu. Entering the grounds is free, however, to ride the ferry to the Arizona Memorial is $1 per person.
Also, there is a small museum, memorial sites for the submarines and watercrafts in WWII, and a short film that plays every 15 minutes. You can book tickets for the USS Arizona Memorial at recreation.gov.
17. Visit Sunflower Farm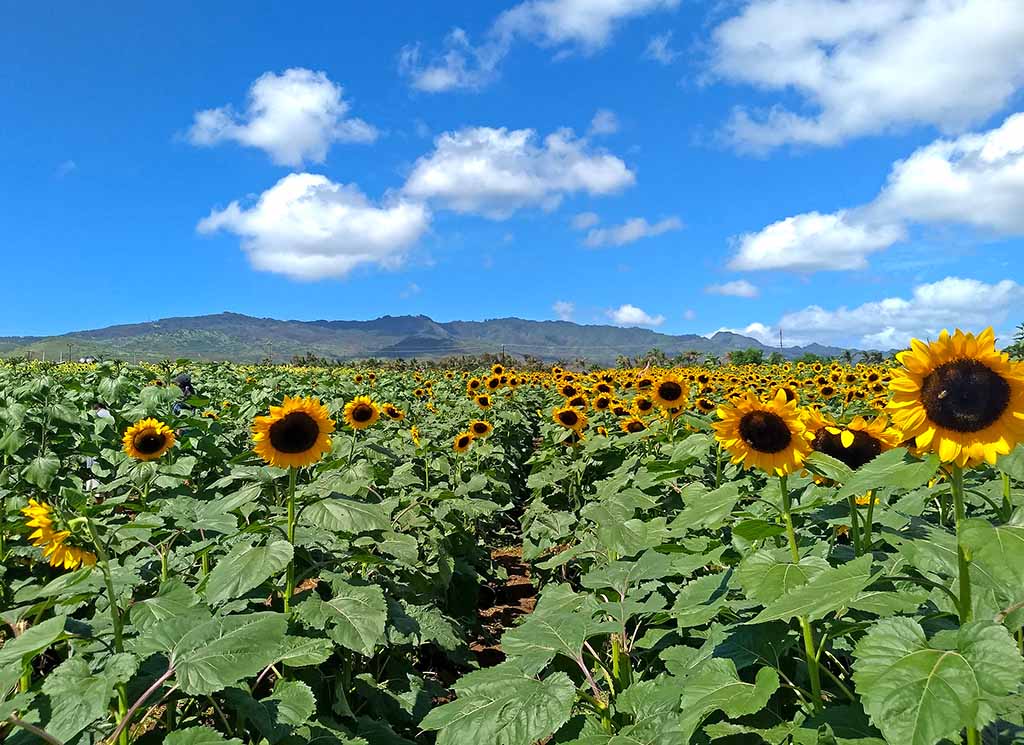 I am slightly ashamed to say that the first time I've ever walked in a pumpkin patch or sunflower field is in Hawaii! Weird place to have my first infamous fall bucket list experience, I know!
However, if you are on island during October or November, this is a really fun family activity! Aloun Farms hosts a yearly Pumpkin Festival the last three weekends of October. Waimanalo Country Farms also has a yearly Harvest Festival. How cool is it to say you've strolled through sunflower fields beside the ocean or within view of mountain ridges?
18. See Waterfalls on the H3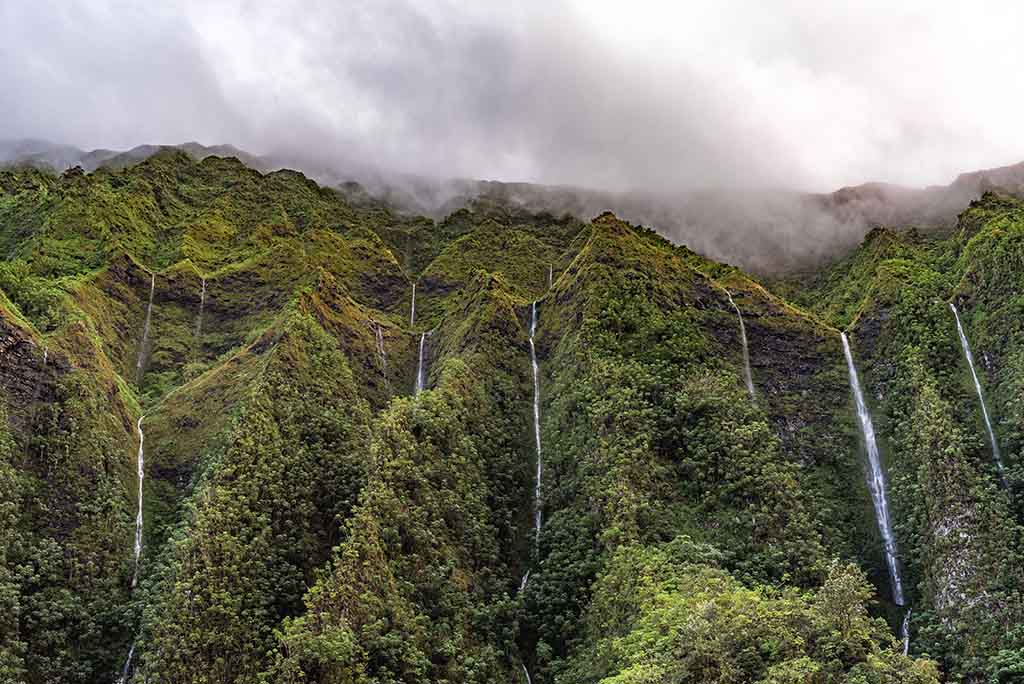 Every Christmas day, my husband and I would bundle up in our Christmas pajamas and hot chocolate (even though it was 85 degrees, haha!) and drive up and down the H3. December is during the rainy season, and the mountain ridges of the Ko'olau range would be completely covered with cascading waterfalls.
It was truly a magical sight! If you're ever on island during heavy rain, I highly suggest driving the highway to see these beauties up close. The H3 waterfalls are definitely one of my most unforgettable Oahu bucket list experiences.
19. Go on a Submarine Ride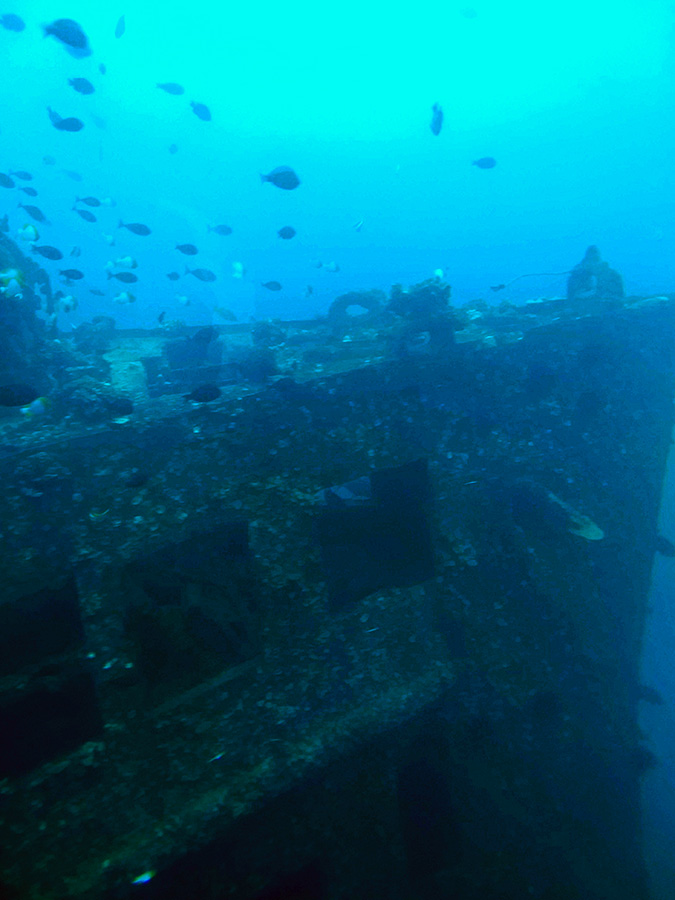 If you aren't much of a snorkeler or swimmer, this is a great activity to get up close and personal with tropical fish, marine life, ship wrecks, and more!
Atlantis Adventures offers the world's largest recreational submarine tours off the coast of Waikiki. Children must be 12 years or older to ride the submarine.
TIP: We chose the last tour of the day and it was already beginning to get dark, making it hard to see things in the water. I would highly suggest taking a mid-day (10AM-1PM) tour so you're more likely to see the depths of the ocean at its brightest.
Oahu Bucket List Experiences Conclusion
When visiting Oahu, make this the most epic vacation ever by doing one or all of these bucket list experiences! Creating unforgettable memories with your spouse, family, or friends in Hawaii is something you'll never regret.
In conclusion, keep in mind that the islands are not a theme park. They are the homes to many generations of local Hawaiians. Respect their land, culture, and wildlife.
More Hawaii Blog Posts:
Did you enjoy this read? Please share and pin for later!