An Oahu horseback riding tour should be on every visitor's must-do list! Most people imagine the beaches when they think of Hawaii. Although, the water activities are superb, don't forget about the fun things to do in Oahu's mountains and valleys!
What makes horseback riding in Hawaii special is the connection between local culture and modern agriculture. Most tours are held on working ranches and you'll get incredible insight on how the Paniolo (Hawaiian cowboy) got its start and what agriculture looks like in Hawaii today!
In addition, if you're not much of a hiker, a horseback riding adventure is a great way to see the mountains and ocean views around the island.
NOTE: As of January 5, 2022- Stay up to date on Oahu's travel guidelines here. Furthermore, consult the Hawaii Travel Requirements website before you plan your trip to any Hawaiian island.
Disclaimer: This post is in no way sponsored. We paid for all the activities mentioned and all opinions are our own. This page may contain affiliate links, which means I may earn a commission (at no extra charge to you) if you make a purchase after clicking my link. Thank you for being a loyal reader!
Where can I see horses in Oahu?
Oahu is overflowing with stables and places to ride horses! Although you can find a horseback riding tour nearly anywhere on the island, our favorites are located on the North Shore and windward side (a.k.a. the east coast).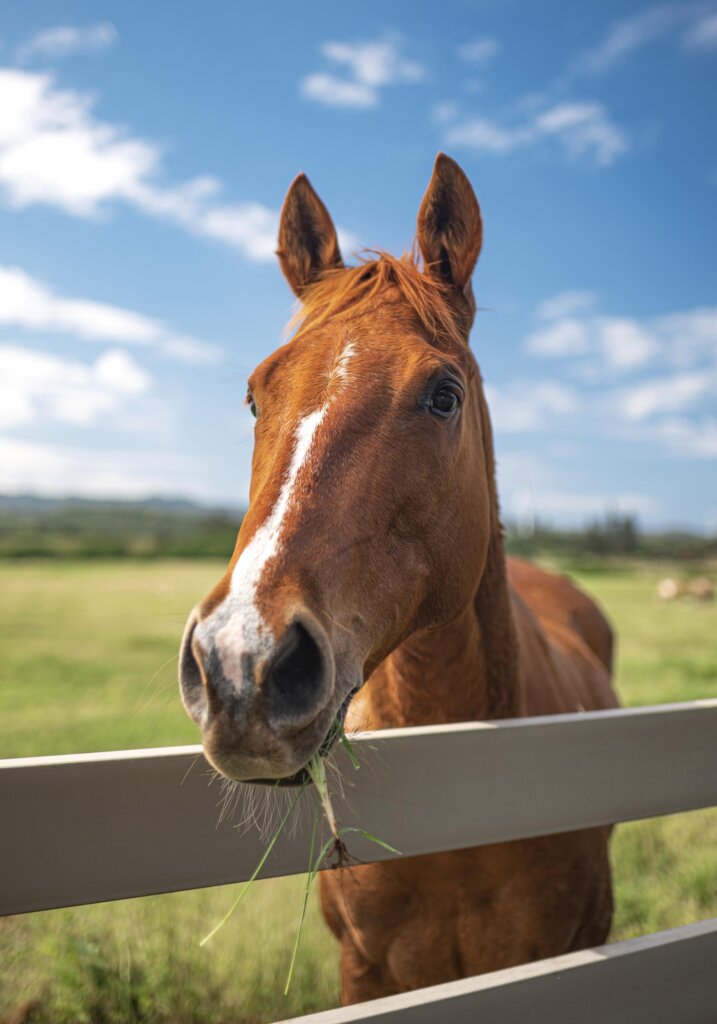 If you don't have time for a horseback tour while visiting Oahu, you can pet and/or see some horses from outside their pasture fencing. Gunstock Ranch and Kawailoa Ranch occasionally have a few horses you can see from the road. Also, after Kualoa Ranch closes for the day (usually after 5PM), they let their horses out to pasture. You can see these beauties from the road as well! However, be cautious of the electric fence and do not feed the horses.
Horseback Riding Safety Tips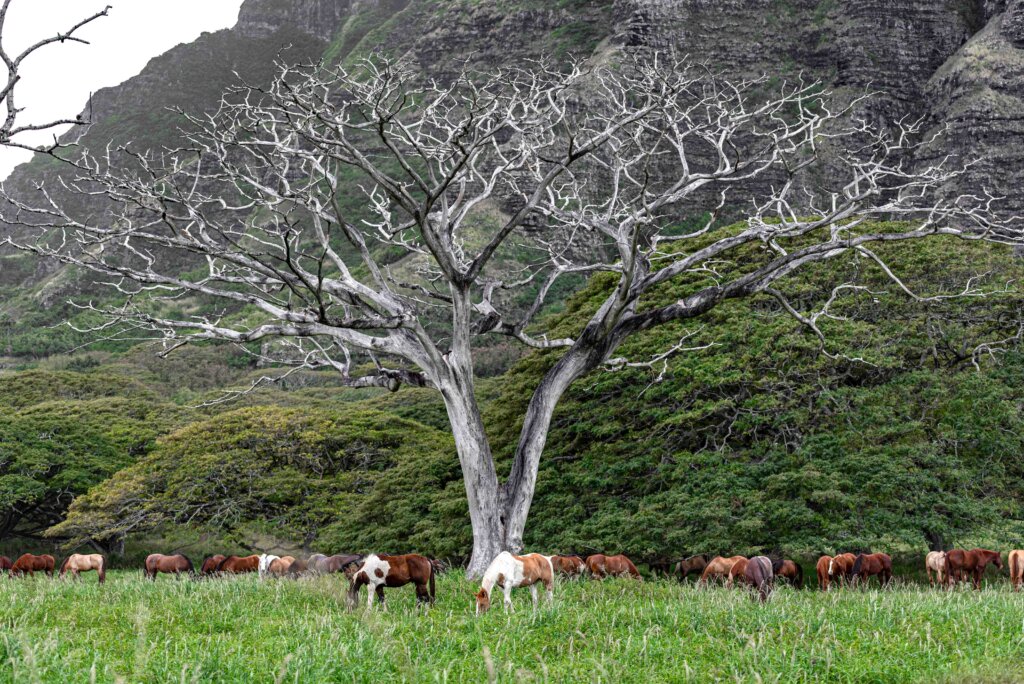 Be honest about your riding experience so the staff can pair you with a suitable horse.
It's always a better choice to wear long pants and closed-toe shoes while riding. It will prevent blisters.
If you have long hair, I would plan to wear it out of your face. The wind is always a factor in Hawaii and you don't want to miss any sights by constantly pushing your hair from your eyes.
There's always a chance for rain, so it's not a bad idea to bring a plastic poncho just in case.
Don't forget to put on sunscreen!
Be sure to listen carefully to your guide when they are giving instructions. These tips are vital to safety.
Most tours won't allow you to wear or bring a backpack, etc. So, be sure you prepare accordingly.
If your tour doesn't require a helmet, it's best to ask for one anyway. Accidents can happen.
Relax when you are on your horse and they'll relax too!
NEVER drop your reins or take your feet from the stirrups.
Happy Trails Hawaii Horseback Rides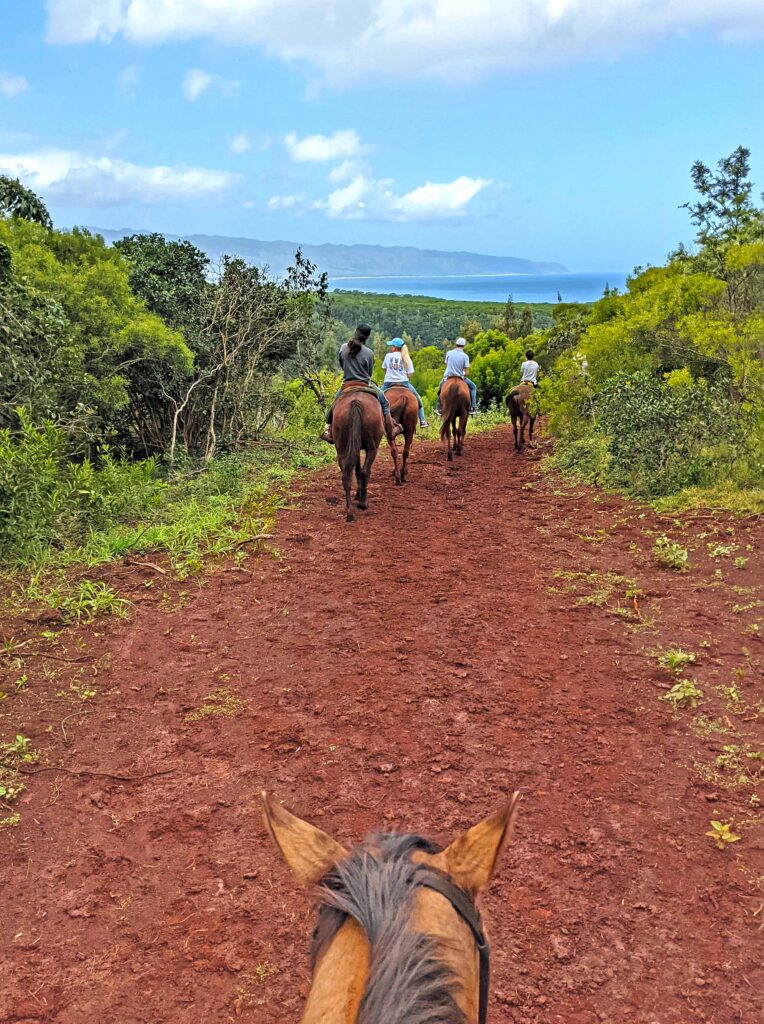 Happy Trails Horseback Rides is located on the North Shore of Oahu at 59-231 Pupukea Road in Haleiwa. They are open 6 days a week (closed on Wednesdays) from 9AM to 4PM.
Happy Trails offers two riding packages:
1.5 hour ride at $109 per person. 9:30AM or Noon time slots.
2 hour ride at $129 per person (must be at least 8 years old). 10AM time slots (not as many offered).
The minimum age requirement is 6 years old and a maximum weight of 235lbs. Reservations are required and can be booked directly through their website!
What made Happy Trails special was the smaller riding group and knowledgeable, friendly staff. The horses are ridden with a hackamore, which is a special bridle without a bit. In addition, you'll get to experience something a little different by saddling up in a unique polo/trail endurance style saddle.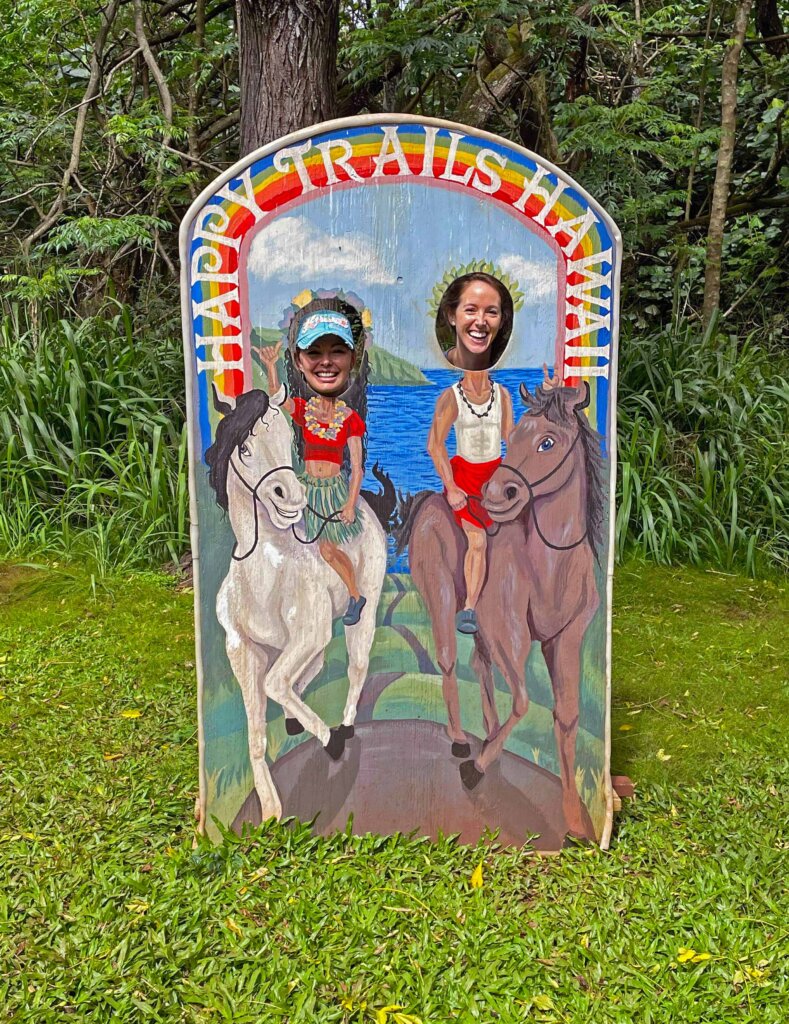 The trail ride takes you through orchards on the ranch where, if in season, you may get to sample local fruit. You'll also explore open pastureland and wooded forests. There are sweeping views of the North Shore's coastline and overlooks of tropical vegetation in Waimea Valley.
During our horseback tour the trail was extremely muddy due to heavy rains. Although the ride was still enjoyable, the horses struggled a bit through the thick goop. It was also extremely muddy around the area we mounted and dismounted for the ride. If it has been raining, I would highly suggest wearing shoes you don't care much about and long pants.
Kualoa Ranch Horseback Riding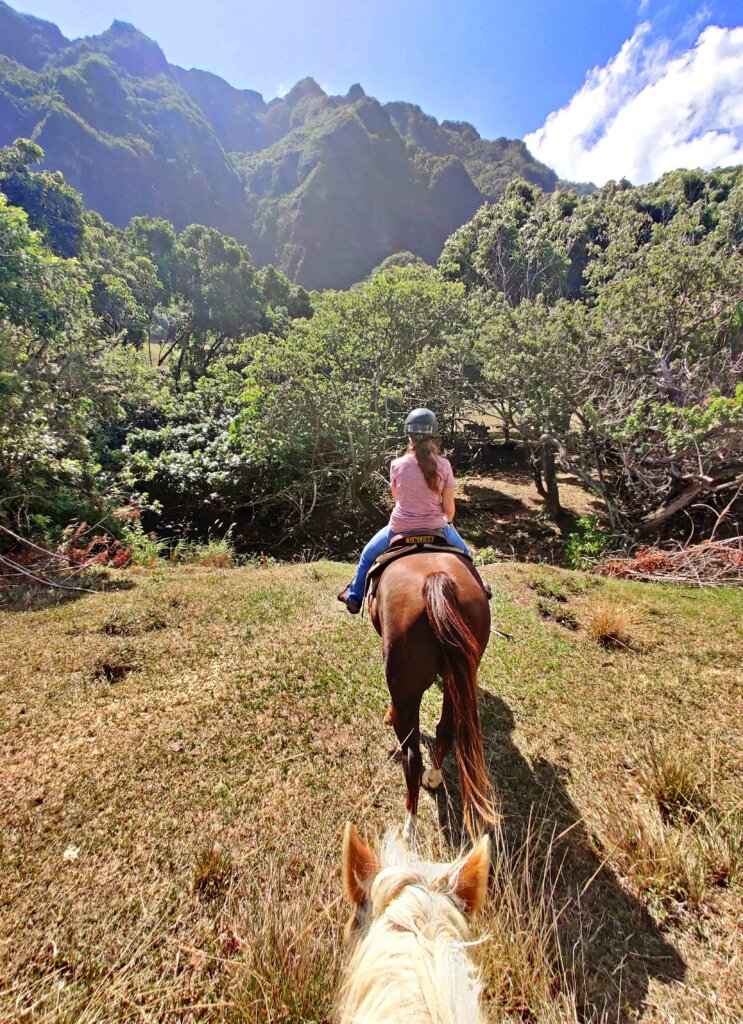 Kualoa Ranch Horseback Riding Tour is located on the east side of Oahu (windward side). The address is 49-560 Kamehameha Hwy in Kaneohe. They are open 7 days a week 8AM to 5:30PM.
TIP: Always arrive at least 15-30 minutes early for your trail ride. Sometimes, finding parking and/or checking in for the ride takes quite a bit of time!
Kualoa Ranch offers only one riding package for the time being:
2 hour ride at $145 per adult and $90 per child (age 10-12). There are numerous time slots ranging from 8AM to 2PM.
The minimum age requirement is 10 years old and maximum weight requirement is 230lbs. All riders must sign a liability waiver and booking is available directly from the Kualoa Ranch website!
Learn more about the best tours at Kualoa Ranch here!
If views are what you're after, then look no further than the Kualoa Ranch Horseback Riding tour in Oahu! Of all the horseback tours we participated in, this one was my favorite. You'll enjoy a leisurely ride on extremely gentle and well behaved horses through Jurassic Park!
While we did not dismount to view the movie site locations, we did ride past a couple of them. The trail varied with small creeks, up-hill treks, and open meadows. The incredible ocean and mountain views of Ka'a'awa Valley are breathtaking!
However, it was a little difficult to hear the guide or other guests because of the number of riders/space between each other. If you are hoping for more chit chat, you might be better off with a different Kualoa Ranch tour. The ride is exposed to the sun the majority of the time with little shade, so be sure to wear your sunscreen!
Gunstock Ranch Oahu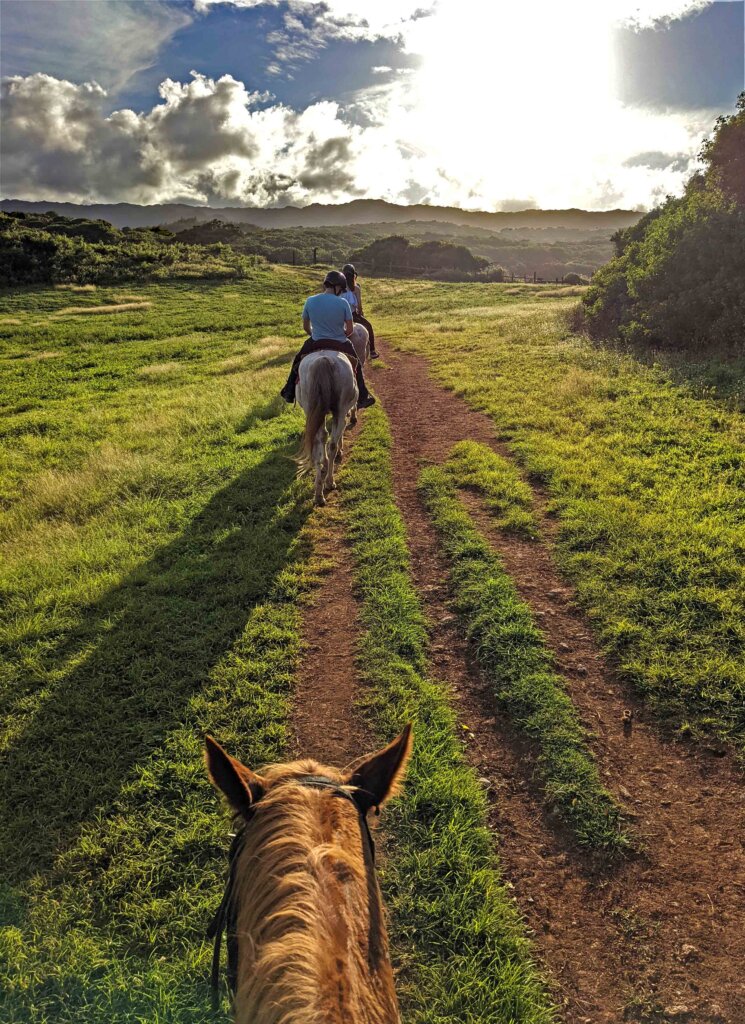 Gunstock Ranch Horseback Riding Tour is technically located on the east side of Oahu, but it's also super close to the North Shore. Located in Kahuku, the address is 56-250 Kamehameha Hwy. They are open 6 days a week (closed on Sundays) from 8AM to 5PM.
Gunstock Ranch has a TON of trail riding options:
30 minute pony ride $52 per kid (age 2 and up). Time slots ranging from 10AM to 4:30PM.
1 hour scenic ride $82 per person (age 7 and up). Time slots ranging from 9:30AM to 5PM.
1.5 hour scenic ride $95 per person (age 7 and up). Time slots ranging from 9AM to 2:30PM.
1.5 hour sunset ride $105 per person (age 7 and up). Depending on season, start times are between 4:30-5:30PM.
You can even book a private horseback ride with your sweetheart, horsemanship experience, advanced trail ride (you can canter!), or a sunset dinner ride. These range from $100-$200 per person.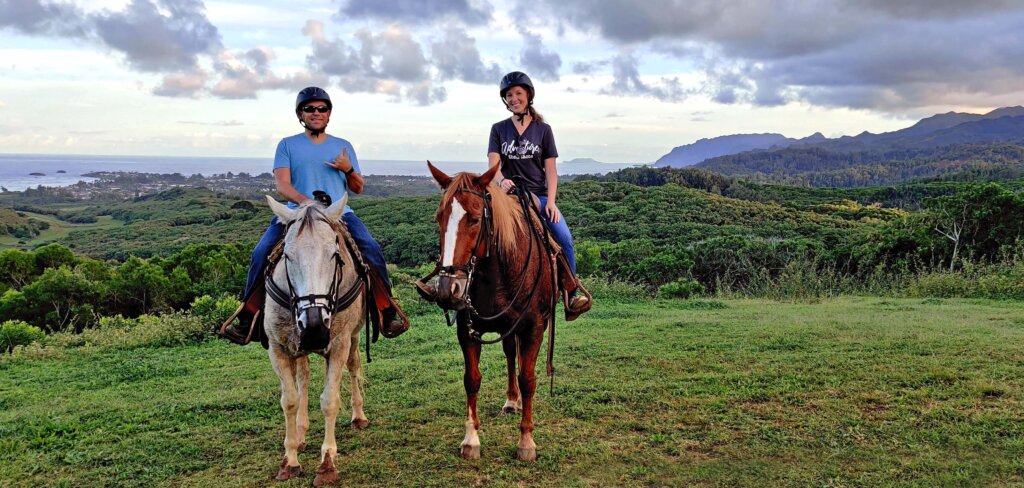 The minimum age requirement is 7 years old and maximum weight requirement is 240lbs. Booking is available online through their website!
We chose the sunset ride during our visit to Gunstock Ranch. The warm colors of the clouds overlooking the ranch and ocean made the ride more magical! We enjoyed the casual ride through the pastureland, learning about the cattle and history of the real, western style working ranch.
Hawaii Polo Oceanfront Trail Rides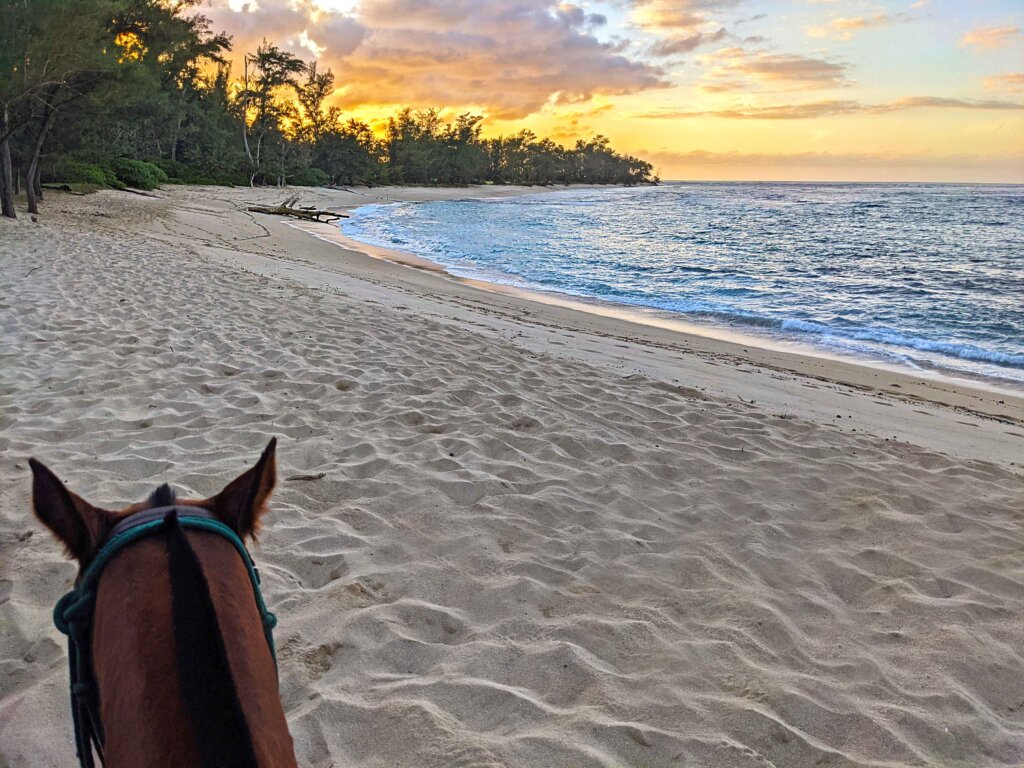 Hawaii Polo Oceanfront Trail Rides is located on the western part of the North Shore near Haleiwa. The address is 68-411 Farrington Hwy in Waialua. They are open 7 days a week 10:30AM to 7PM.
TIP: The entrance can be a bit confusing. You'll pass two white fence gates to the Hawaii Polo Club, the last gate (second one you'll pass) is where you want to go for the trail rides.
Hawaii Polo Trail Rides has numerous options:
1.5 hour sunshine ride $118 per person (age 8 and up). Time slots vary from 9AM to 2:30PM.
1.5 hour sunset ride $138 per person (age 8 and up). Time slot changes depending on the season from 4:30-5:30PM.
1.5 hour private ride $148 per person (age 8 and up). Time slots vary from 9AM to 4:30PM.
1 hour polo lesson $128 per person. 4PM on Tuesdays, Thursdays, and Saturdays.
The minimum age requirement is 8 years old and the maximum weight requirement is 230lbs. Book the right tour for you on their website!
This is the best (and only) option in Oahu for horseback riding on the beach! The horses are not ridden near or in the water, however the trail weaves through parts of the sand for a stunning ocean view. In addition, you'll have the opportunity to ride polo ponies and pass by a competitive Polo field.
Although the trail was scenic, this particular ride was one of the most difficult I've experienced. The horses were ornery about their space with a bit of ear pinning or biting at the others in the group. Also, my horse loved to strategically lunge for nearby grasses and go off-trail to munch any moment he sensed I had relaxed. My arms were a bit sore afterward from constantly hauling my horse's head up from snacking, haha.
More Hawaii Blog Posts:
Did you enjoy this read? Please share and pin for later!