Kauai is one of eight major islands in the Hawaiian island chain and is the fourth largest. "The Garden Isle" is an appropriate title for the exceptionally lush tropical island. This is thanks to the insane amount of rain Kauai gets per year!
3 days in Kauai is just enough to get a taste of what it has to offer. Kauai is perfect for those who are looking for a less touristy Hawaiian vacation. You'll find no skyscrapers here! To thoroughly appreciate the ruggedness of Kauai's rainforests, mountain ridges, and canyons you'll have to get your feet a little dirty (and/or wet!).
NOTE: As of March 2022- Stay up to date on Kauai's travel guidelines. Furthermore, consult the Hawaii Travel Requirements website before you plan your trip to any Hawaiian island.
Disclaimer: This post is in no way sponsored. We paid for all the activities mentioned and all opinions are our own. This page may contain affiliate links, which means I may earn a commission (at no extra charge to you) if you make a purchase after clicking my link. Thank you for being a loyal reader!
---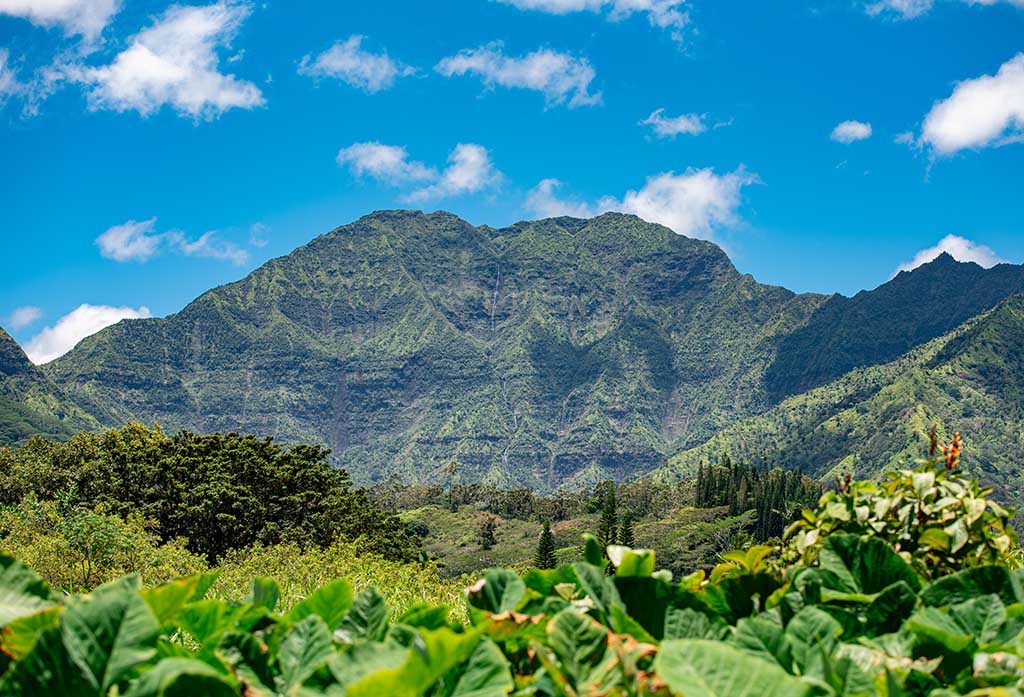 How many days do you need for Kauai?
There is no wrong answer to this question. It depends on how much time you have (the more the better!). But, you can experience the beauty of Kauai in 3 to 5 days. However, if you have 7-12 days, go for it!
What is the number one thing to do in Kauai?
The most iconic locations in Kauai is definitely the Na Pali Coast and Waimea Canyon. These places are a must-see for any trip to the garden isle!
Is Kauai or Maui better?
Both islands are truly spectacular. They each offer incredible hiking, snorkeling, boat tours, sweeping mountain views, delicious food, and beautiful waterfalls. Perhaps you should visit both and decide for yourself! -wink-
What is the best month to visit Kauai?
Hawaii is lucky to experience a mild climate year round. However, certain seasons are more favorable for certain activities. For example, if a Na Pali Coast boat tour is at the top of your list, the summer months are much more ideal for better sea conditions. And you'll see more rainbows and impressive waterfalls in the winter months.
Do you need a car in Kauai?
Definitely! You'll be glad you took the time to drive around at your own leisure to explore all that Kauai has to offer.
Best Area of Kauai to Stay
When flying into Kauai, you'll land at Lihue Airport, which is located in the south eastern part of the island. Most vacationers head south to Poipu or north to Princeville. However, we stayed in Kapa'a near Wailua so we could easily travel west to Waimea Canyon or north to Hanalei for one day to participate in our planned activities.
Airbnb in Kauai
We love Airbnb and usually book a cottage, guesthouse, or converted garage for our travels. Hawaii has extremely strict laws when it comes to Airbnb. So, while you probably won't find a remote bungalow or beach house (unless you're willing to pay serious money), you can find modern condos with beach access or ocean views for a better price than a hotel!
The Airbnb we chose for our 3 day Kauai itinerary is Beachside Ocean View in Kapa'a. We walked to the ocean in the evening and sat on the balcony in the morning with our coffee, listening to the waves. It was quiet, clean, and easy to find parking! Plus, we had plenty of chicken friends running around in the trees and bushes to keep us entertained.
Hotels in Kauai
There are no shortage of hotel accommodations in Kauai! Depending on where you want to spend your time, there are great options in Po'ipu, Wailua, and Princeville.
Po'ipu
Wailua/ Kapa'a
Princeville
Beaches in Kauai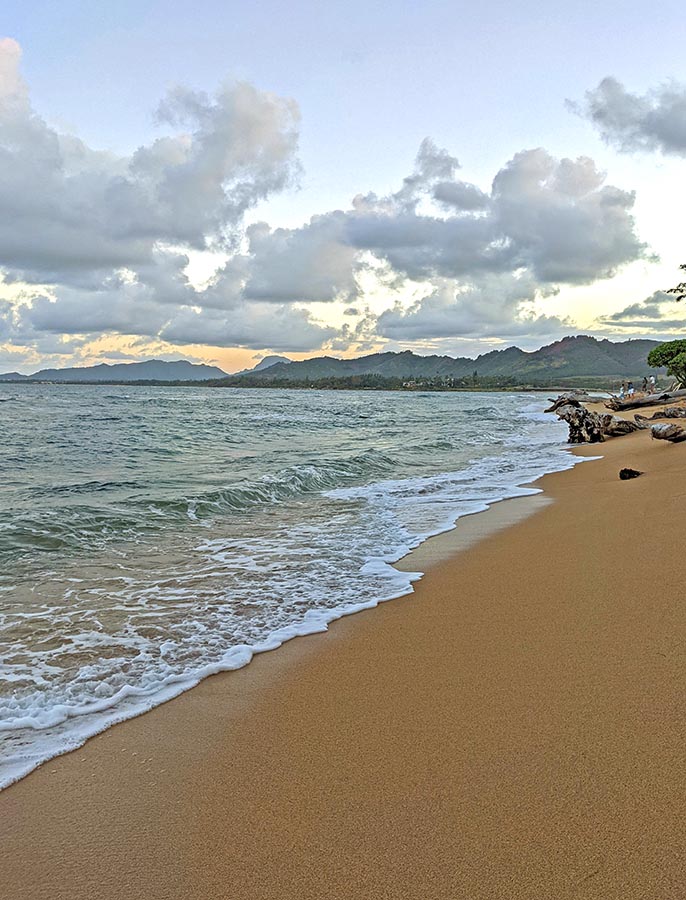 Kauai's beaches are perfect for snorkeling, swimming, and relaxing! Kauai also has some additional surprises on their beaches such as driftwood (don't see that much in Oahu and Maui!) and a black sand beach at Waimea Beach at Waimea Landing State Recreation Pier.
Other beautiful beaches in Kauai to relax and swim at are Hanalei Beach Park, Po'ipu Beach, Kalapaki Beach, and Kealia Beach.
TIP: Depending on the season, the waves and currents may be too dangerous to swim. Typically, in the winter months (Nov-Mar) the North Shore can be too rough to swim or snorkel. Be sure to always check the surf forecast before you plan a beach day in Kauai!
Beaches in Kauai for Snorkeling
Any Kauai itinerary is incomplete without a snorkeling adventure! We saw so many stunning reefs and marine life at Tunnels Beach. Even though we arrived around 8:30AM, the parking was already full for Tunnels and we had to go a little further to Ha'ena Beach Park.
TIP: If you are looking for snorkel gear rentals, try out Hanalei Surf Co.! They were so friendly and helpful. They are open every day 8AM-8PM.
Other great beaches in Kauai for snorkeling are 'Anini Beach, Ke'e Beach, and Lydgate Beach Park.
Best Kauai Restaurants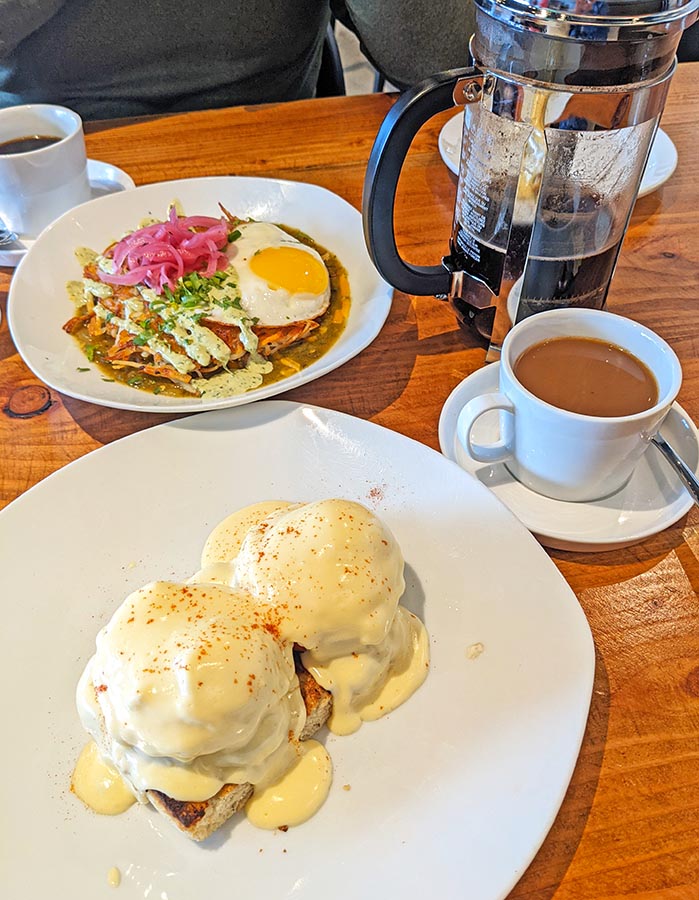 We indulged in so many delicious eats during our visit to Kauai! Listed below are the places we ate and what we loved from each restaurant.
3 Day Kauai Itinerary
Day 1 in Kauai
This Kauai Itinerary begins in the morning and wraps up in the evening. Please adjust your arrival and departure according to your flight.
Arrive at Lihue airport in the AM
Proceed to pick up baggage and pick up rental car.
Check into room or drop off luggage if your accommodation is close by.
Can also take this opportunity to head to the local grocery store to stock up on fruit, meal bars, and water.
Enjoy breakfast or brunch of your choice.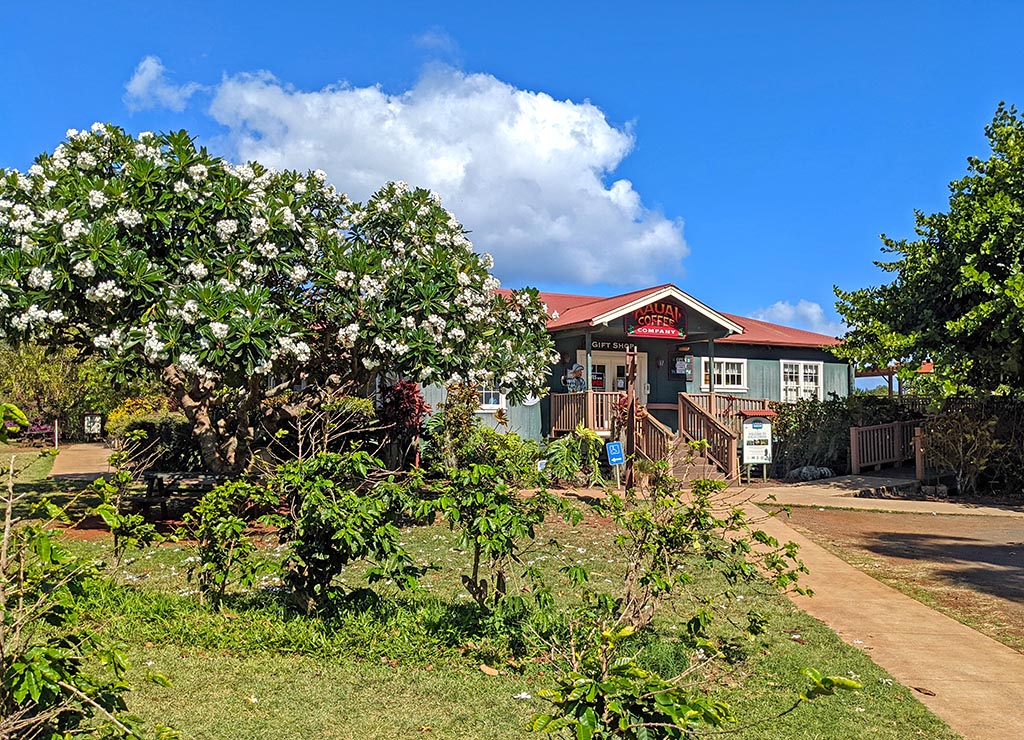 On your way to Waimea Canyon, take some time to grab some caffeine and wander around the Kauai Coffee Plantation. They are open Monday-Friday 9AM-5PM and Saturday-Sunday 10AM-4PM.
Enjoy samples of different freshly roasted coffee beans. Pick your favorite and order a cup while you peruse the plantation, soaking in the plumeria blossoms and coffee bean trees!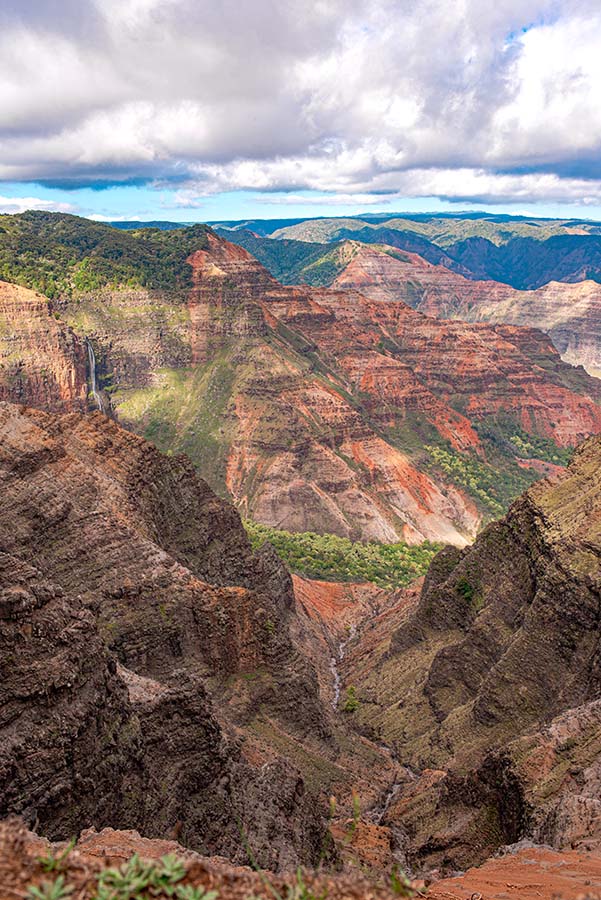 When you arrive at Waimea Canyon, try to start at the furthest end of the park and then work your way back down.
TIP: Beginning in 2021, non-Hawaii residents are required to pay an entry fee per person and for parking. This will give you access to both Waimea Canyon State Park and Kokee State Park. Children 3 and under are free.
Pihea Vista Trail (2.3 miles out and back, rated moderate) Unfortunately, we didn't enjoy views of the Na Pali Coast due to clouds and fog. Also, parts of this trail are very steep and muddy!
Waipo'o Falls via Canyon Trail (2.8 miles out and back, rated moderate) Truly stunning views! Be cautious around the exposed cliffside.
Hohonu Awawa Lookout
Waimea Canyon Lookout
Waipo'o Falls Lookout
Red Dirt Waterfall
There are so many additional lookouts and hikes to do in Waimea Canyon. Try these out too if you have more time to spend:
Kekaha Lookout
Pu'u Hinahina Lookout
Kalalau Lookout
Pu'u O Kila Lookout (Mt Waialeale to the right)
Awa'awapuhi Trail (6 miles out and back, rated moderate)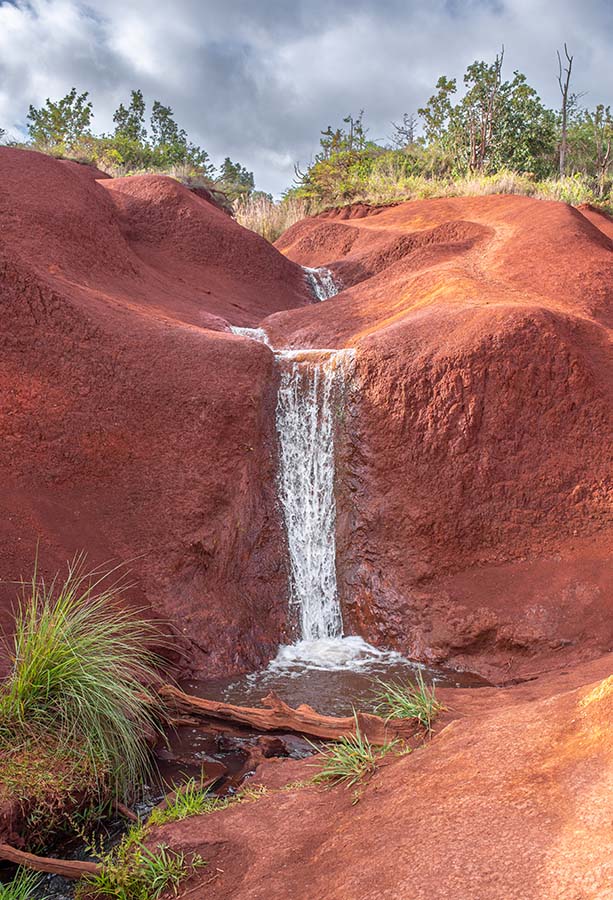 After a long afternoon of hiking, take some time to enjoy dinner.
If you still have energy to burn or cut your time short at Waimea Canyon, check out these other great stops on your way back to your accommodations.
Day 2 in Kauai
The second day of your 3 day Kauai itinerary is all about the Na Pali Coast. You'll spend half your day on the water seeing this stunning stretch of mountains, snorkeling with turtles and fish, exploring sea caves, and maybe even seeing a pod of Hawaiian Spinner Dolphins!
Most boat tours are 4-6 hours long and provide snacks and drinks. In addition, most tours are on raft style boats which are small, open air, and can go very fast through the water. Although, there are a few companies who offer tours on a sailing catamaran.
We were so bummed that our Na Pali tour was canceled due to weather (in June!) and we were not able to re-schedule during that trip. Therefore, if seeing the Na Pali Coast is a must for you- be sure to book it early in your trip just in case you need to reschedule to a later date in your itinerary.
Na Pali Coast Boat Tours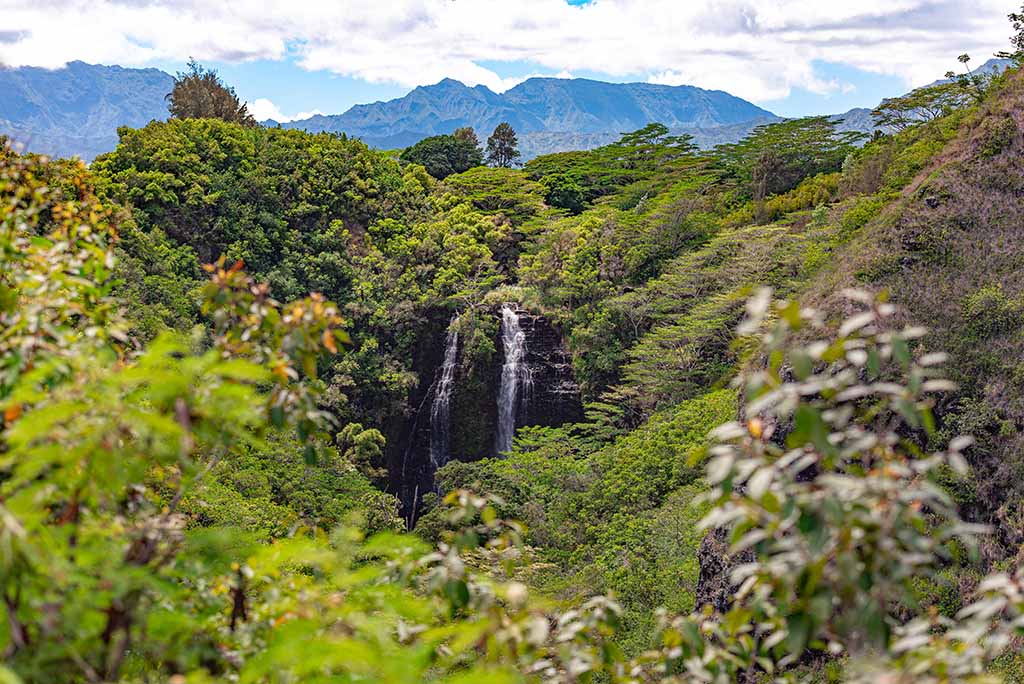 After a day on the ocean, it's time to relax and unwind. On your way back to your accommodation to relax beach side or nap in your room, check out these waterfall overlooks.
Wailua Falls Overlook – the road to the falls is pretty rough and narrow. The parking lot is very small and a little difficult to back in and out of spots.
'Opaeka'a Falls View (pictured) – there is a large parking area and restrooms.
Day 3 in Kauai
For the last day of your Kauai itinerary, it's time to explore the North Shore!
Start off the morning with early snorkeling at Tunnels Beach. Bask in the sun and enjoy the views!
Tip: The reef may look like rock, but it's not! It's alive! Please DO NOT step on it or walk on it. Avoid touching (you could get a nasty scar; the coral can be sharp!). Use sunscreen without oxybenzone or octinoxate. This helps prevent chemicals from killing the coral.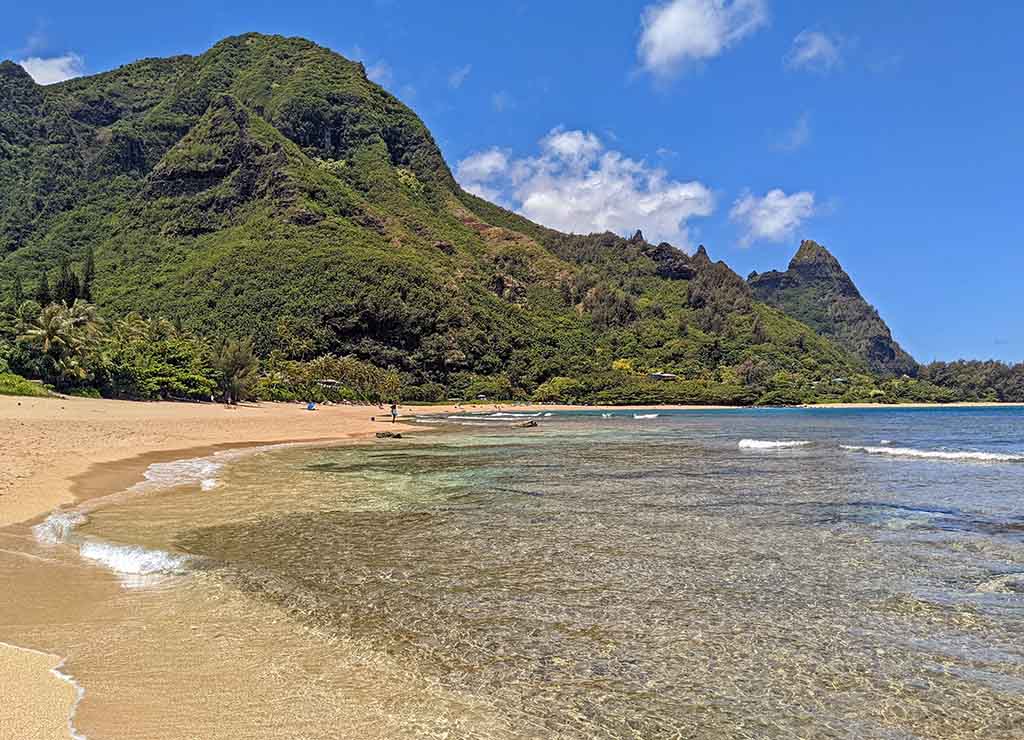 For the afternoon, grab some lunch and check out these other great stops near Princeville.
TIP: Kilauea Lighthouse tours are temporarily suspended.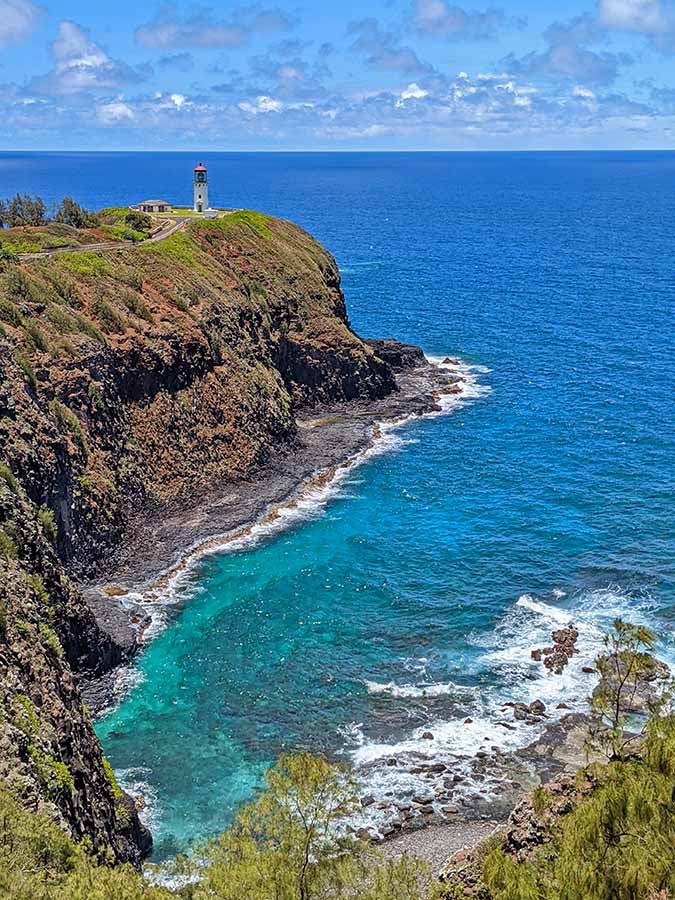 Wrap up your evening in Kauai by vacuuming, washing, and gassing up your rental car. Then, head to the airport to check in for your flight. A hui hou!
3 Days in Kauai Conclusion
Is it possible to have a once in a lifetime experience in just 3 days in Kauai? You bet! Although, there are plenty of amazing things to do and see with a longer itinerary, you can still maximize 3 days on the Garden Isle!
More Hawaii Blog Posts:
Did you enjoy this read? Please share and pin for later!