When visualizing a vacation to O'ahu, Hawai'i, most probably picture endless stretches of sandy beaches dotted with palm trees. While there is an abundance of stunning coastline on Oahu, another island activity to add to your itinerary is to explore a local coffee farm.
NOTE: As of January 5, 2022- Stay up to date on Oahu's travel guidelines here. Furthermore, consult the Hawaii Travel Requirements website before you plan your trip to any Hawaiian island.
Disclaimer: This post is in no way sponsored, we paid for all the activities mentioned and all opinions are our own. This page may contain affiliate links, which means I may earn a commission (at no extra charge to you) if you make a purchase after clicking my link. Thank you for being a loyal reader!
O'ahu Coffee Farm History & Info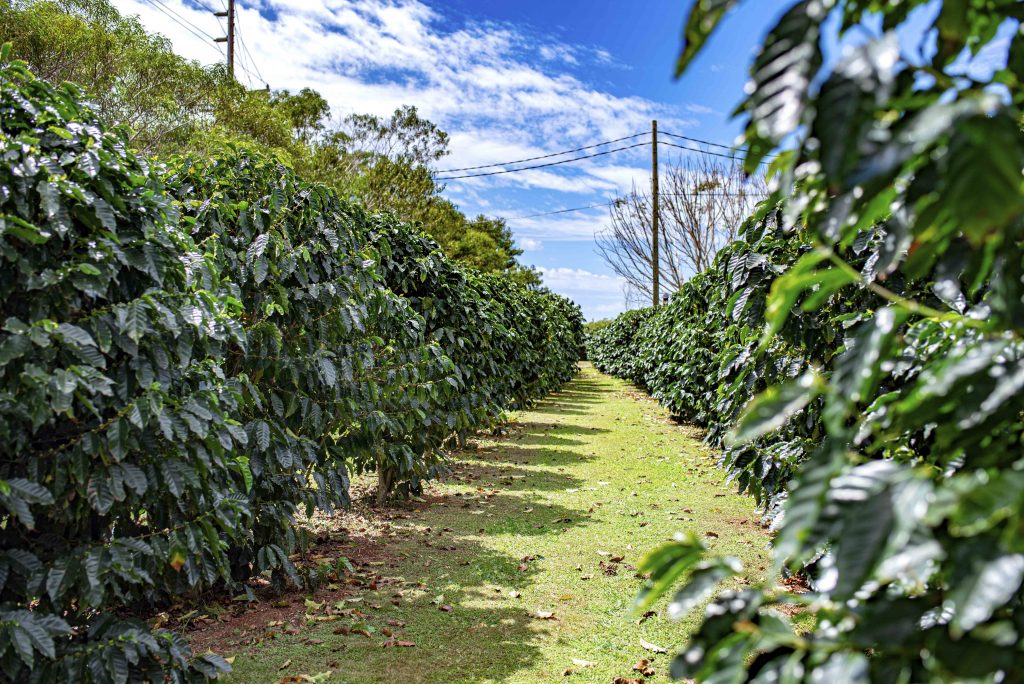 The Green World Coffee Farm on Oahu, Hawaii was established in 2013. The farm consists of a grove of over 3,000 Arabica coffee trees.
They roast the coffee beans daily, and provide samples of coffee and tea to sip while perusing the storefront. The farm also purchases coffee beans from farms in Maui and Molokai. In addition, grab a coffee to-go from their espresso bar when you're ready to take off on more island adventures!
The farm's shop also offers worldwide shipping of their coffee products and accessories through their website.
TIP: If visiting the farm during a holiday, be sure to check their website for up-to-date store hours.
How to Get There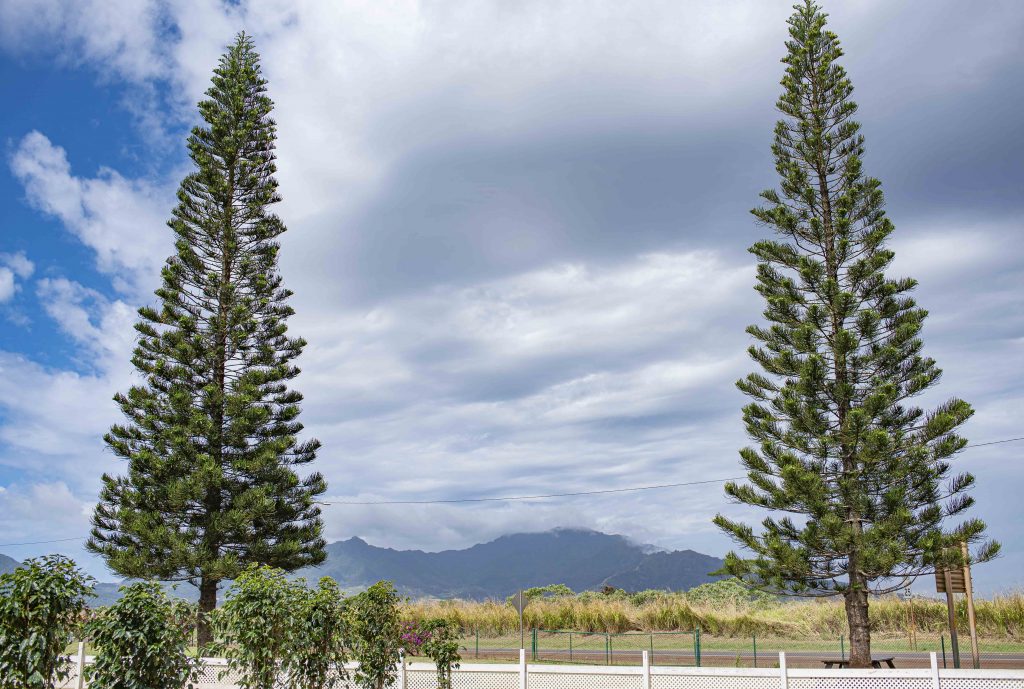 The Green World Coffee Farm is located just north of Wahiawa. Centralized on the island of Oahu, the grounds are expansive with sweeping views of the nearby Wai'anae mountain range. The farm is a popular pit stop for many tourists traveling from Waikiki to visit the globally chronicled North Shore.
Traveling from Waikiki, the majority of the 40 minute driving time will be spent on the H1 and H2. Those coming from Ko'Olina will enjoy a similar 30 minute drive along the H1 and H2, albeit from a different part of the island.
If traveling via TheBus, you can check out the routes and timetables on their website for scheduling.
Exploring the O'ahu Coffee Farm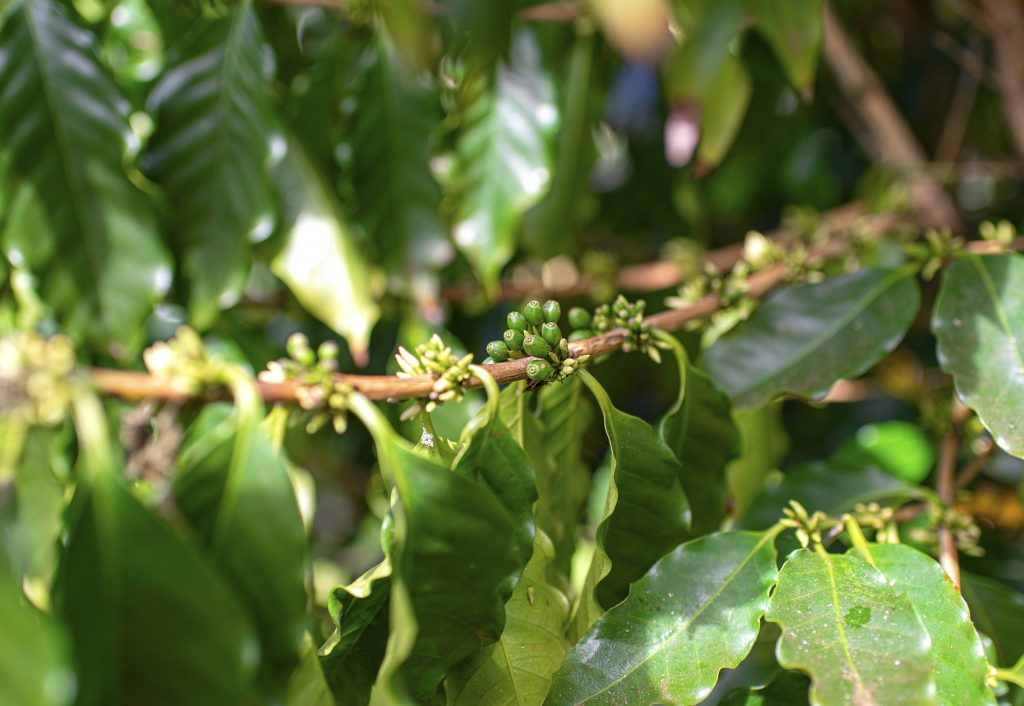 Want to know the best part of visiting The Green World Coffee Farm? IT'S FREE! And it's beautiful! The seven acres of coffee bliss is far away from the hustle and bustle of downtown. While walking amidst the rows of coffee trees covered in budding flowers and beans in various stages of growth, you can almost convince yourself that you're exploring a jungle.
Espresso Bar & Storefront
During the week, you can indulge in tasty samples and a self guided tour anytime between 6AM and 5PM (6PM on Fridays!). On the weekends, you can enjoy the same fun with slightly different hours from 7AM to 6PM.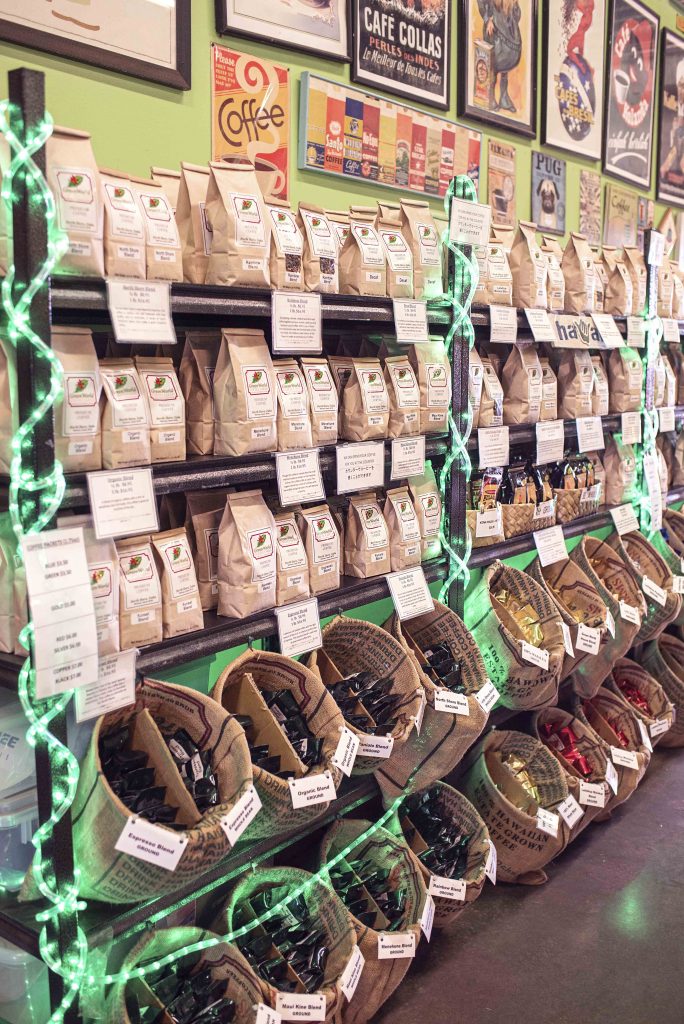 Nearly every time I stop at the farm's store, I have to grab a couple of the new flavors in mini sample packs! We have a coffee grinder at home, so we purchase the whole bean packets.
The Rainbow Blend, which is a mix of light, medium and dark roast beans, is one of my favorites! The Sweet Love (a mix of hazelnut, chocolate, coconut, and graham cracker) and Blueberry Strudel flavored coffee are also pretty incredible.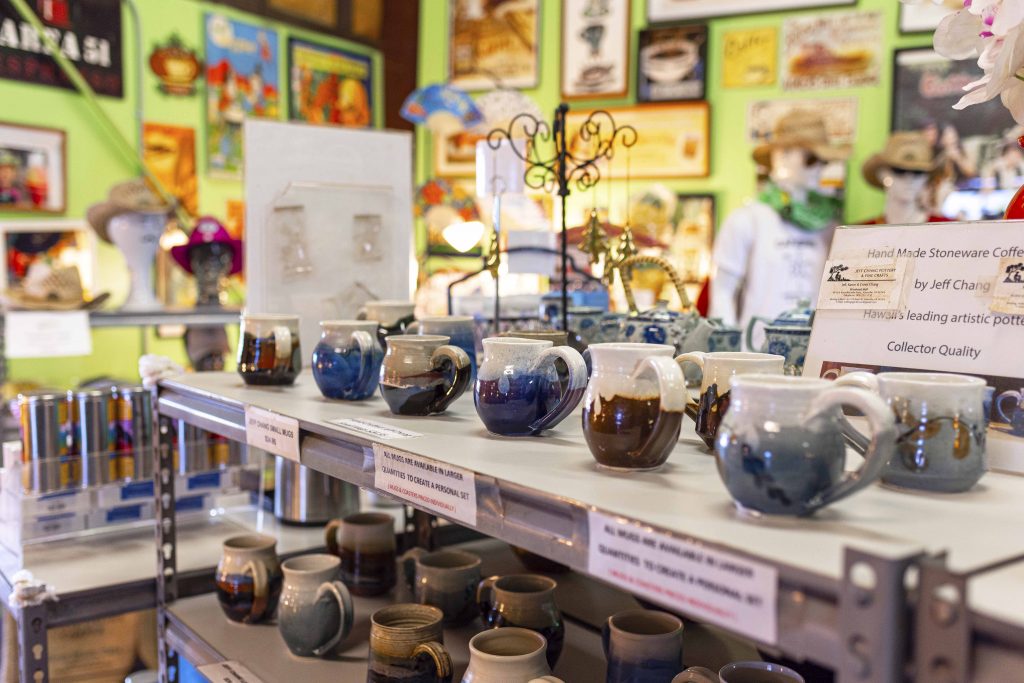 The espresso bar not only serves hot, iced, and cold brew coffee; but, they have fresh pastries and smoothie options, as well. You can enjoy the treats on the patio or in the yard for views and brews. Ha. See what I did there?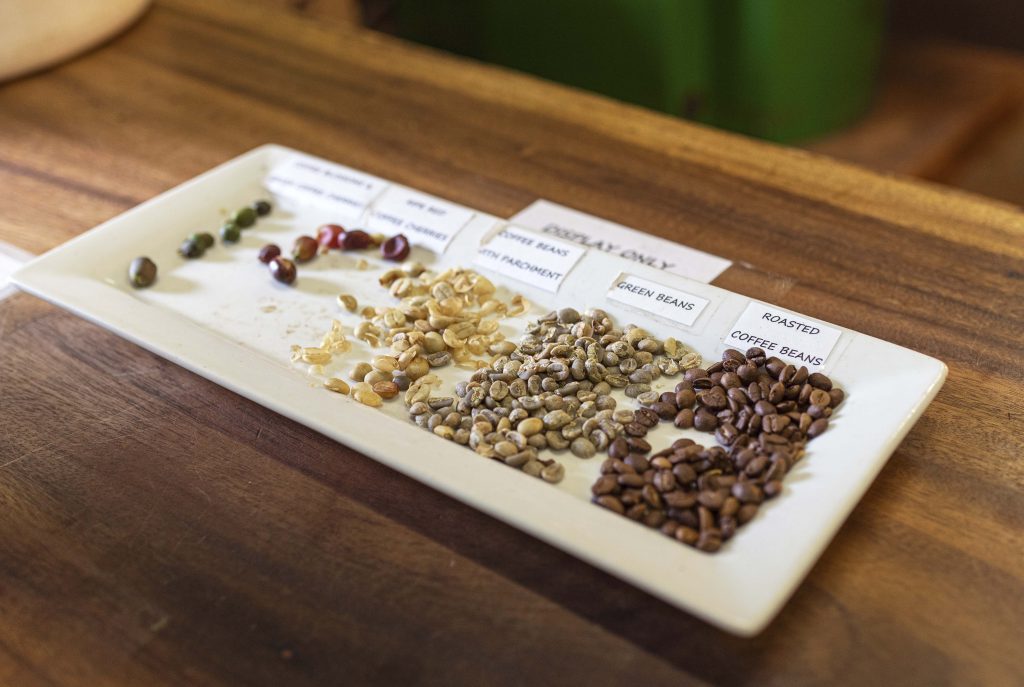 Coffee Tree Grove
After purchasing goodies in the storefront and sampling coffee until your heart's content, head outside to explore the rows of coffee trees.
There is also a Jacaranda tree in the middle of the orchard and if you want to see it in full bloom, try to visit in the spring months to witness the blue blossoms!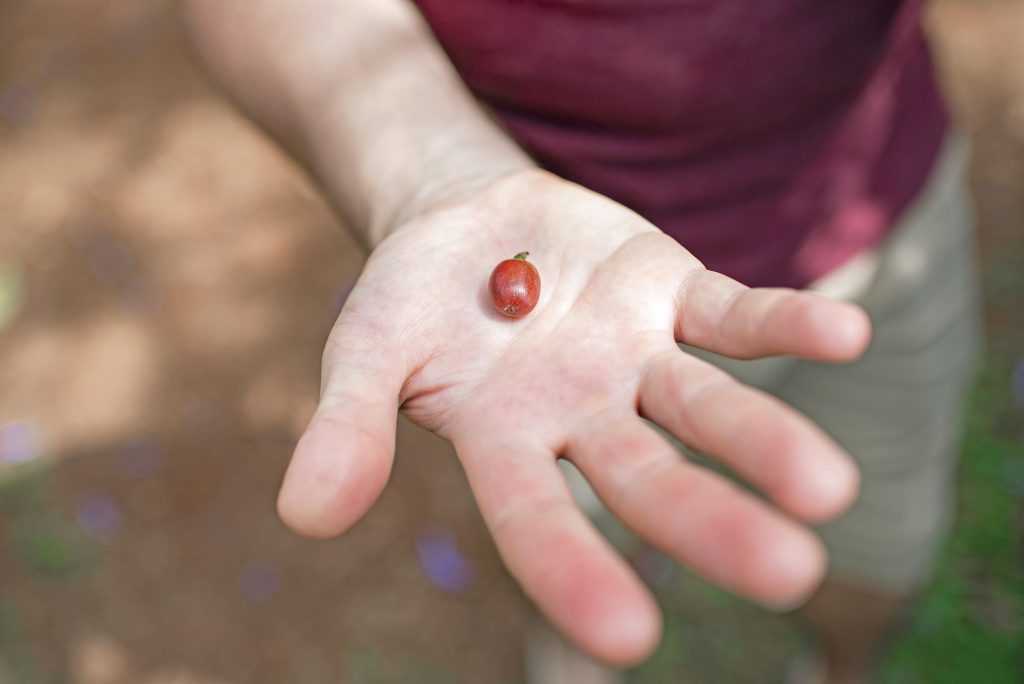 You'll notice clusters of green and red coffee "cherries" on the branches. When the cherries have reached a bright, red color they are ready to be harvested. There's usually a few wild chickens bustling and clucking among the coffee trees, too!
TIP: The weather can be unpredictable in Hawai'i; it's a good idea to bring an umbrella with you when enjoying any outdoor activity.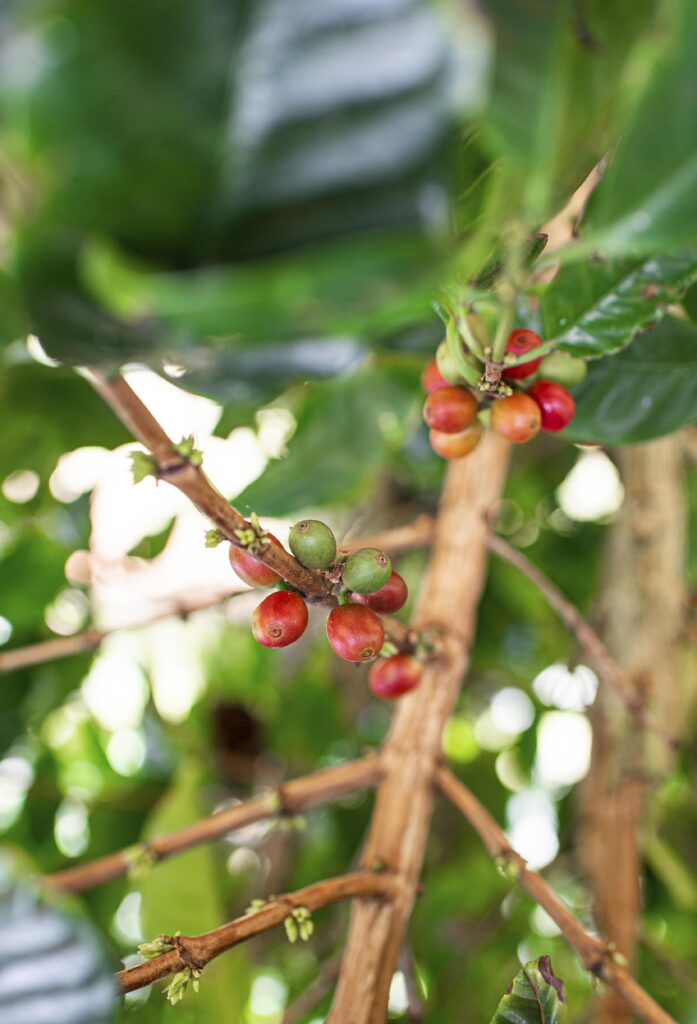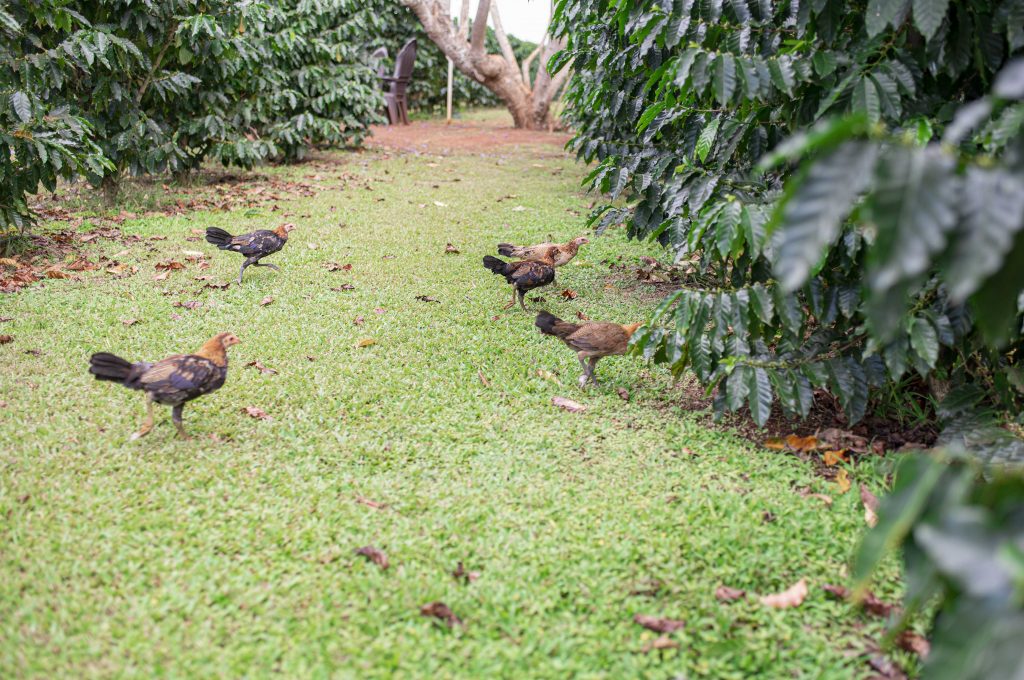 A trip to Green World Coffee Farms is a must when visiting O'ahu, Hawai'i! Have you ever visited a coffee farm? What's your favorite part of the experience? Let me know in the comments below!
More Hawaii Blog Posts:
Did you enjoy this read? Please share! Pin for later!