Why should you visit a botanical garden in Oahu, Hawaii? Most visitors overlook the vibrant and exotic foliage Hawaii has to offer. But, to have a real sense of Hawaiian culture and understand the formation of the island chain, you'll have to go to the roots (pun intended)!
Each garden boasts mesmerizing flora and fauna native to the islands, as well as unique plants from other countries in South America, Africa, and Asia. At least one of the botanical gardens in Oahu, Hawaii should be on every visitor's itinerary! Escape into a tropical paradise where you'll immerse your senses in vivid plant life, song birds, and island history.
NOTE: As of January 5, 2022- Stay up to date on Oahu's travel guidelines here. Furthermore, consult the Hawaii Travel Requirements website before you plan your trip to any Hawaiian island.
Disclaimer: This post is in no way sponsored. We paid for all the activities mentioned and all opinions are our own. This page may contain affiliate links, which means I may earn a commission (at no extra charge to you) if you make a purchase after clicking my link. Thank you for being a loyal reader!
Oahu Botanical Gardens FAQ's
Which Botanical Garden is the best in Oahu, Hawaii? The easy answer is ALL of them are amazing! You can't go wrong with any choice. But, most people flock to Ho'omaluhia Botanical Garden due to the incredible Ko'olau mountain views, fishing pond, and insta-worthy photo of the entrance. However, if you're a waterfall lover Waimea Valley takes the prize. Or if you're looking for a garden that is more rugged and peaceful, Koko Crater Botanical Garden is king!
How many Botanical Gardens are in Oahu, Hawaii? There are roughly 20 various gardens around the island of Oahu. But, there are only 8 botanical gardens.
Does Honolulu have a botanical garden? Yes! According to the City and County of Honolulu, there are 5 botanical gardens in Honolulu.
Can you drive through Ho'omaluhia Botanical Garden? You can! In theory, one could drive through the entirety of Ho'omaluha Botanical Garden, but you'll be missing out on what makes the garden special. It's definitely worth the time to park and take a stroll to the fish pond.
Map of the best Botanical Gardens in Oahu Hawaii
Tips For Visiting Oahu Botanical Gardens
Never touch the plants! Some could be poisonous.
Always bring sunscreen and bug spray!
It rains a lot in Hawaii- so, keep an umbrella or rain jacket handy.
It doesn't hurt to bring extra water and snacks, just in case.
Pets and drones are typically not allowed at any of the botanical gardens.
Wear comfortable walking shoes because some of the paths are not paved.
Visit early (before 9AM) or later (after 2PM) to avoid the heat and the crowds.
Be respectful of local culture and land- DO NOT leave trash behind or remove flowers/rocks.
Koko Crater Botanical Garden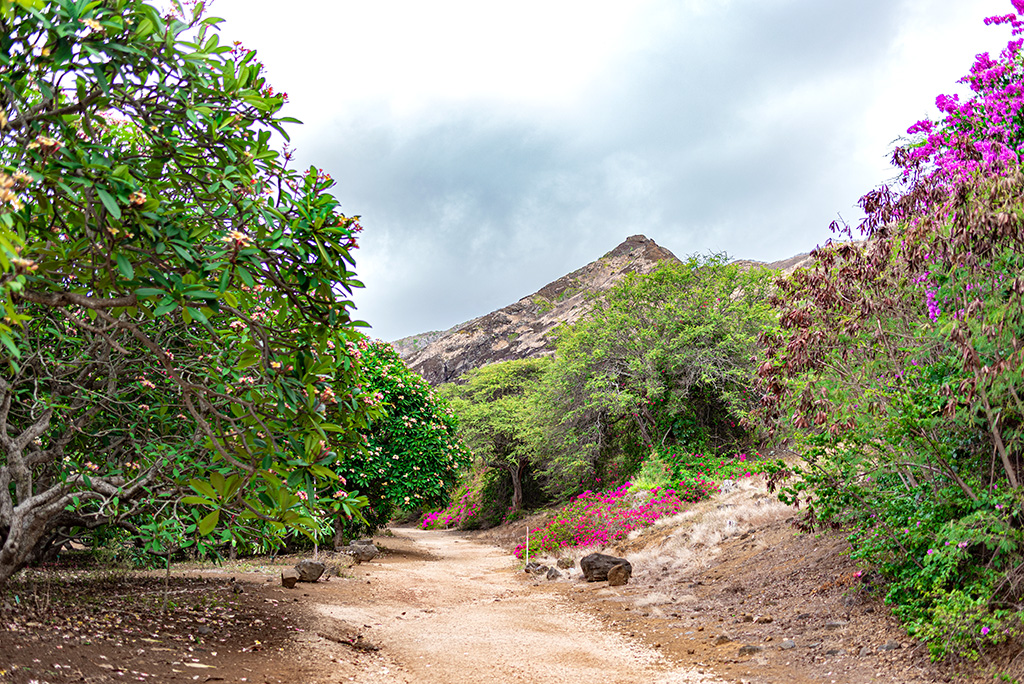 Address: 7491 Kokonani Street in Honolulu
Hours: Sunrise to Sunset (Closed Christmas and New Year's Day)
Price: Free
Length: 60 acres consisting of a 2 mile loop trail
Accessibility: Paths are not paved. Not good for wheelchairs or strollers.
When vacationing in Hawaii, why not visit a botanical garden inside of a dormant volcano? Plus, this is a great alternative to hiking the Koko Crater stairs.
Want the inside scoop on the best hikes? Don't miss these Amazing Hiking Trails in Oahu!
You won't witness any sweeping ocean views from the gardens, but you'll see the jagged cliffs surrounding you from the edge of the crater.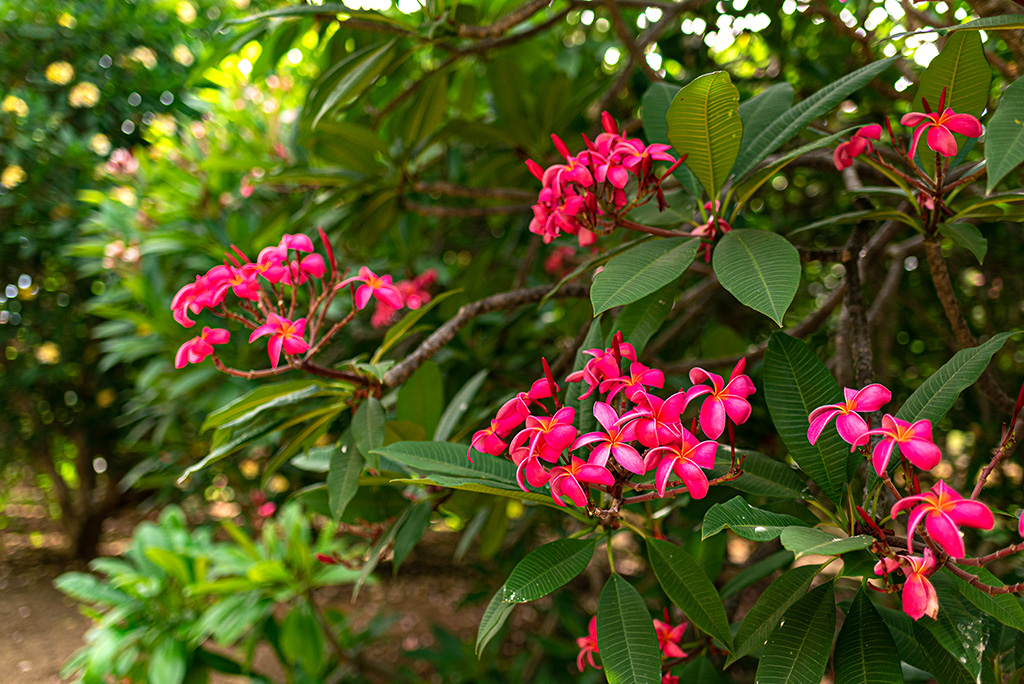 Of all the gardens in Oahu, Koko Crater Botanical Garden has the most beautiful grove of Plumeria. The numerous shades of red, pink, and yellow paint the beginning of the trail through the garden.
TIP: Plumeria is dormant in the winter months (November-March). It's best to visit in the summer to see the Plumeria grove at its peak.
The remainder of the gardens is a haven for dry, desert-like plants. Cacti, succulents, and palms grow in abundance.
TIP: There are no restrooms or access to drinking water at the garden. Bicycles and dogs are not allowed.
Wahiawa Botanical Garden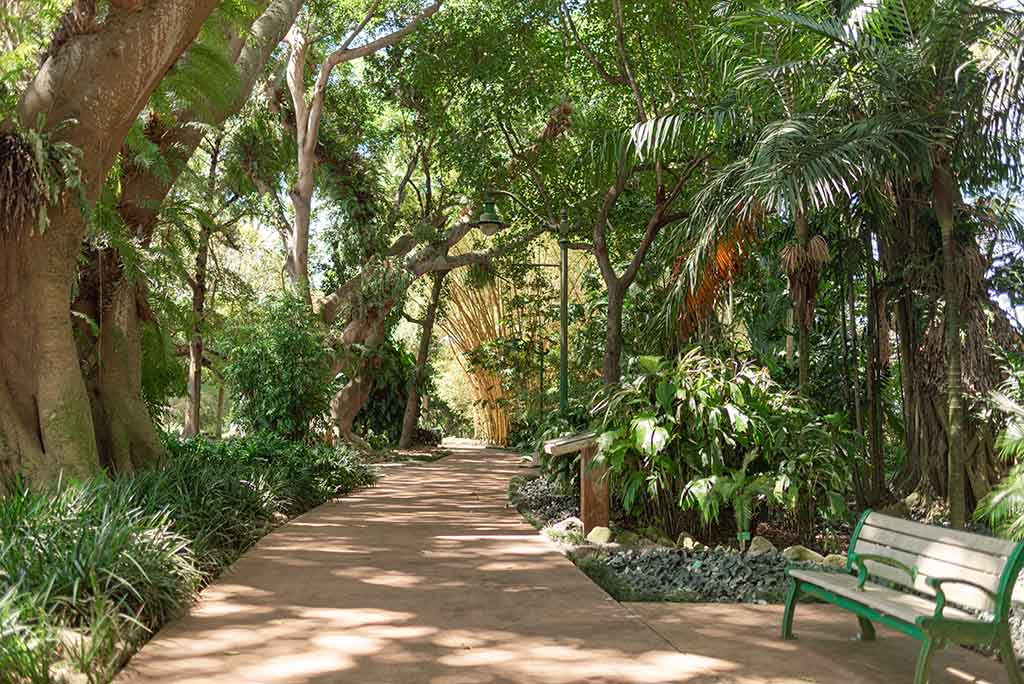 Address: 1396 California Avenue in Wahiawa
Hours: 9AM – 4PM (Closed Christmas and New Year's Day)
Price: Free
Length: 27 acres of interconnecting paths
Accessibility: The main path is paved and suitable for strollers and wheelchairs. However, the trails that follow the stream are not paved and have stairs.
Located in the center of Oahu, Wahiawa Botanical Garden is considered "the tropical jewel". Cradled between the Wai'anae and Ko'olau mountain ranges, the garden boasts numerous native Hawaiian plants and ferns.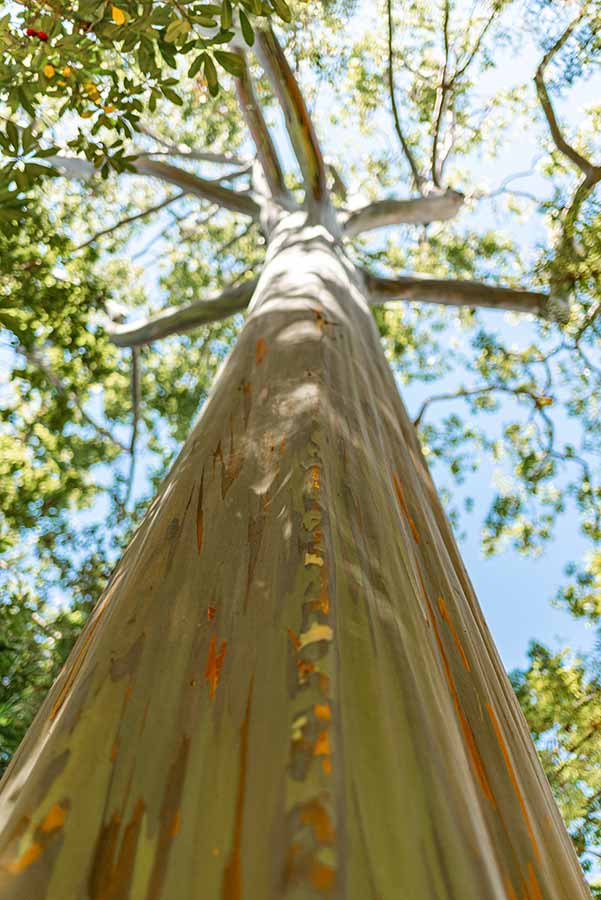 TIP: Don't miss the rainbow eucalyptus near the front after you've entered the gardens!
Wahiawa Botanical Garden gives you a feeling of exploring a tropical rainforest, tucked away in an otherwise bustling city area.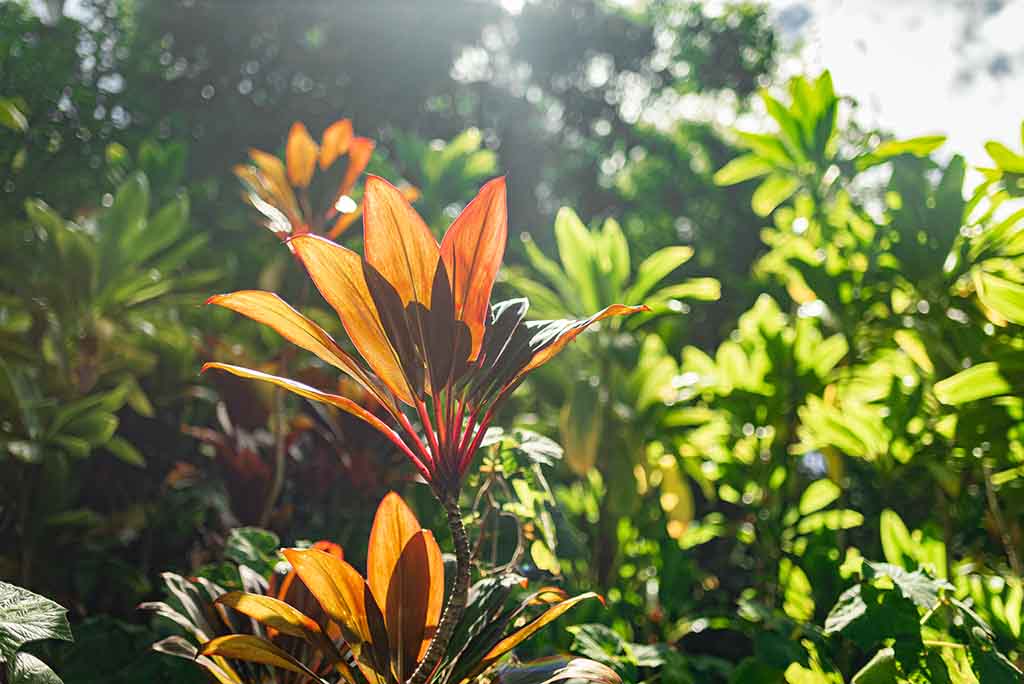 Away from the main terrace area, towards the gulch, will feel more like a hike. The stairs and winding gravel/dirt pathways will take you to a rural growth area to explore. Of all the botanical gardens in Oahu, it's definitely the least crowded and there are places to "get lost" in the plant life!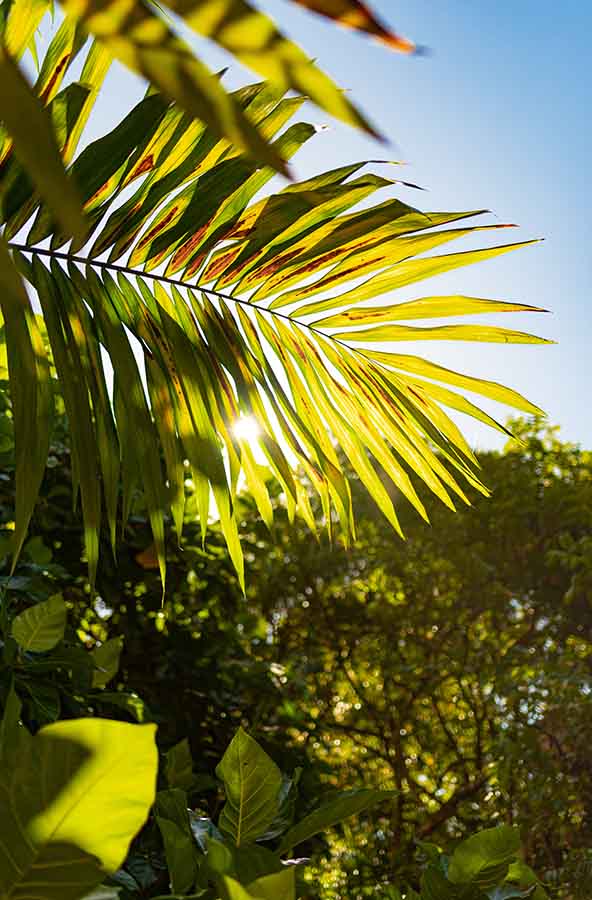 TIP: There are restrooms, drinking fountains, and benches at Wahiawa Botanical Garden.
Ready for more adventure near Wahiawa? Check out the Green World Coffee Farm next!
Foster Botanical Garden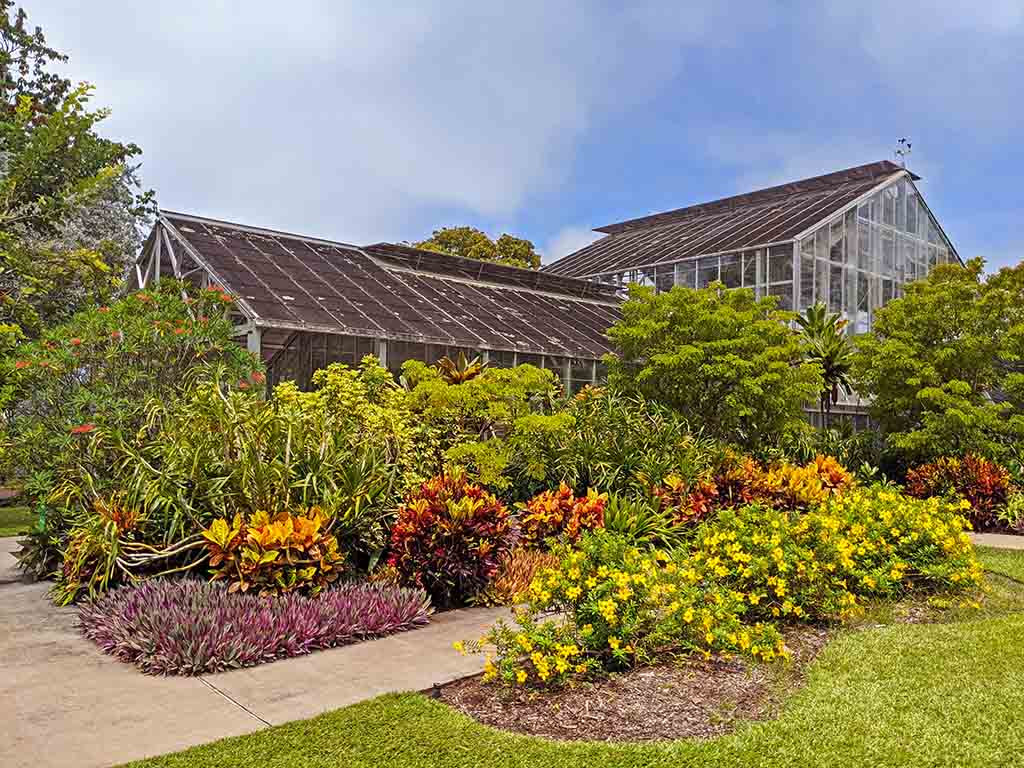 Address: 180 N. Vineyard Blvd. in Honolulu
Hours: 9AM – 4PM (Closed Christmas and New Year's Day)
Price: $5 per adult, $1 per child (age 6-12), Free for children 5 and under
Length: 14 acres consisting of a path and open grounds
Accessibility: There is a paved path, however most are dirt paths and open ground (grass) walking. Therefore, a stroller may be accessible, but a wheelchair would be doubtful.
Foster Botanical Garden is located deep in the heart of Honolulu and is a great escape from the city while visiting Waikiki. The highlights include the conservatory and the butterfly garden.
TIP: Guided tours are available, but reservations are recommended.
TIP: Every year, the conservatory has at least one Corpse Plant that blooms and stinks up the entire place! The plant opens for only about 48 hours, so if you're lucky, you might get to see (and smell!) it.
Of all the botanical gardens in Honolulu, Foster is the oldest. Some of the largest trees on the grounds were planted in the mid 1800's.
Although, the gigantic trees are a special feature of the gardens, don't miss out on other unique plants. The Pitcher Plant, Orchids, Cannonball tree, and Sausage Tree are incredible things to see.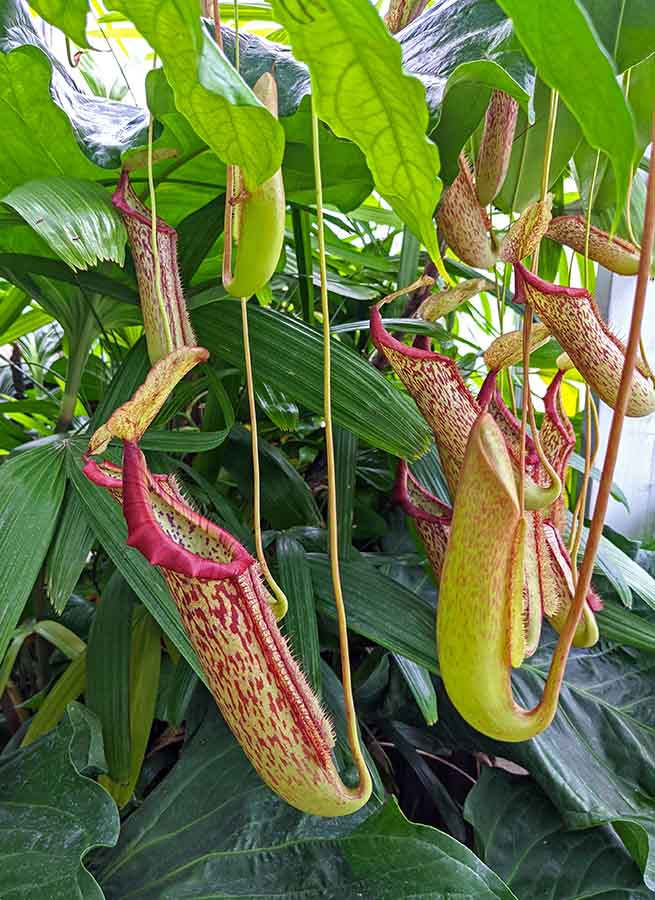 TIP: There are two restroom locations and a gift shop at Foster Botanical Garden.
Waimea Valley Botanical Garden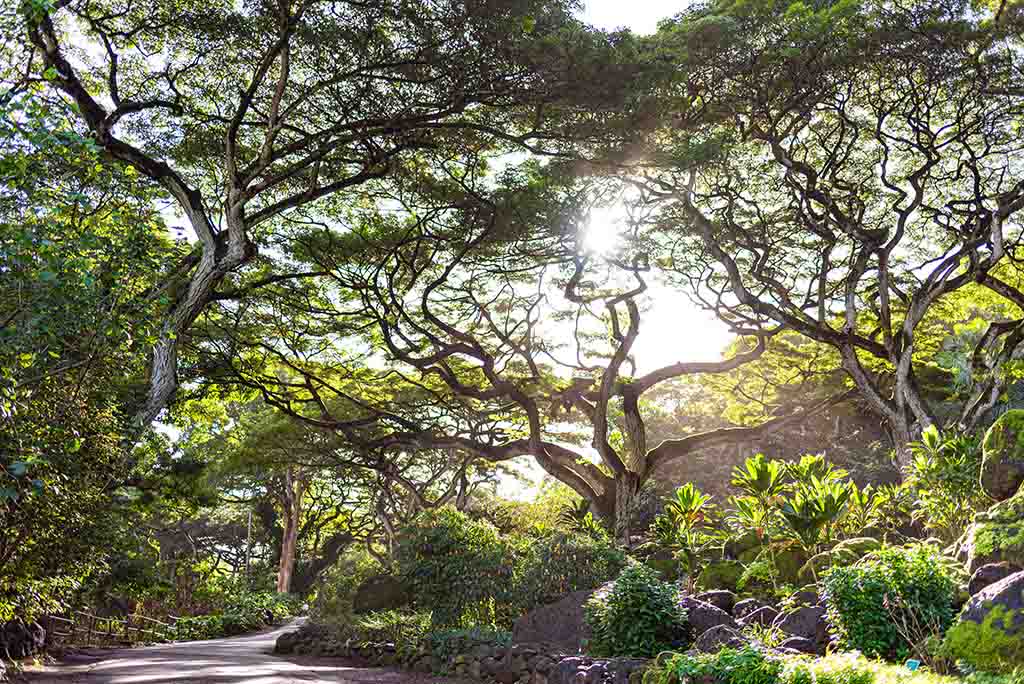 Address: 59-864 Kamehameha Hwy in Haleiwa
Hours: 9AM – 4PM, Tuesday – Sunday (Closed every Monday, Thanksgiving and Christmas)
Price: $20 per adult, $16 for Seniors (age 62+), $12 per child (age 4-12)
Length: 150 acres consisting of a path (almost 2 miles) to the waterfall and 52 themed garden "sections"
Accessibility: Path to the waterfall is paved, but can be steep at times. Good for strollers and wheelchairs.
Waimea Valley is (in my opinion!) the best Oahu Botanical Gardens waterfall. The falls are always flowing except for the rare dry spell in the summer months. What makes it even better is you can swim in the falls.
TIP: Swimming in the falls is free! There are changing rooms and mandatory life jackets.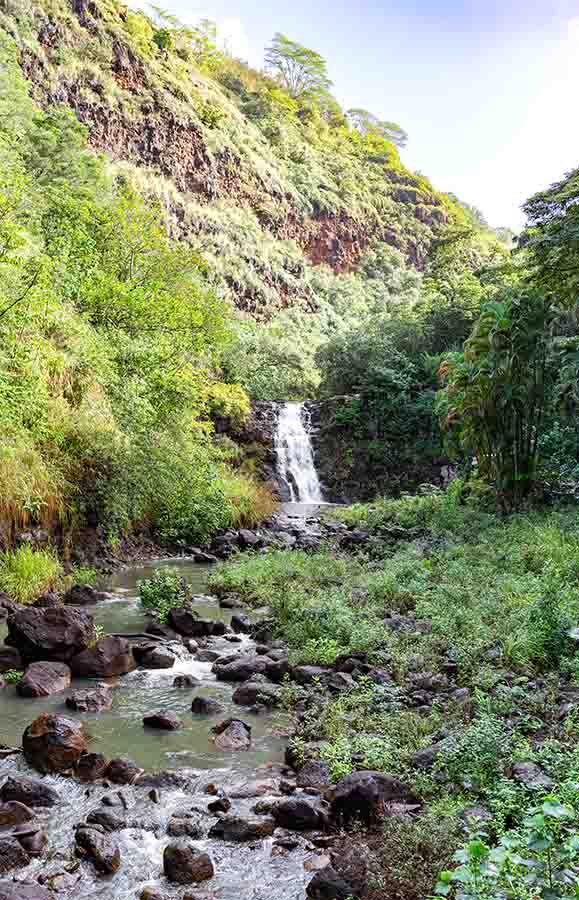 The paved path leads you through various gardens to explore on your way to the waterfall. There are many unique and endangered plants from native Hawaii, South America, Guam, and Fiji.
In addition, Waimea Valley has a cultural exhibit which showcases sacred sites and traditional Hawaiian living. The re-constructed shrines and homes are examples of how the Hawaiians cherished their land.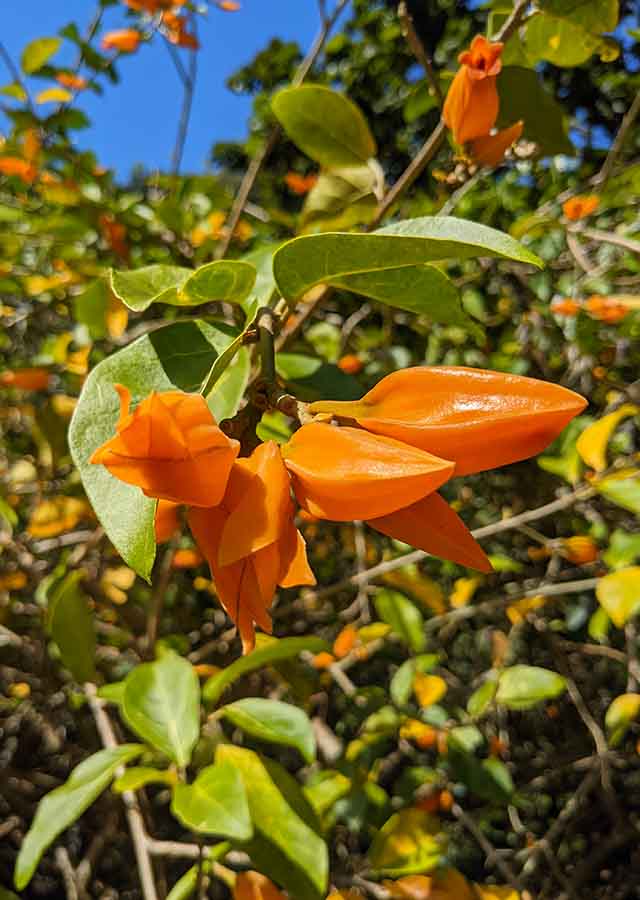 TIP: There are restrooms, a gift shop, and cafe at Waimea Valley.
Ho'omaluhia Botanical Garden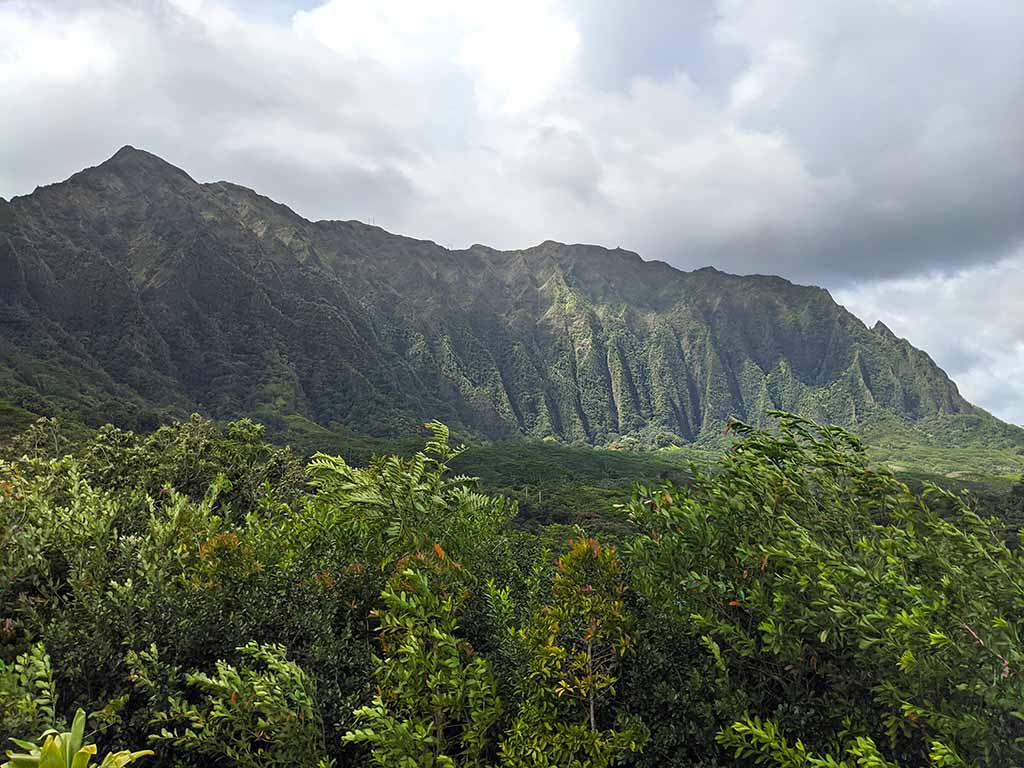 Address: 45-680 Luluku Road in Kaneohe
Hours: 9AM – 4PM (Closed Christmas and New Year's Day)
Price: Free
Length: 400 acres with a scenic drive and various paved and gravel paths
Accessibility: Some paths are paved and some are not. Probably safe for a stroller, but not a wheelchair.
The most popular botanical garden on Oahu is Ho'omaluhia Botanical Garden. I'm sure almost everyone has seen the iconic photo of the road leading into the Ko'olau mountains. But, did you know that stopping along the road for a photo op is not allowed? I snapped the below image from inside our car when we entered. The road is lined with signage requiring all vehicles to keep moving.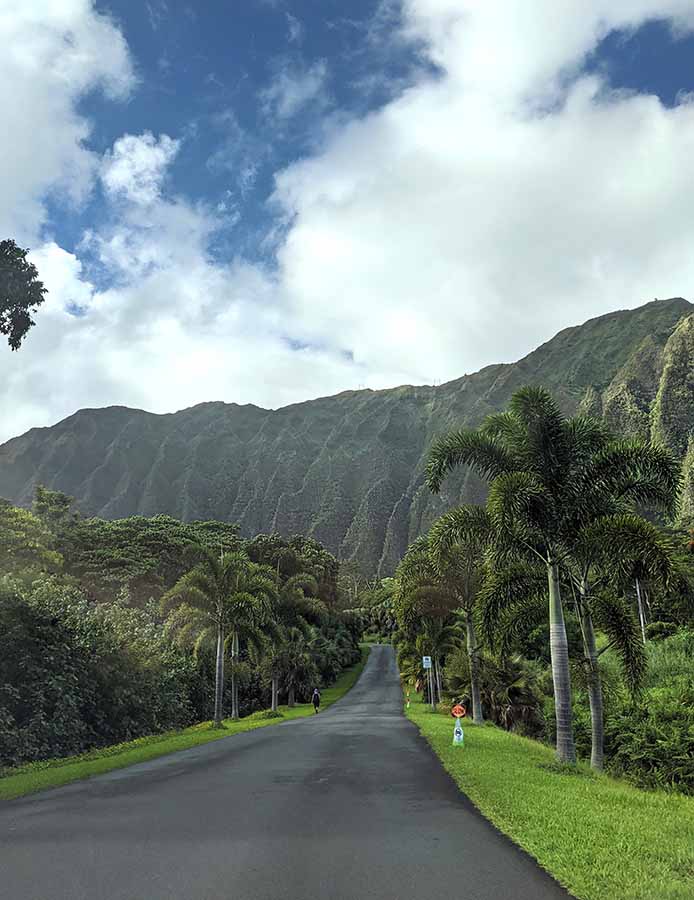 TIP: Don't be that person- obey the road signs, don't park in the grass, and respect the workers who care for the gardens!
Don't fret if you don't get the exact same photo that everyone else has. You'll find stunning mountain views from nearly every angle. Also, their botanical collections are rich with plants from Malaysia, the Philippines, India, Sri Lanka, and Africa.
The Heliconia (lobster claws) and Cacao tree are beautiful in bloom (or fruition, haha)!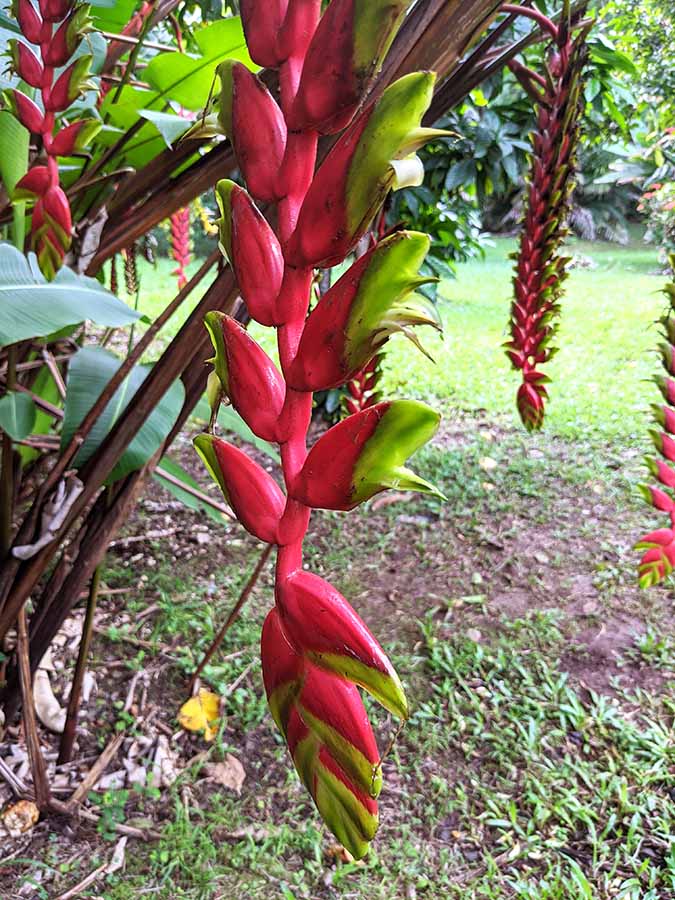 TIP: Bring an umbrella or lightweight rain jacket. It can rain anytime in Kaneohe, so it's best to be prepared!
This botanical garden in Kaneohe has something the others don't- a stocked fishing pond! Although fishing is unavailable at this time [as of February 2022], they normally allow catch and release from 10AM to 2PM on the weekend.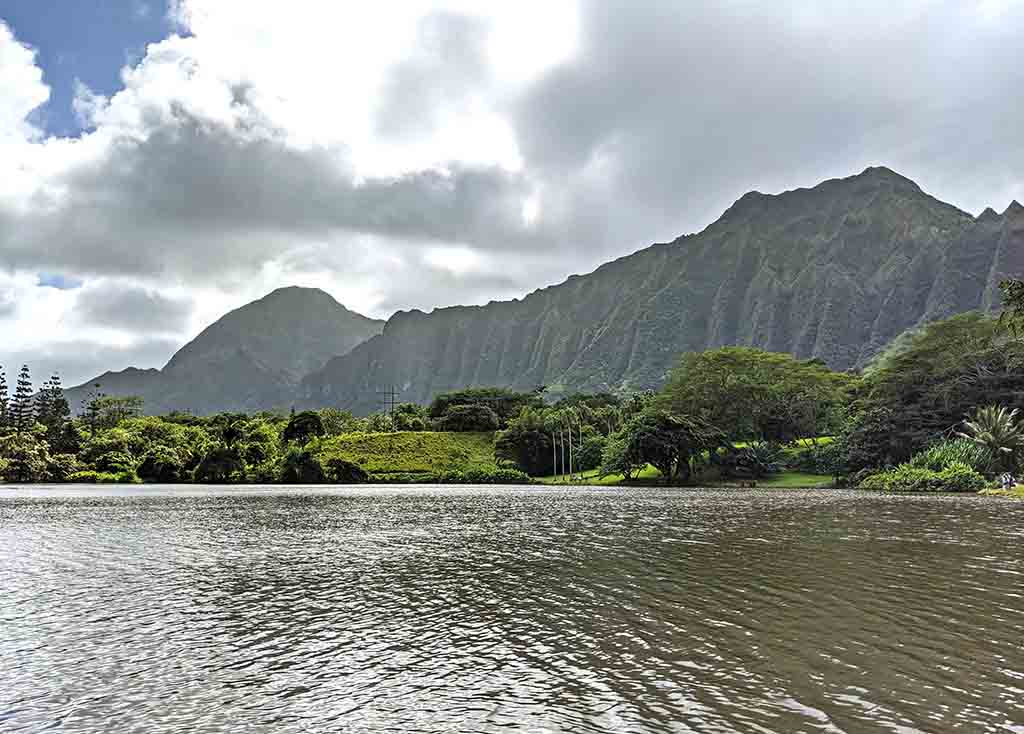 TIP: Did you know you can camp at Ho'omaluhia Botanical Garden? Find and reserve a campsite here!
Lyon Arboretum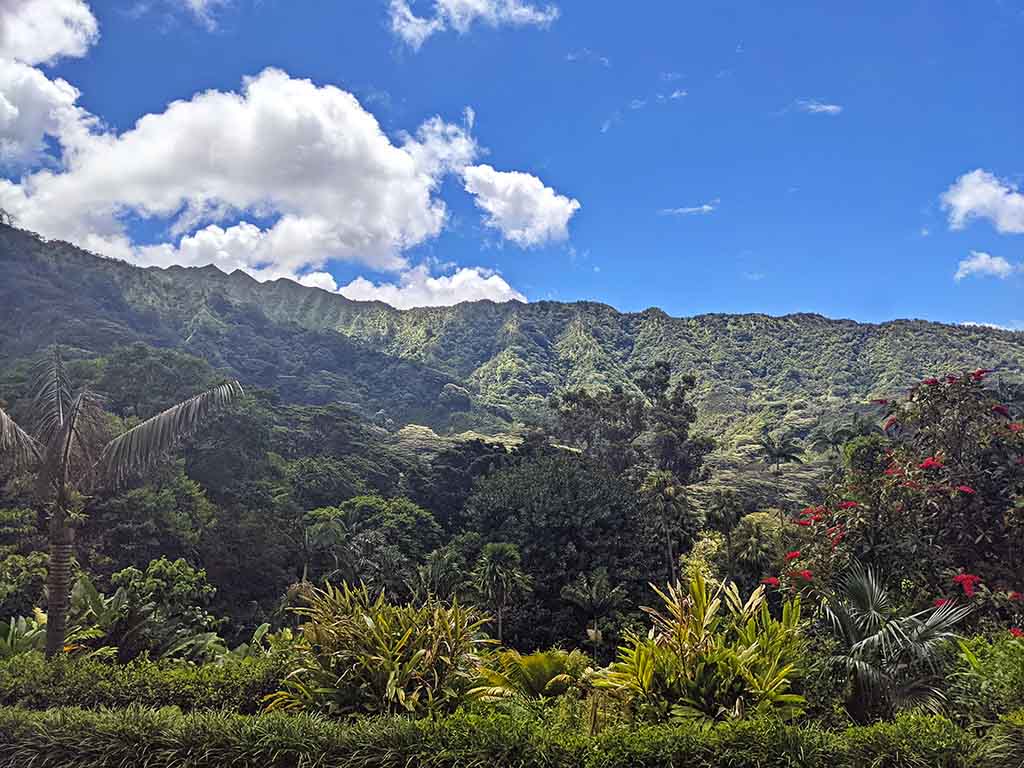 Address: 3860 Manoa Road in Honolulu
Hours: 9AM – 3PM, Monday – Friday (They have various closures)
Price: Free, but donations are encouraged
Length: 194 acres with interconnecting paths and short hikes
Accessibility: The area around the visitor center is paved, however many of the paths through the gardens are sloping and are not paved. Therefore, it is not stroller or wheelchair friendly.
Further down the road that winds past Manoa Falls is a beautiful garden nestled in Manoa Valley. The Lyon Arboretum is a research unit of the University of Hawaii at Manoa.
TIP: As of September 2021, proof of vaccination or negative test is required for entry to the arboretum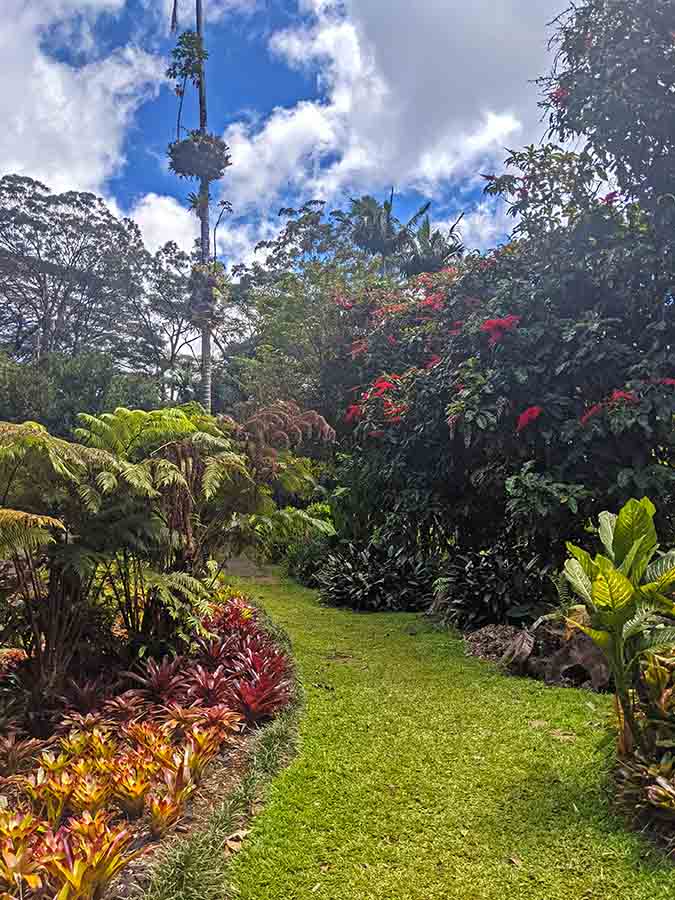 TIP: It's best to reserve your visit to the Lyon Arboretum about a week in advance. This when they usually have available dates listed on their website.
The Lyon Arboretum is one of the most beautiful gardens in Oahu. Similarly to Ho'omaluhia Botanical Garden, it features stunning mountain views and lush, tropical foliage. In addition, it also has its own waterfall! The hike to 'Aihualama Falls is only accessible through the arboretum entrance. When we visited in late June the waterfall was not flowing, but it was still worth the trek!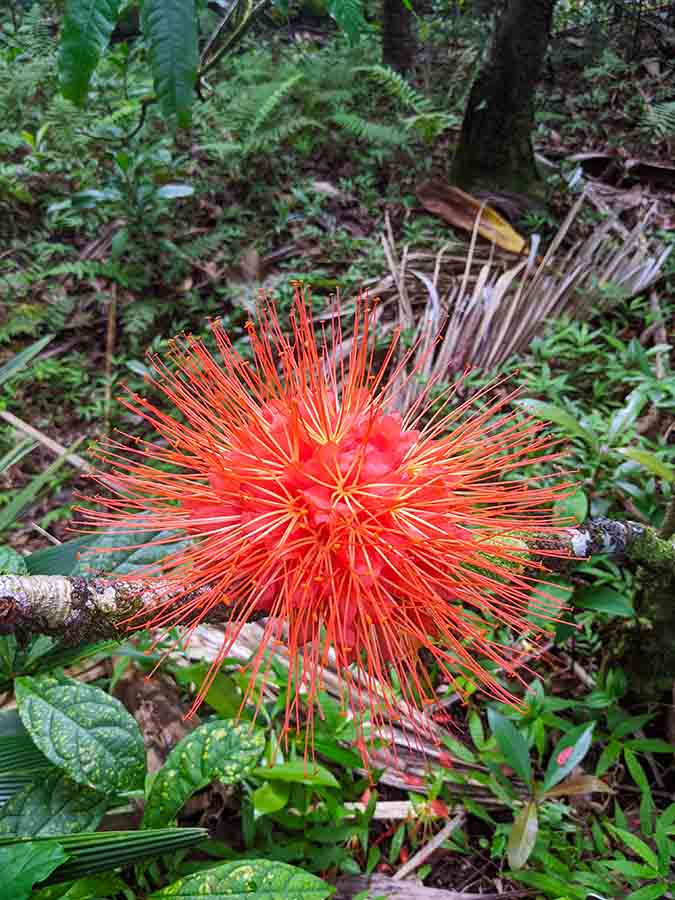 Don't miss the large, mature trees with roots that grow out of the ground! Also, the arboretum has the best native Hawaiian garden that features the canoe plants. The canoe plants were brought to the islands by Polynesians over 1,000 years ago!
Oahu Botanical Gardens Conclusion
Every visit to Oahu, also known as "the gathering place", is not complete without a trip to a botanical garden! Truly, one cannot go wrong with any garden in Oahu.
Botanical gardens in Oahu, Hawaii reveal the spirit, culture, and untouched beauty of the island. Plan to spend a few hours in the tropical paradise of your choice!
What is your favorite Oahu botanical garden? Let me know in the comments below!
More Hawaii Blog Posts:
Did you enjoy this read? Please share and pin for later!