California was made for road trips! The natural diversity between ocean-side, deserts, redwood forests, and mountains make it the ideal place to explore. California has more National Parks than any other state in the U.S.
Our road trip route will take you through 6 of the 9 National Parks in California along with a few foodie hot spots, dramatic coastal views, and a popular city or two. This road trip itinerary favors outdoor explorers and food & wine enthusiasts. We also provide additional activities and suggestions that are ideal for family road trippers.
---
Disclaimer: This post is in no way sponsored, we paid for all the activities mentioned and all opinions are our own. This page may contain affiliate links, which means I may earn a commission (at no extra charge to you) if you make a purchase after clicking my link. Thank you for being a loyal reader!
California Road Trip Itinerary at a Glance
For our 14 Day California Road Trip Itinerary, the start point is San Diego and the end point is Crescent City.
---
Our Style of Travel
We aren't fans of the city, traffic, or crowds. Therefore, we tend to gravitate more towards smaller, charming towns and national parks. Don't get us wrong- we love seeing iconic places such as the San Diego Zoo or Napa Valley, but this road trip itinerary will focus more on the wild side of California. We're avoiding the tourist traps, only indulging in truly exceptional experiences, while taking the road less traveled.
Our idea of a good road trip includes stunning views, tasty food, fabulous wine, amazing outdoor activities, and back roads with little to no traffic. Road tripping at its finest! For us, the drive is just as important as the destination. Therefore, we've researched and driven the best routes and stops for the ultimate California road trip with the least crowds.
Also, as I'm sure you've deduced from our schedule, we like to see as many places as possible during one road trip. Time is precious and we enjoy experiencing different climates and terrain during a long road trip. Therefore, our itinerary does not leave much room for flex time in every location. There are many early mornings and late nights in our itinerary. So, if you're looking for a relaxing schedule, this timeline is probably not for you! However, we still offer plenty of great suggestions to include in your version of the perfect California road trip!
Our Budget
Although splurging on one nice accommodation or luxurious meal from a top rated restaurant is not out of the norm for us, we usually maintain a strict road trip budget. That means that we keep our food purchases, accommodations, and tours under an agreed price cap.
We also prioritize the needs of our stay in certain locations to determine our budget for an Airbnb or hotel. Usually, at least twice throughout our road trip, we choose an Airbnb with a washing machine and dryer. This provides us the freedom to pack light; an important principle in planning a stress-free road trip.
In addition, a cooler with re-usable ice packs and daily essentials keep us company on long driving days. In a 14 day span, we may purchase groceries 2-3 times depending on our needs. Water bottles, packaged snacks, and fresh fruit stay well stocked in our cooler. This prevents us from snacking at fast food restaurants or convenience stores while we're out and about. While we love trying new restaurants along the route, we minimize post-trip financial stress by eating many of our meals from our cooler.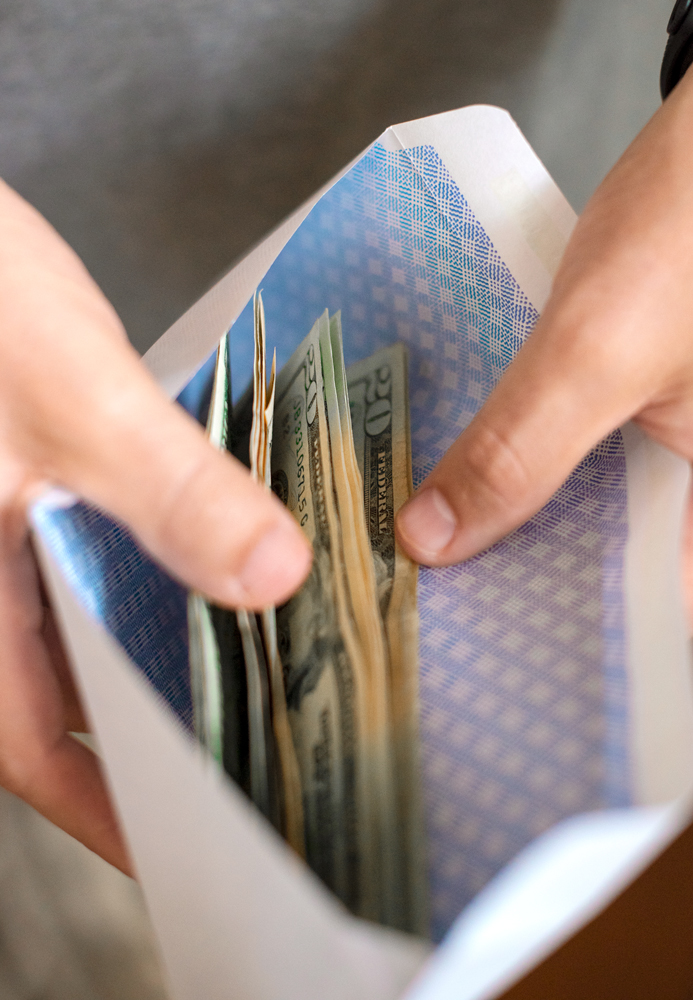 Read more about our best tips and tricks for saving money while on a road trip!
---
Tips to Know Before You Go
When to Go
Be aware of time zone changes when flying or driving into California when planning your daily itinerary. Also, the "busy" season for vacationers and National Parks is typically summer months and school holidays. The least crowded time to visit is winter, early spring, and late fall. Saturdays also tend to be busier, so avoid popular tourist attractions during the weekend.
Winter: Enjoy less crowds, but may encounter snow on roads and in parks.
Spring: Amazing wildflowers and cascading waterfalls, but may endure more crowds and wildlife encounters.
Summer: Beaches and parks are at their best, but you'll be battling tourists at most places. Also, highest chance for wildfires.
Fall: Cooler temps and stunning fall colors, particularly in northern California; but weather is a bit more wet and overcast.
Weather
Although the majority of California enjoys lovely weather year round, there are a few weather considerations for a road trip. The summer months tend to be the peak of wildfire season. This can cause road closures and park closures as well as ruining some of California's amazing views and air quality. Stay in the loop with fire incidents and watches with the Cal Fire website. The winter/ spring months also typically contain snow in popular parks such as Yosemite and Sequoia, which can also lead to road closures and partial park closures. Keep an eye on the park website for the latest info on closures.

We traveled the popular Pacific Coast Highway (PCH), also known as Highway One, to Big Sur in September. Unfortunately, the one day we dedicated to the drive left the PCH blanketed in heavy fog. We were unable to truly enjoy the sweeping vistas and ocean views because the mist was so thick. This is an important lesson about road trips—if mother nature doesn't cooperate, remember there are plenty more things to see. Try to find joy and beauty in the experience anyway!
Direction of Drive
The start or end point of your California road trip really doesn't matter too much. The drive is equally impressive from either direction. As noted above, you should take into account that the southern part of California tends to be more hot and dry, while the northern area of the state is cooler with more lush vegetation. This will affect the sights you see along your drive.
Traffic
Traffic in California's major cities such as San Diego, Los Angeles, and Sacramento will, of course, be congested and unpredictable; especially during peak travel times such as rush hour. Your best bet is to plan additional travel time in your itinerary if you plan to drive through a major city during peak hours. Also, using Google Maps is helpful to anticipate actual drive time due to accidents or road construction.
Even driving through the National Forests or Parks can be problematic due to weather, construction, or animal crossings. I highly encourage you to stay prepared by checking the national park alerts and current road conditions on the websites the day before you plan to embark on a leg of your trip.
---
San Diego, California
Days 1 & 2
Total Drive Distance: Up to 30-50 miles depending on stops
Total Drive Time: 1 to 2 hours depending on stops
San Diego is the only location in our itinerary that includes a two and a half or three day stay. This is mostly due to the fact that some people drive or fly into San Diego in the afternoon or the evening. In order to enjoy this city, we agree that you need at least two nights.
San Diego Accommodations
We stayed at the Navy Gateway Inn & Suites, which is a basic but adequate stay for anyone with military base access. If you don't have access to military lodging, I would suggest researching VRBO, Airbnb, or Expedia for hotels in the area that best fit your needs.
Restaurants & Cafes
Things to See & Do
Most of our time was spent exploring the San Diego Zoo. We arrived when it opened and the line was already quite long. However, we spent nearly all of the opening hours at the zoo and managed to see a solid 80 to 90% of the exhibits.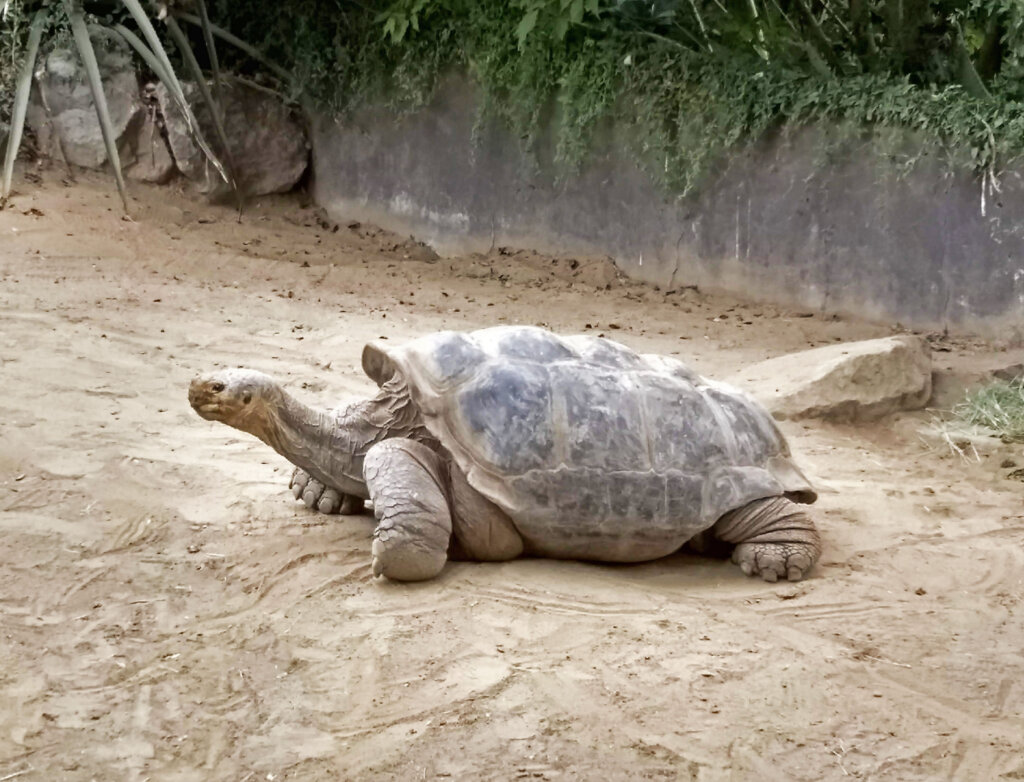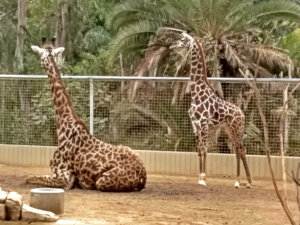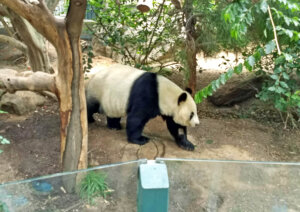 In addition, we toured the Cabrillo National Monument and Point Loma Lighthouse. Then, wrapped up our stay in San Diego by enjoying a sunset from Sunset Cliffs Natural Park. Be aware that this is a popular spot and the parking was already at capacity when we arrived an hour before sunset.
Below are more exciting sights & activities near the San Diego area:
La Jolla Shores Park
Coronado Bridge
Sea World San Diego
Spruce Street Suspension Bridge
Imperial Beach Pier
San Diego —> Joshua Tree National Park —> Ventura
Day 3
Total Drive Distance: 465 miles
Total Drive Time: 9 to 10 hours
Leaving before sunrise ensures less traffic in San Diego and more time spent in the National Parks and Forests. Remember if you are traveling during the summer months that the desert climate can get very hot with little shade. Stay prepared with a full tank of gas and plenty of water!
Ventura Accommodations
At the end of day three, we stayed at an Airbnb in Santa Paula. Santa Paula is about a 20 minute drive from Ventura. The guest house was immaculate and the hosts were so friendly and helpful! We loved our stay here.
Restaurants & Cafes
For a long day of driving such as this, we typically eat the majority of our meals on the go. As I mentioned above, we pack a cooler with fresh veggies, fruits, and drinks for snacking during the drive. In addition, if we stumble upon a scenic lookout or picnic area, we may take a "lunch break" for 30 minutes or so to eat a sandwich or pre-made salad while we enjoy the view.
One of the benefits of eating out of our cooler on long road trip days is we don't get weighed down by greasy foods or over indulge. Nothing is worse than being stuck in a car for hours with a bloated tummy or brain fog!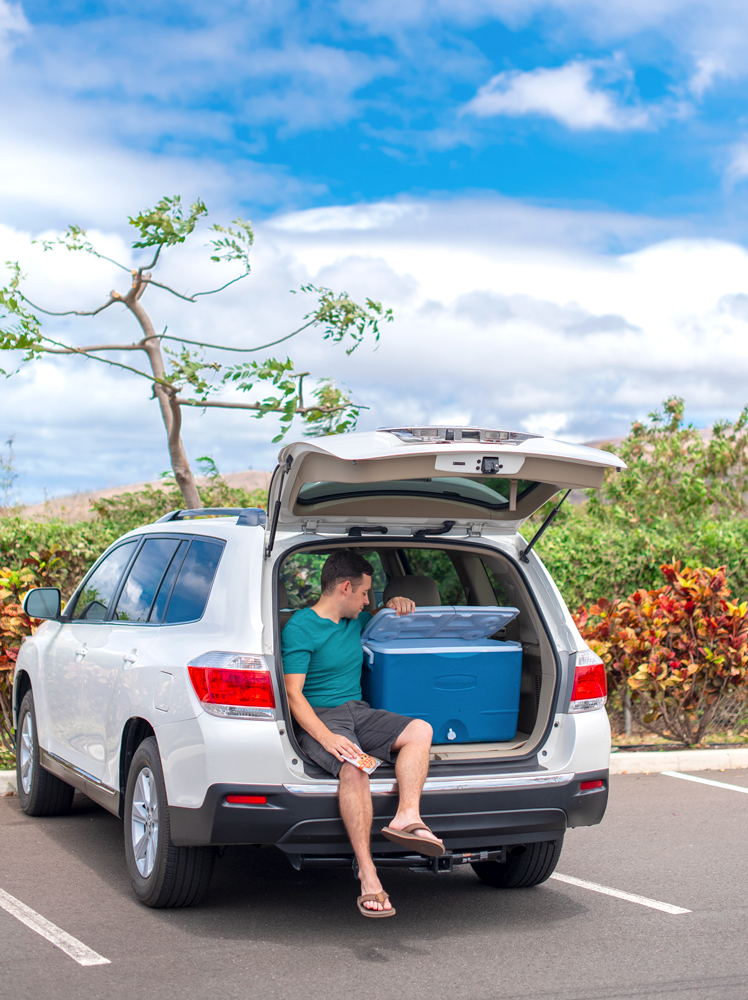 Things to See & Do
The primary focus during this driving day is to spend as much time in Joshua Tree National Park as possible. We took our time navigating through the park from one visitor center to the other while stopping at numerous viewpoints and trail heads. We didn't hike any of the long trails due to time restraints, however, we did walk around to photograph rock formations, cacti and succulents, and (of course) the Joshua Tree!
Throughout this first leg of the road trip, we also enjoyed scenic drives through Santa Rosa & San Jacinto Mountains National Monument and Angeles National Forest.
Below are more exciting sights & activities along this route:
The Living Desert Zoo & Gardens
Cabazon Dinosaurs – World's Biggest Dinosaurs
San Bernardino National Forest
Mojave National Preserve (about 1.5 hours northeast of Joshua Tree)
Channel Islands National Park
Day 4
Total Drive Distance: 5 miles from Ventura to Island Packers Cruises
Total Drive Time: 12 minutes from Ventura to Island Packers Cruises (2 hour boat ride each way)
NOTE: Scorpion Anchorage Closure During Pier Construction. Beginning November 1, 2019, there will be no public access to Scorpion Anchorage on Santa Cruz Island due to the construction of a new pier. Construction is expected to take 6-12 months.
Cruises depart to Prisoner's Harbor at Santa Cruz Island with Island Packers Cruises at 9AM. The boat ride is about 2 hours and you will arrive at the island at 11AM. The ride back is also 2 hours and departs the island at 3:30 PM with an arrival time of 5:30 PM in Ventura. The total round trip cruise cost for 2 adults is $118.
Ventura Accommodations
Same as day three, we stayed at the Airbnb in Santa Paula for a two night stay. Santa Paula is about a 20 minute drive from Ventura.
Restaurants & Cafes
Pete's Breakfast House – Best place to grab a hearty breakfast in Ventura before you head to Channel Islands. Try the pancake roll, it's delicious!
Rice by Mama – Tasty Thai cuisine located on main street in Ventura; parking can be tricky, but it's worth it!
Things to See & Do
Although you can choose to camp overnight at Channel Islands National Park (next time, my friend!)– a day trip is just long enough to complete a kayaking trip or hike to enjoy the views that Santa Cruz Island has to offer. Keep your eyes peeled for pods of common dolphins and mischievous little island foxes!
We started our hike from Scorpion Anchorage, past the Historic Ranch, toward Smuggler's Cove. Immediately, we were greeted with sweeping vistas of the coast on our first steep climb along Smuggler's Road. We then started on Scorpion Canyon Loop, which brought us to Potato Harbor Road. Following the road to the coast, we finished the hike by walking along the cliffs to Cavern Point and back to Scorpion Anchorage.
The trail was roughly 6 miles and took us nearly 4 hours to complete. We did a combo of Scorpion Canyon Loop and Potato Harbor.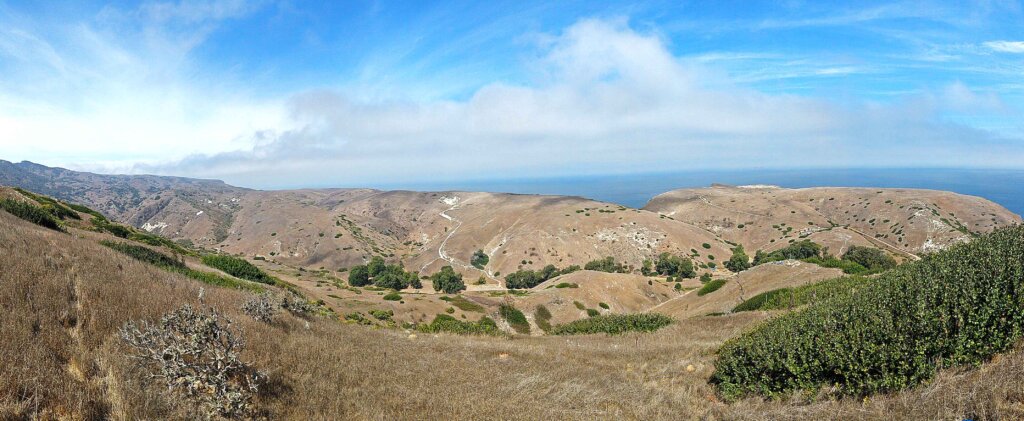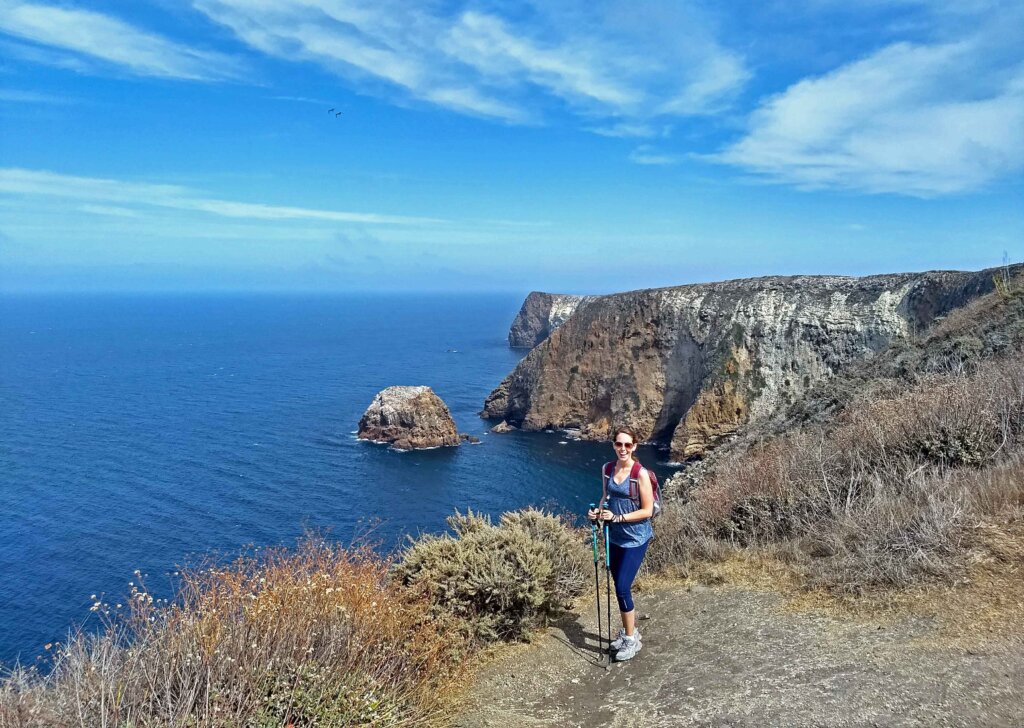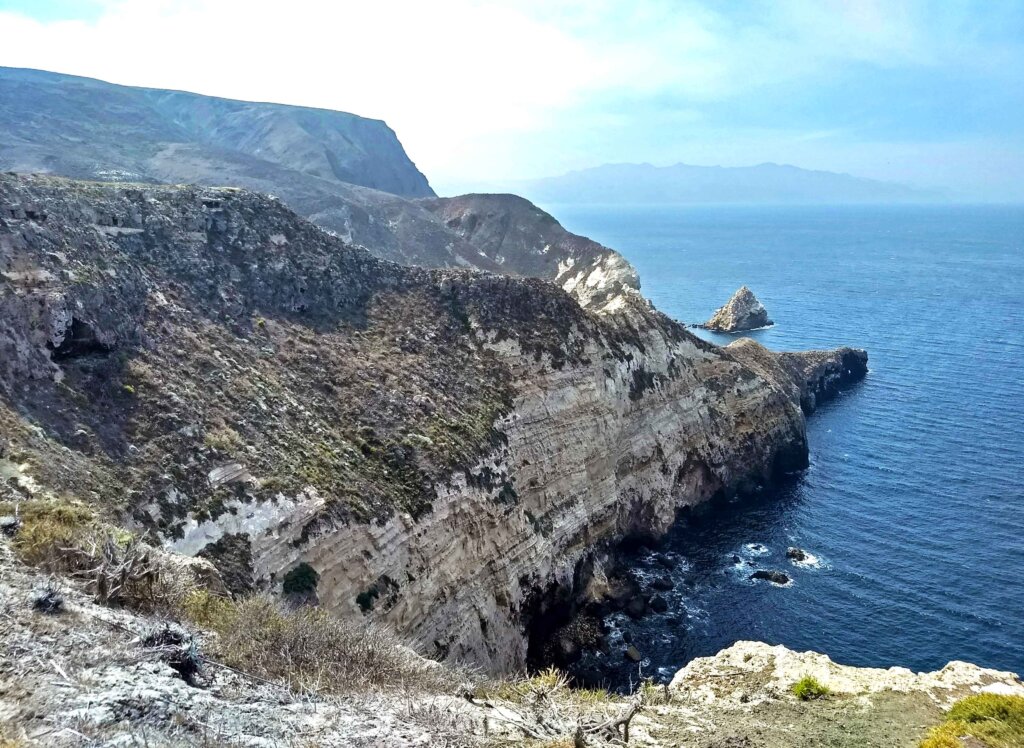 If you do have more than one day to spend at Channel Islands, consider taking a guided kayak tour through the sea caves! Another alternative is to bring your kayak on the cruise to the island with you (ONLY if you are a confident and experienced sea kayaker).
Ventura —> Big Sur —> Kings Canyon National Park
Day 5
Total Drive Distance: 470 miles
Total Drive Time: 9 to 10 hours
Once again, you'll have to hit the road early to make this drive count. Unfortunately, during our road trip, the famous Pacific Coast Highway drive along Big Sur was full of mist, fog, and heavy rain. We couldn't see past a quarter of a mile in front of us most of the time. However, I still enjoyed the drive and we were able to catch glimpses of elephant seals and waterfalls. I have no doubt that on a clear day this drive is phenomenal.
Kings Canyon National Park Accommodations
During our two night stay on the 5th and 6th road trip days, we chose the Grant Grove Cabins located in Kings Canyon National Park. We rarely choose accommodations located inside a national park mostly due to the more expensive costs. Choosing to bite the bullet and enjoy a short drive to hiking trails, we booked a cabin.
I can honestly say it was the most disappointing lodging experience we ever had. Not only did we spend more on the two night stay in the cabins than any other stay during our trip, but it was also the smallest and least clean accommodation. The shower curtain was covered in mold, the walls and floors were thin and flimsy, and the beds were incredibly uncomfortable. That day we learned that staying in park facilities is just not worth the convenience of a slightly shorter drive. We'll be booking an AirBNB next time.
Restaurants & Cafes
Things to See & Do
The first stop along the drive is to The Friends of the Elephant Seals. Peak season to spot these creatures is December through March! We saw a handful on the beach when we visited in September. The vista view point and visitor center are two different locations, but very close along the route to one another.
In Julia Pfeiffer Burns State Park is one of the most iconic stops along highway one-McWay Falls. It is important to know that there is no beach access at McWay Falls. There are fenced boundaries that you should not cross. However, there is parking in the state park and you can walk the overlook/waterfall trail to see the falls from above.
Bixby Creek Bridge is another popular viewpoint. Stop before the bridge and after the bridge for different perspectives to photograph. Be very cautious when parking and walking along the road. This area tends to get congested, therefore, it's not unusual to miss out on an opportunity to park. Take your time and be patient with the other drivers and pedestrians.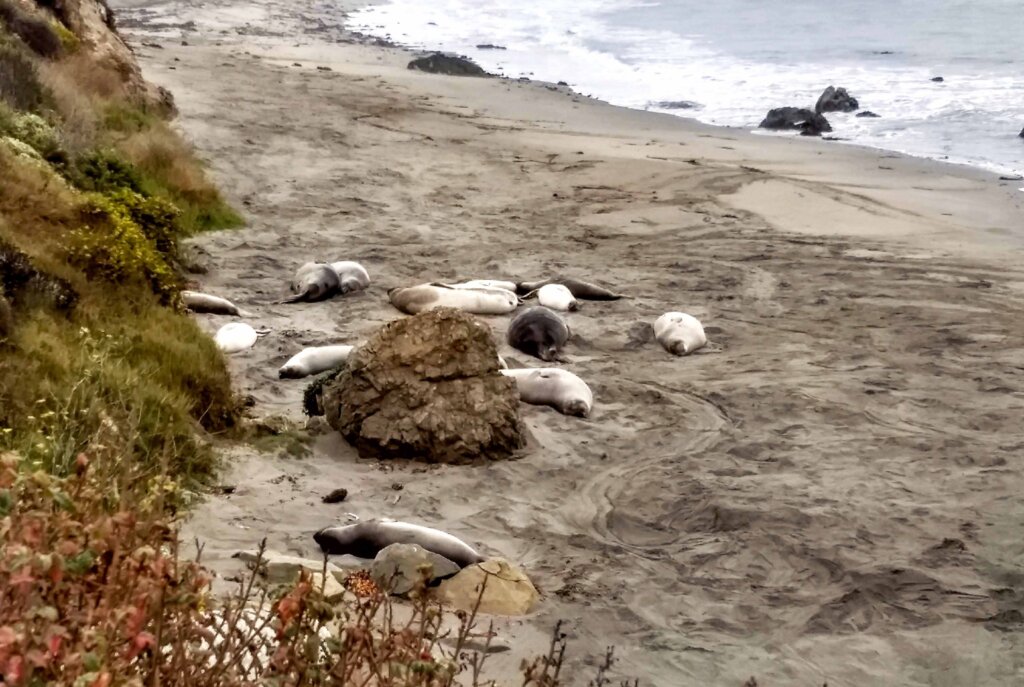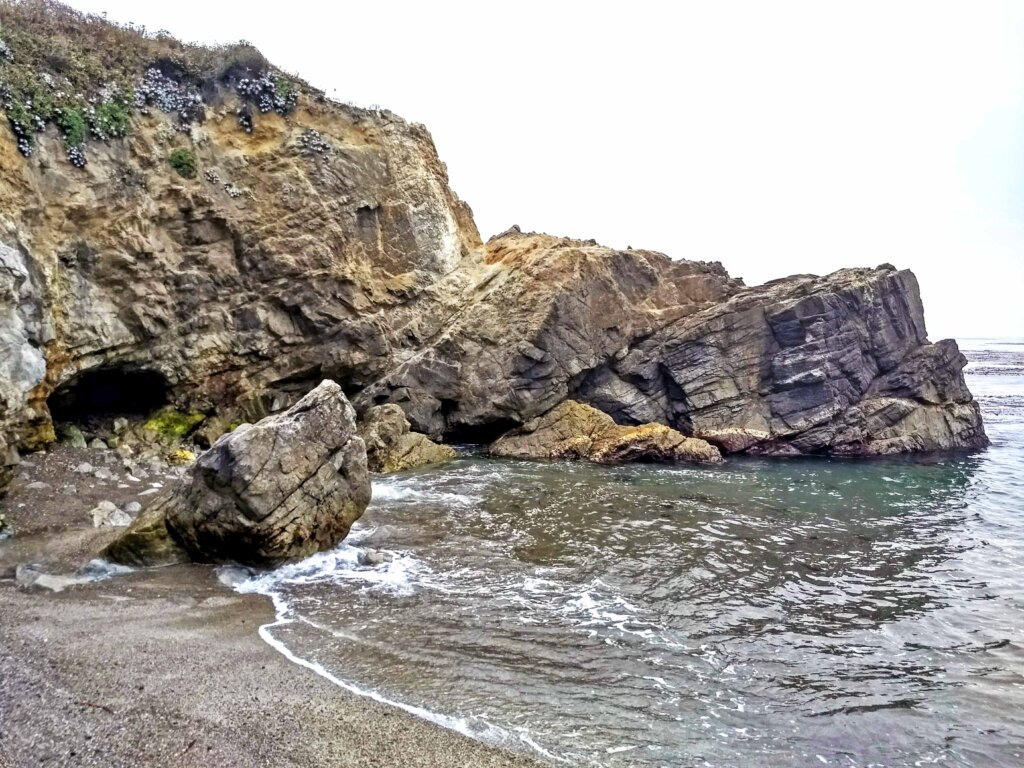 Our final stop along the coast was at Point Lobos State Natural Reserve. In the rain, we walked the short trail to Hidden Beach and enjoyed watching the waves crash along the black, rocky shore.
Below are more exciting sights & activities along this route:
Hearst Castle
Limekiln State Park
Big Creek Cove Vista Point
Big Creek Bridge
Pfeiffer Canyon Bridge
Pfeiffer Beach
Point Sur Naval Facility (Lighthouse)
Rocky Creek Bridge
Rocky Ridge Trail at Garrapata State Park
China Cove via Bird Island Trail
Kings Canyon National Park
Day 6
Total Drive Distance: 75 miles
Total Drive Time: 2 to 3 hours
Kings Canyon National Park Accommodations
Once again, we stayed at the Grant Grove Cabins located in Kings Canyon National Park. While the in-park location was convenient, the cabins were still overpriced and underwhelming.
Restaurants & Cafes
We spent the day eating out of our cooler. We snacked on pre-packed baked goods for an early breakfast, then enjoyed a picnic on our hike. There are multiple restaurants in Grant Village to choose from if you want something heartier.
Things to See & Do
Starting the morning early, we set out on a short tail to Panoramic Point for sunrise. Then, we drove to Road's End Trailhead, which is the starting point for the majority of the trails in Kings Canyon National Park.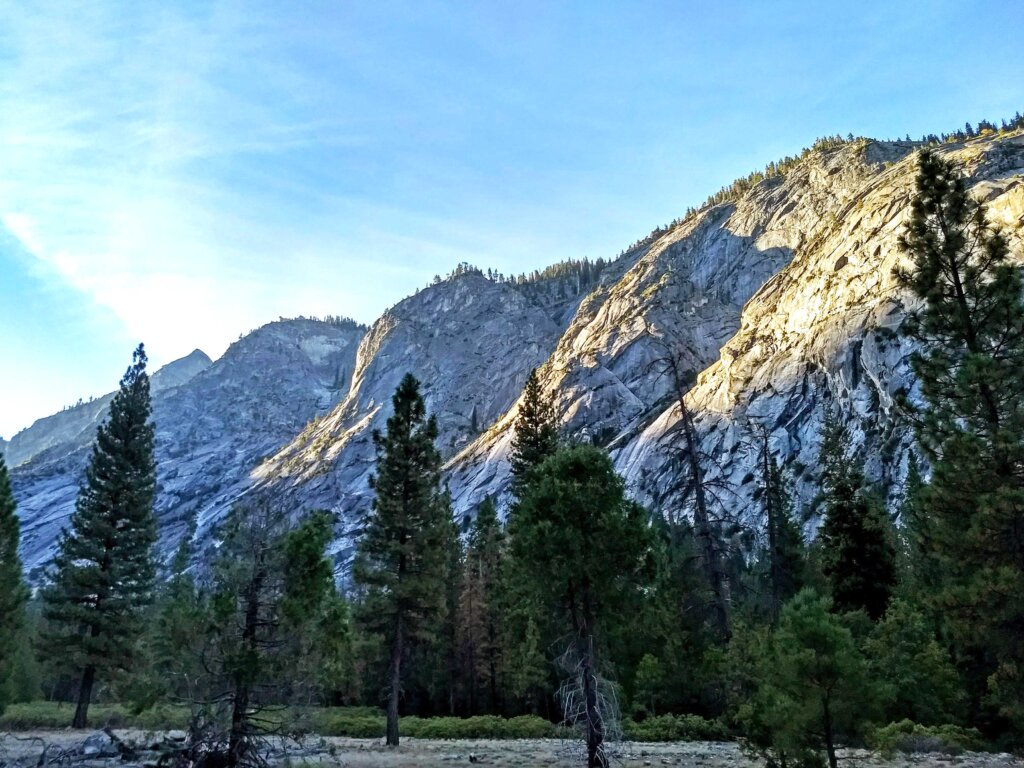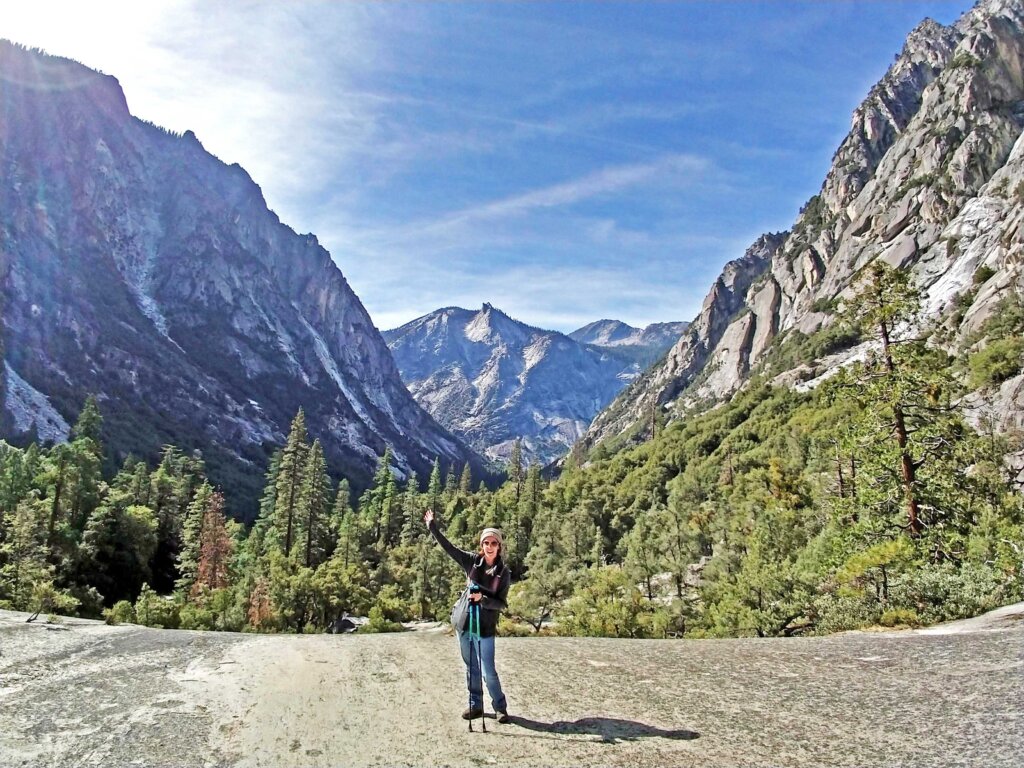 Mist Falls is an 8 mile out-and-back trail that is rated as moderate. Although I would agree that the trail itself was not overly strenuous, it did present a challenge we were not prepared for. One word for you- mosquitoes. We were shocked at the swarms that congregated along the trail. These little bugs were persistent despite the chilly weather. We passed many other (smarter) hikers that wore mosquito netting and face coverings. We highly recommend this unless you want to be cool like us and run for your life.
A covering like this one would've saved our hike that day.
After our hike we slowly meandered our way back to the cabins, stopping at a couple of shorter trails along the road. We enjoyed exploring Roaring River Falls and Grizzly Falls and General Grant Loop Trail. All are rated as easy.
Below are other easy to moderate hiking trails along this route:
Zumwalt Meadow Loop Trail
Little Creek Trail to Cedar Grove
Yucca Point Trail
Indian Basin Grove Loop Trail
Kings Canyon —> Sequoia National Park —> Big Pine
Day 7
Total Drive Distance: 335 miles
Total Drive Time: 8 to 9 hours
Although Google Maps will force the route south along Mountain Hwy 99, you could choose to continue east on Sherman Pass Road through Sequoia National Forest to Linnie. Either route is fairly similar in distance and drive time.
This timeline is a little tricky because we departed Grant Grove at 5AM to ensure we arrived in Big Pine with enough time to check into our Airbnb, get some rest, and wash laundry before the next day. Therefore, our first stop, the General Sherman Tree, is only about an hour down the road. This meant we were hiking in the dark.
We got about a quarter of a mile down the trail and decided to turn back because we couldn't see anything anyway. I would highly recommend visiting the General Sherman Tree the day before, if you have time. Or, bring a flashlight.
Big Pine Accommodations
Our night in Big Pine was spent at an Airbnb called Big Pine Cottage Hideaway. The entire guest house was cozy, comfortable, and stocked with coffees and snacks. Our hosts were very welcoming; we definitely recommend staying here!
Restaurants & Cafes
Kern River Brewing Co. (Kernville) – Amazing atmosphere and delicious handcrafted root beer! However, food was fairly average.
Frosty Chalet (Lone Pine) – Old fashioned burger, fries, and shake joint that hits the spot!
Things to See & Do
In lieu of the General Sherman Tree, we hiked Moro Rock to see the sunrise (excellent decision!). The short, steep climb up the granite dome offers a stunning view of the Great Western Divide. We did not have this trail to ourselves at dawn. There was already a large group of student photographers positioned at the viewing platform. However, we enjoyed the experience despite the crowd.
Next, we stopped in Sequoia National Park to enjoy a short loop called The Trail of 100 Giants. This trail is an excellent, easy 1.3 mile walk through stunning giant sequoia trees.
Finally, we spent a good hour in the Alabama Hills near Lone Pine and the Whitney Portal. Did you know that Mt. Whitney is the tallest mountain in the contiguous United States with an elevation of 14,505 feet? The Mobius Arch was a short, easy hike with stunning views of Mt. Whitney. However, it was extremely windy and there was no shade. Hold onto your hat and sunglasses and don't forget the sunscreen! In addition- keep your eyes peeled for the Heart Arch.
Big Pine —> Mammoth Lakes —> Yosemite National Park
Day 8
Total Drive Distance: 130 miles
Total Drive Time: 3 to 4 hours
Our day trip to Mammoth Lakes was probably the most surprising (in a good way!). When we traveled through in September, there wasn't any snow yet, but it was chilly. My favorite part was witnessing the changing of the colors of the leaves. Everywhere we went there seemed to be no shortage of gold and red hues. If you are road tripping through California in the fall, this alpine haven is not to be missed!
Yosemite National Park Accommodations
We spent the night of Day 8 and Day 9 in Lee Vining at The Lake View Lodge. They offer cottages, camping, and motel style lodge rooms. We opted for a lodge room. It was no frills, but met our needs. The location of the lodge (20 minutes outside of Yosemite National Park) made it an ideal choice.
Restaurants & Cafes
Good Life Cafe – Hearty and mouthwatering breakfast! Try the chicken fried steak & eggs!
Hugs Ice Cream – Hits the sweet spot! Don't forget to pose with your ice cream in front of the bear statue!
Things to See & Do
After a late breakfast in Mammoth Lakes, we ventured out to explore. We started by driving around Lake Mary and walking to Twin Falls. The short walk to the upper falls was easy and scenic. Then, we took a peek at the Earthquake Fault. Cutting through volcanic rock, the "fissure" is 60 feet deep and up to 10 feet wide. Pine and fir trees surrounded us as we gazed upon the enormous crack in the earth, astounded by the raw power of mother nature.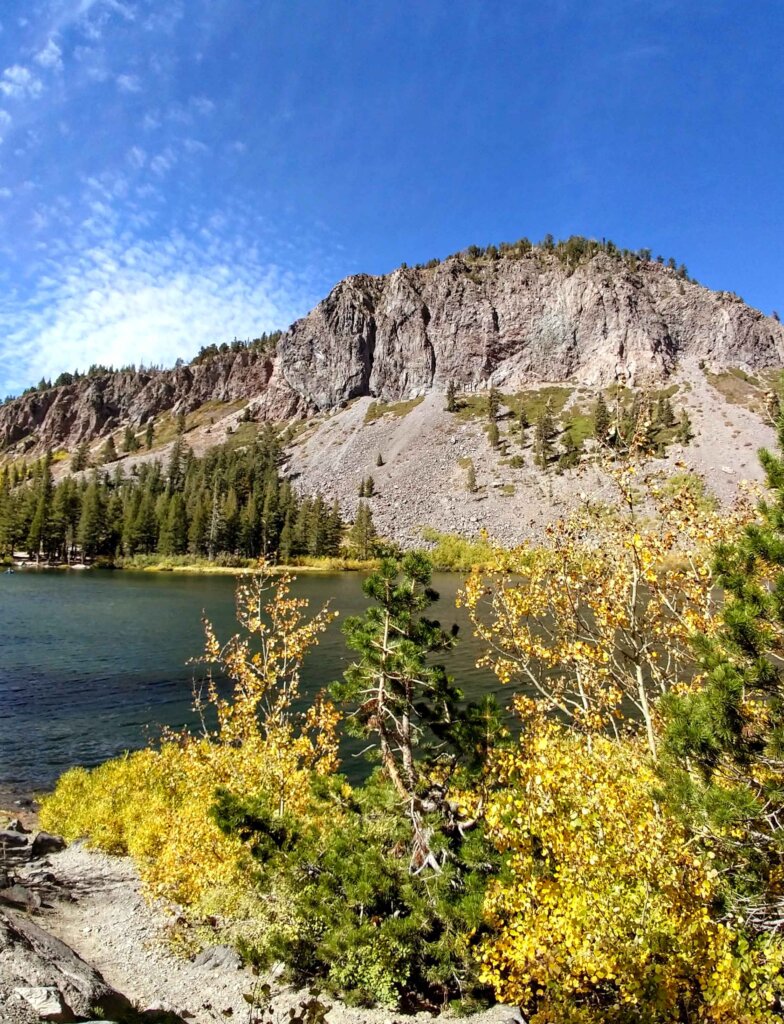 While traveling through Inyo National Forest (we made a lot of silly road trip jokes about this name, haha!), our favorite stop was at the viewpoint for the Minaret Vista. The panorama view of the Sierra Nevada mountains was dazzling! There was interactive signage which aided in identifying each jagged peak.
The afternoon was spent on an easy hike to see the Devil's Postpile. This geological wonder is an excellent example of a columnar basalt. Thanks to powerful erosive forces, the cooling lava solidified in an unreal hexagonal column style formation. If you didn't see it with your own eyes, you wouldn't believe it wasn't man-made. The drive to reach the Devil's Postpile parking lot is part gravel/dirt and one lane. Proceed with caution and make space for oncoming traffic!
NOTE: Following guidance from the CDC and state and local public health authorities, the ESTA shuttle is not operating in 2020. The road to Devils Postpile opens on June 26. The road will be open when parking is available, but closed when parking is full.
The final leg of our drive took us around the scenic June and Grant Lakes before stopping at the less scenic, but beautiful in its own way Mono Lake Tufa State Natural Reserve. During the fall season, the route around June Lake is characterized as one of the best places to see colorful foliage. When visiting Mono Lake, be prepared to hold your nose! The "tufa towers", or calcium-carbonate spires, make for a smelly walk. The lake is over twice as salty as the ocean thanks to alkaline lake water.
Yosemite National Park
Day 9
Total Drive Distance: 155 miles
Total Drive Time: 4 to 5 hours
Yosemite National Park is our favorite National Park in California. A week or two could (and should) be spent exploring Yosemite. However, we included are our best suggestions on how to visit in one day.
Although, you could attempt everything we list below, it is in your best interest to pick just one hike so you don't overextend yourself. We learned the hard way about overextending yourself on a hike while we were in Yosemite. We highly encourage you to NOT attempt any of the strenuous hikes without trekking poles.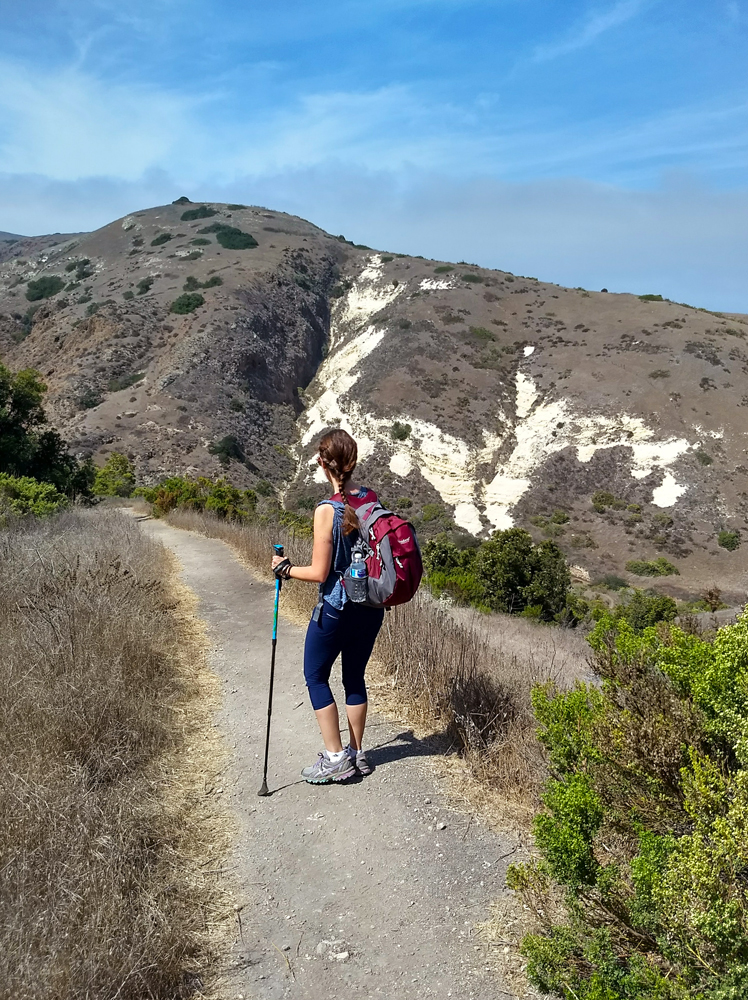 Yosemite National Park Accommodations
Once again, we stayed in Lee Vining at The Lake View Lodge.
Restaurants & Cafes
Due to our full day of hiking and driving, we packed a lunch and snacks in our cooler.
Whoa Nellie Deli – Fantastic dinner to wrap up a long day! Inconspicuously located inside a gas mart, the food here is phenomenal! We feasted on the Fish Tacos and Buffalo Meatloaf.
Things to See & Do
Boots to the ground before sunrise is the only way to truly enjoy Yosemite National Park without battling the crowds! We recommend traveling all the way to Yosemite Valley to start your day, and wrap up near the Tuolumne Meadow area in the evening.
Although it is one of the most popular trails in the park, hiking the rigorous 9 mile loop from Vernal Falls to Nevada Falls, is an unforgettable experience! This hike is easily one of the most scenic and rewarding hikes we've ever completed. The trail is definitely challenging, so don't attempt the entire loop unless you feel confident in your hiking abilities. Even an experienced hiker may experience jelly legs by the end of the ordeal.
At the end of the day, park near the Lyell Canyon Trailhead along Tuolumne Meadows Lodge Road and enjoy a short, but steep hike up Lembert Dome. The 2.5 mile out-and-back trail is mostly a bunch of switchbacks, however, the 360 degree view at the top is well worth the effort. I am a big, fat scaredy cat when it comes to heights; therefore, the dome took me a bit of time and courage to make it to the top. But, it's not so bad once you've finally made it!
Below are other easy to moderate trails and viewpoints along this route:
Tioga Pass Road Valley View
Ellery Lake Lookout
Tuolumne Meadows Footbridge
Cathedral Lakes Trail
Tenaya Lake
Half Dome View
El Capitan Meadow
Yosemite Falls
Yosemite —> Lake Tahoe
Day 10
Total Drive Distance: 130 miles
Total Drive Time: 3 hours
ALERT! ALERT! An actual road trip day in this itinerary that does not include waking up before sunrise?! Believe it, friends! You earned a relaxing day after all that hiking in Yosemite yesterday!
Lake Tahoe Accommodations
We stayed at an Airbnb studio cabin. Eagle Cabin at Emerald Bay was clean, cozy, and conveniently located in South Lake Tahoe.
Restaurants & Cafes
Things to See & Do
Day ten's road trip festivities centered around getting settled at Lake Tahoe and taking the kayak out on the water. Did you know that Lake Tahoe is the second deepest lake in the United States?
Of course, there are a couple gems along the route. Explore Fallen Leaf Lake, and if you have time, check out the Glen Alpine Trail. You'll be rewarded with stunning waterfalls.
Once we had driven around Emerald Bay (and gawked, took photos, and gawked some more), we then headed to Baldwin Beach to set out on our kayaking adventure. There was plenty of parking and the lot was very close to the beach. Even though we only kayaked for a couple hours due to the rough winds, we enjoyed being out on the water soaking in the stunning mountain views.
Pro Tip from Brian: If you lose your wedding ring, it's probably in the kayak. Ask me how I know.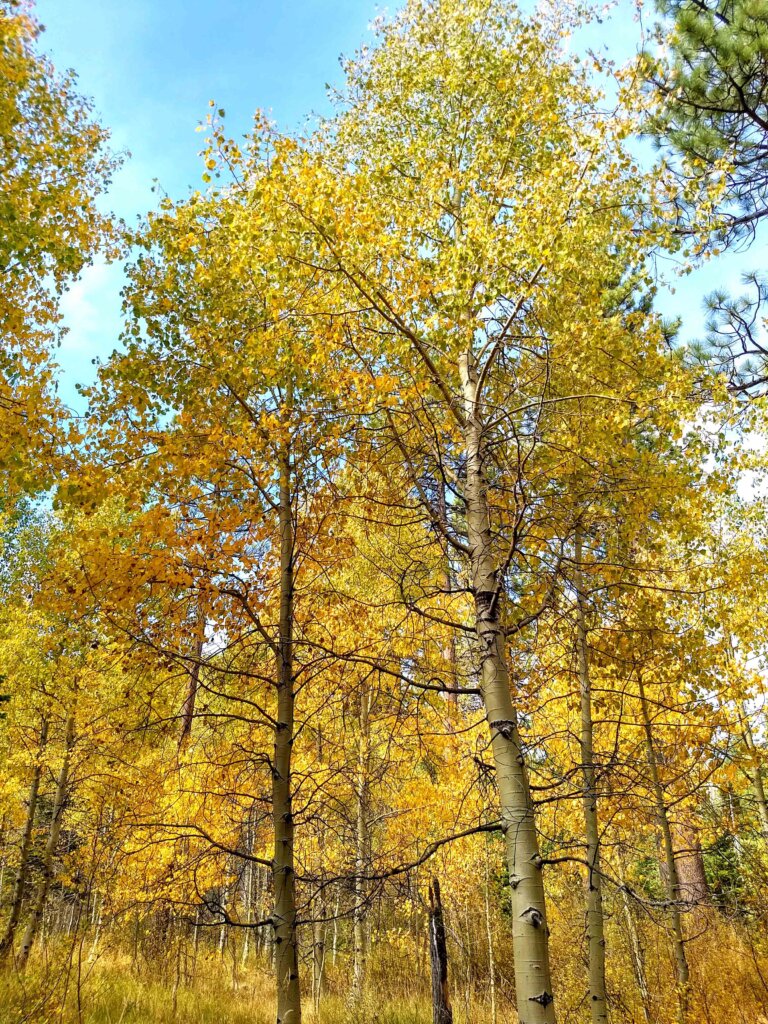 Below are other fun things to see & do around Lake Tahoe:
Vikingsholm
Squaw Valley Skiing
Spooner Lake
Cascade Falls
Eagle Falls
Cave Rock Tunnel
Lake Tahoe —> Napa Valley
Day 11
Total Drive Distance: 215 miles
Total Drive Time: 3-4 hours
Road trip day 11 is another day that you don't HAVE to leave at the break of dawn, if you don't want to! We like to hit the road early so we had most of the afternoon/evening to spend in Napa Valley. You can also choose to take the route around Lake Tahoe and through Tahoe National Forest, if you want a bit of a longer drive.
Napa Valley Accommodations
Check out local bed and breakfasts or hotels with DoNapa. Or, just look into a trusty VRBO or Airbnb!
Restaurants & Cafes
Things to See & Do
Truthfully, we spent our entire afternoon in Napa Valley eating, drinking, and doing nothing! We used this opportunity to recharge and indulge. Below are a couple suggestions to look into while you're visiting California's wine country.
Napa and Yountville's Art Walks
Sharpsteen Museum in Calistoga
St. Clair Brown Winery & Brewery
Take a Hot Air Balloon Ride
Take a ride on the Napa Valley Wine Train
Napa Valley —> Lassen Volcanic National Park
Day 12
Total Drive Distance: 240 miles
Total Drive Time: 4 to 5 hours
Lassen Volcanic National Park Accommodations
About 45 minutes outside of Lassen Volcanic National Park is a small town called Westwood. It's so small that if you want to try any restaurants or stores, you'll have better luck in the neighboring town of Chester. However, we enjoyed our stay at the remote and quiet Log Cabin in Westwood.
Restaurants & Cafes
Broderick Roadhouse in Sacramento – Try the poutine fries! Almost felt like I was in Canada- haha
Happy Garden in Chester – No frills Chinese restaurant with tasty flavors!
Things to See & Do
Enjoy another relaxing morning in Napa Valley! Then, head out on a slow drive to your destination for the night. We opted to arrive at our Airbnb in the late afternoon so we would have an opportunity to rest before our full day of hiking at Lassen Volcanic the next day. You could also choose to spend an hour or two in Sacramento as you drive to Westwood.
Below are other fun things to see & do along the route:
Putah Creek State Wildlife Area
California State Railroad Museum in Sacramento
California State Capitol Museum in Sacramento
Sacramento Zoo
Oroville Dam
Lake Almanor
Lassen Volcanic National Park
Day 13
Total Drive Distance: 185 miles
Total Drive Time: 5 to 6 hours
Lassen Volcanic National Park is probably the least popular national park on our California road trip itinerary. It's a bit of a mystery why this park isn't crawling with more hikers (not that I'm complaining, though). Lassen Volcanic kind of reminded me of a combination of Yellowstone and Kings Canyon with the abundance of mud pots, colorful rock formations, and heavily forested trails.
Lassen Volcanic National Park Accommodations
We spent a second night at the Log Cabin in Westwood.
Restaurants & Cafes
Due to our full day of hiking and driving, we packed lunch and snacks in our cooler.
Things to See & Do
The first stop of our day in Lassen Volcanic National Park began at sunrise (surprise, surprise). We had the entire trail to the Cinder Cone to ourselves. We encountered a lot more than we bargained for on this hike. Before we ever reached the cinder cone, we stumbled upon a bear foraging on the trail. Unfortunately, to be safe, we decided to turn back. However, I was truly pleased to have seen a bear! I love spotting wildlife on the trail.
Since we didn't complete our first hike, we had a little extra time to explore the park. We stopped at Hat Creek Rim Scenic Viewpoint where you can see the volcanic ridges of Lassen Peak, Mt. Shasta, and Crater Peak. Then, we explored the Subway Cave Lava Tubes. No crawling is required to check out the cave, but you'll definitely need a flashlight as it is completely dark as you follow the 1,300 foot tube.
Following the Volcanic Legacy Scenic Byway, we made our way around the park. The afternoon grew foggy, drizzly, and overcast. However, the sights remained spectacular. We stopped at Reflection Lake and Sulphur Works. It was mesmerizing to see bubbling, stinky mud pots so close to the road!
Finally, we wrapped up our day at Lassen Volcanic with a moderate, 2.5 mile loop trail around Boiling Springs Lake. If you aren't up for the entire loop, you can simply walk to the lake and turn around at the first overlook. The thermal features of the lake are definitely an exciting sight to behold and much less crowded when compared to Yellowstone!
Lassen Volcanic —> Redwood National Park —> Crescent City
Day 14
Total Drive Distance: 320 miles
Total Drive Time: 6 hours
Although, you will be driving around part of Lassen Volcanic National Park again, if you leave early enough you won't be seeing much of the views. The primary focus for the last road trip day is to enjoy the redwoods and witness more cliffside coastal views.
Crescent City Accommodations
The last night of the best California Road Trip was spent at the Lighthouse Inn in Crescent City. The king room was clean, but basic. The stay was adequate for one night.
Restaurants & Cafes
Our final road trip day was spent finishing up the leftover snacks and meals in our cooler.
Things to See & Do
Once you've entered Redwood National Park, we encourage you to take exit 753 onto Newton B. Drury Scenic Parkway to immerse yourself in the forest. There are plenty of opportunities to stop on the side of the road and photograph the coastal giants. If you've never seen redwoods, this drive will change your world forever as you drive past hundreds of trees with trunks bigger than your car.
The coastal redwoods have a different aesthetic and presence than the giants in Sequoia. It's difficult to explain until you've seen the two for yourself. For a list of other unforgettable scenic drives through Redwood National Park click here.
After checking into our hotel, we drove out to Battery Point to watch the sunset and see the Battery Point Lighthouse from the shoreline.
Below are other fun things to see & do along the route:
Burney Vista Point
Clam Beach
Moonstone Beach
Camel Rock
Trinidad Memorial Lighthouse
Lady Bird Johnson Grove Trail
Klamath Tour Thru Tree
In conclusion, California provides endless opportunities to lose yourself in the wilderness. This road trip itinerary can help you plan two weeks across the state to see a variety of forests, mountains, oceans, and deserts, featuring rare geothermal pools, earthquake faults, and rock formations. In short, California has it all and that's why it makes the perfect choice for the best road trip.
Other Road Trip Blog Posts:
What are you most excited to see in California? Do you have other road trip stops in California that you love that aren't listed here? Let me know in the comments below!
Did you enjoy this read? Please share and pin for later!