So, picture this: you're four hours into what promises to be an absolutely dreamy, action-packed road trip. You stop for gas and snacks only to realize that nothing in the entire convenience store has a low enough carb count to match your new keto lifestyle. You have two choices:
1. Give up and wreck all of the progress you've made.
– or –
2. Stay on track! #goals
If you're in the second camp, this post is for you! So, first a little about the author – I'm Brian, a dedicated keto-er for the better part of 2 years. I've been on road trips where I could find absolutely nothing to eat. Lack of preparation led me to temporarily abandon my keto lifestyle, a choice I always regretted when the aches, low energy, and anxiety come racing back.
I write this post in hopes that I can help my fellow keto-ers as they find themselves in "food deserts," where carbs are the only option.
Disclaimer: This post is in no way sponsored, we paid for all the activities mentioned and all opinions are our own. This page may contain affiliate links, which means I may earn a commission (at no extra charge to you) if you make a purchase after clicking my link. Thank you for being a loyal reader!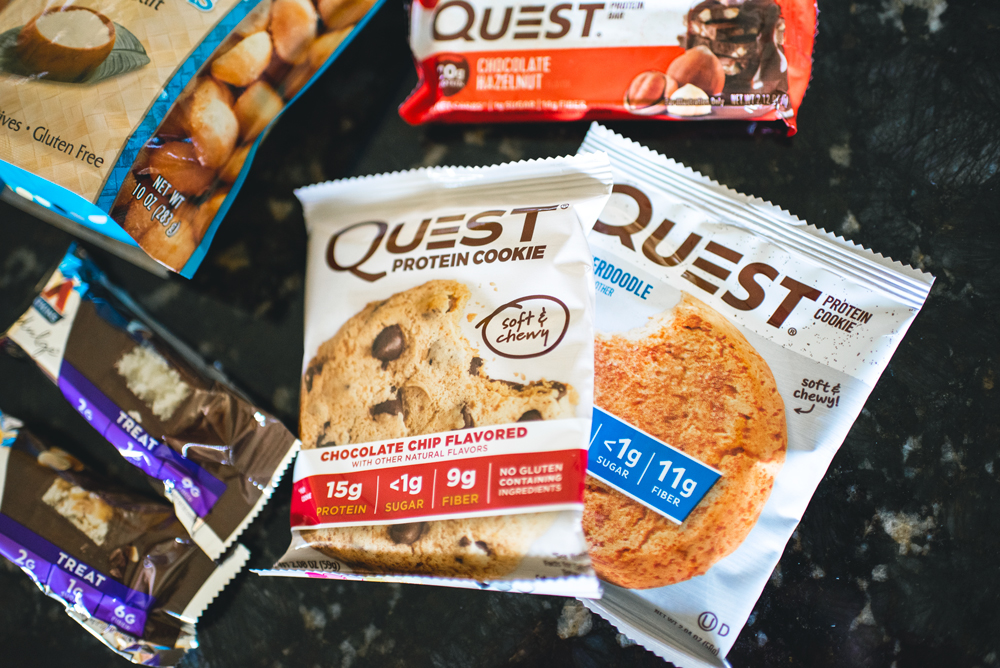 So, what makes a good keto road trip snack?
Shelf stable
Small/portable
No silverware required
Most importantly – High fat, very low carb
1. Avocado
This one breaks one of the cardinal rules, but it's worth it.
The humble avocado packs over double the potassium of a banana and some excellent fats, making them a great trail snack. Avocados are also portable and shelf stable.
They can be a bit messy to eat. However, unlike other snacks, you can find them at just about any grocer and they taste great with a dash of salt. Just grab a spoon and dig in.
2. Quest Bars
Quest bars are a simple high-protein, low net carb treat that can satiate those awful sugar cravings common during the first few weeks of keto.
Because Quest bars don't melt into a gooey mess like other protein bars, you can also keep them in a hot car without worry.
Although they don't fit the high-fat macro profile for keto perfectly, their convenience makes them a worthy snack.
3. Protein Shakes
Protein shakes make a great road trip food. Just mix a little Isopure or Quest protein powder with some water and you've got breakfast!
If you want to get real adventurous and add a little fat to your shake, you could throw in a bit of heavy cream, unsweetened coconut cream, or C8 MCT oil.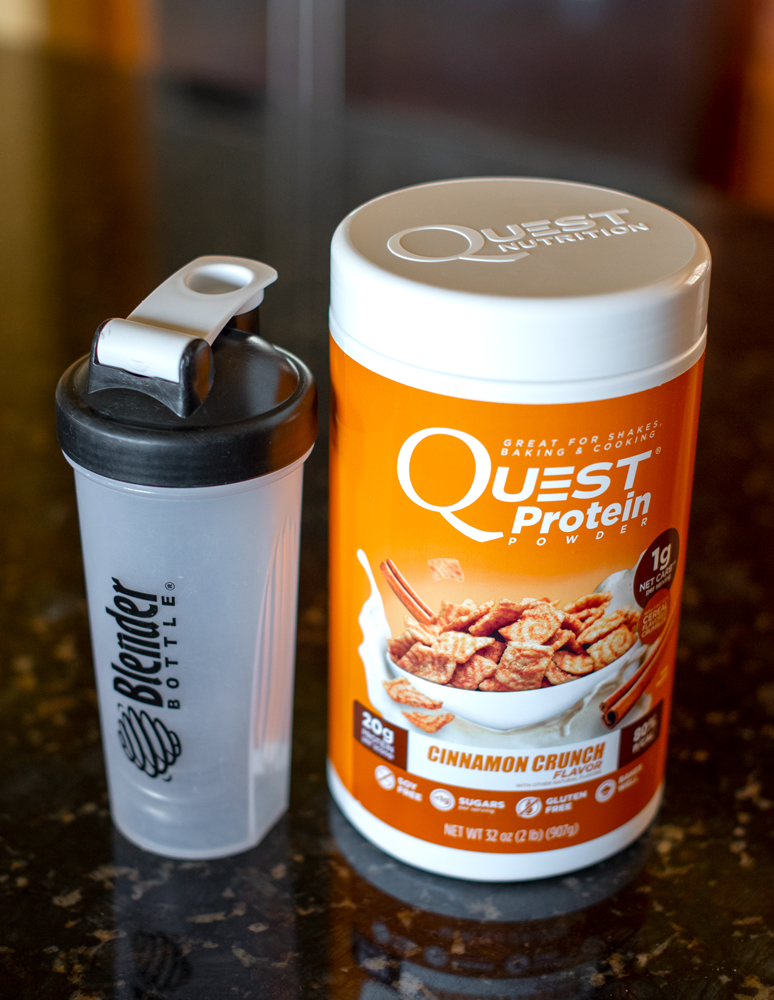 4. Jerky and Meat Sticks
Buyer beware: jerky and meat sticks sit squarely at the top of the "dirty keto" snacks list. Additionally, they can be loaded with sugar and other chemicals, so make sure to carefully read the ingredient label.
On the flip side, jerky and meat sticks are great because they're sold at just about every store in the country. They're also great at satiating your "boredom" hunger on a long stretch of road because of the immense chewing effort involved.
Approach this snack with caution, but if it's what's available, it's better than wrecking your progress with cheetos.
5. Tuna or Mackerel
Wild-caught mackerel is the best-kept secret for brain health. A serving of King Oscar's wild-caught mackerel in olive oil packs over 3,500 mg of DHA omega 3 fatty acids! If you didn't know, DHA is the only omega 3 that our bodies can readily use to repair brain tissue.
If mackerel's not your scene, try wild-caught Alaskan salmon or tuna (a lean fish) in extra virgin olive oil. Fatty fish is truly one of the world's super foods and should DEFINITELY be on any keto-er's road trip snack list.
6. Parmesan Crisps
Have you guys heard of these?! Parmesan crisps are a keto game changer. They can be substituted for croutons, for potato chips, or just about any other high-flavor, high crunch food you've been missing.
You can find them at several stores, including Trader Joe's (a.k.a. keto paradise), Thrive Market, and even Sam's Club.
7. Pork Rinds
Pork rinds aren't going to win any nutrition competitions, but they meet the low-carb requirement of the ketogenic diet while also being available at just about any store in America.
My personal favorite is Mission's Picante flavor.
8. Macadamia Nuts
If there's a single food for the best keto road trip snack, it would be macadamia nuts. Macadamia nuts weigh in at about 21 grams of fat per ounce–the highest fat content of any nut! They're also jam-packed with magnesium and iron, both of which will keep you going on the trail.
If we're honest, just about any nut (except for cashews) will meet keto's macro requirements as long as you don't eat more than a couple of handfuls.
So, feel free to grab a bag of roasted peanuts if you're on the hunt in a food desert or just don't want to splurge on expensive macadamias.
9. Sunflower Seeds
Packing a ton of sodium, sunflower seeds are great for helping meet the recommended 5,000 mg/day sodium guideline. That sodium will ward off the keto flu and keep you going on your adventure.
Like many nuts and seeds, the fat profile for sunflower seeds is mostly omega 6 fatty acids. This isn't great news considering most people get way too many omega 6's, triggering unnecessary inflammation in the body.
Nonetheless, sunflower seeds still make a great snack to ward off "boredom" eating on a long stretch of road.
10. Monster Ultra
Monster Ultra has saved me during a few exceptionally tough days. I wouldn't recommend making this a staple, but if you need a burst of keto-compliant energy to tackle an early morning, Monster Ultra provides.
11. Bone Broth
So, let's say your mental tenacity isn't as strong as you thought and you had a few bites whole slice of the world's best cheesecake. No shame. It happens to the best of us. Just get back on the wagon with a 24-hour fast.
Bone broth provides the sodium needed to keep your body going through a fast. You'll be generating ketones in no time and your mind will be clear and alert while you do it.
---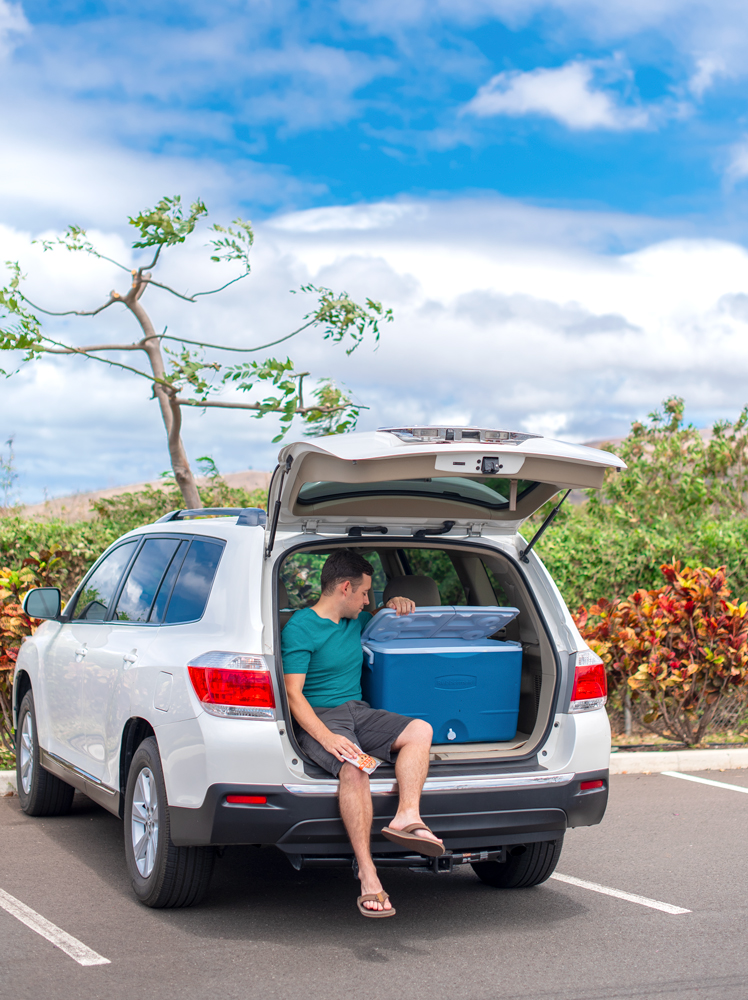 If you're smart enough to lug a cooler on your road trip, your options expand in both quantity and QUALITY! If there's one single road trip hack to follow, it's bringing a cooler! So, why go through the trouble of lugging around a cooler, restocking the ice, and draining it every night?
QUALITY!!! If you didn't see it the first time, here it is again. All of the best quality, most nutrient-dense keto foods require refrigeration. Here are some top picks:
12. Cheese
Cheese strikes a nice balance between flavor, protein, and fat content. Some great portable options are string cheese and Babybel cheese snacks.
A few of the best high fat cheeses include mascarpone, brie, cheddar, and gouda. Proteins from cow-based cheeses can be inflammatory, so consider goat cheese or sheep cheese if anti-inflammatory foods are a priority.
13. Meat Wraps
To add a little spin on cheese, try wrapping it in a slice of savory meat like salami, prosciutto, roast beef, or even a simple ham.
If you find a nice convenience store, you might even be lucky enough to find these babies pre-made in the refrigerated section.
You'll pay a pretty penny, though, so I still recommend making them yourself.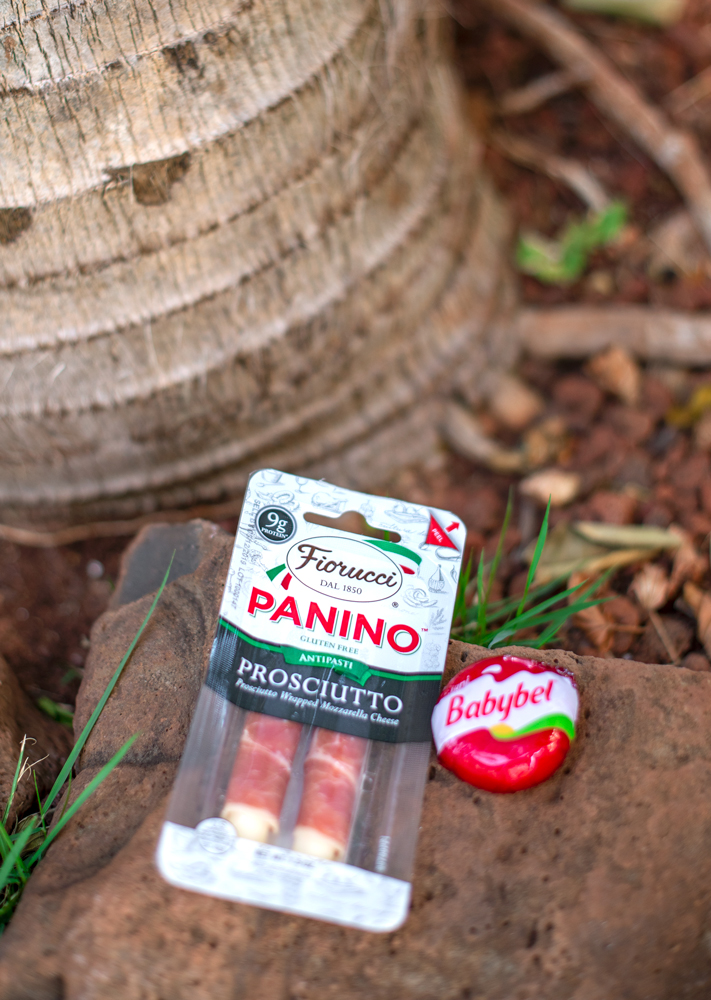 14. Veggies
Low-carb veggies such as broccoli, cucumber, cauliflower, and bell peppers make a great addition to your cooler. Just do a bit of prep work before you start your trip and you'll have a low-carb, nutrient-dense snack waiting for you in the cooler.
Pair it with a nice homemade vinaigrette dressing to up the flavor.
15. Olives
Olives make for one killer keto snack. They're packed with healthy fats and tons of flavor. Olives are a fermented food, loaded with beneficial bacteria. Just make sure to get a preservative-free, brined variety to get the probiotic benefits.
If you're looking for a packable snack, Oloves are a great option, too!
16. Boiled Eggs
If you haven't picked up on the theme, eggs are yet another nutrient-dense super food. They have all of the right proteins and fats and they're loaded with healthy choline and dozens of vitamins and minerals. Just throw a dash of salt on and you're ready to go!
Boiling your eggs makes them portable, but peeling can be a pain. Here are a few tricks from fellow foodie Vijaya Selvaraju to peel your boiled eggs.
17. Atkins Bars
These little babies definitely fall in the dirty keto category, but they're tough to beat when it comes time to satiate those sugar cravings. They'll melt in a hot car, so a cooler is a must.
I like the treat bars, particularly the chocolate coconut bars and caramel nut chew bars. You can buy them in bulk in the Sam's Club health and wellness section.
18. Berries
Most folks think fruit is off the table on keto. That is definitely not the case. You've just gotta be careful not to eat too much! Berries are great for keto because they're rich in fiber and they contain antioxidants and other nutrients rarely found in other high-sugar fruits like apples and bananas.
My personal favorite berries are blackberries and raspberries, but just about any berry can be keto-friendly as long as you limit yourself to a handful at a time.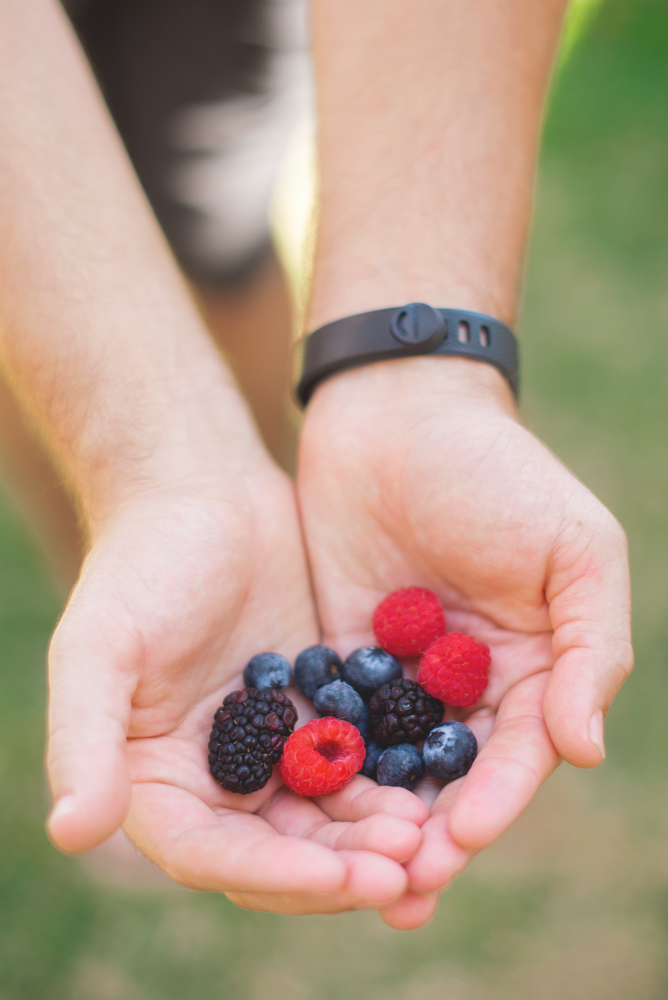 19. Quest Cookies and Hero Bars
Quest cookies are the bomb-diggity. They're loaded with protein, prebiotic fiber, and offer a net carb count under 5 per cookie. They come in several varieties, including snickerdoodle, peanut butter chocolate chip, double chocolate chip, regular chocolate chip, and oatmeal raisin.
Just to elevate things even more, Quest recently released an allulose-based line of Hero dessert bars. If you haven't heard of it, allulose is a natural sweetener that tastes almost identical to sugar. The good news is it doesn't absorb like sugar, so the glyemic impact is minimal in comparison.
Beware: When you take your first bite, you might spit it out because you'll swear you're eating real sugar. It's incredible! I find the chocolate caramel pecan bar to be particularly delicious, but blueberry cobbler can certainly hold its own, too.
20. Dark Chocolate
Your flavor palate changes when you cut sugar. You begin appreciating the subtle sweetness and the deep, roasty bitterness of dark chocolates. Ever since I adapted this way of eating, I've become a bit of a chocoholic. At any given time, I have at least 3-5 bars in the cupboard.
So, a road trip without chocolate wouldn't be much of a road trip at all. My absolute favorite is Endangered Species' Black Panther 88%. What's yours?
There are a ton of great options out there for us keto-ers. Don't let your road trip be an excuse to give up on your healthy lifestyle. Stay dedicated, my friends!
What are your go-to keto snacks? Let me know in the comments below!
If you enjoyed this read, please share!