Zion National Park is the most popular of the "Mighty 5" in Utah. Last year alone, the park saw a whopping 4.49 million visitors. In 1919, Zion officially became a National Park in the United States. However, it is interesting to know that previously the park was a national monument. For 10 years, Zion was known as Mukuntuweap National Monument.
There are numerous things to see in Zion National Park! The most visited section is the Main Canyon, or Zion Canyon. The visitor center and the majority of trails are in Zion Canyon. However, there are other, less crowded sections of the park such as the Upper East Canyon, Kolob Terrace, and the Kolob Canyons.
We are avid planners and educate ourselves via websites or books before we visit a National Park. Unfortunately, we somehow overlooked one very large detail about Zion. (HINT: This very large detail is #1 in this blog post!) Our minor misunderstanding resulted in us postponing our day in the park. (It worked out- we spent the day at Bryce Canyon instead, then tried again at Zion the next day! BUT, if we only had one day to visit this would have been a scheduling disaster.) Listed below are, in our opinion, the most useful things to know before visiting Zion National Park.
---
Disclaimer: This post is in no way sponsored, we paid for all the activities mentioned and all opinions are our own. This page may contain affiliate links, which means I may earn a commission (at no extra charge to you) if you make a purchase after clicking my link. Thank you for being a loyal reader!
#1 Zion has Limited Driving Accessibility
This was the teensy detail we overlooked and it put a major kink in our plans! Unlike other National Parks, you cannot access certain trailheads in Zion by driving to them. You have to catch the shuttle.
NOTE: Starting July 1, 2020, you will need a ticket to ride the park shuttle into Zion Canyon. Read more about the Zion Canyon Shuttle Tickets here.
To access Zion Canyon, be there when the shuttle opens at Zion Visitor Center at 7AM. The parking lot fills quickly! If you don't make it on the first bus out, you'll probably get stuck taking a shuttle from Springdale instead.
In 2000, the shuttle system became operational and mandatory to help alleviate traffic in the Zion Canyon area. The shuttle has resulted in a more stress-free and environmentally friendly experience for visitors. Although, if you're looking for a scenic drive in Zion National Park, check out the Mt. Carmel Highway! It's 12 miles long one way and has numerous viewpoints and overlooks.
TIP: Check out this Zion Information Sheet for all the details about where the shuttle stops and how the shuttle works.
We hopped on a jam-packed bus at 7AM to start our day hiking the Emerald Pools. Thankfully, over half of the bus disembarked at the Angel's Landing stop. Hiking the lower and upper Emerald Pools with only a couple other people was heavenly! And we spotted some friendly deer and squirrels!
In addition, if you stay at Zion National Park Lodge in Zion Canyon, you'll be within walking distance of some trailheads- particularly Emerald Pools and Grotto Trail.
#2 Weather in Zion National Park can be Unpredictable
The Narrows hike is amazing, but dangerous! You should always check the ranger report and weather report before venturing into the water. Flash floods can occur suddenly and unexpectedly. July through September is monsoon season in Zion and the Virgin River may experience flooding. Check out the Narrows Safety info to be best prepared.
TIP: Bring trekking poles to help stabilize yourself in the rushing water and/or wear boots. I wore water-resistant trail running shoes and although my socks were soaked by the end, my shoes held up well and I didn't experience any damage.
We day hiked the Narrows from the bottom up, which did not require a permit. On a hot summer afternoon, the Narrows makes for the perfect hike because of the refreshing water and shade provided by the steep canyon walls.
NOTE: As of August 2020, there have been high levels of Cyanotoxin detected in the water. Until further notice, avoid contact with the North Fork of the Virgin River. Stay up to date with the Utah Department of Water Quality.
The best time to hike the Narrows is in late fall (September through November) when the water levels tend to be at their lowest. However, one thing to keep in mind is that the water and air temperature in the canyon will be much cooler in the fall. A dry suit or waterproof socks (link above!) may be an appealing option.
Intense heat is also a cause for concern in the park. Try to enjoy the outdoors in Zion early in the morning or later in the evening. In the summer months, it's not uncommon for the temperatures to climb into the high 90's or low 100's. Always bring more water than you think you'll need when hiking any trail in the summer months.
#3 Wilderness Permits are Required for Sections of Zion National Park
You are required to have a permit to hike certain parts of Zion National Park. All overnight backpacking trips, canyoneering, overnight climbing, and river thru-trips are accessible by permit only. Obtaining a wilderness permit is fairly simple. The majority of permits are secured via an advance reservation system, then the remaining permits are obtained through a last minute drawing.
A wilderness permit can be reserved up to 3 months in advance, however, the calendar reservation is not equal to a permit. More details about permits can be found here and, for the Narrows, here.
NOTE: As of September 5, 2020 wilderness permits are temporarily limited and issued online only. Click here to discover which permits are currently available.
#4 Observation Point is just as epic (if not moreso) than Angel's Landing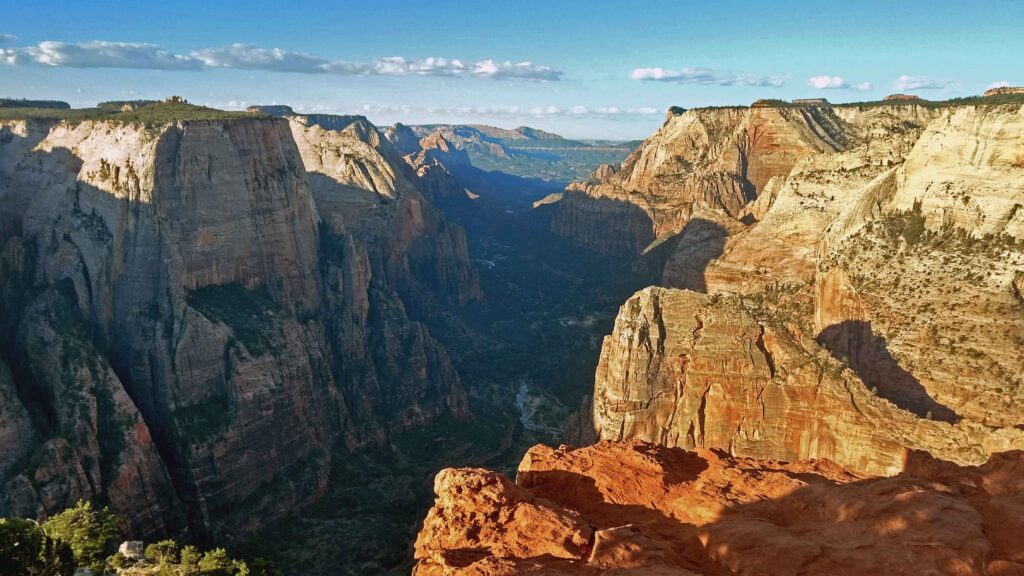 When most people think of Zion National Park, they think of Angel's Landing. The backbone of rock is an iconic symbol of the park. This daredevil hike gets the adrenaline flowing and it taunts many people into testing their capabilities on this challenging trail.
BUT, what if I told you, you can see expansive views of the park WITHOUT nearly dying scrambling to the top of Angel's Landing? Try the Observation Point Trail instead!
Particularly, try the "cheater's trail" A.K.A. The East Mesa Trail to Observation Point. That's right- there's a back way to Observation Point that is a bit longer but WAYYY easier! Incredible vistas of Zion Canyon for the least amount of effort? Heck, yeah!
NOTE: The actual Observation Point Trail is currently closed due to a rockslide. It is a 7.1 mile out-and-back trail that's rated as challenging.
Although we felt the "cheater's trail" was completely doable, even for a beginner hiker, the overall length of the trail can be draining. Take breaks when you need it! It's also a bit tricky reaching the trailhead for the East Mesa Trail. You have to follow a dirt road (Beaver/ Fir Road) for roughly 3 miles. A 4-wheel drive or high clearance vehicle is recommended.
#5 Take a Chance on Less Popular Trails in Zion National Park
You can enjoy the nature of the park by choosing less popular trails to explore. There are plenty of additional trails outside of Zion Canyon that you can drive to (yay, no shuttle!) and enjoy at your own pace.
Additionally, you can always tackle Zion Canyon earlier or later in the day (as suggested below in our next tip!). Also, as I mentioned above, we hiked the lower and upper Emerald Pools super early and had the hike mostly to ourselves.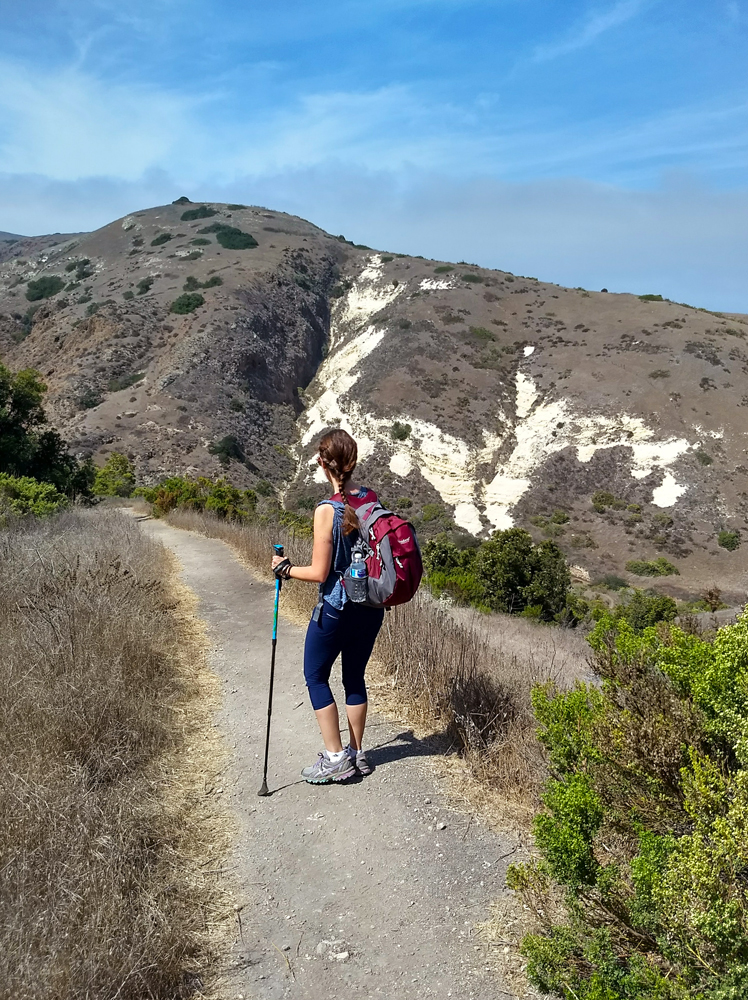 Less-crowded trails in Zion National Park
NOTE: Due to pandemic conditions many hikes, permits, and other aspects of the park are closed and/or restricted. Always check the park's current conditions and alerts before you visit.
#6 Avoid Crowds for an Optimal Experience in Zion
To avoid crowds (a.k.a. social distance) in Zion National Park, consider visiting the park in the "slow" season. November through March is a great time frame to enjoy more of the park without battling for elbow room. Consider the following before deciding when to visit:
Week days are typically less busy than weekends
Most parking lots in Zion are full by 9AM, sometimes earlier
Holidays or long weekends tend to be the busiest of them all
Christmas and New Year's are often very busy, as well
Go as early in the day as possible! You'll most likely have a trail all to yourself. Plus, you won't be exposed to the hot sun during the majority of your hike, climb, etc. Oh yeah! Not to mention, you'll be front row and center to some pretty spectacular sunrises.
Similarly to our experience, you may encounter situations that shake up your original plans for the day in Zion. Be flexible, stay positive, and have a back-up plan (did I mention I love planning?!)!
#7 Zion has a Strict Pet Policy
Pets are not allowed on MOST of the trails in Zion. According to the national park website, pets must always be leashed and are only allowed on one trail in the park. However, properly leashed pets are allowed on public roads, campgrounds, and picnic areas.
Remember, never leave your pet unattended in a parked vehicle or alone at a campground!
Zion is probably one of the best National Parks I've ever been too. To this day, the Narrows is still in my top 3 favorite hikes. However, unlike other parks, Zion requires a little more knowledge and preparation before striking out on an adventure. I hope these tips are helpful in planning your visit to Zion National Park!
Did you enjoy this read? Please share and pin for later!