Whether planning for a long or short road trip, you want to help save your family a little extra moo-lah by cutting out those expensive fast food and restaurant stops.
Hitting the grocery store before your trip will help set you on the right track for a healthy (and properly budgeted) road trip! Plus, learn how to pack your tasty meals and snacks in a cooler for your adventure!
Disclaimer: This post is in no way sponsored, we paid for all the activities mentioned and all opinions are our own. This page may contain affiliate links, which means I may earn a commission (at no extra charge to you) if you make a purchase after clicking my link. Thank you for being a loyal reader!
If this is your first road trip, don't miss out on our related blog post 5 Steps to Plan Your Next Road Trip to help you plan your epic route!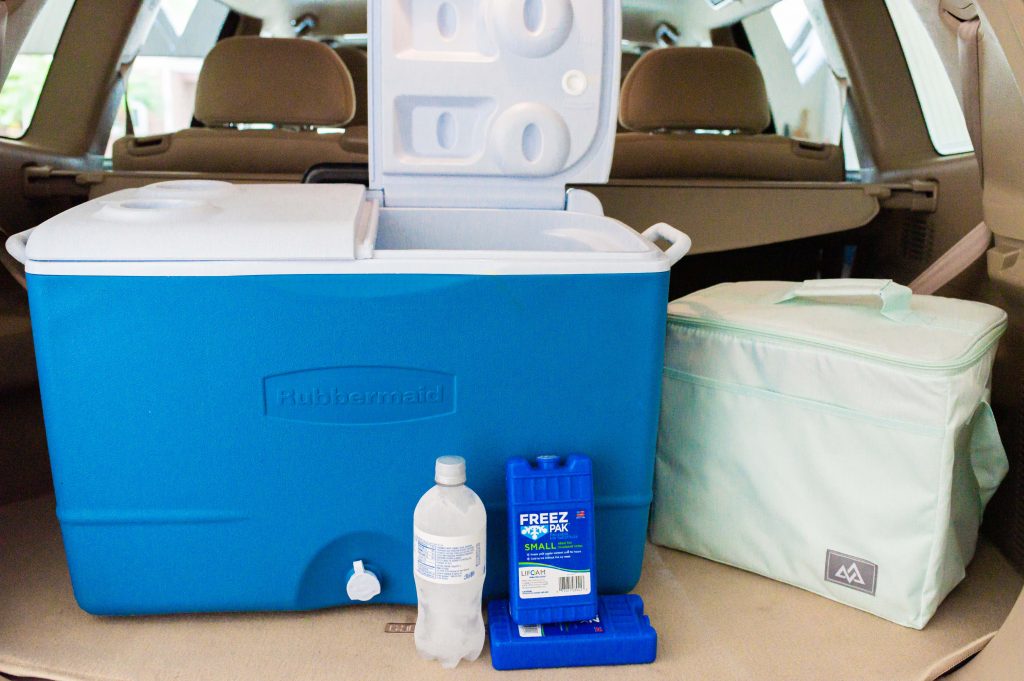 But where do you start planning for a healthy road trip?
First, ask yourself this-
1. What types of food does my family enjoy eating?
Because we all know this isn't the time to start your health food kick or experiment with snack ideas that have not been pre-approved by the picky husband or kiddos!
You want to ENCOURAGE yourself and your family to actually eat the foods you've already pre-purchased! You don't want to tempt yourself to swing through that Panda Express when your homemade hummus is a dud or worse…go Hulk-mode HANGRY in a small car.
*shudder*
Furthermore, my husband has been living a Ketogenic lifestyle for a few years now and he has great tips for maintaining that lifestyle on the road.
Check out his Keto Road Trip Snacks blog post to get ideas for low carb foods!
Next, let's get practical-
2. Do you own a cooler?
Coolers are a road trippers best friend! You can keep healthy meals and yummy snacks an arm's reach away at all times. If you don't have a cooler, here are some great options that I would suggest:
It's of great benefit to you to choose a cooler that has wheels and a handle! It saves you so much effort lugging that sucker from your car to your accommodations every evening and morning.
TIP: If you are heading into bear country, you are required by law to have a bear proof cooler when carrying food in your vehicle and/or tent.
3. Do you own reusable ice packs?
Reusable ice packs are very convenient. Unlike ice, they don't melt and weigh your cooler down.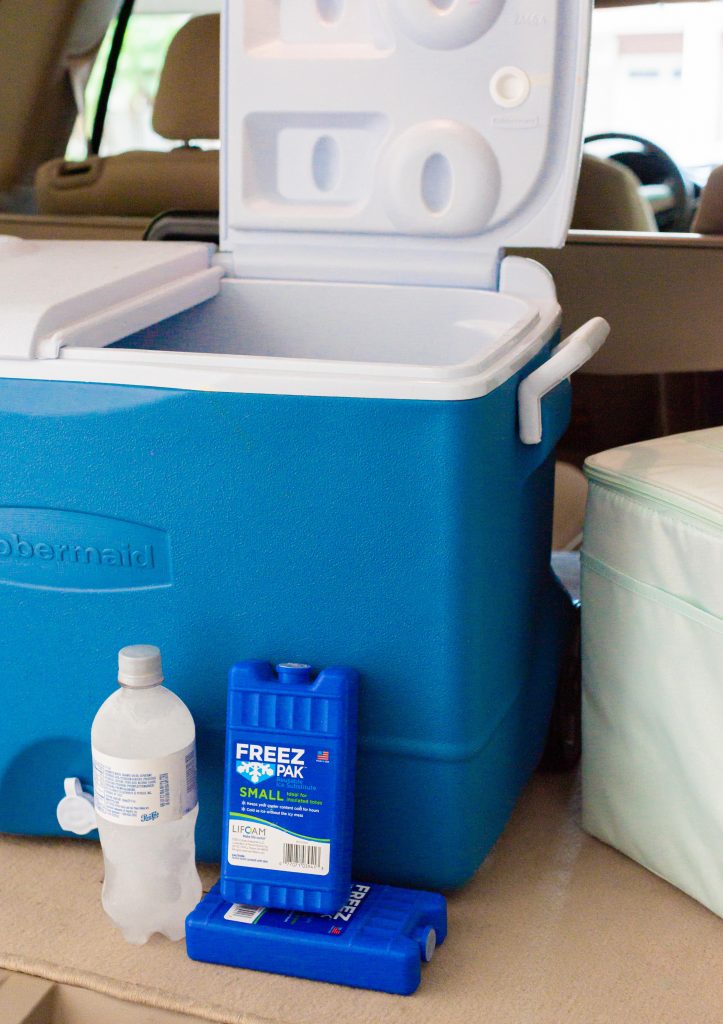 HOWEVER…if you wanna be stealthy (and cheap), here's a cool trick! Before your road trip, save up any plastic water or soda bottles that you've been drinking. Fill them with water and freeze in your freezer before you pack your cooler! Just pop those suckers in the freezer of your hotel room or AirBNB and you're good to go the next day.
Also, you can use ice from the machines of your hotel. Or buy bags of ice along your route which is fairly inexpensive and easy to find. In addition, you could bring reusable bags and fill them up at soda/ice machines at gas stations!
TIP: Keep a separate resealable bag full of ice for drinking if you don't like to drink out of bottles/cans!
If you don't have any reusable ice packs, here are some great ones I would suggest:
Then, the planning begins!
*cue happy music*
No? Just me?… Anyway…
4. Be sure to write a grocery list before you go to the store!
Make yourself three columns, one side that lists the foods that will need to be stored in the cooler, or refrigerated items. The other side should list foods that can be kept out in the car in reusable bags or left on the counter at your hotel or AirBNB.
TIP: Use grocery bags for storage of non-refrigerated goods and as trash bags while on the road AND be sure to bring a couple chip clips to keep bags closed and your food fresh!
OH YES, the third column! This might be the most important column only because if you don't buy any of the items on it, you might bring a whole new meaning to eating "paleo", haha! Your third column should be a list of meal necessities such as paper towels, wet wipes, plastic baggies, silverware, etc.
If you want to bring alcohol on your road trip (or if you find some good wine in Napa Valley!), bring some bubble wrap to prevent your bottles from breaking. You can even fit the bottles in your suitcase so they don't roll around on the floorboard of your vehicle.
Keep in mind that any bottled beverage, including wine, may explode in a hot car. Preserve your wine or beer by keeping it inside your accommodations when you're traveling.
Finally, let's load up the goods!
5. How do I pack my cooler?
A well-packed cooler is layered!
The bottom of the cooler should consist of a few reusable ice packs or your frozen bottles. The next layer should be any heavy items such as bottled or canned beverages.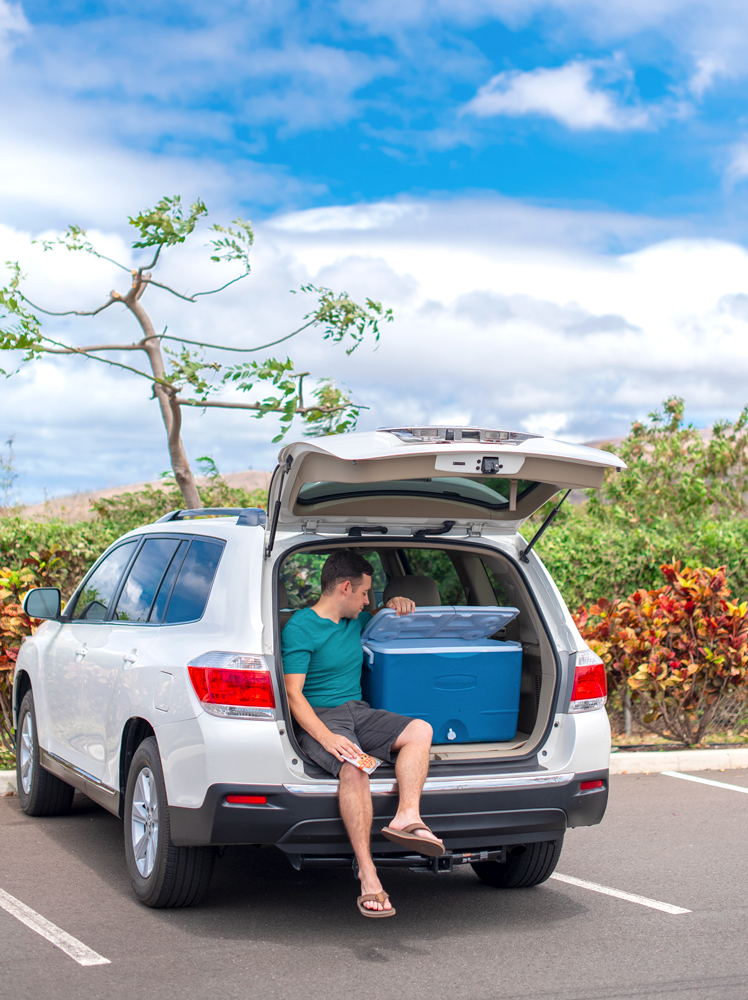 The middle layers are for items you may use often that day. We keep our deli meat, cheeses, and condiments in this layer. We also usually add ice or a reusable ice pack to this layer.
Keep your delicate items at the top of the cooler. Fruits, veggies, and hummus usually go on top for me! Brian likes to try local chocolate shops along our road trip route and he keeps his dark chocolate stash in a plastic bag on top too.
TIP: Leave a little room in the top of your cooler! When you know you're going to be out of the car for hours at a time at a location, pop your loaf of bread or chocolate granola bars in the top layer of your cooler. This will prevent your food from melting or spoiling if your car gets a little too warm.
---
Want my FREE complete printable cooler packing checklist for a road trip?
Click Here!
---
You are now equipped with the best tools for a healthy road trip this summer. Embark on your next adventure with confidence knowing you have this cooler packing thing down…like a BOSS!
If you enjoyed this read, please share!
Have any thoughts or questions about packing your cooler? Let me know in the comments below!