While Brian and I lived in San Antonio, we spent at least one weekend a month in Fredericksburg. No matter the time of year, there is always something special going on in that little town.
What I loved most about this hill country gem is that you can spend hours walking Main Street and still not see everything!
There are little treasures for everyone to enjoy regardless if you are a shopper, a partier, a foodie, or outdoorsy- Fredericksburg delivers on all fronts!
Disclaimer: This post is in no way sponsored, we paid for all the activities mentioned and all opinions are our own. This page may contain affiliate links, which means I may earn a commission (at no extra charge to you) if you make a purchase after clicking my link. Thank you for being a loyal reader!

A little history:
Founded in 1846, Fredericksburg is heavily influenced by German culture. Throughout history, the city has been a hub of industrial growth. There have been (and still are) metal and cement factories, as well as granite quarries.
Although Fredericksburg boasts nearly 11,000 residents, the town still feels quaint because they actively promote and maintain the historical trademarks that formed the city.
How to Get There:
Fredericksburg makes up the "third corner of the triangle" that includes San Antonio and Austin. From San Antonio, it's about a 90 minute drive north and from Austin it's about a 90 minute drive west.
If you're traveling from Houston or Dallas, you're looking at more of a four hour drive, but it's worth the trek! Especially, if you make it a full weekend itinerary for you and your friends or family!
1. Show your pup some love with a treat from Dogologie.
It's always a little tough to leave our sweet pup at home for hours while we are gone exploring. So, it makes me feel a little less guilty when I bring him home something special! Located on Main Street, Dogologie has an amazing selection of custom made canine apparel, collars, toys, treats, and lots more!
They also cater to us pet parents with adorable home decor and dog lover paraphernalia. What I think really puts this shop over the top is their Dog Pause. Located inside their storefront is something akin to a doggie day care. If you need to give your pet a break, they offer a clean crate, fresh water, and a place to store your dog's accessories.
You can even rent a stroller or carrier for your dog to use while you're out and about in Fredericksburg! Don't forget to ask them for their list of dog-friendly wineries and restaurants in the area!
2. Try the fried ravioli at Pasta Bella.
Located on Llano Street, right off of Main Street, is a charming Italian restaurant. We eat at Pasta Bella EVERY TIME we visit Fredericksburg! It's the casual, cozy atmosphere that draws us in and makes us feel like we could be in a little cafe in Italy.
Every dish we've tried at Pasta Bella is delicious, but what really blows my dress up is the fried ravioli. It's perfect every time! It also pairs well with their selection of hill country wines. On Saturdays, the fried ravioli is their lunch special! You're welcome!
In addition to being delicious, the restaurant offers low-carb and gluten free options for you to indulge in! The triple layer chocolate mousse cake isn't something to pass up, either. Wink-wink.
3. Do the Hauptstrasse Chicken Dance at Oktoberfest.
The hill country loves their festivals, carnivals, and rodeos! Oktoberfest is no exception and is one of the grandest of them all. The festival is held in downtown Fredericksburg in the Marketplatz.
In 2021, the dates for Oktoberfest are October 1st (Friday) through the 3rd (Sunday). The Chicken Dance will be held Saturday at 9:00 AM. Don't forget to register early!
If dancing with chickens isn't your thing, Oktoberfest has plenty more to offer. Additional entertainment includes a Kraut Run, Oktubafest, and a 42 tournament. There is also a TON of German, Cajun, and southern style food. Not to mention, dozens of domestic and craft beers on tap.
Enjoy your time meandering through the booths at Oktoberfest with tasty grub in your belly.
4. Watch for deer from your porch at The Little Rock House Hideaway.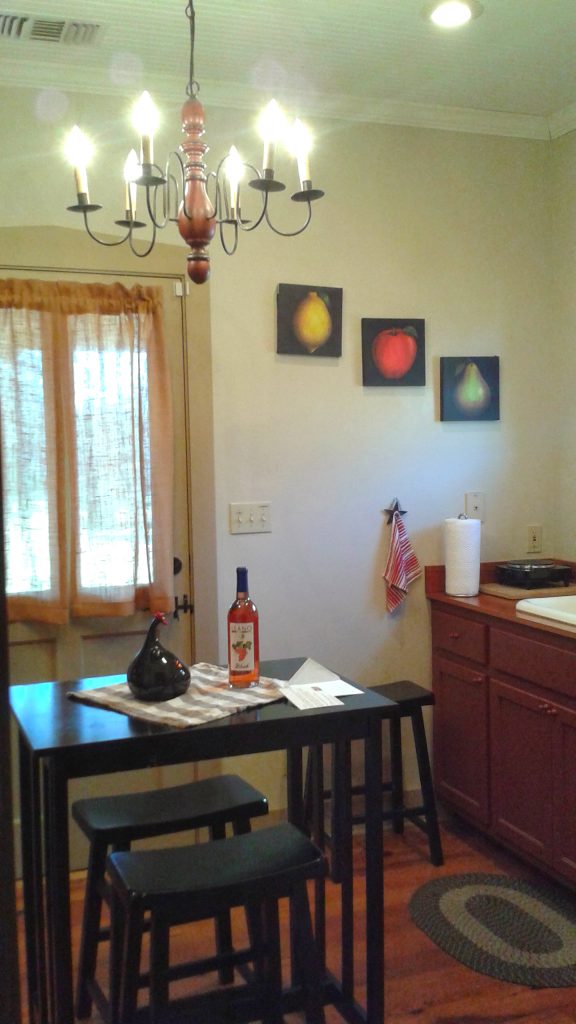 Nestled in a little valley just outside of Fredericksburg, the Little Rock House Hideaway makes for a perfect location to stay while exploring the town. The main Rock House Hideaway is the largest of the two buildings that you can stay at on the 20 acres.
However, since it was just the two of us, we stayed at the adjacent "little" rock house hideaway. The rustic charm of the guest house was unbeatable. We enjoyed lazy evenings on the porch sipping complimentary wine, soaking in the claw foot tub, and sleeping in late in the comfy king bed. We enjoyed the relaxed atmosphere in our secluded, romantic cottage.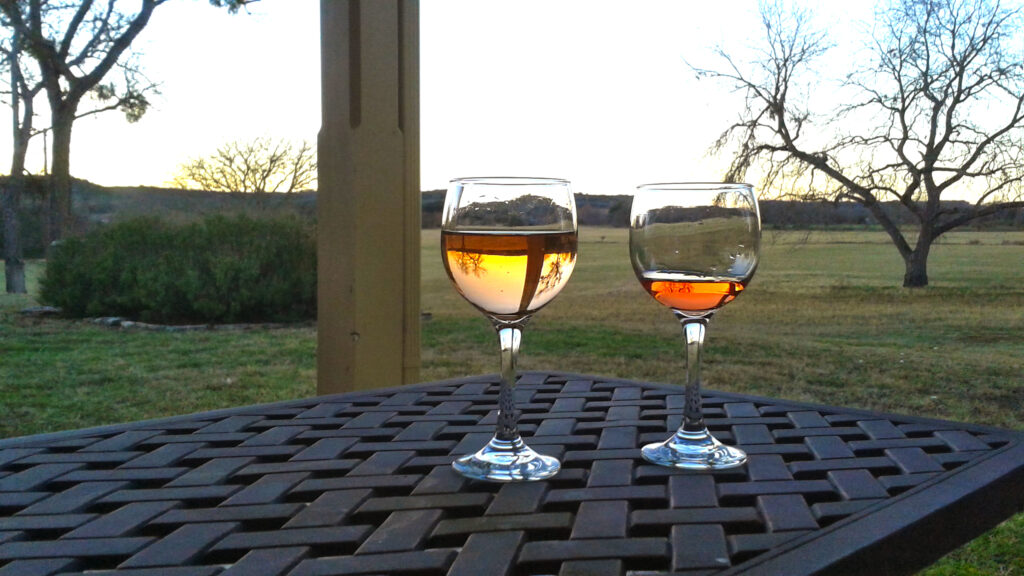 5. Eat way too many wine-filled chocolates at Quintessential Chocolates.
My absolute FAVORITE place to stop in Fredericksburg is this fabulous chocolate shop. They have the most creative and delicious chocolates I've ever had. One of my dear friends even tried to ship me some wine filled chocolates all the way to Hawaii! But, alas, they did not survive the journey! -sobs quietly into pillow-
Quintessential Chocolates is most well known for their liquid center chocolates. They offer bourbon, tequila, wine, and even espresso filled chocolates. My other favorites also include the sea salt topped chocolate covered caramels and the Mayan red chili pepper chocolates.
You really can't go wrong with anything you try here! We may or may not be guilty of spending way too much money on chocolates for our friends and family (and ourselves, teehee) every time we pass through on our way for a visit.
6. Go ice skating at the Kinderhalle Pavilion at Marketplatz.
Called Eisbahn, this family fun event has been held annually since 2008. It is only through the volunteer effort from the families at Heritage School that this holiday tradition continues successfully.
After enjoying a day of ice skating, be sure to stick around after dark when the entire Marketplatz is aglow with dozens of colorful lights. Honestly, you can make an evening out of just walking around checking out the Christmas lights.
There are also themed setups such as Santa's Toy Train and a gingerbread family that you can take pictures with. A visit here makes Christmas time that much more magical!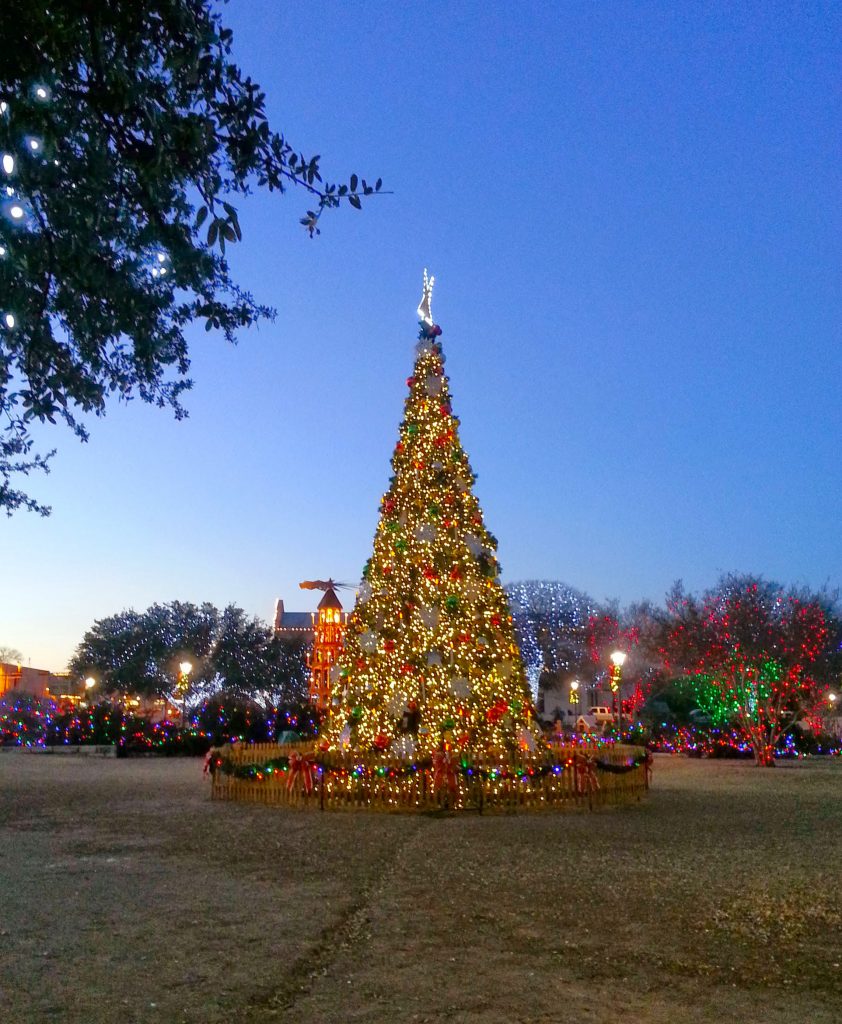 7. Buy some antiques at Fredericksburg Trade Days.
Fredericksburg Trade Days is located just outside the city, right next to Wildseed Farms. The trade days operate every third weekend of each month. Hundreds of vendors, including antique shopping, food, and live music, fill the rustic barns and acreage.
You could spend all day hunting for that perfect piece and enjoying tasty eats and entertainment! Be sure to get there early before the best deals are cleaned out!
8. Sample goodies at Rustlin' Rob's Texas Gourmet Foods.
If you're walking Main Street and you get in the mood for munchies but you're not ready for a full meal yet, make a little stop at Rustlin' Rob's! The store is a food haven filled with amazing butters, jams, salsas, dips, and fudge!
Rustlin' Rob's has truly intriguing and unusual flavor combos, as well. Flavors that you previously wouldn't have considered have now got you drooling as you try each concoction.
Be careful, though. Because, once you taste the samples you're going to want to buy everything in this shop!
9. Tour Lyndon B. Johnson's home at the LBJ National Historical Park.
The 36th president of the United States was born and died in the Hill Country of Texas. You can visit the LBJ Ranch any day of the week from 9:00AM to 5:30PM. All you need is a permit; which is free!
Among other stops, you will enjoy a self guided tour of his acreage, the Texas White House, and his automobile collection. We really enjoyed spotting the bison and his herd of cattle that he used to breed for the ranch.
NOTE: The National Park Service has temporarily closed the Texas White House and the adjacent Pool House until further notice due to health and safety concerns arising from structural issues.
10. Hike Enchanted Rock.
Looking for something challenging with incredible views? You should definitely check out Enchanted Rock State Natural Area which is located just 20 minutes north of Fredericksburg. The important thing to keep in mind about this amazing park is that it fills up extremely quickly.
A good plan is to make this an all day adventure or at least show up when they open the park at 6:30 AM. On the weekends the parking lot is all but guaranteed to be at maximum capacity by 9 AM.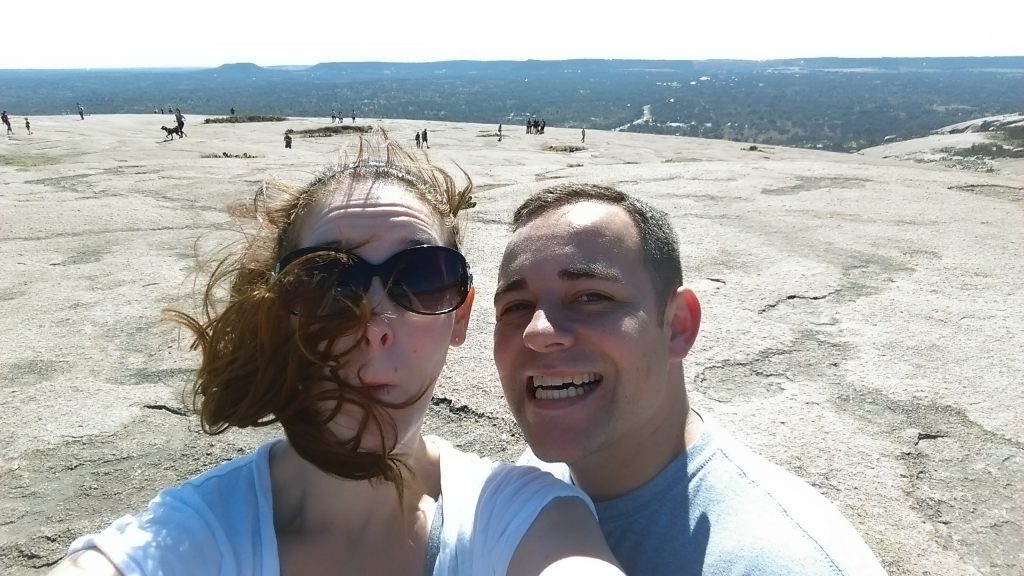 Enchanted Rock is not for the faint of heart. It's a steep climb with little to no traction, so be sure to wear grippy shoes! Also, it can get very windy at the top; hold onto your hats and sunglasses!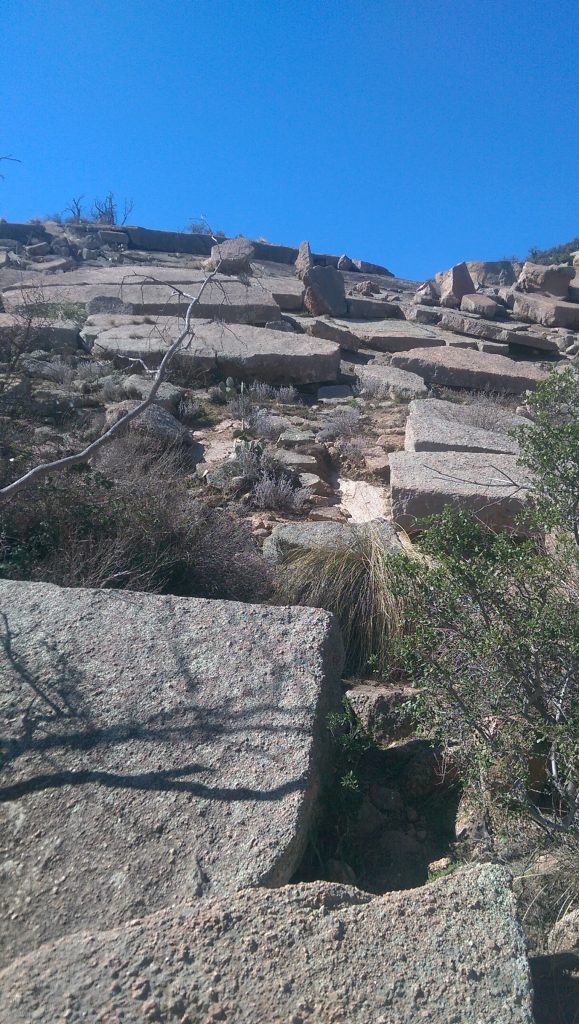 Although hiking the dome is obviously the highlight of the park, there are also other great trails that showcase lakes and canyons along the outskirts of Enchanted Rock.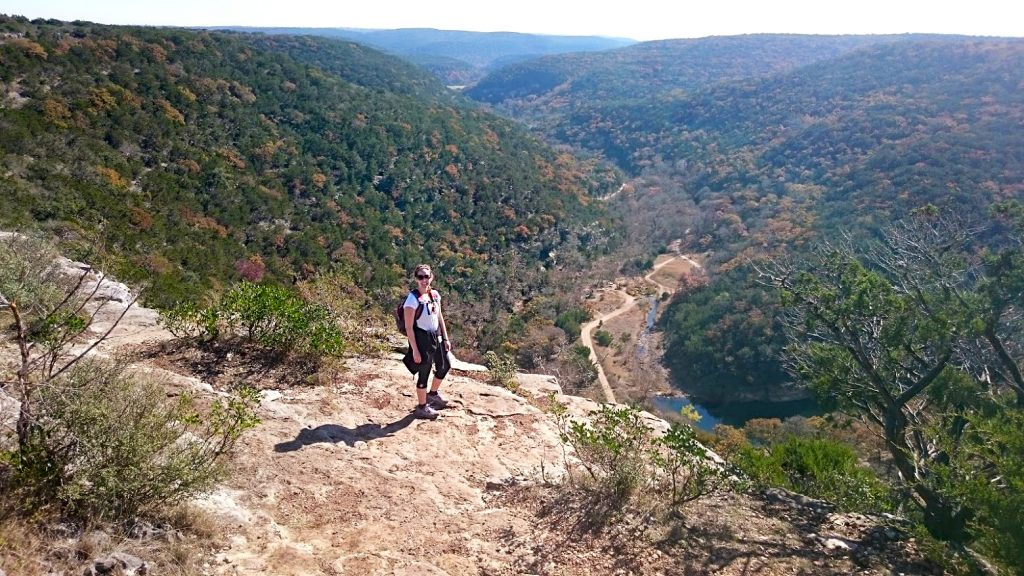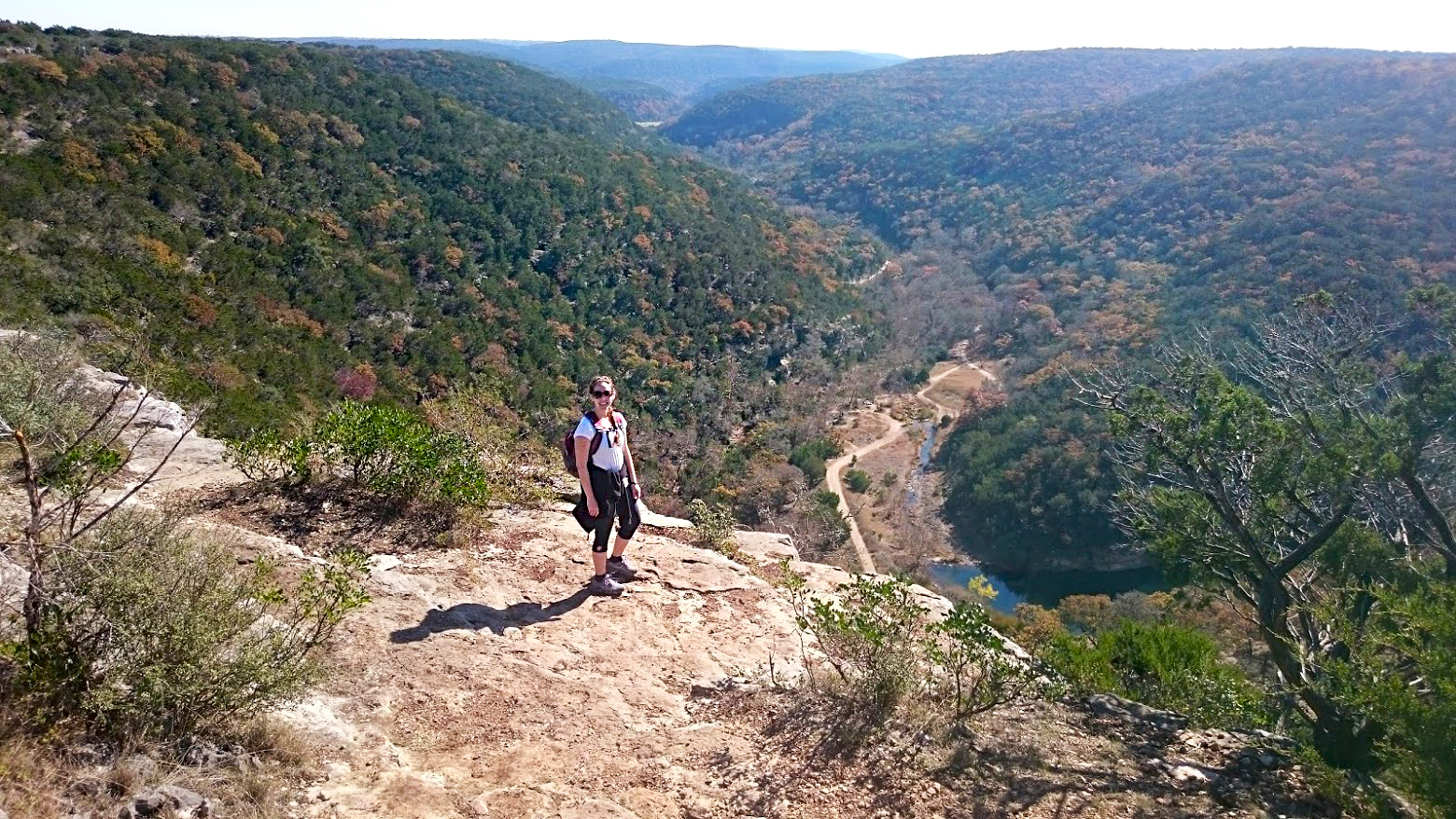 11. Eat a Burger at Hondo's on Main.
If you are looking for southern cooking with a Texas-style exterior, then look no further than Hondo's! This gem offers indoor or outdoor seating with live music almost every night.
Hondo's is as laid back as it gets. You order inside at the bar, seat yourself, and pick up your food at the kitchen window. Everything is self serve and EVERYTHING is delicious!
I almost always order a burger when I visit this iconic Fredericksburg restaurant. The toppings are fresh, creative, and hearty. I also would do back flips for their house made Parmesan potato chips. GOLD.
This beauty I ordered below is the Poblano Green Chili burger, which I devoured in its entirety in about 4.5 minutes.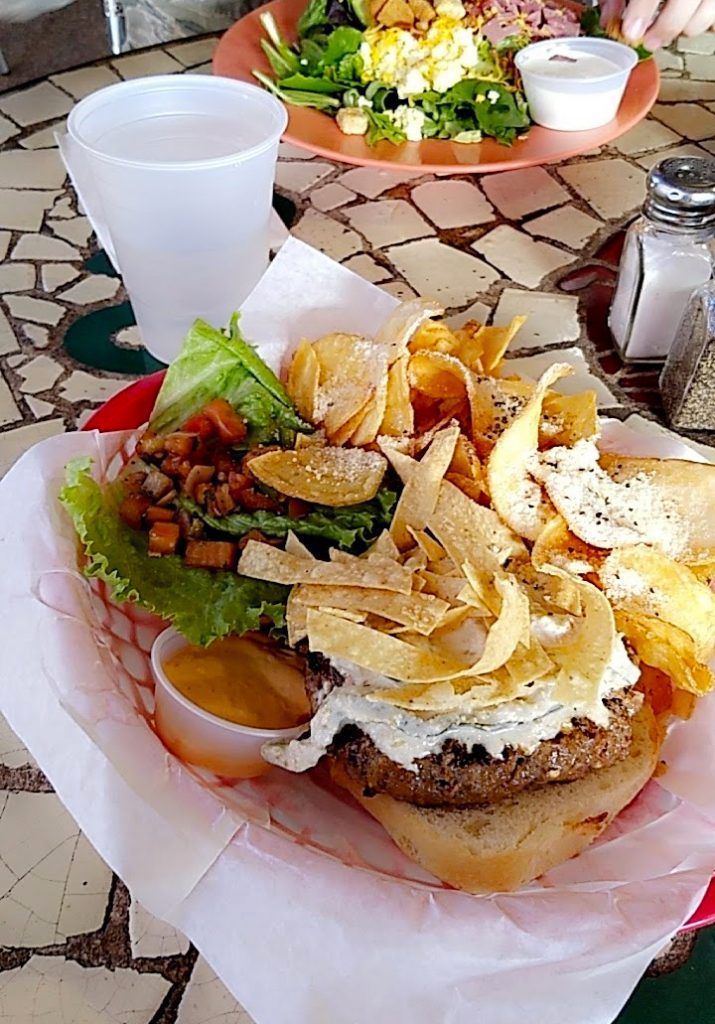 12. Explore Das Peach Haus.
Although the name would suggest that the primary focus of this great little shop is produce, however that is not so. They do indeed sell peaches and other peach inspired treats, but Das Peach Haus is geared more toward the culinary experience.
In addition to a cooking school and tasting room, Das Peach House has an assortment of pasta sauces, condiments, and preserves. The also offer cook books and gift baskets for purchase in the storefront!
Another exciting part of Das Peach House is the orchard and lake front venue. You can schedule with the business to have your engagement photographs taken on their pristine property, or you can go one step further and book your wedding there!
13. See the wildflowers bloom at Wildseed Farms.
Fields of wildflowers bloom at Wildseed Farms from March through October. However, the farm is open to the public year round from 9:30 AM to 6:00 PM.
You can spend a full day at Wildseed exploring their walking trails, gardens, pottery, and tasting room.
That's right! A tasting room! They currently have nearly 50 acres dedicated to their newest undertaking; a vineyard. Who wouldn't want to enjoy a glass of wine while they stroll through trails to view wildflowers?
Be sure to not miss out on the Wildseed Fall Festival this year on September 28th!
14. Enjoy a Wine Tasting at the Fat Ass Ranch & Winery.
Touring a vineyard and indulging in a wine tasting should definitely be on your to-do list when visiting the Texas Hill Country. There are an abundance of options but a fun, casual choice is Fat Ass Ranch and Winery.
What makes this winery special is its friendly atmosphere. You're treated like family when you're at the Fat Ass Ranch! Enjoy a relaxing afternoon on their patio, sipping seasonal wines. You even get to take home a complimentary Fat Ass glass with the purchase of a tasting.
15. Check out the Vereins Kirche Museum.
The Vereins Kirche Museum was once the first and only public building of Frederickburg. Located smack in the middle of Marketplatz, it's a great place to escape the heat in the summer and brush up on the town's past.
This building served as the community schoolhouse, town hall, and a church. It also was originally the location of the Pioneer Museum.
The museum offers full scale models of Fredericksburg from the early years of settlement as well as historical artifacts that were used by townspeople. It provides a powerful reminder of the rich history of the Texas Hill Country. Be sure to check it out Monday through Saturday from 10:00AM to 5:00PM.
Have any questions about things to do in Fredericksburg? Ask below in the comments!
If you enjoyed this read, please share!