A weekend getaway to the San Juan Islands is short and sweet when traveling from Seattle, Washington. There are many roadside pit stops, water and hiking activities, whale watching, and sightseeing!
About San Juan Island
Off the coast of Washington state is an island only accessible by ferry called San Juan Island. It is 1 of 172 islands that make up the San Juan Archipelago Islands.
Including Orcas Island, Lopez Island, and Shaw Island, San Juan Island is one of the most popular destinations. San Juan Island is the second largest in the island chain and is the most populated.
For example, most folks visit the island chain for world class whale watching. I mean…that's why I was there! We traveled in mid to late July for optimum opportunities to see Humpback and Orca Whales in their natural habitat.
Above is an excerpt from our west coast road trip itinerary, but you can easily make this an action-packed weekend getaway from Seattle, Washington.
If this is your first road trip, don't miss out on our related blog post 5 Steps to Plan Your Next Road Trip to help you plan your weekend getaway!
Example Itinerary Overview:
Friday: Seattle —> Whidbey Island
Saturday: Anacortes Ferry Terminal —> San Juan Island
Sunday: Whale Watching Charter
Disclaimer: This post is in no way sponsored, we paid for all the activities mentioned and all opinions are our own. This page may contain affiliate links, which means I may earn a commission (at no extra charge to you) if you make a purchase after clicking my link. Thank you for being a loyal reader!
Weekend Getaway Day 1
Firstly, we left Seattle in mid to late morning to enjoy a relaxing drive to our lodge on Whidbey Island. We stayed at the Whidbey Island Navy Lodge. Of course, it won't win any awards for most luxurious accommodations. However, if you have a military ID, it helps save a couple bucks! Most importantly, the hotel provides free wi-fi and complimentary breakfast.
Pasek Cellars Tasting Room & Gift Shop
After about an hour on the road, we stopped at a random chevron gas station in Conway, WA. This decision proved to be one of our best pit stops! The cutest little shop was right next to the gas station. Pasek Cellars Tasting Room & Gift Shop was full of surprises!
UPDATE 2020: According to their website, Pasek Cellars only has two locations now. Addresses are:  2615 Old Highway 99 South, Mount Vernon, WA 98273 (this location is still along the route) and Broken Barrel Mercantile at 220 9th St Suite c, Leavenworth, WA 98826.
Pretty unassuming on the outside, they are most well known for their well…wine, obviously. Their best seller is the cranberry wine, but they specialize in other dessert wines such as blackberry, raspberry, and loganberry.
Adjacent to the "Skagit Barn", the shop has an assortment of local items and wine related gifts. But, what really caught my eye was the homemade ice cream at Cascade Glacier Ice Cream!
I like to call myself an "ice cream connoisseur" and this was some of the BEST ice cream I've ever had! It was fresh, it was creamy, and it was HUGE! No lie, I ate the entire thing. No shame in my game. I tried scoops of homemade blackberry and cookies & cream. To sum it up, I would definitely recommend stopping and sampling some of the tasty treats at this shop.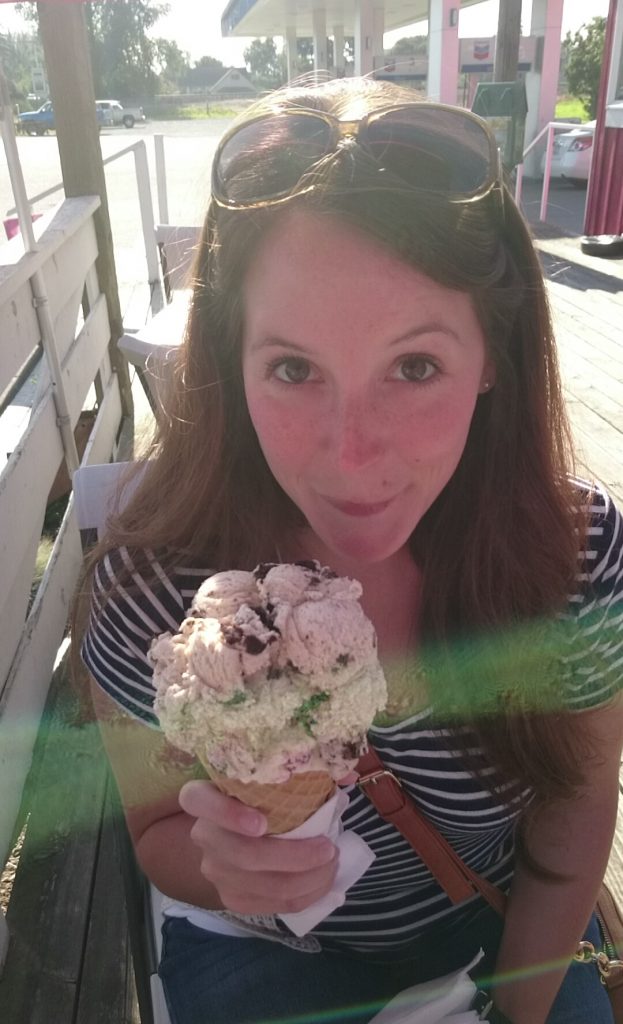 Meanwhile, we hopped back on the road again. After another 30 minutes or so of driving, we finally reached our main attraction for the day.
Deception Pass State Park
I highly suggest driving both directions across the Deception Pass Bridge to soak in views from each perspective. The bridge connects Fidalgo Island and Whidbey Island. The bridge has two sections; a 511 foot structure from Fidalgo to Pass Island and a 975 foot structure from Pass Island to Whidbey Island.
If you want to stop and walk along the bridge, you can park at Deception Pass Bridge Scenic Vista. Parking is $10 a day or free with a Discover Pass.
However, if you have a few hours or a full day, take time to explore Deception Pass State Park. Park hours are 6:30 a.m. to dusk in the Summer and 8 a.m. to dusk in the Winter. You can get amazing views of the sunrise from the beaches below.
Camping, boating, mountain biking, crabbing, fishing, swimming, and kayaking are favored activities at Washington's most popular state park.
NOTE: Beginning in the spring of 2019, the bridge will undergo a 2 year restore and repair project. Visitors should expect limited parking and increased traffic.
Good Eats
Wrapping up our first day, we drove the remaining 20 minutes to check into our room at the Navy Lodge. After that, we went on the hunt for some good eats. Maybe we just like to test our luck. But, we chose a Mexican restaurant. Of course, it was no Tex-Mex, but it was surprisingly tasty!
El Cazador Mexican Grill and Cantina hit the spot! Brian enjoyed the Carne Asada burrito and I had the Enchilada Trio. The portions were large and the flavors were fresh!
Weekend Getaway Day 2
Anacortes
To get an early start, we took the first available ferry the next morning from Anacortes to Friday Harbor on San Juan Island. Our sailing time was around 6:30 AM. It is highly recommended that you book your tickets on the ferry ahead of time.
You can make reservations online as early as two months prior to your departure or as late as two days. On the other hand, standby space is is often available, but priority is given to emergency vehicles. Be sure to bring your reservation confirmation number to check in at the toll booth!
Note: If you are walking onto the ferry or bicycling, you do not require a reservation. Reservations are for vehicles only.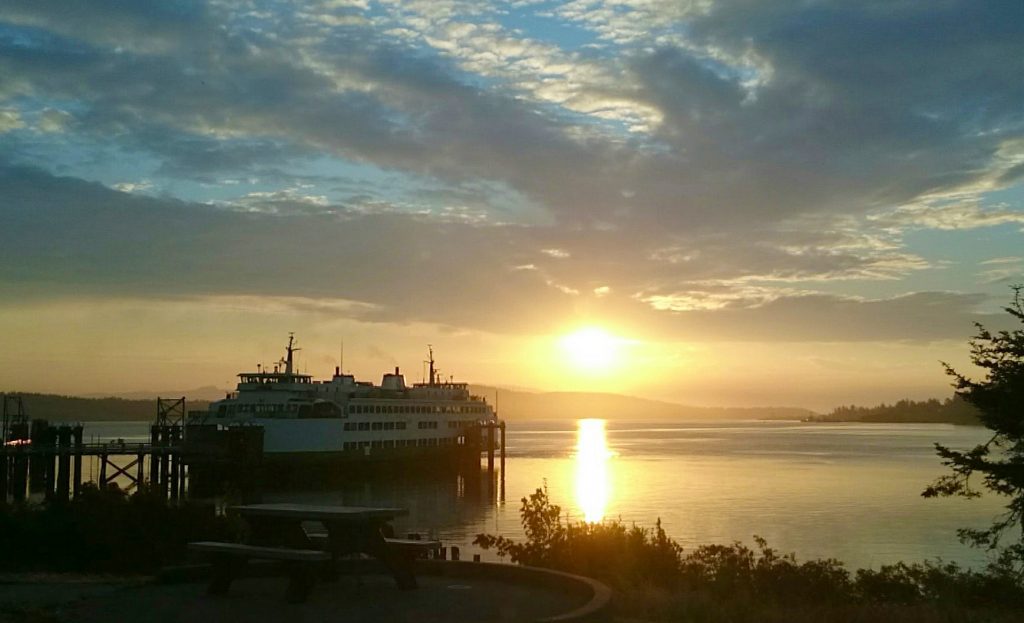 It cost us $81 dollars for our vehicle and the two of us to travel round trip on the Anacortes Ferry. Drivers are encouraged to arrive at least 45-60 minutes prior to their reserved sailing time. Likewise, vehicles must be ticketed and through the toll booth at least 30 minutes prior to reserved sailing for all departures.
The ferry ride was like taking a cruise. Similarly, you could spot wildlife from the deck and the indoor/outdoor seating was spacious. Nonetheless, even in July, it was chilly outside the cabin. We wore our weatherproof jackets and hats while we scanned the horizon for whales from the upper deck.
As I mentioned above, we departed around 6:30 AM and the sailing time is approximately an hour. We arrived in Friday Harbor on San Juan Island at 7:30 AM. Most of the shops and restaurants had not opened for the day when we arrived. So, we drove to Lime Kiln Point State Park to start our day on the island.
Lime Kiln Lighthouse
The drive from Friday Harbor to the state park was a leisurely 20 minute commute. The park's hours are 8:00 AM to dusk, so we got there right when they opened! Parking is $10, however, if you have a Discover Pass you are good to go! I made a bee-line to the lighthouse to read all the latest information on the resident Orca sightings. The location is considered one of the best places in the world to view whales from land.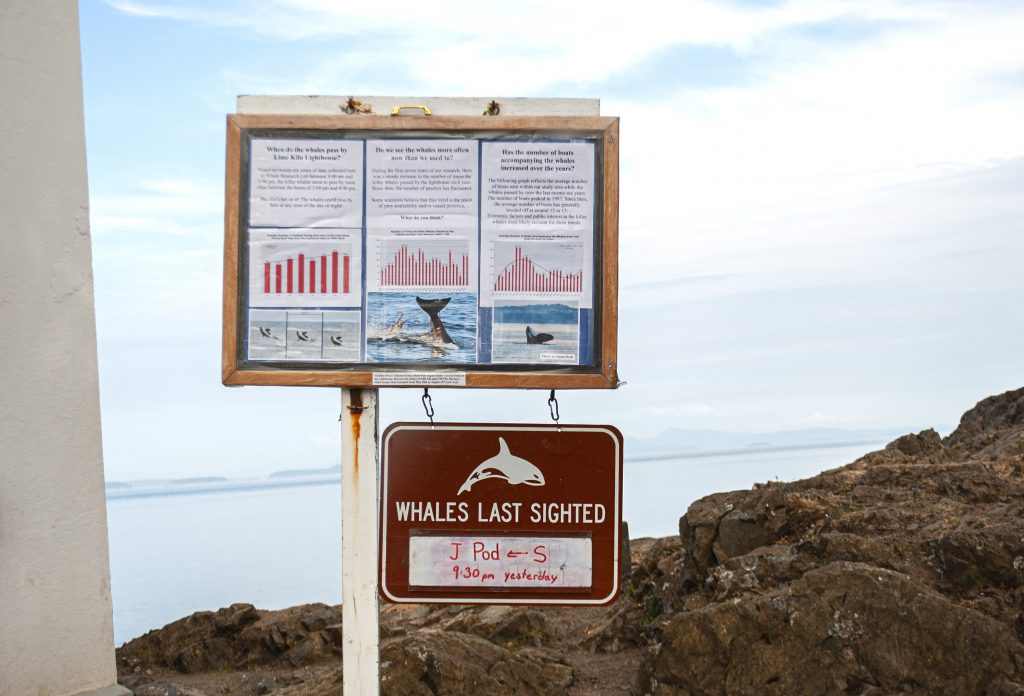 I was ecstatic to discover that the latest sighting was the night before! Typically, the pods will pass the lighthouse once or twice daily. I just KNEW if I sat on the cliffs long enough, we'd see them swim by.
*fingers crossed*
After chatting with the kind folks in the lighthouse and learning a bit more about the resident Orca pods, we also spent some time at the Interpretive Center and Gift Shop. In addition, they offer Lighthouse Tours and Whale Talks from May to September.
NOTE: The Lime Kiln Lighthouse is hosting a Centennial Celebration on June 30, 2019. Learn more here to plan your trip around it!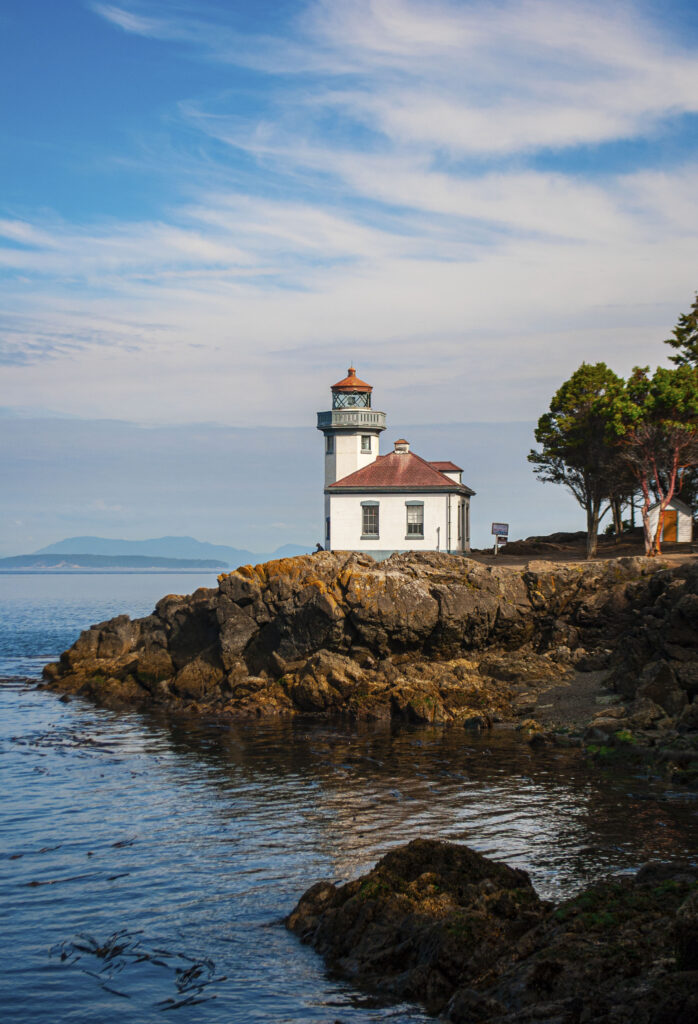 Lime Kiln Point State Park is a popular place to kayak, hike, and dive as well! Consequently, It didn't take long for crowds to accumulate along the cliffs. We also spotted numerous kayakers and sailboats.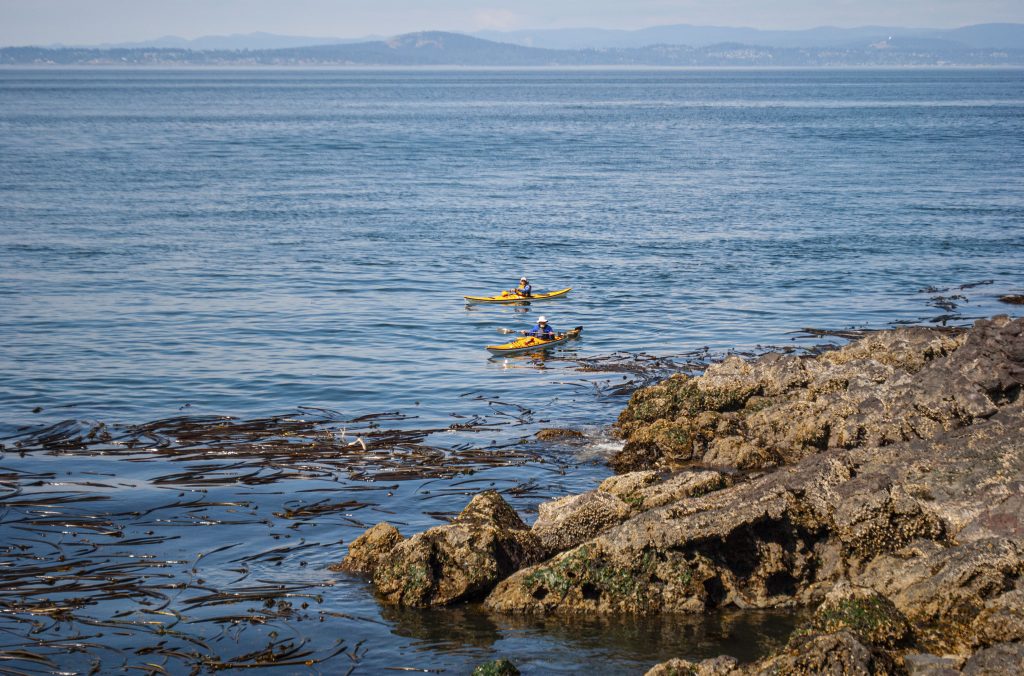 Finally, I nestled down in a comfy spot along the water's edge to look and wait for whales! Meanwhile, I spent time photographing the lighthouse and surrounding areas.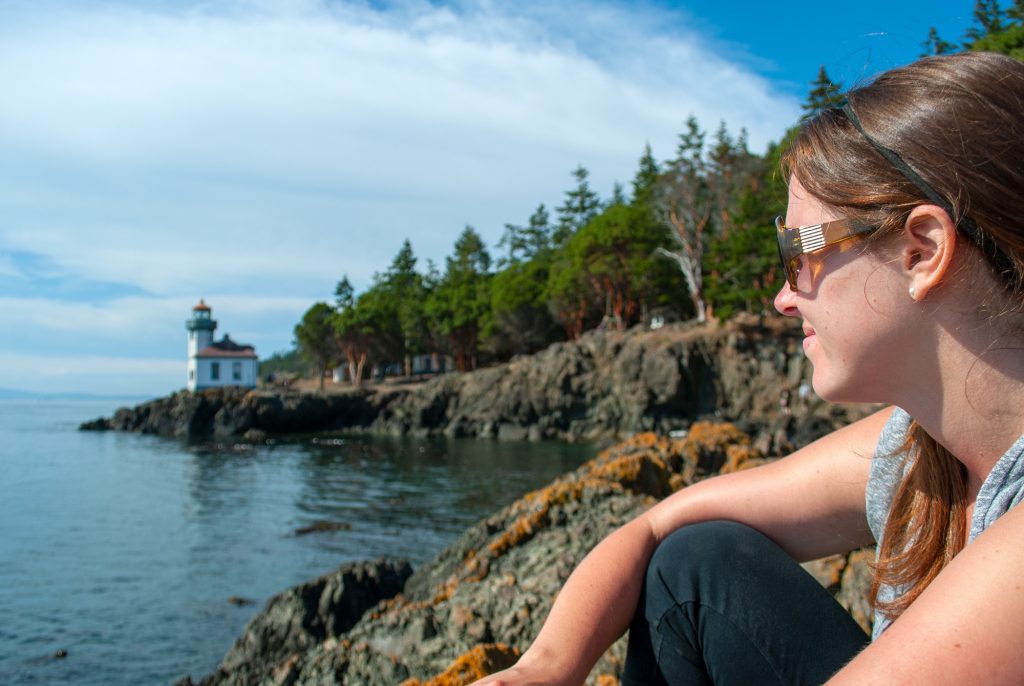 After about f i v e h o u r s of patiently waiting for a peek at these beautiful creatures with no luck, I finally relented. Subsequently, we hopped in our car to check out the Pelindaba Lavender Farm which was only ten minutes down the road.
Pelindaba Lavender Farm
We were pleased to discover their annual San Juan Lavender Festival was in full swing! This year the festival is held on July 20th and 21st from 10 AM to 5 PM. Parking and admission to the festival is free. Their fields are open for you to stroll and take photos at your leisure.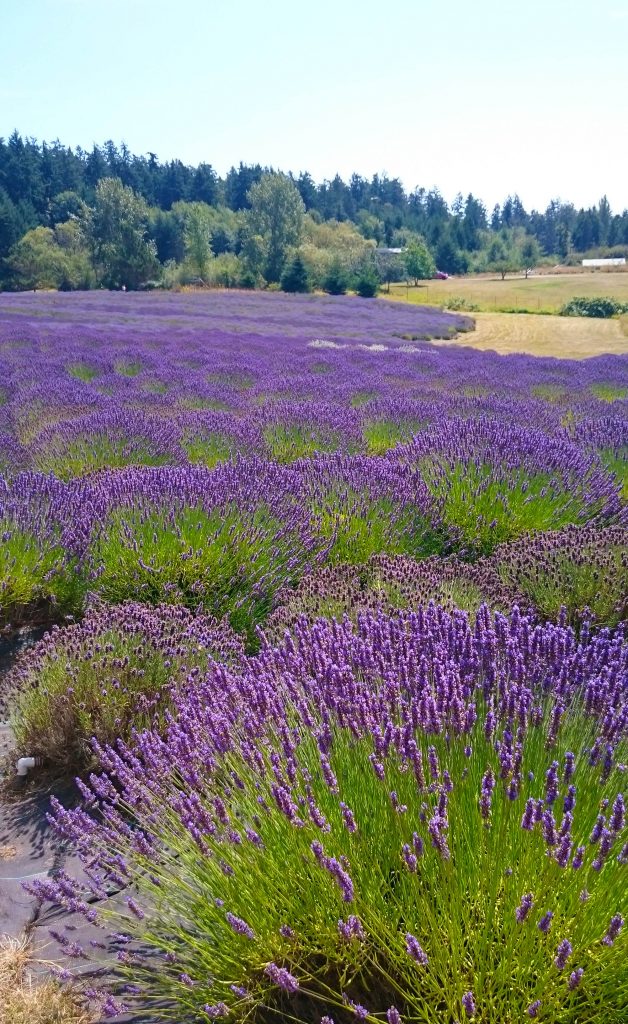 In addition to the self-guided tour of their farm, there are multiple booths selling a variety of intriguing lavender infused treats. We tried it all! Lavender lemonade, lavender tea, lavender cookies, and…MY FAVORITE…lavender ice cream! What a great way to cool off after spending all morning in the hot sun!
They also offer lavender demonstrations and workshops. You can reserve your spot ahead of time to ensure you don't miss out! After buying some goodies at the gift shop, we headed back to our spot by the lighthouse.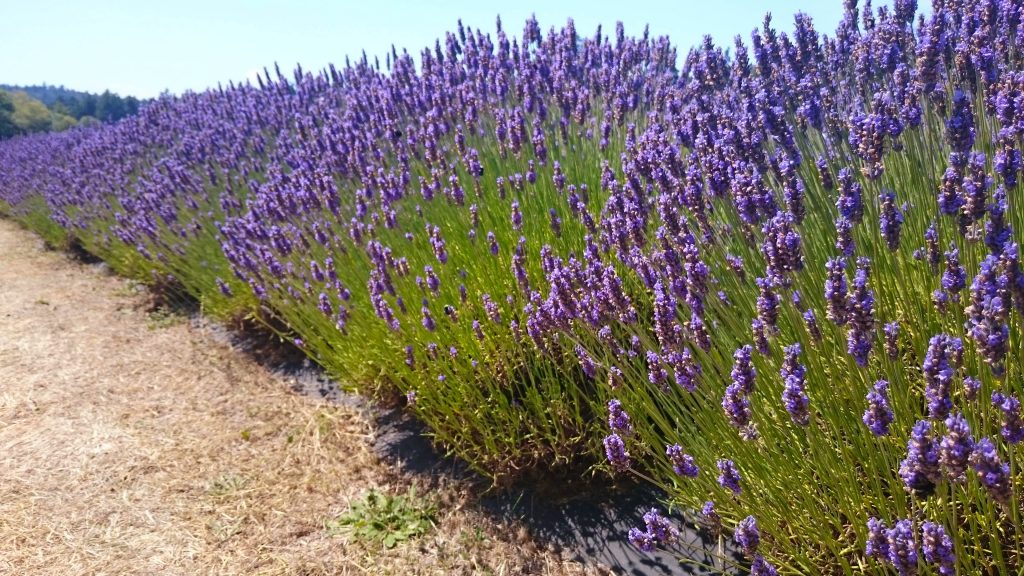 The latest sighting of the pod was still not updated. We spent a few more hours along the shore, hoping we wouldn't leave empty handed. But, alas, time grew closer to our sailing hour. It was time for us to head back to Friday Harbor to board the ferry.
I suppose it goes to show you that even in the middle of prime whale watching season, at one of the best places to view whales from shore, you still might not see any! These lovely animals definitely do not abide by our schedule.
Unlike our departure for San Juan Island, the return trip on the ferry took a little longer. We arrived within the hour of sailing (6:30 PM) and we had to wait a while to board. Consequently, our last remaining time spent at the harbor was in our car in a group of lined vehicles. We arrived safely back in Anacortes a little after 7:30 PM.
San Juan Island Tidbits
I, personally, could have spent multiple days on San Juan Island. In other words, I would have tried my luck at spotting the whales again and explored more of Friday Harbor. If you don't wish to dedicate as much time to whale watching as I did, there are many other fun activities on the island. Friday Harbor offers many shops and restaurants, including the Whale Museum, the San Juan Historical Museum, and the San Juan Islands Museum of Art.
Weekend Getaway Day 3
Our last day on our weekend getaway to Whidbey and San Juan Island was not spent at either island! The day was dedicated to an all day whale watching charter in the channel's waters.
Whale Watching Charter
Even though we had no luck in spotting whales the day before, I was very optimistic for our adventure on the water. We booked a tour with Mystic Sea Charters in Anacortes. However, they have recently gone out of business and were taken over by a new company called Puget Sound Express.
Puget Sound Express specializes in daily whale watching tours and multi-day tours. They sail from Seattle, Port Townsend, and Whidbey Island.
An alternative for an Anacortes departure whale watching charter is Island Adventures Whale Watching. Their tours are 4-5 hours in duration and you can choose a morning or afternoon cruise. The price per person varies depending on the time of year from $99 to $109. Nevertheless, you can save money by booking up to 30 days in advance for your spot on the charter!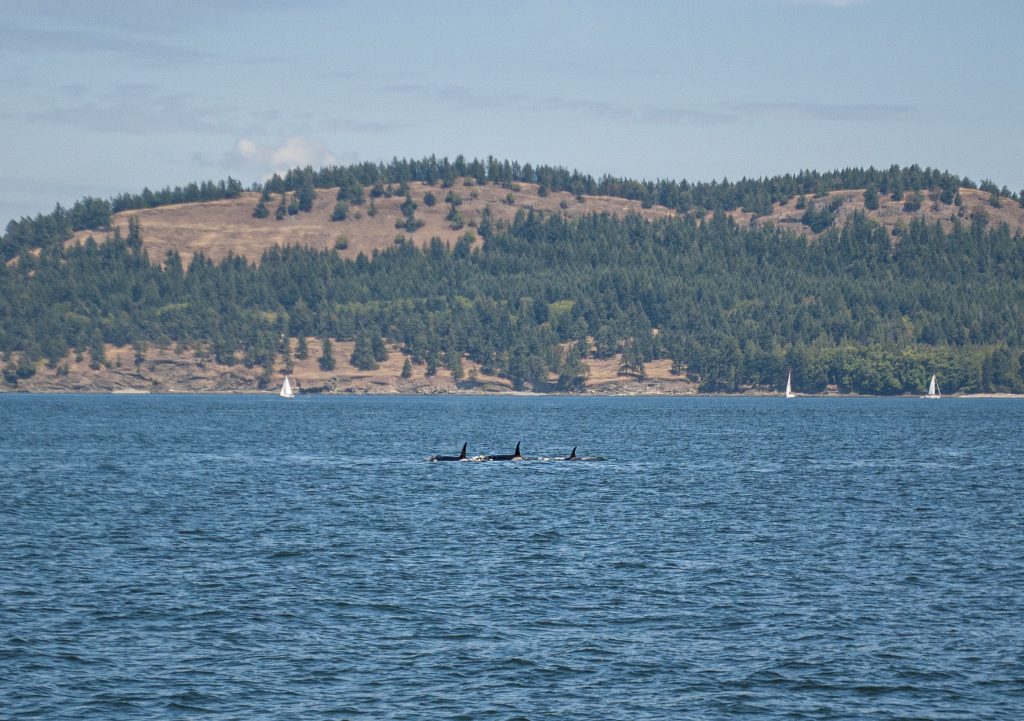 Although the boat was crowded and the whales were traveling (they rarely came out of the water), it was a wonderful experience! The crew was very accommodating and knowledgeable. They even offered pamphlets at each seating area inside the cabin that described the members of the various resident Orca pods.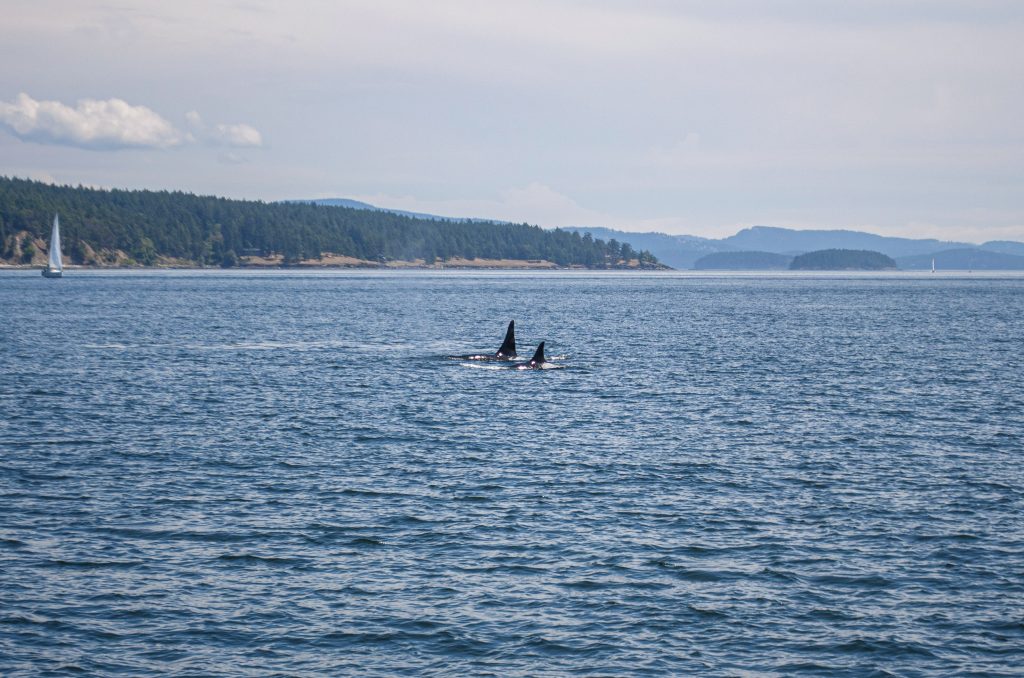 About the Whales
We spotted an adult male of J Pod named "Blackberry". His dorsal fin is measured at 6 feet tall! Blackberry was cruising, potentially chasing a food source, with his family.
The cruise charters are required by law to keep at least 200 yards away from the whale's path. If a pod or group of whales swim towards the vessel, they will shut off the engine and wait until the whales depart. They are not allowed to approach or touch the whales.
Also, we were lucky enough to spot a couple of traveling Humpback Whales. Depending on the time of year, you could also spot Gray Whales and Minke Whales.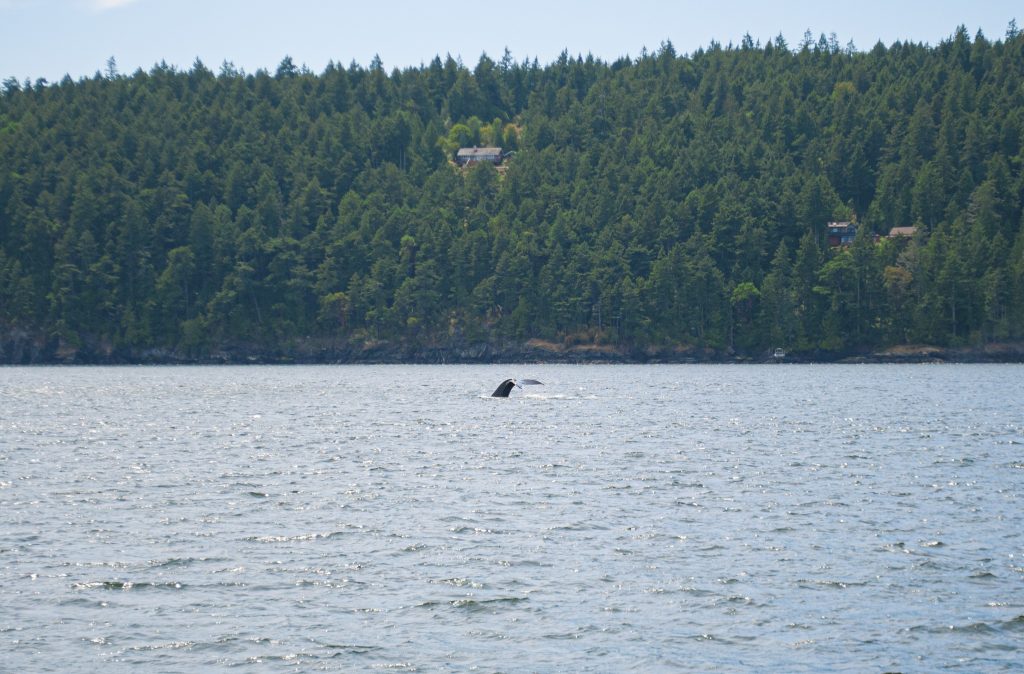 Overall, our experience on the whale watching charter was pleasant and relaxing. I definitely recommend bringing a pair of binoculars for optimum sightings! Also, a camera phone really won't help you to photograph the whales at a distance. If you have a DSLR with a zoom lens, you will get better shots! Similarly, brought along my 70-200 mm and it barely captured the whales at the 200mm setting.
Good Eats
After a long day on the water, we picked up thai food to-go to enjoy from our hotel room. Naung Mai Thai Kitchen was some of the best Thai food I've ever had! 90% of the time I get Pad Thai; it's just too good to pass up! Their version of the famous dish was full of spice and flavor!
Conclusion…
Whether you live in Seattle or are just passing through the state of Washington, Whidbey and San Juan Island should be on your list of adventures! A weekend getaway (or longer!) is just right for exploring the history and natural wildlife in the coastal waters of Whidbey Island and the San Juan Islands.
Have any questions or comments about visiting Whidbey or San Juan Island? Let me know in the comment section below!
If you enjoyed this read, please share!