Additional posts in the Hill Country Day Trips from San Antonio series:
Disclaimer: This post may contain affiliate links, which means I may earn a commission (at no extra charge to you) if you make a purchase after clicking my link.
Day Trip to Canyon Lake, Texas
Canyon Lake is roughly a one hour drive from the center of San Antonio. Depending on the route you take, you'll probably drive through Bulverde or New Braunfels. There might have been a bit of foreshadowing there for future posts…wink wink.
Called "The Jewel" of the Texas Hill Country, Canyon Lake is on the Guadalupe River. The lake has 80 miles of shore line with multiple parks consisting of picnic areas and "beach" access.
Must See & Do in and around Canyon Lake
Canyon Lake
Swimming, boating, kayaking, and fishing are the highlight activities of this lake. You can almost feel as if you're floating in the crystal blue waters of a faraway Caribbean island. The water is pristine! To see the water from a different perspective, check out Canyon Lake Overlook Park for sweeping views of the lake.
Truly, the best thing to do is to simply enjoy the water. An oasis in the middle of the hill country awaits to escape the scorching Texas summer. So, pack a picnic, bring your favorite music, a good book, sunscreen and a few tubes to enjoy your time on the lake!
Food & Drink
Richter's Antler Cafe
Richter's Antler Cafe is located 13 miles from Canyon Lake. Everybody in Texas claims to have the best chicken fried steak. In my humble opinion, Antler's is the best I've ever had. I'm pretty sure I've eaten at least 10 chicken fried steaks from Antler's and they are so consistent!
In addition, their chicken fried chicken is pretty gosh darn delicious. Similarly, you can't go wrong with any of their sides. The helpings are hearty and flavorful!
Chick's Prime Meat Market
This restaurant is a little further down the road from Antler's. Chick's boasts tasty menu items and laid back patio seating with live music on the weekend…BUT, they offer something a little extra. As you probably guessed in the name, Chick's is also a fully operational meat market!
Want to take some meat home? Cool! But, you know what would be better? To choose your cut in the market and then have them cook it to order for you for no extra charge! What??? Yes, they really do that! While it pales in comparison to their meat selection…Chick's has some pretty awesome Tex-Mex, as well as, annual crawfish boils!
Other fun things to do in and around Canyon Lake
Hike the Guadalupe Park Trail. It's a relaxing, moderate hike that keeps you up close and personal with the river. The trail is pet friendly, just remember to keep your pup leashed for the safety of other animals and hikers!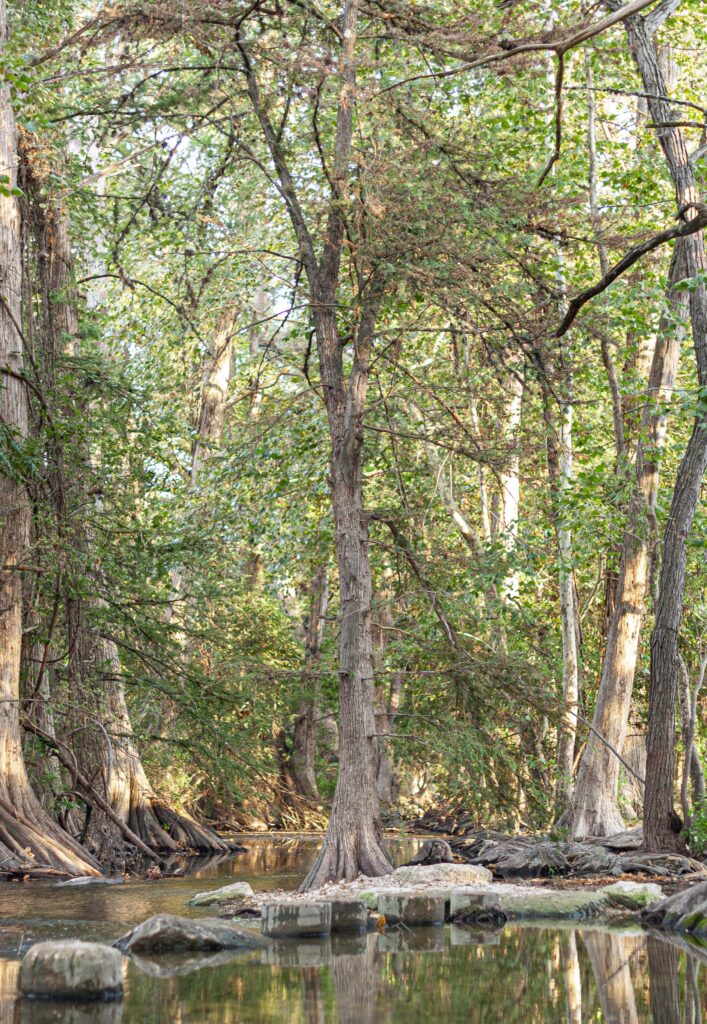 Also, take a Canyon Lake Gorge Tour. The 64 acre gorge is open for tours and showcases incredible rock formations and fossils. There are also waterfalls and springs to be admired! Tours are $10 per person.
TIP: Unfortunately, tours for the Gorge are only for 7 years of age & older!
Drive a bit further west to Guadalupe River State Park. The park is about 25 miles away from Canyon Lake and is worth a visit. You can fish, swim, or tube the river. If you've had your fill of water activities, the park also has excellent hiking trails! It's good to keep in mind that during most good-weather weekends and holidays, the park fills up quickly and will close when it has reached maximum capacity.
Upcoming Events in Canyon Lake 2020:
Dino Day at the Heritage Museum- April 5th
CLNL Fall Shrimpfest- October 17th
For more info on 2020 events in Canyon Lake, click here!
There is more to come in the following week when I reveal the next destination of our Hill Country day trip guide!
Enjoy this read? Please share! Pin for later!