Additional posts in the Hill Country Day Trips from San Antonio series:
Disclaimer: This post may contain affiliate links, which means I may earn a commission (at no extra charge to you) if you make a purchase after clicking my link.
New Braunfels, TX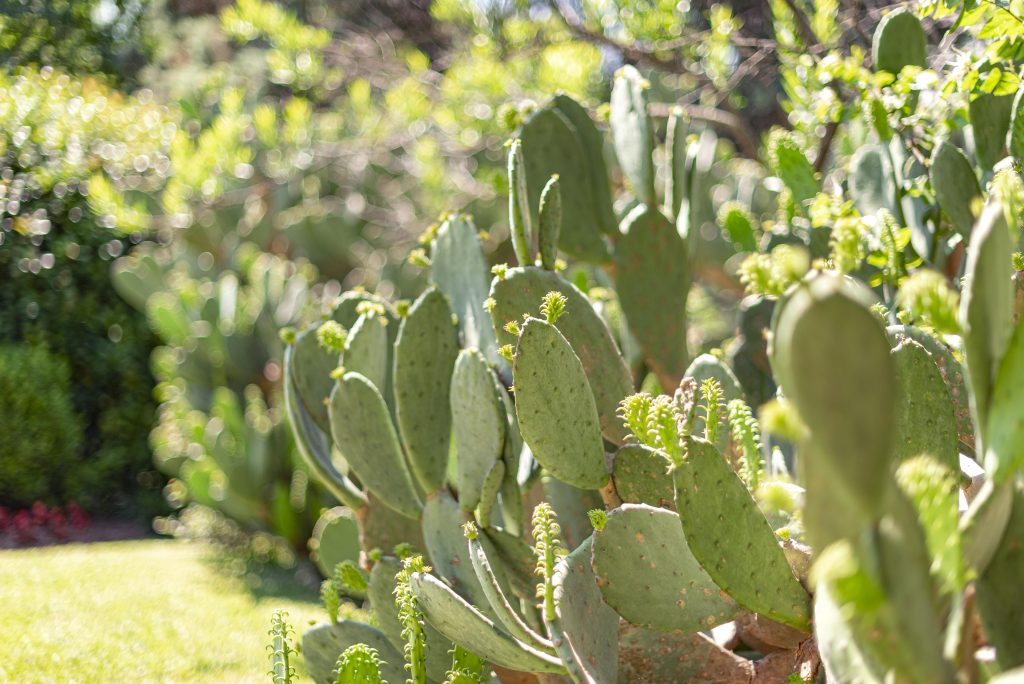 New Braunfels is home to the oldest dance hall in Texas, known as Gruene Hall. Heavy with German influence, you'll find plenty of shops, restaurants, and cultural tours reflecting the rich history of New Braunfels.
Unlike the quiet, country charm of the previous Hill Country towns, New Braunfels is located along the busy I-35 corridor. This means it's easy to access the city, however, traffic can make roads quite congested, so allot yourself time for traveling between points of interest.
Must See & Do in and around New Braunfels
Natural Bridge Caverns & Wildlife Ranch
Natural Bridge Caverns is a family friendly adventure about a 30 minute drive west of New Braunfels. These caverns are truly spectacular and are hailed as the the largest show cave in Texas. The parking is free and cavern tours run daily!
Natural Bridge Wildlife Ranch is next door to the caverns and offers the closest thing you'll get to an African safari in Texas. Over the span of 450 acres, you'll drive among 500 animals and witness them in their natural habitat.
TIP: Be sure to be at the gate when they open at 9AM to have the best interaction with the animals before they fill up from previous visitors feeding them!
Tubing the Guadalupe River or Comal Creek
There are numerous tubing companies along the Guadalupe River and Comal Creek that offer exclusive access to parts of the river. In addition, they offer a tube for you to rent and a shuttle bus ride from the end of their tour site on the river back to the parking lot and main building.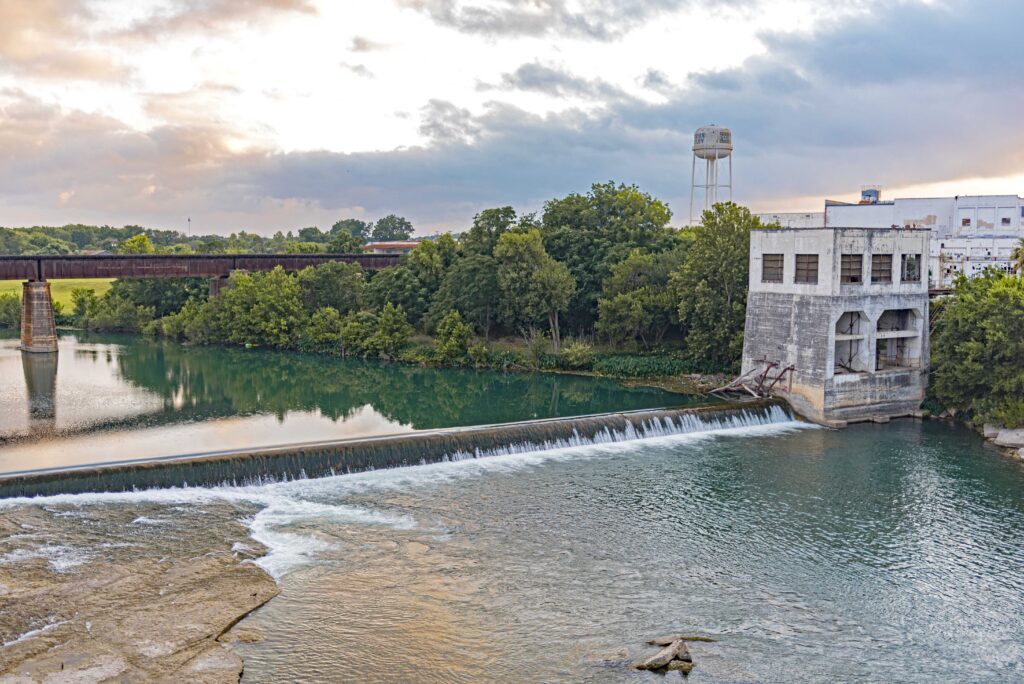 Rockin' R River Rides is one of the most reputable and exciting tubing tours in New Braunfels. While I'm not personally a big fan of tubing with the crowds, plenty of others love it. The river is packed in the spring, summer, and early fall! Tubing the river in New Braunfels is definitely a fun activity to do at least once.
Food & Drink
Buttermilk Cafe
Casual, comfort food meets fresh, gourmet twist is an accurate description of the Buttermilk Cafe. This restaurant is open daily for breakfast and lunch. Back in the day, I ordered a toffee pecan cheesecake that just about knocked my socks off. You'll have to let me know what kind of desserts they're whipping up now!
Gristmill River Restaurant & Bar
Anybody who has been to Gruene or New Braunfels has probably seen or heard of the Gristmill. It's an iconic restaurant that serves classic home-style cooking with a touch of elegance. The Gristmill is located on the banks of the Guadalupe River and offers live music on weekday and weekend evenings. It's not just about the food at the Gristmill, it's about the ambiance and the dining experience.
Other fun things to do in and around New Braunfels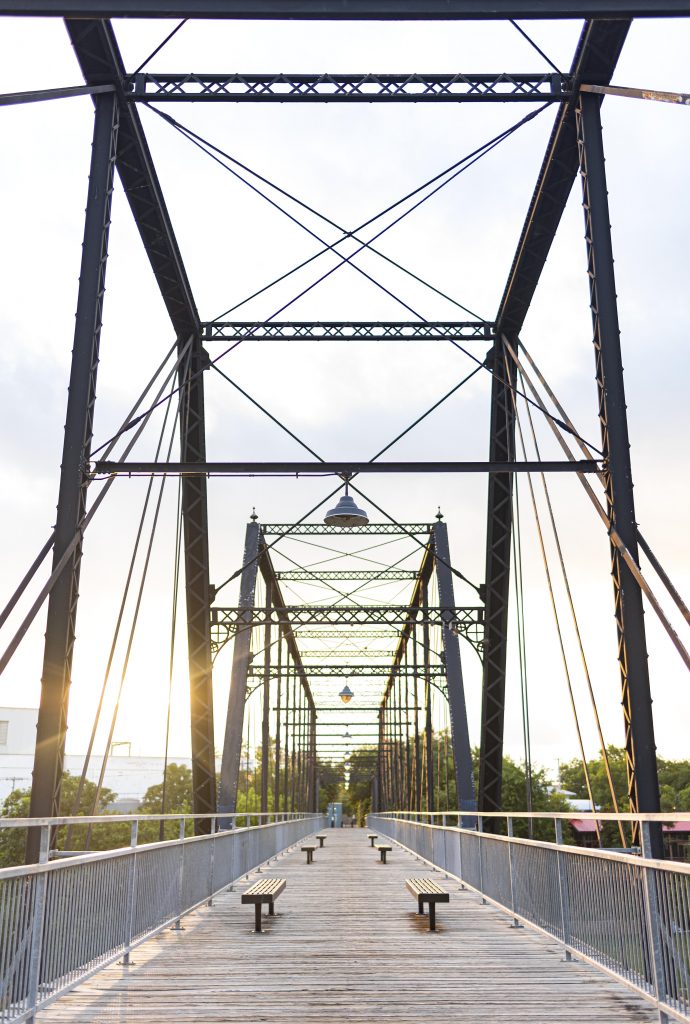 Check out Faust Street Bridge, especially for sunrise over the river. Then, meander around downtown Gruene. There are plenty of shops, restaurants, and unique photo spots amidst the charming, historical architecture.
TIP: Don't forget to reserve a ticket to see your favorite musician or band play at Gruene Hall.
Landa Park gives you the illusion of being in the middle of a nature preserve while still being ridiculously close to town. You can rent paddle boards, play mini golf, or go swimming! In addition, a special treat for the kiddos, there is a miniature train that tours the park.
Of course, if you have a hole burning in your wallet, you can always take a drive a little further north to San Marcos. They have the largest outlet style mall in the area, which takes up 1.2 million square feet of retail space!
Upcoming Events in New Braunfels 2020:
Hill Country Craft Beer Festival- April 18th
Wurstfest- November 6th-15th
For more info on 2020 events in New Braunfels, click here!
Undoubtedly, these day trip itineraries were our go-to when living in San Antonio. It's easy to turn any of these hill country day drives into a weekend getaway if a particular city strikes your fancy. Although, San Antonio, is usually a tourist destination in and of itself, it's nice to escape the city crowds and immerse yourself in the beauty and culture of the Texas Hill Country.
Honorable Mentions
Although, I didn't write about them, there are plenty of other hill country gems to explore such as Kerrville, Boerne, Blanco, Johnson City, and Llano! So, get out there and find your own adventure in the Texas hill country!
Enjoy this read? Please share! Pin for later!