Brian and I have made quite a few hiking mistakes over the years. Traipsing along a trail in the good ol' outdoors isn't always rainbows and butterflies. Well….actually, it is because you may indeed see rainbows and butterflies in the great outdoors! It's so beautiful out there!
But, I'm getting sidetracked here.
My point is that no matter how much you plan for your outdoor excursion, whether you are a newbie or seasoned pro, there are situations that will occur out of your control.
Of course, I am not discouraging you from preparing as well as you can!
However, hiking mistakes will happen. Someone's protein bar will melt into a gooey mess in their day pack, that "boot" on the end of your trekking pole will fall off into a flowing creek, you might even accidentally veer off the main trail…
Here is a list of our WORST hiking fails in hopes that this knowledge may help prevent you from experiencing these the hard way like we did.
Disclaimer: This post is in no way sponsored, we paid for all the activities mentioned and all opinions are our own. This page may contain affiliate links, which means I may earn a commission (at no extra charge to you) if you make a purchase after clicking my link. Thank you for being a loyal reader!
No Trekking Poles
What Goes Up Must Come Down
While visiting Yosemite National Park, we hiked to Nevada and Vernal Falls via the Mist Trail and John Muir Trail. It was our first "real" hike that we completed and it's still one of our favorites to this day!

Want to know more deets about this hike? Check out our post about these waterfalls here!


We couldn't have asked for a better July day to visit this magnificent park. The sheer cliffs towered so high above us that I literally couldn't bend my neck far enough back to see the top!
I was in a state of blissful amazement throughout the hike. This is probably why I didn't realize how much agony I was in until the last couple of miles of the trail.
I was in pain because we made a BIG hiking mistake by not bringing trekking poles with us. I had no idea that those little poles would have made such a huge difference!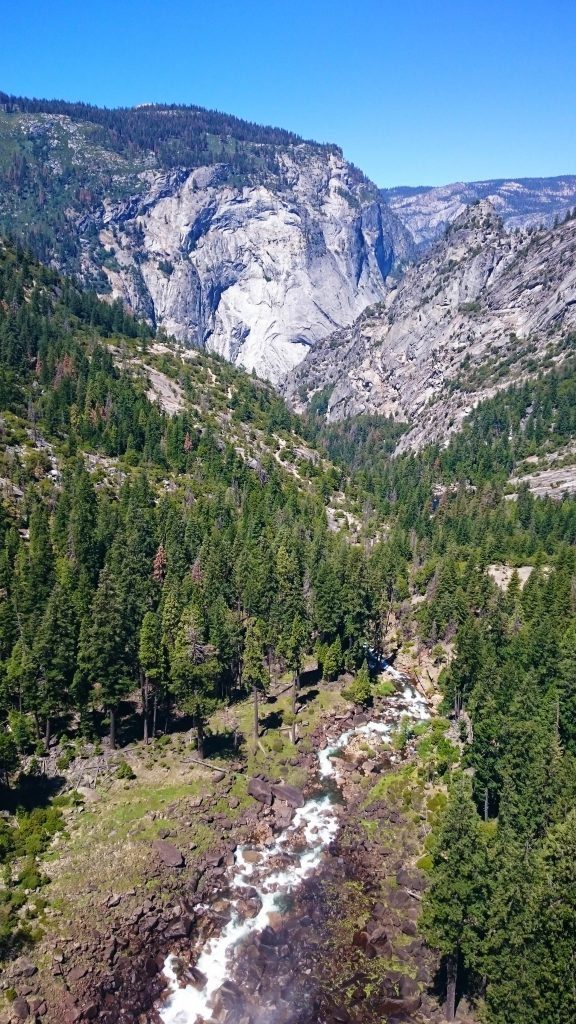 Although hiking up the falls that wasn't exceptionally challenging, coming down was excruciating. It would have benefited me, in particular, to have poles to relieve the pressure on my knees as we clamored our way down 2,000 ft of elevation!
If you are new to hiking and decide to attempt a "challenging" or "hard" hike, I URGE you to bring trekking poles with you!

Check out what kind of trekking poles we carry here!


Ice Ice Baby
In addition, another classic "I wish we had trekking poles" moment was when we hiked in Mount Rainier National Park.
Along the Skyline Trail, we climbed (literally, ha) the side of glaciers and through snow with NO POLES, Y'ALL. Not gonna lie; that was probably one of the scariest hikes of my life! We were SO dumb.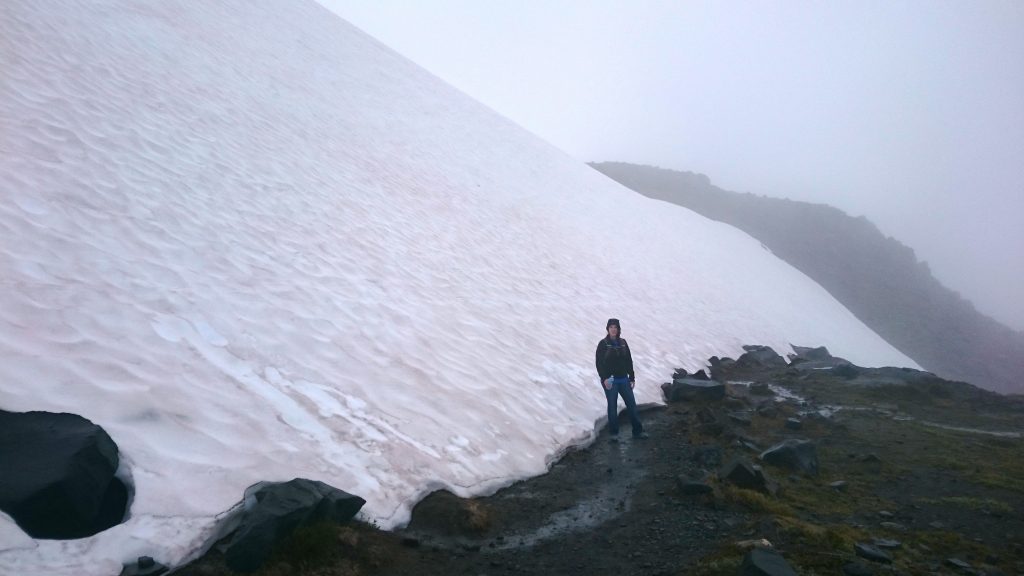 What made the Skyline Trail even more intense was that we started so early in the morning. The clouds lingered through most of the morning and the sun never burned off the fog. So, we couldn't see five feet in front of us for the majority of the hike.
I'm gonna stop you there. Don't worry, I'll tell you more about this a few paragraphs down, haha!
Once again, folks… If you plan to climb thousands of feet in elevation, cross water, snow, or loose gravel I would highly recommend trekking poles.
Your poles can even be used to intimidate a wild animal that you may potentially come face to face with on the trail! Avoid this hiking fail by carrying these bad boys with you!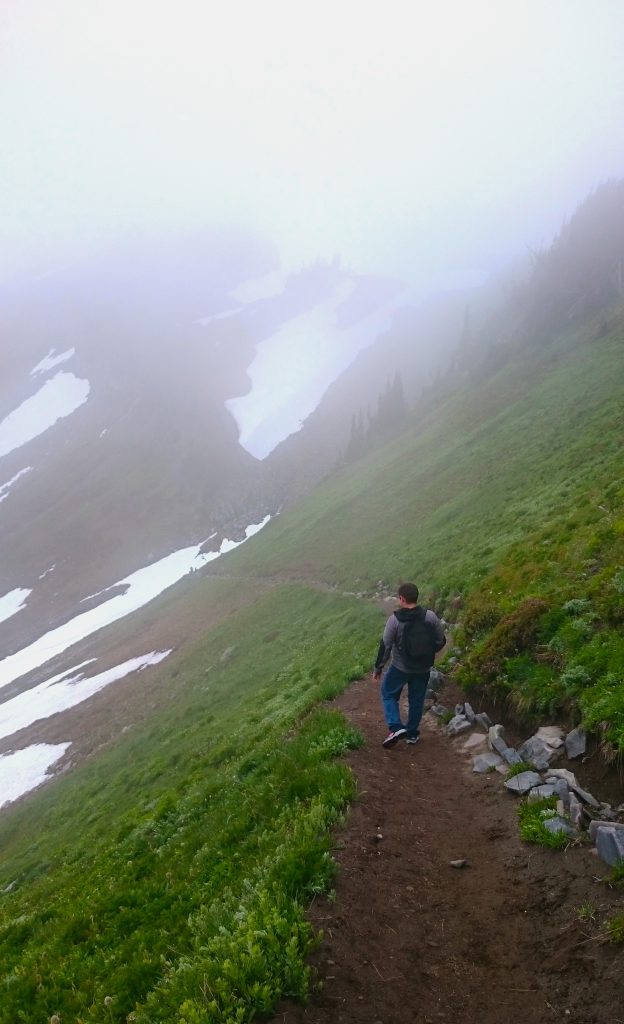 Not sure if you're using your trekking poles correctly? Check out this handy video!
No Mosquito Net
Honestly, we haven't had too much trouble with mosquitoes or bugs in general on our adventures. Bug spray or bug lotion is a common item found in our day packs and we use it regularly.
On a September morning, we headed out to hike a trail called Mist Falls. We were hiking in Yosemite and Sequoia days prior and hadn't experienced any bug problems.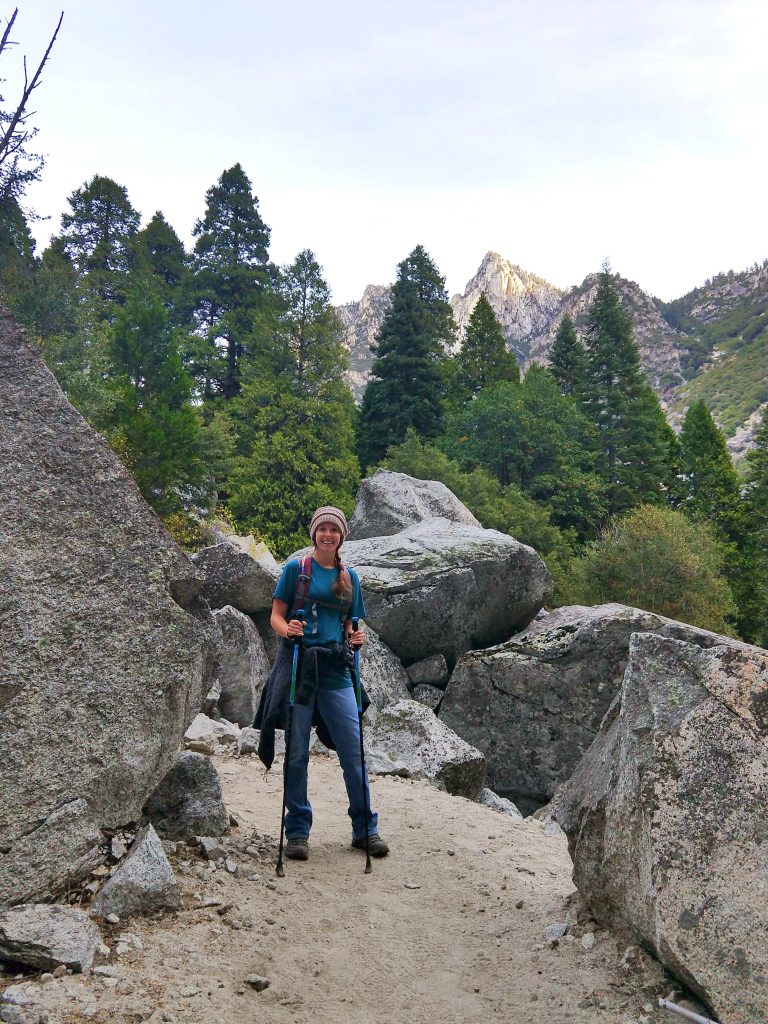 BUT, LET ME TELL YOU. There is no spray, cream, or bracelet in existence that could have made a dent in the throng of mosquitoes demons of the underworld that we encountered at Kings Canyon National Park!
It started to get real bad on our way back from the falls. There came a point that I was running along the trail because I couldn't endure the swarms around my eyes and mouth!
We gave a lot of thumbs up to folks we passed on the trail wearing their mosquito nets because they are clearly very intelligent people, haha! They were definitely avoiding an important hiking mistake!
So, yeah…are you on the fence about carrying a mosquito net while you're hiking near water? I'm here to sway you to the net side!
Followed the Wrong Trail
Game Trail in Disguise
Ahhh, the epitome of all hiking mistakes. Getting lost. The first time we "lost our way" was on the Bow Glacier Falls trail in Banff National Park.
Right after the staircase climb, there is a curve with a viewpoint area (or so we thought) where you can see the falls in the distance. We initially went that direction, but we didn't see any evidence that the trail continued.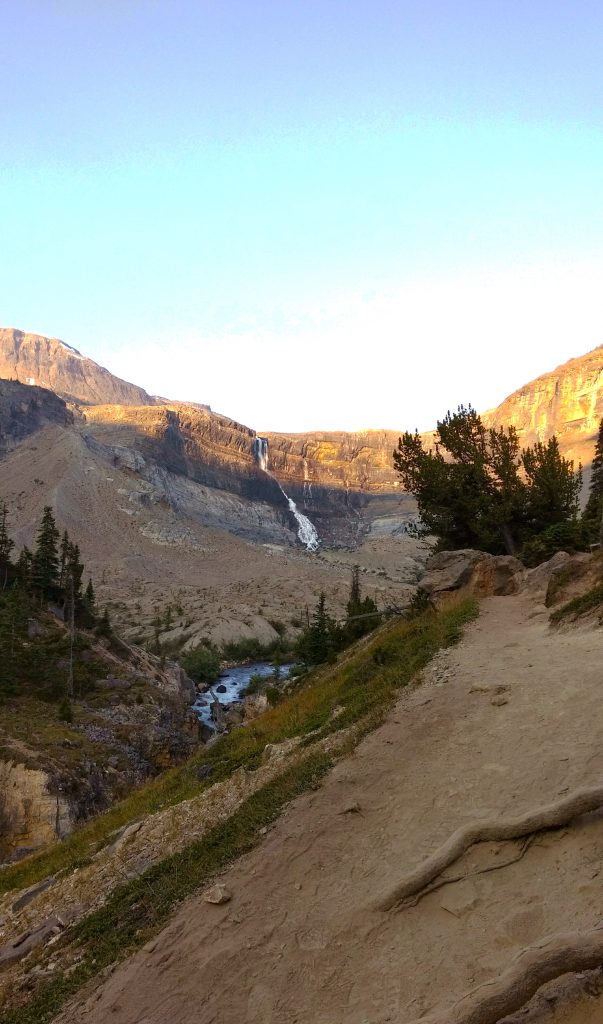 So, we back tracked and tried to find the path. We ended up on a narrow game trail going deeper into the forest.
After about a minute I told Brian "I don't think this is the trail, this doesn't look right." But, he insisted we were going the right way. And who am I to argue? I mean…I get lost in Target, sooooo I trusted him.
We probably almost walked right into a bear's den! Haha, kidding! I think…
We wasted about half an hour retracing our steps to find the correct trail we were on earlier. But, it's cool. We were still the first and only folks at the falls when we finally got there!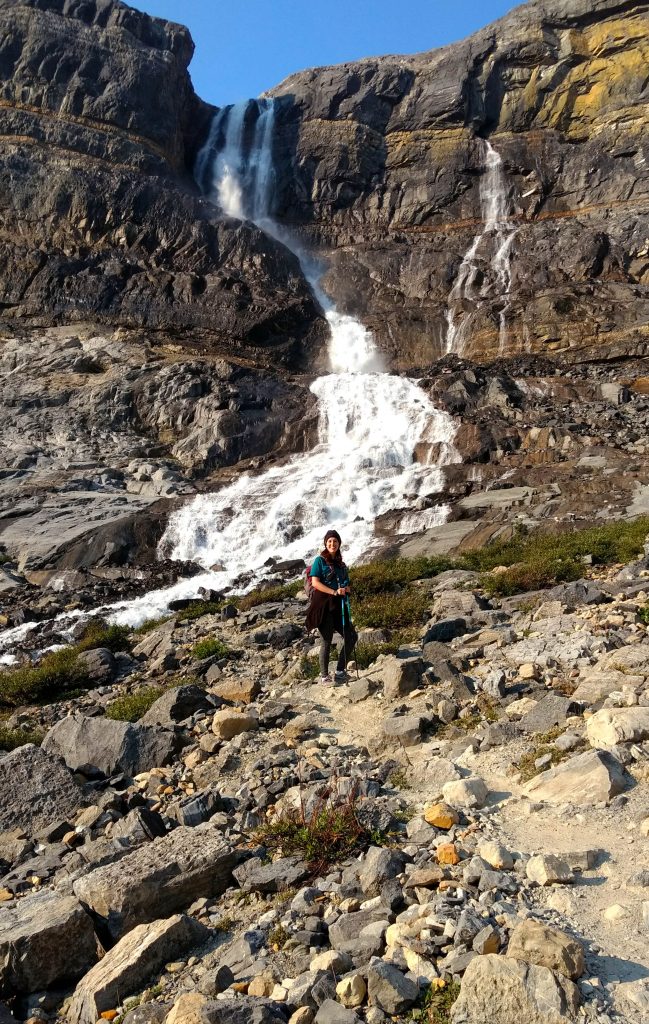 Want to read more about this waterfall hike? Check out it out here!


A River Runs Through It?
Another PRIME example of getting "lost" on our hiking adventures is in Big Bend National Park. We all know that when you go hiking you're bound to get a little dust on your shoes. I mean, you're climbing things, navigating through water crossings, weaving your way through waist high brush, etc.
However, once arriving at the trail head to Santa Elena Canyon, we weren't quite prepared for what was about to happen.
Like I've mentioned above, Brian is extremely talented at navigating. When a trail starts off with a paved trail or boardwalk, how can you possibly get lost? What is there to worry about? Famous last words.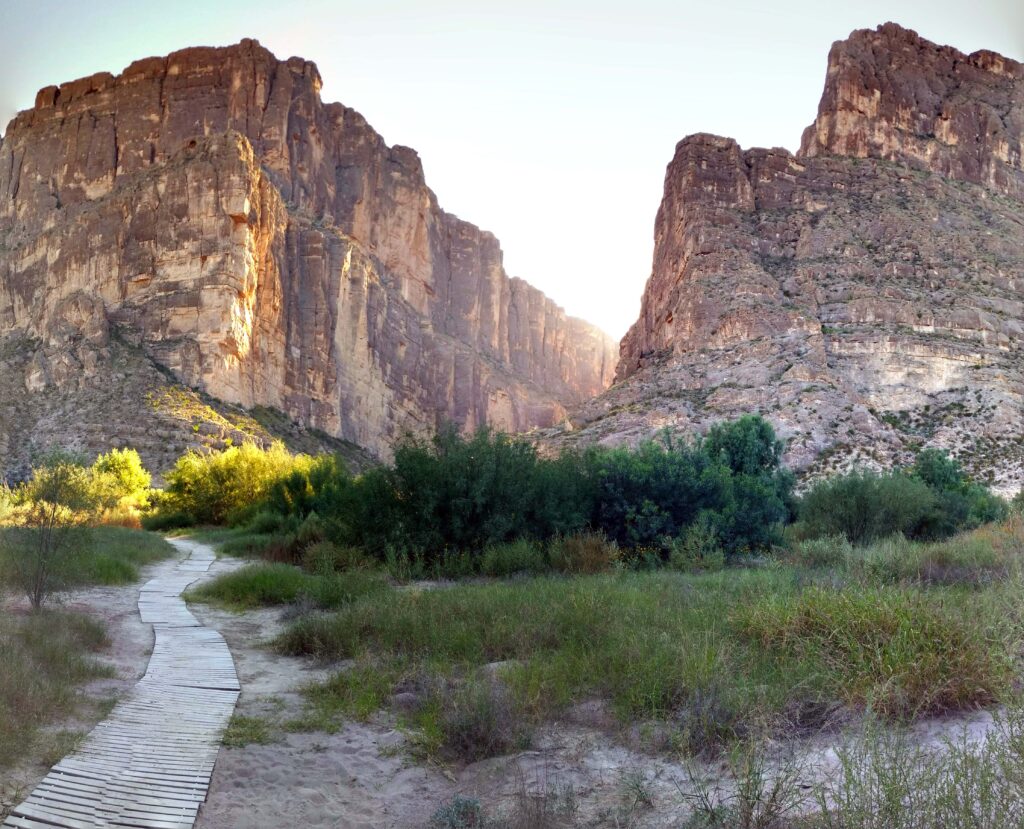 We spent some time exploring the river at the mouth of the canyon. We took our photos and videos and what have you. Then, we looked eagerly around for the trail to continue into the depths of the canyon.
Nothing.
We figured we must have missed it, so we walked up and down the dry creek bed adjacent to the river and searched for trail signs.
Zilch.
We even tried waiting to see if anyone else would show up behind us or if anyone was returning from the hike. For once, I was upset that there wasn't more people on the trail!
Daylight was fading. Finally, we decided to wade through the mud and climb our way up a steep embankment that looked fairly worn as if others had gone that way before.
The "mud" we had to walk through to get to the embankment was basically the sinking sand from The Princess Bride. Y'all know what I'm talking about, right? NO? Go watch that movie, my friend. You'll thank me later.
Anyway…I kid you not, I went knee-deep into that mud and the surprise scared me more than anything. I freaked out because it was so deep and I couldn't move. Brian had to pull me free. Then, I scraped my knees climbing up the bank after losing my footing. Because my shoes were covered with slippery goop, I couldn't get any traction!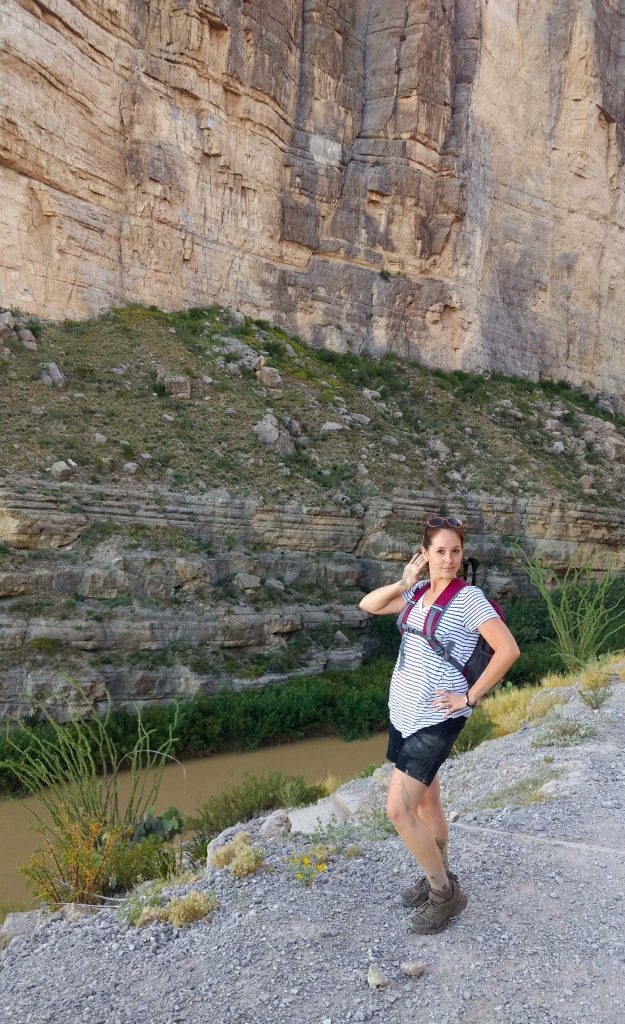 Here I am posing with my new trail wear. Yes, be jealous. Honestly, this photo doesn't even do justice of how much mud was all over me.
Despite the rough start to this hike, I would do it again in a heart beat!
But, ya know…if any of you folks know the REAL entrance to this trail, for future reference just send your girl a link or a message! Please and thank you!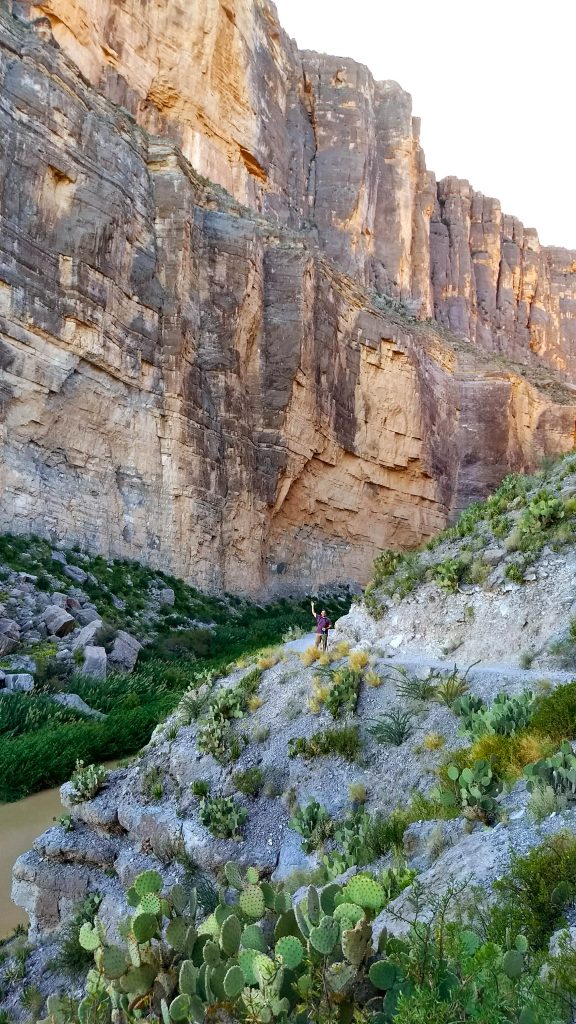 Wrong Time of Day
Morning
Although, I wouldn't necessarily call this a hiking fail, it can put a real damper on your experience if you choose the wrong time of day to spend time outdoors.
Remember that Mount Rainier hike I mentioned earlier? Yes! The Skyline Trail! Awww, you remembered! Anyhow…We usually like to start our long hikes as early as possible. Sometimes, we even start before sunrise.
Of course, we're often the "spiderweb cleaners" as we walk face first into a few webs when we're the first on the trail for the day! YOU'RE WELCOME!
However, in the case of the Skyline Trail at Mount Rainier National Park, we started so early that we spent the majority of the trail in the fog.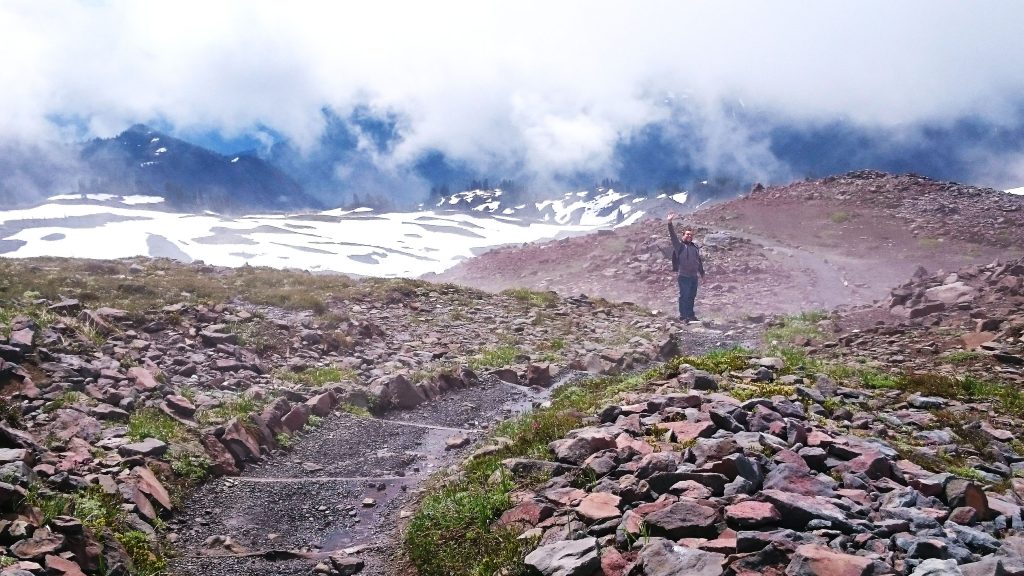 The skies suddenly cleared around mid-morning and I was floored. I can only imagine what the views must have looked like the entire time we were fumbling around in the clouds!
We had just one day at Mount Rainier and I wasn't going to waste it on account of a little cloudy weather! It was still a memorable experience and I hope we get the chance to hike the Skyline Trail again on a clear afternoon.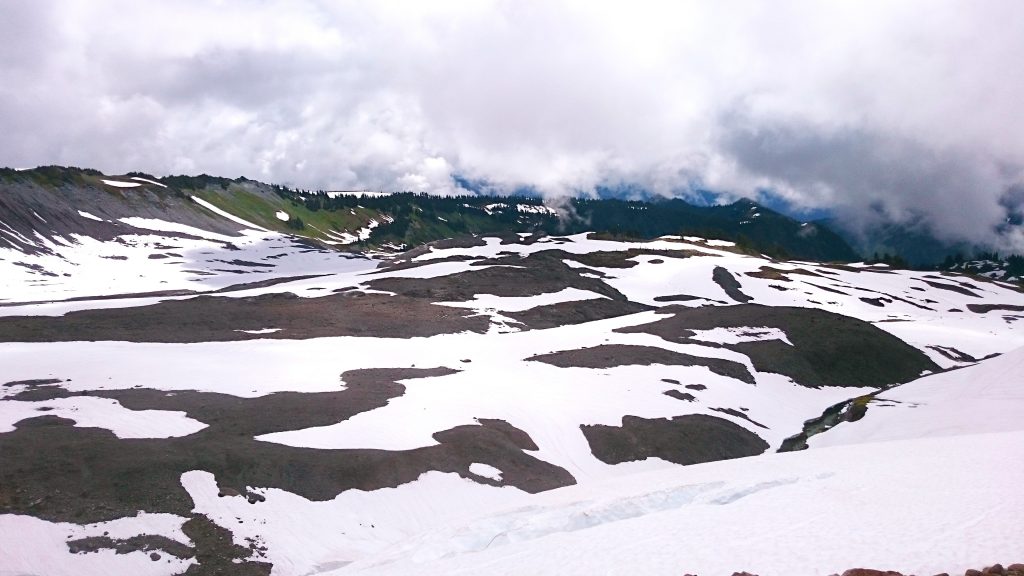 Mid-day
In addition, it typically is NEVER a good idea to hike in the middle of the day, especially in warmer climates.
Due to our limited time in Moab, Utah, we opted to do something we rarely do. We chose an easy, short, and popular trail to see most of the "highlights" of Arches National Park.
Three things went wrong for us on the Landscape Arch Trail because of the time of day we chose to go. First, the crowds were very heavy. You don't have much of a chance to linger or enjoy the stops along the trail due to rubbing shoulders with multiple folk. Second, it was extremely hot in the middle of the day and there was little shade. Third, we had just ate lunch before we hiked and we both felt sick most of the time.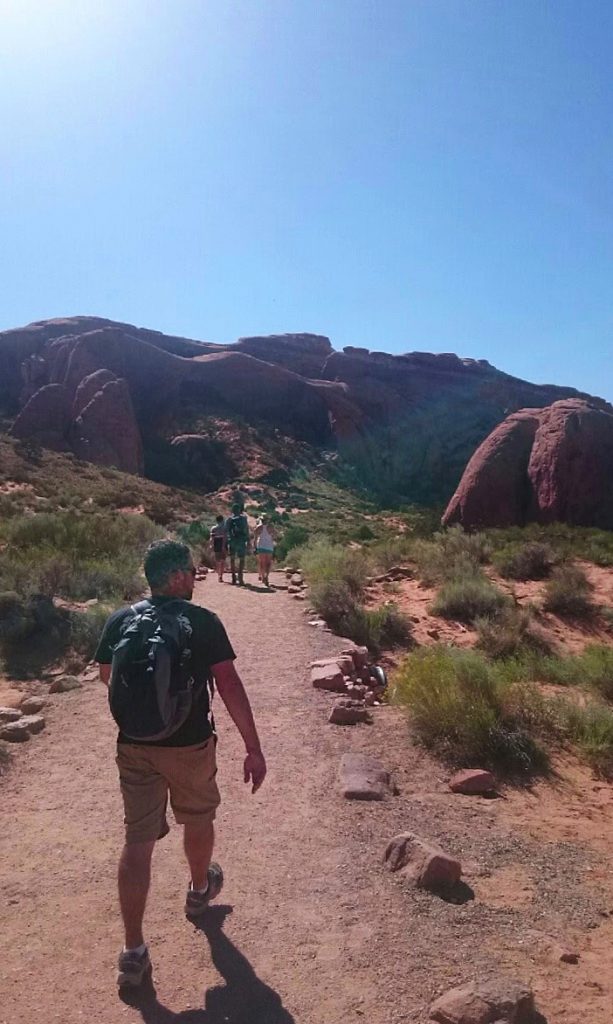 There are so many amazing sights to see on this short trail and that is what makes it so popular!
The Pine Tree Arch, the Tunnel Arch, and the Landscape Arch are in the first mile alone. To fully enjoy this hike, be sure to go earlier in the day and not on a full stomach, haha!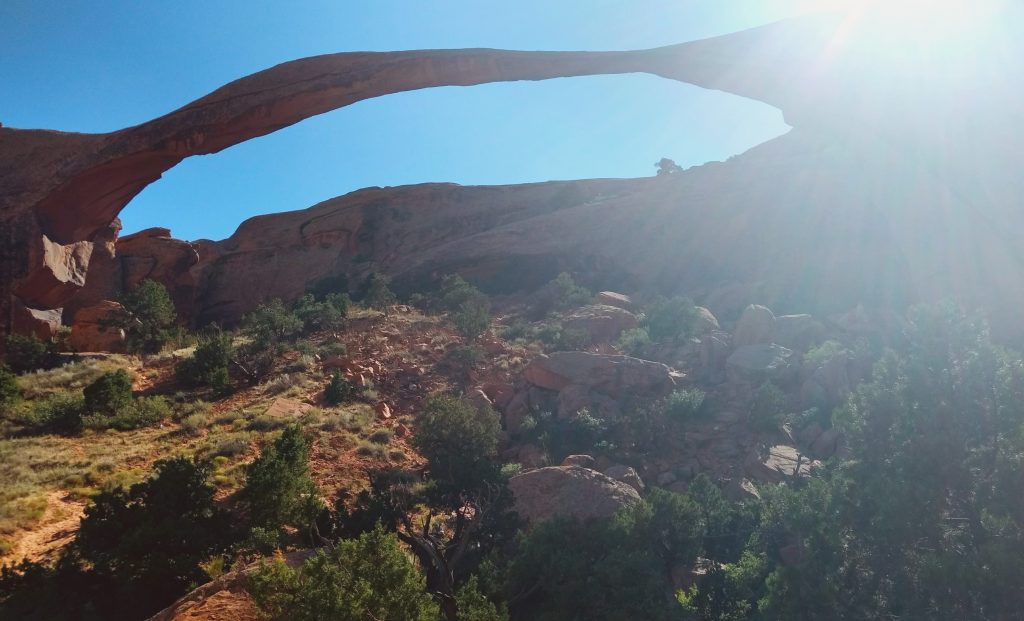 Hopefully, our worst hiking mistakes educated and entertained you! Stay safe out there, fellow adventurers!
Have questions or thoughts about our hiking experiences? Don't be shy to let us know in the comment section below!
If you enjoyed this read, please share!