Grand Teton National Park is the underrated sister to Yellowstone National Park. By simply crossing park borders, we were surprised to find a completely different world amidst the Teton Range.
Brian and I spent the majority of our morning hiking in Yellowstone. We had the trails mostly to ourselves and were excited for what awaited us in the afternoon hours. Unfortunately, when we attempted to visit other popular spots in Yellowstone, the crowds had already made their way in and the parking lots were full to the brim.
With an air of disappointment, we checked our schedule and tried to find other things to do with our time. After searching Google Maps for other nearby adventures, we discovered a park we hadn't heard of – Grand Teton National Park. We decided to take a scenic drive and eat our lunch by the lake.
The sparkling lakes and blue skies greeted us like a refreshing gust of wind in a hot desert. The swarms of people disappeared and we found ourselves spending the rest of the day in Grand Teton National Park, not worried about venturing back to Yellowstone.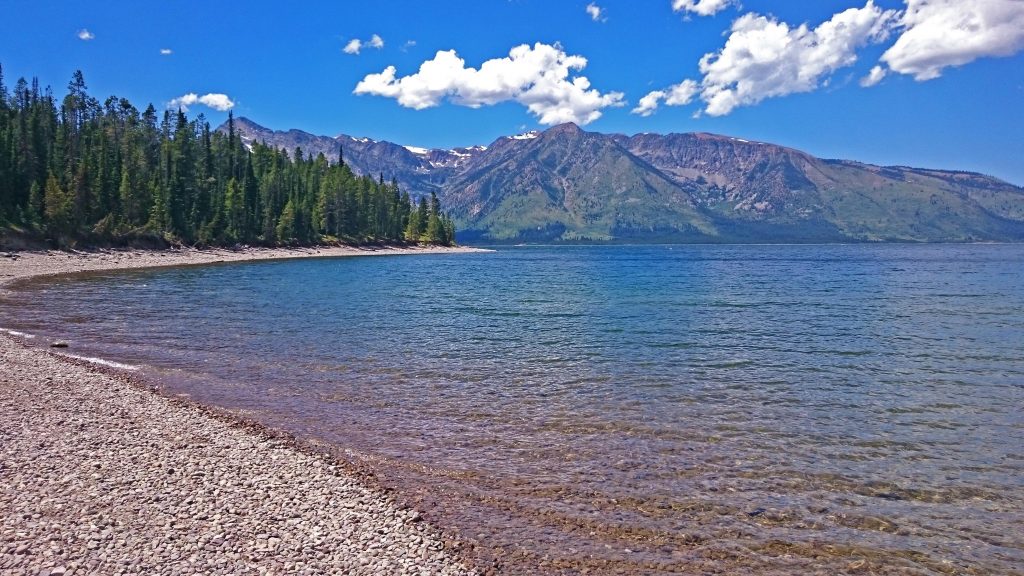 Disclaimer: This post is in no way sponsored, we paid for all the activities mentioned and all opinions are our own. This page may contain affiliate links, which means I may earn a commission (at no extra charge to you) if you make a purchase after clicking my link. Thank you for being a loyal reader!
1. Water Lover's Dream
Unlike its neighboring park, the Tetons offer an opportunity to step back into a simpler time of outdoor exploration with the scenic backdrop of pristine mountain peaks.
The lakes and rivers in Grand Teton National Park are a water lover's dream. The waters are crystal clear and teeming with marine life.
The Snake River offers challenging rapids for both amateur and not-so-amateur adventure seekers. If you'd rather cruise in relaxation, check out the breakfast and dinner cruises across Jackson Lake that is birthed from Colter Bay Marina.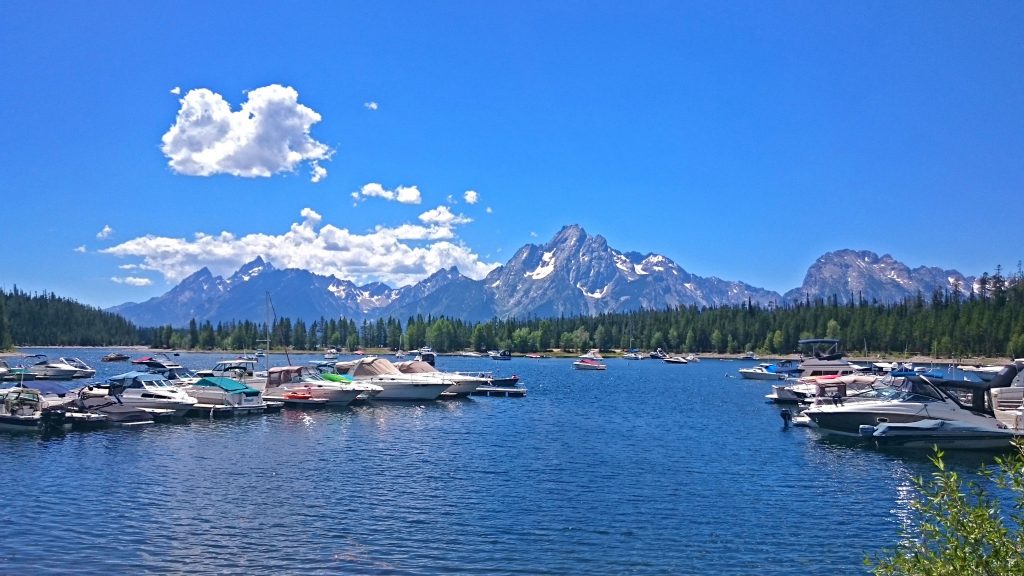 You can also easily rent a kayak, canoe, or boat from the marina to enjoy the peaceful solitude of Jackson Lake with your sweetheart. The views of the Tetons in the background sure don't hurt either!
The cream of the crop of fishing can be found in the waters of Grand Teton National Park. Try your hand at fly fishing, with an experienced guide, along the Snake River. Alternatively, spend your time lake fishing from that boat you rented at Colter Bay Marina!
TIP: The state of Wyoming requires a fishing license to fish in the park, which you can purchase at any of the marinas.
2. Wildlife Haven
A variety of wildlife call Grand Teton National Park home and more likely than not, you'll spot at least one of these amazing creatures while you're visiting!
During our short stay through the region we saw Bison, Elk, and a Grizzly Bear! The Bison and Elk have very little fear of people and can be found grazing in herds near the roads or trails. However, the bears are much more elusive. We could only make out the Grizzly with help from our binoculars while we were driving.
TIP: Always stay a respectable distance from a wild animal. Their behavior is unpredictable and we are a guest in their space.
Of course, something else to remember about the abundance of wildlife is there are often an abundance of humans trying to catch a glimpse of said animal.
Don't be that person who stops their vehicle in the middle of the road and blocks up traffic while you take selfies with the Elk. I know you're excited, believe me! I have some embarrassing video of me giggling like a schoolgirl when I've managed to capture my favorite animals on film.
However, it's important to remain courteous of other visitors in the park. Pull your car to the shoulder if you wish to stop and watch the animals. Additionally, while on the trail, give animals a wide berth and do not try to approach them.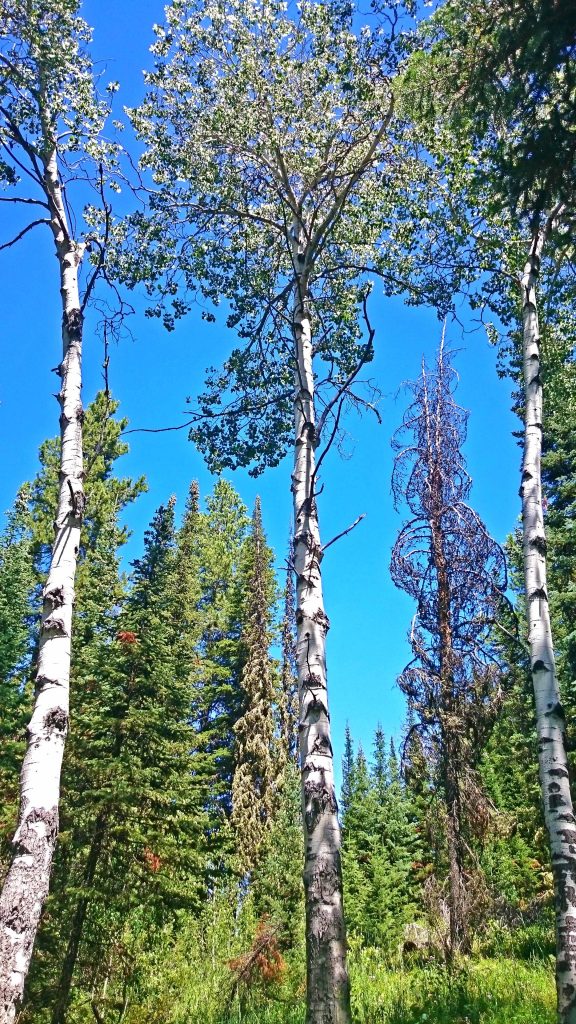 3. Less Crowded
In my opinion, this is probably the most important reason of all to visit Grand Teton National Park. While its neighbor, Yellowstone National Park, is truly one of a kind, Grand Teton offers something you'll rarely find in Yellowstone…tranquility.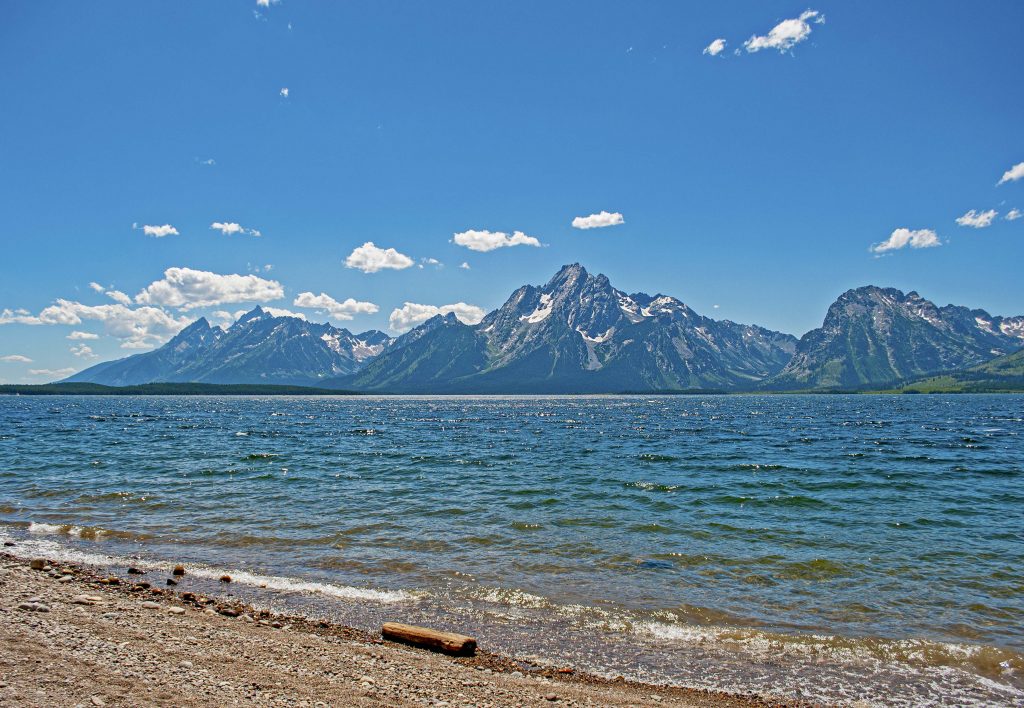 While you're already visiting Yellowstone, it's nice to take a break in the middle of the day and hop over to Grand Teton to enjoy the scenery in near solitude. You can take a scenic drive along Teton Park Road, Jenny Lake Scenic Drive, or Signal Mountain Summit Road.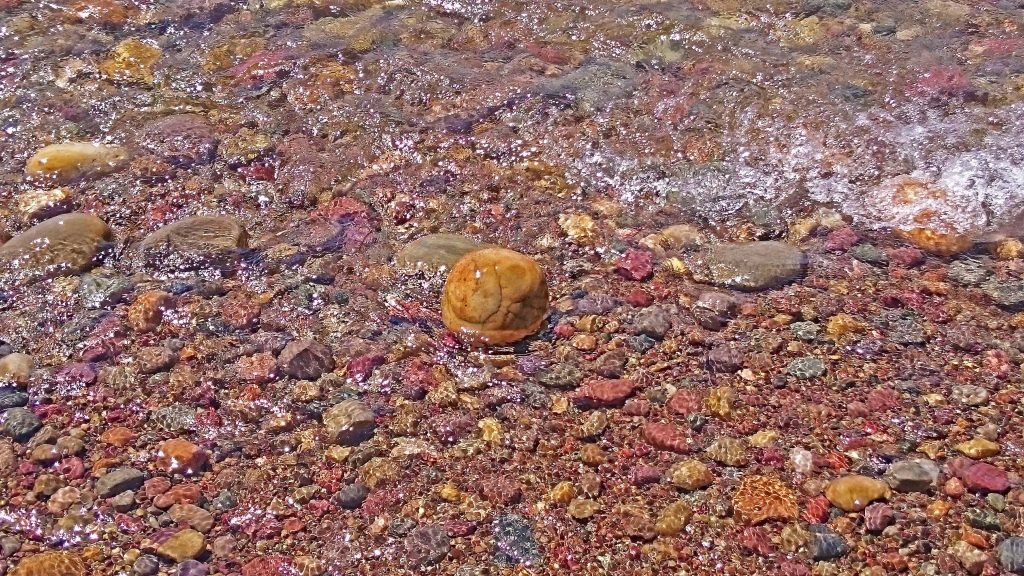 Another alternative is to lounge beside one of the pristine lakes, counting clouds or examining the various rocks that color the beaches. The Tetons are a peaceful oasis, offering the chance to relax, take a breath, and slow down enough to soak in all of the amazing scenery that surrounds you.
Need to Know Before You Go
Lodging
Multiple options exist for lodging in the park varying from bunk rooms, dude ranches, cabins, and tents, to full service resort hotels.
TIP: Some accommodations are only available during certain months of the year.
Hours & Fees
There are seasonal road closures due to unpredictable winter weather. Therefore, you should always plan ahead by checking on the park website for alerts.
However, generally, the park and the visitor centers are open from 8:00AM to 5:00PM or 7:00PM.
To enter the park, a single vehicle is $35 for a 7-day pass. An annual pass quickly pays for itself. It grants access to all of America's glorious national parks for only $80. Cash and credit are accepted at the entrance booth. A cheaper "day use" permit is also available during the winter months (Dec-Apr).
TIP: If you have a military ID, you can obtain a FREE National Park pass to visit year-round.
When to Go
Of course, the late fall, winter, and early spring months are ideal to avoid the crowds and enjoy maximum sights. For example, you'll experience superb waterfall and river flow in early spring, as well as emerging wildlife and wildflowers.
The winter months expose an entirely different side to the park. Although, some roads and trails may be closed during the winter, you're sure to experience it unlike any other time of the year.
Hiking Map
For info about the various hiking trails in the park, bear safety, and parking tips, check out the Grand Teton National Park Hiking Guide.
Enjoy this read? Pin for later!